MAZATLAN ATTRACTIONS: HISTORICAL DISTRICT ARCHITECTURE. PINO SUAREZ MARKET, DAY OF THE DEAD MEXICAN ART & SKULLS.
Goths in hot weather, this post is for you! Apologies for the delay in my Mexico travel series. The videos will be up soon.
Here's a preview of my Mazatlan escapades. In the Centro Historico, you'll find spook-tacular Mexican handicrafts and architecture from the 1800s.
The locals are all-around-the-board nice. Mazatlan is a visitor-friendly area, and you can get by with US dollars.
Dress: h.NAOTO, from Closet Child
Anchor socks: gifted from Sourpuss Clothing
Red purse: Nina Ricci, belonged to my mother until I took it. Here's a new version of the purse.
Rainbow dolls in Pino Suarez market. Can you spot the bloody pig's head?
Skulls and bones are everywhere in Mexican art.
I talk about dark handicrafts and Catrinas (skeleton ladies).
After a stupendous seafood lunch (marlin dip – amazing!), I staked out the haunted Hotel Belmar.
During the Prohibition, Hollywood stars like Cary Grant came here to let loose. Sometimes, the revelry got out of hand: the Sinaloa Governor was murdered during a hotel ball. Guests have reported inexplicable noises, and visions of a woman in white. Do the ghosts of the past still walk these halls?
We walked around and admired the architecture. Colorful facades. Colonial-style arches. Hidden courtyards and plazas.
Above two photos by Frank DiMarco, a fellow journalist on the press trip.
Sunglasses: gifted from Erica Anenberg
Bracelets: gifted from Fashionology (crosses and skulls galore.)
Skull brooch with ribbon: gifted from BabyClay (check out their Etsy shop – you can request custom designs)
Dress: h.NAOTO, from Closet Child in Tokyo
Big floppy sunhat: from a street stall in Hong Kong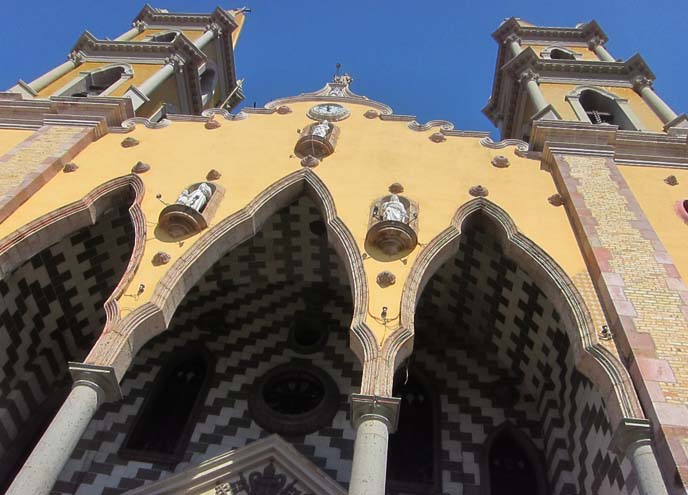 See those two yellow spires? That's the Cathedral of Immaculate Conception, known as the most beautiful church in northwest Mexico.
The cathedral was finished in 1899, and you can see Gothic and Baroque influences throughout. Light shines through stained glass, forming an outerworldy glow. Locals come here to light a candle, and pray among the gold statues and carvings.
Have you ever been to Mexico? What do you love best about the food, culture and people? Let me know in the comments.
Also coming up: New York Fashion Week reports!
❤ Enjoyed this? Please give the post a Like (below). Thanks! ❤