TORTURE GARDEN JAPAN, TOKYO FETISH CLUB NIGHT. GOTH ALTERNATIVE JAPANESE NIGHTLIFE, CLUBS LISTINGS & PARTIES.
I've been to Torture Garden in Japan twice now. In Halloween 2010, I wore a sexy nun costume. This time, my inspiration was Goth Sailor Moon.
Steampunk skirt: gifted from Lip Service
Black lingerie top: an old thing
Gold octopus pin: gifted from Ghostlove
Horror necklace: gifted from Sourpuss Clothing
I met two spooky friends at the Shibuya Hachiko statue.
We went to a K-pop cafe, which felt like we were in Seoul.
We met more Rainbow Brite friends in front of Eleven, the club in Nishi Azabu.
Final touches to outfits before going in.
Kana (right) looks like she came straight from her burlesque boudoir. On the left: yet another example of Gothic Lolita that doesn't play by the rules: ghoulish makeup and cute bear ears. That's how it is in Japan clubs.
Scattered around the event: punishment demos, dancing queens, painful performances.
From Geisha to Gothic, every type of fashion is found here.
Yukiro and I have now nightcrawled together in Tokyo, Osaka, LA, NYC… and soon Berlin and Leipzig (Wave Gotik Treffen).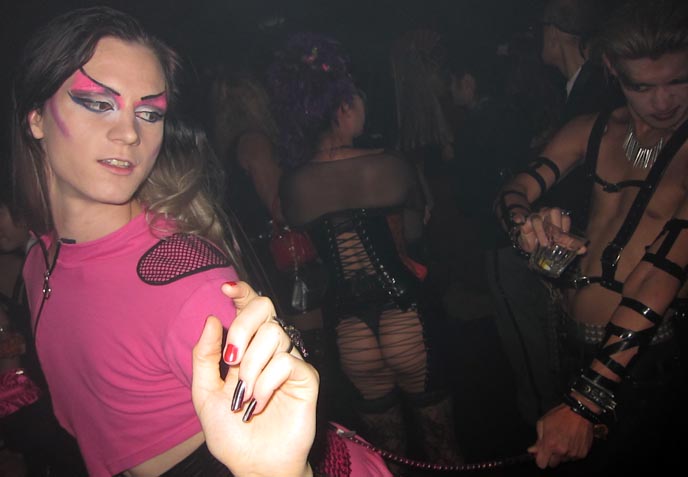 Pain and pleasure.
I wasn't impressed with the clown who staple-gunned his arm and inhaled a glass of milk. But I love the rubber lady, who makes her own costumes.
Torture Garden sounds like an intimidating place, but it's all about freedom and fun.
How do you feel about extreme performances at fetish/underground events like this one? Which outfits did you like best?
For more Tokyo nightlife, check out my Japan Goth club guide.
PS: I've moved my Song of the Day feature to my La Carmina Tumblr. (I'l add you back!)