CANDLELIGHT DINNER, ITALIAN GOTHIC CHURCH. LUISAVIAROMA FIRENZE4EVER TOP FASHION BLOGGERS COCKTAIL PARTY.
It's time again for Luisaviaroma's Firenze4Ever! Sadly I can't be at the event that brings together your favorite fashion bloggers, since I'm off to Maui, Hawaii. (Follow my Twitter for updates and photos.)
Every time, Luisa hosts a spectacular dinner. In June 2011, the top style bloggers ate dinner surrounded by animal bones (remember the photos?) Last January, we ate inside Santo Stefano al Ponte church, surrounded by hundreds of candles!
This is a de-consecrated church, so fashion shows and events can be held here. (My jewelry is gifted by Fashionology.)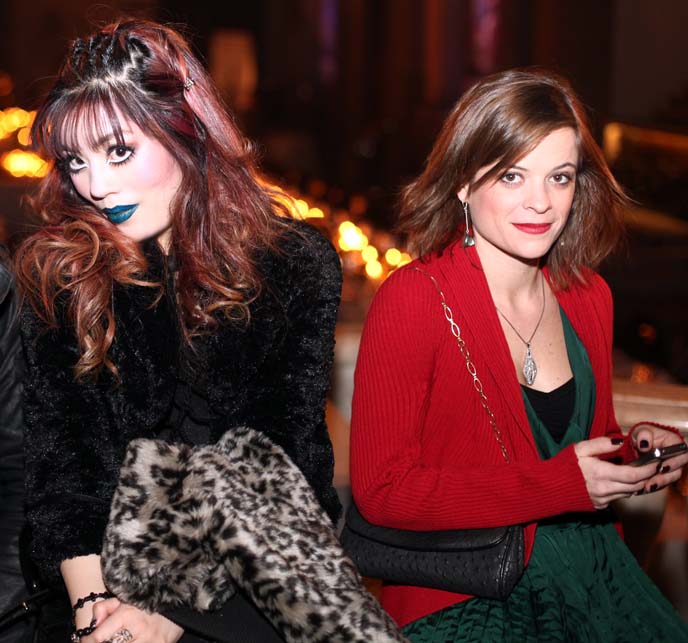 Love to Camilla, social media manager who organizes Firenze4Ever.
I met designer Diego Dolcini, who loved the photoshoot I did with his feather high heels.
Spiderweb top: Black Peace Now, from Closet Child Tokyo
Sparkly black sequin skirt: Prada, similar to this less pricey one
Yellow boots: John Fluevog
A harpist played, and Bag Snob even went on stage and sang.
How long do you think it took to light all these candles?
For the Luisaviaroma opening party, I wore extra-long eyelashes. My beaded hair accessory is provided by Angelica Brigade.
It's true… pizza tastes much better in Italy.
With The Bag Snob, The Coveted, Lyst.
At the time, Luisaviaroma's store had a pink Marie Antoinette theme.
I wore an h.NAOTO Frill dress and trailing-sleeved top, from Closet Child Tokyo.
For more high-fashion adventures, check out my posts about Italy and the fashion bloggers' event.
What do you think of my spooky-doll makeup? Which fashion blogs do you read? Feel free to share links in the comments, including to your own websites.
(^.^) Click below to spread the love…