PRAGUE CASTLE, GOTH CLUBS & ALTERNATIVE TRAVEL TIPS: CROSS CLUB STEAMPUNK BAR, ST VITUS CATHEDRAL, HELL CLUB.
On Day 3, my Prague journey got even more extreme. Read on to see my mouth-sewing escapade with Rock n Roll Bride and Go With Oh.
PS: quick casting call! Wanna be on TV with me? Know any LA-area couples who are engaged or getting married soon, and need a wedding dress? If so, contact me ASAP. Danke.
After brunch at Globe Cafe, we took the tram to Prague Castle. There sits the Gothic cathedral of St Vitus, which holds the tombs of Bohemian kings.
Intricate groin vaults and stained glass, which cast rainbow hues.
Photos can't convey the feeling of being inside a 14th century cathedral, rife with history.
We walked down from Prague Castle towards Old Town. On the way, we encountered a moving fountain of peeing men. Oh, artist David Cerny… what goes on in your mind?
Kat bid us goodbye in the afternoon, so she wasn't able to join us for a final nightcrawl.
This, my pirates, is Cross Club. In the words of Dracula Clothing's Truls, "It's a steampunk bar, constructed by Czechs who don't know steampunk exists."
Clockwork and moving parts are continuously added to the decor.
Each room has different lighting and parts. There was a wall of motherboards, lit by cyber-punk neon.
The lights sway and the parts move. (You'll see, when I post the Prague video.)
A bar straight out of Blade Runner.
Next, we took a taxi to Hell Club. A bizarre mushroom bridge separated the bar from the dancefloor.
The Czech Goths sat on the couches, drinking and looking serious. But the scary-looking DJs played great dance music, like VNV Nation.
So we took over the floor. Later, a few Czechs stood up and tentatively tried out dance moves. Goth culture is new here, and it's intriguing to see the locals test the waters.
Hell Club, however, rivals Tokyo for extreme body mods.
This boy went onstage. Everyone crowded around to see him get a medical procedure… Can you guess what it was?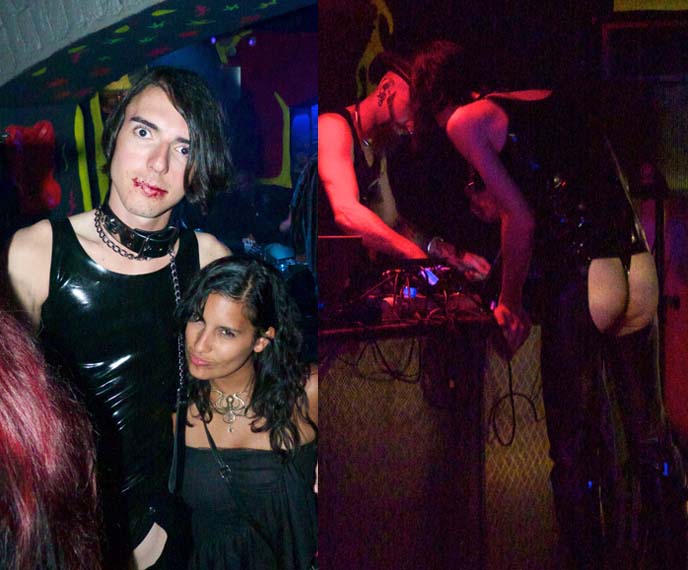 That's right. He got his mouth sewn shut, with needle and thread. And yes, he seems to have forgotten his pants.
Is your jaw hanging open yet? I leave you with my final view of Prague on the walk home. I half-expected a vampire to fly from the spires!
I'll never forget my experiences in the Czech Goth scene. Thanks Go With Oh for the journey, and for hosting us in your beautiful apartment rentals.
So… what do you think?
❤ Support us with a Like (below)…