FOOD NETWORK TV CLIPS! SHIBUYA BUTLER CAFE, BUTLERS TEACH JAPANESE GIRLS ENGLISH. KAGAYA: CRAZIEST TOKYO BAR.
Last fall, La Carmina & The Pirates filmed with Food Networks's "World's Weirdest Restaurants" for almost a month straight. Oh, the fun we had!
Did you miss out on the TV show? Don't worry: I've uploaded video clips above and on YouTube.
Watch La Carmina and friends explore Tokyo's wackiest theme restaurants, including Alice in Wonderland, maid cafe, Christon Cafe, monkey waiter tavern, and Zauo fishing boat.
Shibuya Butlers Cafe. All the servers are foreigners, who speak English to help the customers practice.
ince many Japanese men lack romantic spirit, females come here to feel like Disney heroines. The butlers get down on one knee, and present them with a tiara!
I'm wearing an h.NAOTO dress from Closet Child, and doll-like eyelashes. First Mate Naomi made the drawing of me in the first photo.
More madness from the Food Network TV shoot: giving Bob Blumer a Goth makeover, and visiting the surreal frog-pond experience that is Kagaya.
We adore the owner's spastic performances. Here's a previous post about Kagaya Tokyo.
Someone's about to jump out of the closet, wearing a bizarre costume.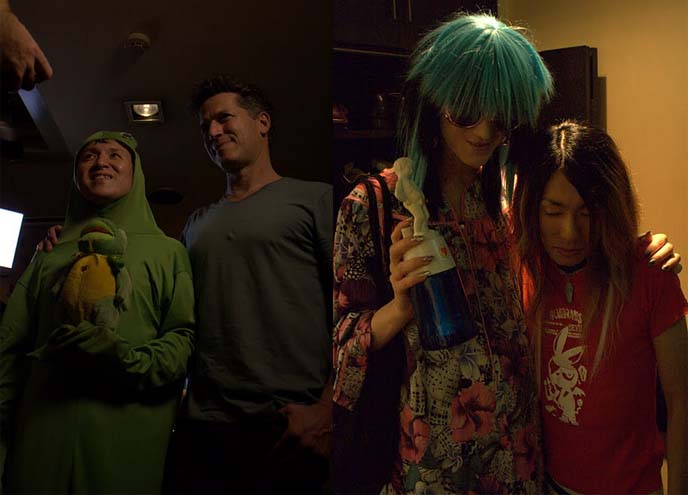 The whiskey squirts out of the statue's… yeah.
When you order a drink, you can choose a country and Mark will do a bizarre interactive performance. This one is "France."
Kagaya is possibly my favorite restaurant in the world. The food is delicious: I love the kabocha (pumpkin).
On the other end of the scale… Mayonnaise Kitchen is the most disgusting theme cafe I've encountered.
Skull headband: gifted by Soho Hearts (check out the panda necklace I designed with them)
Blue and black dress: gifted by Iron Fist (I love their zombie shoes)
Black frilled Lolita jacket: Angelic Pretty, from Closet Child
I explain the Japanese love of mayonnaise, especially the Kewpie brand, and how the ingredients and texture are a bit different from the Western version.
Personally, I don't get it. Every dish in this restaurant is doused in mayo — blehh.
Hardcore customers even have their own personalized bottle.
I also visited Sumire no Tenmado: a doll-like Gothic Lolita café, run by Kokusyoku Sumire (two classical musicians). Tim Burton drew Jack Skellington and left his signature on the wall.
Hungry for more? Want addresses, photos and stories? Check out my book, Crazy Wacky Theme Restaurants: Tokyo.
Did you enjoy watching us on this Food Network TV show? Which cafes did you like best? Please take a minute to see our video clips on YouTube!
❤ Arr! Support us Pirates w/ a Like (below) ❤