Happy 100th Birthday, Doraemon! Hong Kong 100 year robot cat exhibit. Speaking at Social Media Week: HK fashion bloggers!
I'm skipping NY Fashion Week this season… to hang with an army of earless robot cats. You guessed it. La Carmina's next destination is Hong Kong, China!
On September 26, I'm honored to be speaking at Hong Kong Social Media Week about fashion blogging. With a panel of local style experts (@HongKongStylist @The Wanderlister @Cindiddy @apairandaspare @Sinclairtalk @JackWillsHKe), I'll be discussing blog/brand partnerships. Join us, 7:30-9pm, at Dragon-i: 60 Wyndham Street, Central.
And of course, I'll be coolhunting all over Hong Kong. You can look forward to photos, videos and blogs of the latest fashion, culture and food trends — including the new Spanish tapas restaurant, Boqueria.
My Tokyo spook John Skeleton recently moved to Hong Kong and went to Doraemon 100: a celebration of the robo-cat's hundredth birthday. Here's his colorful report.
"The scene is a bit surreal. Looking to my left, I see the watery expanse of a bustling harbor, reflected in which are the towering skyscrapers and verdant hills of Hong Kong's main island. To my right, beyond a pink doorframe that seems to lead nowhere at all, is a formidable phalanx of blue earless cat robots brandishing a bewildering array of gizmos, ranging from high-tech gadgets to everyday household items. This army of big-eyed characters has been placed here to celebrate the Japanese animated phenomenon that is Doraemon."
"Created by manga duo Fujiko Fujio in 1969, the story of Doraemon follows a young Japanese schoolboy named Nobita Nobi who, much to his surprise, is one day greeted by an intelligent talking feline robot who claims to come from the future. In fact, Doraemon has been sent from the 22nd century by Nobita's great grandson to improve the life of his ancestor. Through a plethora of technological wonders including a dokodemo door that can lead to anywhere and a fourth-dimensional pocket that essentially acts as a wormhole, Doraemon helps Nobita in everything from doing his homework and fending off bullies to going on adventures and saving the world."
"Unlike other cultural crusaders of kawaii such as Hello Kitty and Pikachu, Doraemon is one character that never quite caught on in the West, due in part to its cultural specificity and the relatively young target demographic for the animated version (first aired in 1973). In Hong Kong and other parts of Asia, however, Ding Dong (Doraemon's Cantonese moniker) is a household name, and I've spoken with many people who have fond memories of watching Nobita and his playful cat robot's hijinks as a child."
(Each of the cat statues has a different expression. Mr. Skeleton mimics a fish-face and heart-o.)
(The life-sized pink "dokodemo" door. I think my favorite Ding Dong is the toast-eater!)
"So why all of the attention on the big blue guy? According to the original story, the year 2012 is exactly 100 years before the fictional birth of Doraemon in 2112, and so various festivities have been organized to commemorate the occasion in his home of Japan and throughout Asia as well. The exhibition I attended in Hong Kong's Harbor City, aside from featuring a host of Doraemon statues, also includes a small museum with imaginary fantasy inventions created by Japanese artists who were inspired by the popular franchise, some life-sized figurines, and even Doraemon-inspired fashion! Despite the heat and blazing sun, lines still form for photo ops with the cute and cuddly robot and his human pals."
"Another attraction at the event is the Bo-Lo'GNE café, featuring a Doraemon-themed menu. I sampled the cappuccino (almost too cute to drink) and the honey toast with ice cream and chocolates in the shape of Doraemon and his sister Dorami. The freshly baked bread and Doraemon cookie on top were a satisfying conclusion to the day."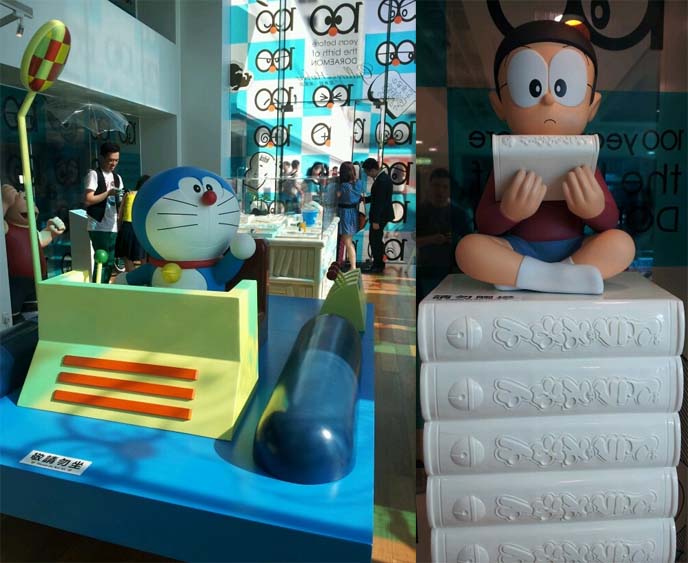 "If you aren't familiar with the fantastic world of Doraemon, maybe now is the perfect time to step through the dokodemo door and take a look at a wonderful showcase of imaginative Japanese characterization at its best!"
The free exhibit, 100 Years Before the Birth of Doraemon, is open til September 16 at Harbour City, Tsim Sha Tsui, Kowloon.
Mr. Skeleton and I can't wait to show you more of the city's crazy pop culture! If you're impatient, check out my Hong Kong adventures from 2011.
What type of HK reports would you like to see on this blog? Fashion, food, nightlife, travel? Leave a comment in this post or on Facebook, and let us know.
❤ Epic post, no? Share it around (below)…