Hello Kitty clothing collaborations: Hong Kong Izzue store, KiLaRa Japan, Forever 21 Sanrio capsule collection.
Uh oh, this blog post is Hello Kitty kawaii overload!
Quite a few people are raving over the current Forever 21 x Hello Kitty capsule collection. While the F21 limited edition items are not bad, they pale in comparison to the designs I found in Hong Kong.
Exhibit A: the Hello Kitty b + ab collaboration. Asia pop street style perfection.
This extensive range was sold in my favorite Hong Kong store, Izzue. Unfortunately, items are no longer available and cannot be bought online (but keep reading for items that you can purchase!)
I love the cat-faced shoes, plump bows and puffy jackets. The designs are sleek yet poppy — this isn't stuff for kids.
Although there's lots of that in Hong Kong as well. Sanrio shops are everywhere, like this one in Causeway Bay.
When I was a child, I wanted a Tuxedo Sam penguin plush toy. Finally, I found one.
Moving on to Exhibit B: Hello Kitty's collaboration with KiLaRa, a Japanese designer brand.
These cute women's clothes, accessories and shoes were sold in Sogo, the Japanese department store. Again, they're likely sold out and can't be found online.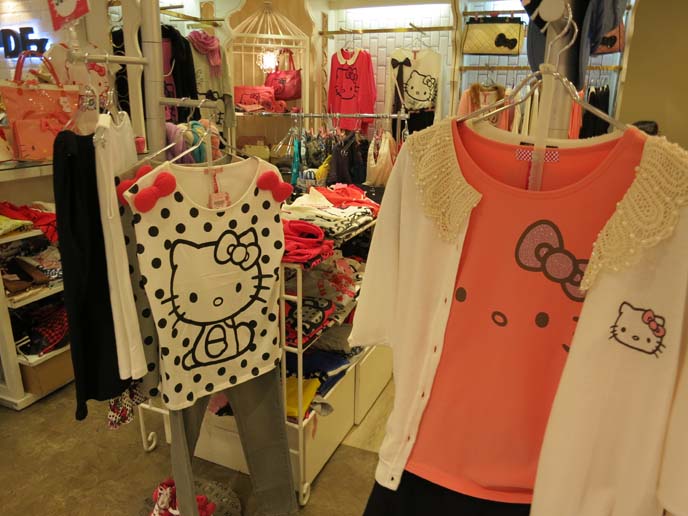 Don't cry. Sanrio collaborations with Asian clothing designers are a dime a dozen, so there will surely be more items available in Hong Kong and Japan soon. (Links at the bottom of this post.)
I personally prefer the more subtle Kitty-wear. Instead of a tshirt with her face on it, I bought these scalloped shorts with bows.
I also got the shoes with the fat red bows (above). Too adorable to resist.
It's nice to see Kitty in purple and pastels.
The cuts and trims are unmistakably Japanese.
In some ways, I prefer to shop in Hong Kong than in Japan. Here, you can get well-made clothing (sometimes by the exact same Japanese designers) for lower prices.
These shirts, for example, were around $15-20 US.
A bigger and better selection than the Forever 21 Hello Kitty partnership, don't you agree?
Ditto with the Reebok x Hello Kitty sneakers, also sold at Sogo Hong Kong.
What's your opinion of these Hello Kitty Hong Kong collections? Which items did you like best?
PS: Although the clothes in these photos are not sold outside Asia, there's lots of Hello Kitty items available online: including these plush sneakers, cute winter shirt, sweater dress, winter bobble hat, and magenta watch. Click for more details and to purchase.