Pop tART Gallery Los Angeles: alternative art of Franz Szony. Crazy Hook pirate theme restaurant, LA Koreatown.
I've been Art Nouveau obsessed ever since my travels to Berlin and Prague. In Los Angeles, I nearly lost my head over this gilded corset!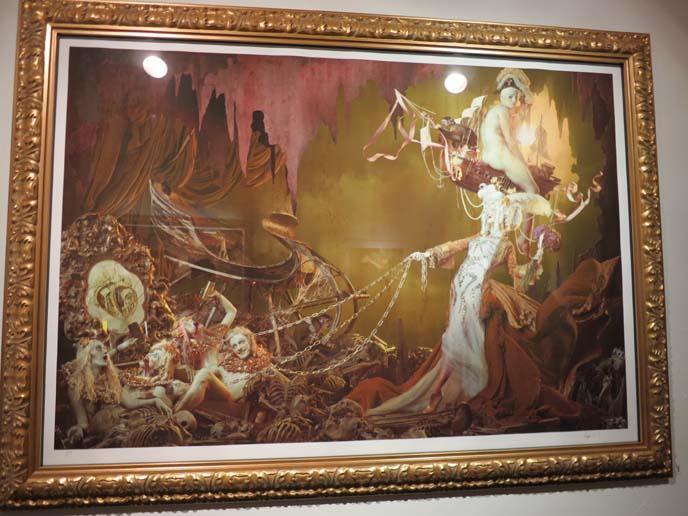 Pirates, Rococo, and death? What is this marvelous place?
Pop tART Gallery, an experimental arts venue owned by the illustrious Phyliss Navidad. Last year, photographer Austin Young had an exhibition in this LA space.
I went to the opening of "Hapenis: The Art of Franz Szony." I was captivated by his conceptual photography, which drew me into a world of theater. Themes of death, androgyny, grandeur, hedonism — all my usual favorites.
Pirate top: Spider (Hong Kong Goth brand)
Scalloped bow shorts: KiLaRa Hello Kitty collection (Japanese brand but bought in Hong Kong)
Hair flowers: provided by Angelica Brigade
Closeup. Franz spends months on each piece, and it's a treat to examine the intricate detail.
"Hapenis" runs until Nov 30; don't miss it, LA friends. For upcoming events and info, visit the Pop tART website and Facebook.
In the words of my tshirt, "Time flies when you're having RUM!"
I'm appropriately dressed for Crazy Hook, the pirate restaurant in LA's Koreatown. I swung by with Liz Ohanesian: journalist, DJ and writer of Beatique.
Tharr be mateys in the window.
The Korean menu had us hooked.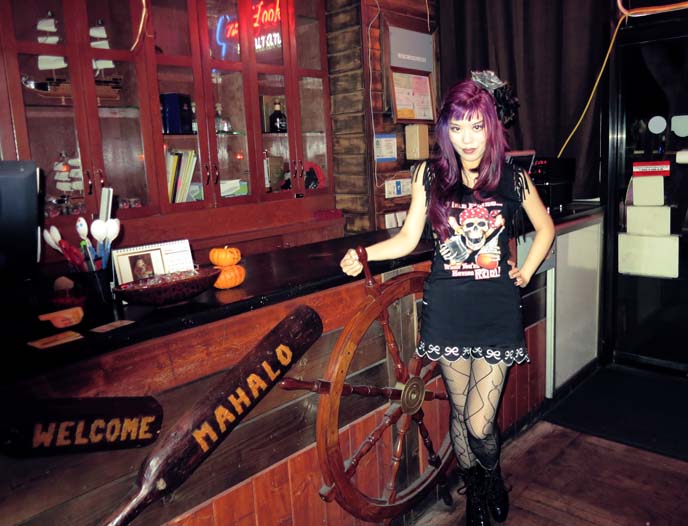 I'm not sure where "mahalo" fits in… perhaps the pirate ship sailed to Hawaii?
Crazy Hook is a great place to gather friends for a feast. Liz and I sat beneath the sails, drank soju and feasted on the kimchi pancake.
Thanks Liz O for the photos. She's an LA-based journalist currently working on a webcomic and screenplay — check out her site for music and underground reports.
Since you keep requesting more Basil Farrow, here's a new Scottish Fold cat video. Watch my squish-faced kitty get groomed with a Furminator, enjoying every moment. Isn't it incredible how much he sheds?
What's on your mind today? Did you cast a vote? Are you into pirates and decadent art as much as I am?