Downtown Mesa, Arizona shopping: street art, bohemian fashion, anime toys & home decor. Salvador Dali's house?
Where in the world is La Carmina? I'm currently in Miami; last month, Arizona. Here's the first of my many desert photo diaries.
Don't tell my earless cat that I was petting a dog in Mesa (east of Phoenix).
It's an illusion. This Salvador Dali-esque melting building…
… is in fact a 2D mural, on the side of a vintage clothing store called Eclectic Monkey Emporium.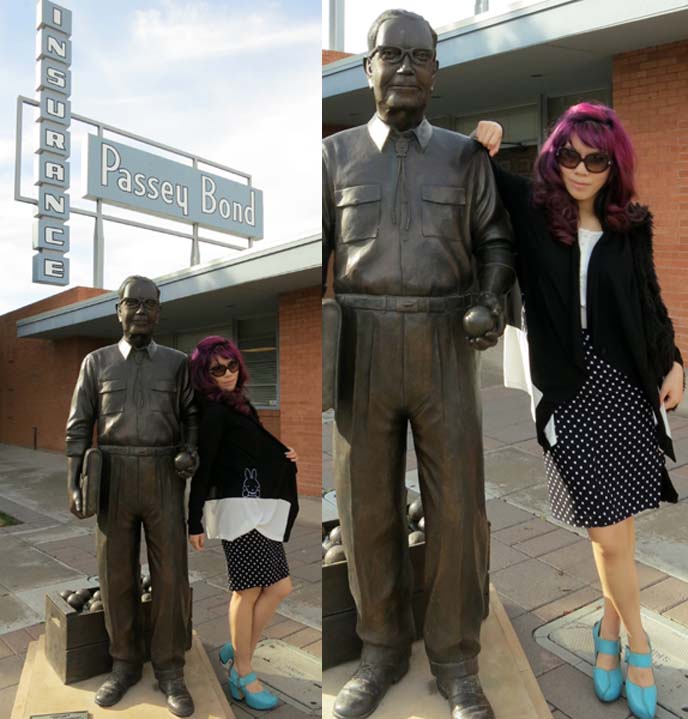 Downtown Mesa has become an arts destination. I met life-size sculptures as I wandered the streets.
Black and white draped jacket: Miffy x TwoPercent, from Hong Kong Causeway Bay
Polka dot skirt: vintage
White tank top: Muji Japan
Blue shoes: John Fluevog (similar to these Fluevog Munster shoes)
The pig is one of my favorites.
Murals, murals, on the walls.
Main Street Mesa was a joy to explore. Small business owners sat at the counters, giving greetings and shopping advice.
So much to browse at the vintage bohemian Blossom salon and boutique.
Steampunk love.
None of the stores were mass retailers. Instead, there were one-off gems like Design*Lab for home decor. (My bag is Hyoma by Izzue, from Hong Kong.)
Lulubell Toy Bodega has Japanese collector toys, anime goods, and books by my Crazy, Wacky Theme Restaurants publisher.
After a long walk, I was relieved to drink mint tea at Lo-Fi Coffee — followed by fish tacos, rice and beans at Mango's Mexican Cafe.
Three cheers to Downtown Mesa for supporting indie, one-of-a-kind boutiques and street art!
Do you have shops like these where you live? What do you think of my "sleek-kawaii" look these days?
PS: Currently having an incredible time at Art Deco Weekend in Miami. For 1920s outfit previews and architecture, take a gander at my Instagram.