Gothic Lolita at Phoenix Art Museum: vintage Chanel dresses, Philip C. Curtis paintings.
Did you know I used to take art history classes? Visiting galleries remains a favorite past-time. During my Arizona press trip, my friend and I went to the Phoenix Art Museum.
Serafina is a classically trained soprano (and she wears Gothic Lolita coordinates beautifully). She's currently working on Chiaroscuro, a "neo-classical pop project based upon the visual arts, from classical to the contemporary." And she sells handmade jewelry, mostly rosaries, in her Etsy shop Rosarium Obscurum.
We stopped by the rooftop garden of the Sheraton hotel in downtown Phoenix.
Purse friends! My fuzzy is Hyoma, from Izzue in Hong Kong. More photos of my Miffy outfit in this Roosevelt Row post.
We ate refreshing hummus, goat cheese and Thai-flavored salads at District , on the ground floor of the Sheraton Downtown. They made special mint juleps for us, using herbs straight from the roof garden!
The Art Museum has a spacious courtyard and Sculpture Garden. One of these runners is not like the other…
A cartoon-like man riding a masked horse. Serafina's expression says it all.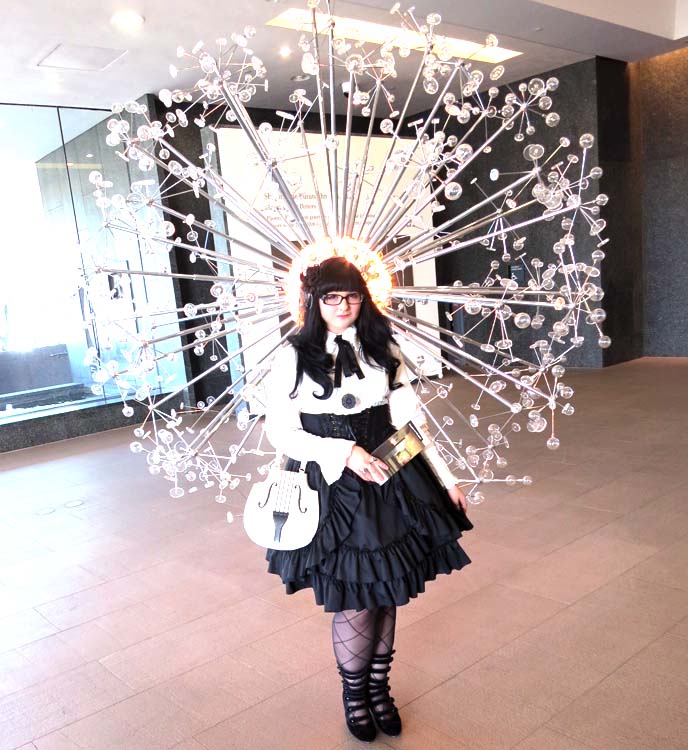 The museum lets you take photos inside, as long as you don't use flash. Talk about an invitation for a photoshoot.
The museum has multiple wings, with works spanning from ancient China to today. I personally loved the Philip C. Curtis exhibit. The American painter reminds me of Edward Gorey and the surrealists.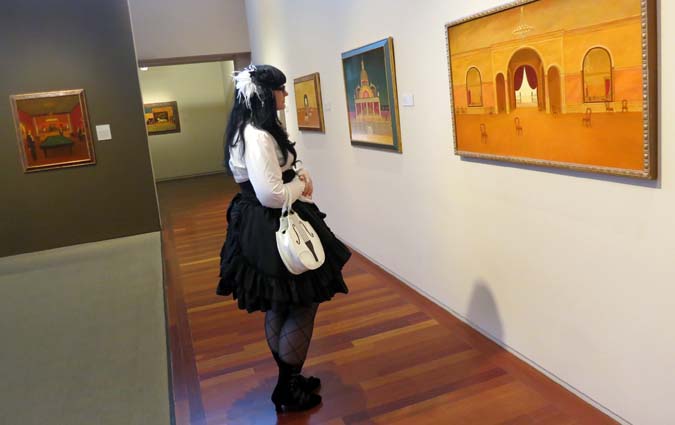 An empty ballroom with uncanny mirrors and chairs, carney circuses, strange Victorian guests. I'm still mulling over Curtis's paintings.
I could't wait to see the special exhibit: Art Deco fashion.
Fascinating to see Vogue and Harper's Bazaar magazine covers from the 1920s and 1930s. Who knew they were hand-drawn?
Velvet capes with embroidery. Want.
Quite a few of the Roaring Twenties flapper gowns were by Coco Chanel.
Can't go wrong with cloche hats and feathered fans.
Or silky lingerie.
Here's a quick video I took with my iPhone, to give you a sense of the space.
Can you tell I'm on a 1920s kick? Check out my Art Deco Weekend Miami coverage for more retro inspiration.
Phoenix Art Museum is very much worth a visit; the selection is well-explained and includes Monet, Frida Kahlo, and Alexander Calder. Be sure to visit Yayoi Kusama's "You Who Are Getting Obliterated in the Dancing Swarm of Fireflies" — a dark room with hanging LED lights.
Have you heard of Philip C. Curtis? Who are your favorite artists and eras? You can delve into my art and design category, and there's more Art Deco Weekend on the way!