Department H Tokyo, Japanese fetish alternative club! Bagelhead & body modifications art exhibit.
Tokyo has many crazy club nights, but which takes the cake? Department H, a monthly party that celebrates the wildest aspects of underground culture.
You'll see monster costumes, sexy tentacle performances, anime-head masks, drag queens, extreme piercings, lesbian wrestling… read on for incredible photos!
At the entrance, a woman covered in fake blood writhes in this glass coffin — like a scene out of Tokyo Gore Police. Next to her is a realistic, decaying corpse with a very long appendage…
Inside, we met an alien. While I struggled and ran away screaming, Yukiro decided to mount and conquer him.
I wore a carnival type of outfit. No fake eyelashes today; everything's drawn on with black eyeliner pen.
Striped pastel goth skirt: Peace Now, from Closet Child Ikebukuro
White ruffle top: Spider, Hong Kong
(I kept the same hair that Kukukachoo styled for my magazine shoots.)
Department H takes place in the unassuming Kinema Club (Address: 6F 1-1-14 Negishi, Taito-ku) near Uguisidani station. On the lower level, there are booths that offer extreme body modifications and sell alternative goodies.
Keroppy Maeda, who you may recall from our Taboo bagelhead adventure, is there every month. He invited us to his art exhibit (at the bottom of this post).
While the DJs spun disco, Kanashimi no Belladonna (an old anime inspired by Art Nouveau aesthetics) projected on the backdrop. Then, the stage cleared, and the drag queens strutted their stuff.
Each showed off their handcrafted outfits, which expressed different personalities.
Such as a full body latex suit with green eyelashes.
This strawberry princess worked it to the max: as she walked the runway, her outfit exuded the scent of strawberries!
Hanky-panky and nudity are not a problem here. This is a safe space; nobody ever makes you feel uncomfortable.
Next: girl-on-girl wrestling! In the words of Naomi (who took all these images): "The match usually has two or three judges who are dressed in various monster/sci-fi costumes, and two participants who start out dressed up. However, as the match progresses, the wrestlers are encouraged to remove each other's clothing as part of the match. It's raunchy and ridiculous! The "fighting" is more for show than serious but they are very good at faking it."
Look who joined the party… Jake Adelstein of yazuza memoir Tokyo Vice fame, dressed as a naughty priest. This photo says it all.
Many people cover their faces entirely. Anyone can be in these suits.
Japanese burlesque performer Naomi wowed us with her light-up hula hoop act.
Now that's a power couple.
Thanks to organizer Gogh (center) for this incredible event, which has been going on since the 1990s!
Department H occurs the first Saturday of each month. Please consult my Tokyo nightlfe guide for details on this and other parties.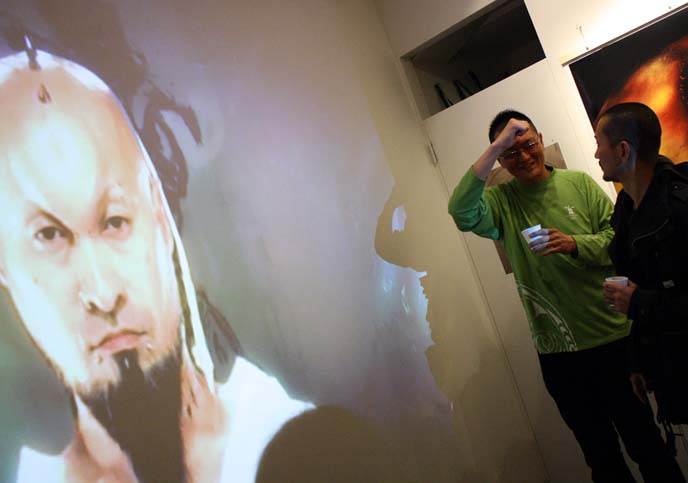 Many of Dept H's regulars took part in an art show, curated by Keroppy Maeda, at Vanilla Gallery in Ginza. This little space often holds underground exhibits, such as one dedicated to burlesque. This one was titled "死と未来 – la mort et le futur" (Death and the Future).
On display were works by eight artists, including Keroppy. He's currently fascinated by trepanning, or drilling a hole in the skull (a Medieval medical procedure).
Keroppy performed trepannation on an animal skull, and took the photograph on the wall. Behind him plays a stop-motion film of a forehead saline inflation (which he is explaining to his friend!)
Also in the exhibit: photographs of katana, corpses, and post-earthquake destruction. All the pieces reflect the theme, "The reality of death shows truth and the possibility of the future predicts a new vision for humans and our world."
I enjoyed speaking to the artists about their process. The works ranged from stream of consciousness collages, to mistress photographs, to cultured human skin.
Keroppy Maeda is continuing to push forward with extreme body modifications and art in Japan. I can't wait to see the projects he takes on next. (See his site for more.)
For more about Department H, see my reports from 2009 and 2011.
Would you attend a nightclub like this? What do you think of Tokyo body mods and underground art scene?
PS: Today, I did something involving bagels in Montreal… did you see it on my Twitter?