Nakano Broadway anime & manga: Tokyo Otaku shops! Omega Algea Goth cafe, Dai Kaiju monster bar.
Me, an eggy frying pan, and six boobs. Only in Nakano, Tokyo!
Yukiro and I are back… with a funny new video about this Japanese geek-pop district. We visit a Goth cafe, encounter aliens, and get chased by pink monsters. Watch our adventure on Huffington Post Travel and below.
It would make us very happy if you can please take a second to share/Tweet the article, or Like it below — our sincere thanks.
I encourage visitors to stay in Nakano if they're visiting Tokyo for more than a few days. The location is convenient — it's a direct, five minute subway ride to Shinjuku — and the vibe is more laid-back than Shibuya or Roppongi. (Above is North Exit at night)
Hotel bills add up quickly, so I suggest renting an apartment from a foreigner-friendly service like Live In Asia. An English-speaking representative met me at Nakano station and helped me get set up in a furnished flat, complete with a kitchen, TV, and WiFi. There was a supermarket down the road, and many cheap but yummy eateries nearby.
My one-bedroom apartment was in a quiet neighborhood, and only a five minute walk from the station. It was fun living among Nakano locals, and having friends over — a nice change from cramped hotel rooms. Check out their website to reserve a short-term Tokyo apartment the next time you're visiting.
Yukiro dressed as his new alter-ego, "Leonarde Le Douze" — twelfth-ranked sleazy host boy, born from the loins of a lion.
La Carmina wears a Heavy Metal dress from GladNews (Shibuya 109 store), Yosuke boots, and a Miffy cape from TwoPercent Hong Kong.
Nakano's main attraction is Broadway, a shopping complex dedicated to geekdom. The little shops are packed with collectibles, from creepy dolls to Astroboy lunchboxes.
Leonardo ran into his furry, yellow brother.
We can spend hours here, browsing for Super Mario and Sailor Moon goods. The girl with the tongue is Peko-chan, mascot of Fujiya Co. (a chain of sweet shops and restaurants).
A big blue robot guards Mandarake, known for its selection of anime (animation) and manga (comics).
Behind these Shinto torii gates are rare toys. Nearby, at the retro arcade, you can play Space Invaders and other classic video games. (Thanks to Geoff for helping us with the filming.)
Look out for aliens and wild animals!
You'll undoubtedly run into slightly disturbing goods, like these sexy "gachopon" machines.
This is a hub of subculture, as you can tell from the art-covered walls running alongside the train tracks.
A big inflatable maneki neko, outside a pachinko parlor.
Inside a little Japanese cafe that served traditional, homey food. I also enjoyed the takoyaki stand (octopus balls), tiny ramen shops, and North Exit bakeries that sold cute Totoro and Anpanman buns (photos soon).
We went to little-known Gothic cafe, Omega Algea. After searching for some time, we found the basement space decorated with human spines and chandeliers.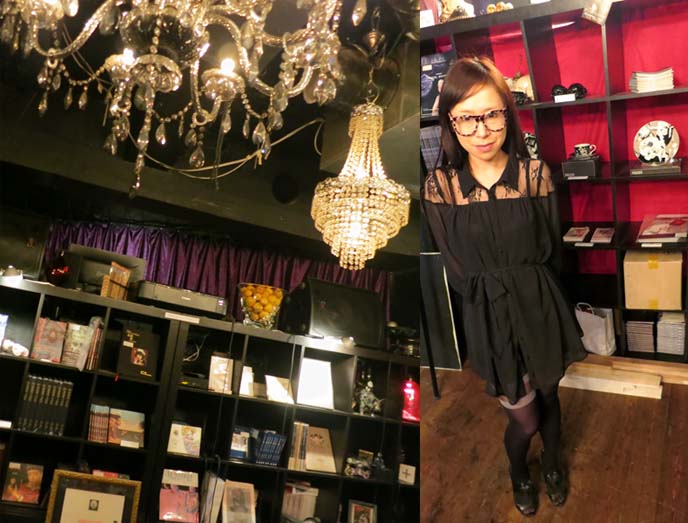 Reminiscent of Vampire cafe in Ginza, the mood is dark and bloody. We drank rose tea and ate green curry.
The side room displayed underground art. At the time, the works were inspired by dark angels.
Look who we found in this artistic book of photos.
At night, you can hop between little bars, each with a distinctive theme such as heavy metal or karaoke. The award for "most outrageous" goes to Dai-Kaiju Salon.
Every Wednesday, the space becomes a shrine to retro monsters like Godzilla and Mothra.
Fanboys watched 1960s Ultraman movies and fawned over rare toys. The walls displayed drawings by famous anime and manga artists.
The highlight was hanging out with this pink, suction-cupped, vaguely aquatic kaiju (the word means a strange, supernatural beast).
I laughed so hard when First Mate Naomi put on a full-body monster costume, and danced around!
Don't miss the crazy footage we shot at this bar — watch our latest episode to see it for yourself.
Nakano is a kooky, weird, colorful area that is often overlooked by visitors. I hope you'll put it on your Tokyo to-do list, and consider staying here during your next trip. (Above drawing and photo by Naomi)
Who are your favorite Japanese mascots and characters? Did you giggle at the monster scenes in this travel video? Or did Yukiro steal the show? Muahahaha!