My Thailand Luxury Travel Video! Bangkok pop culture at boutique hotel, Sofitel So.
I loved getting to know the glam side of Bangkok, thanks to the Tourism Authority of Thailand. There's so much more to this city than backpackers, banana pancakes… and dare I mention ladyboys?
See for yourself, in the latest episode of my Business Insider travel video series. Watch it here — isn't Bangkok's pop culture fascinating?
Photos and video by me and Seby. Our Thai adventure included disco clubs, skeleton corsets, and an amusing encounter on the way to Siam mall!
We also visited two sweet designers, who are making Lolita and Japanese-style clothing (here's a full post about ChuChu). Wonderful to see how the subculture is thriving in unexpected places.
I couldn't have stayed in a more beautiful hotel, the Sofitel So. They even served absinthe in the lobby.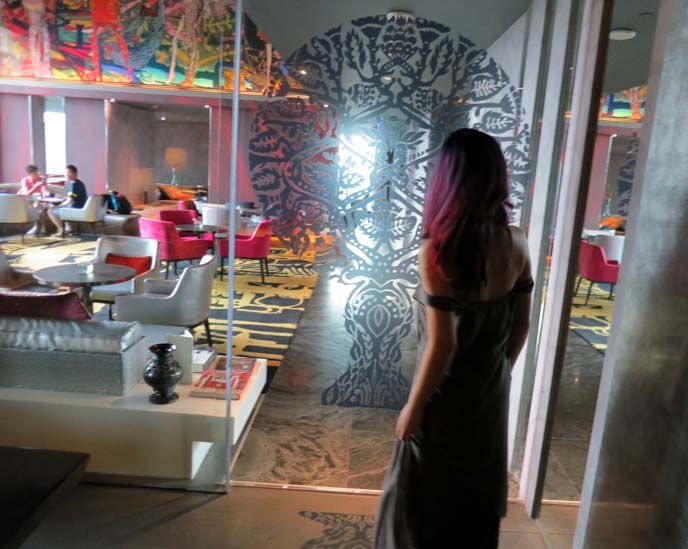 VIP members get access to the club lounge, which is stocked with food, cocktails and fashion.
Christian Lacroix designed the interior. His colorful couture is unmistakable.
The ground floor contained a Bonnet chocolate shop. I spotted Little Prince sweets, and Parisian shoes and handbags.
Sofitel So BKK is inspired by the five elements. I stayed in this funky Earth-themed suite.
The other themes are Water, Wood, Fire, and Air — represented by modern cloud art.
The entire hotel had glorious views of Lumpini Park. This is a far cry from the Khao San Road hostels…
Stark art is everywhere. I saw a child climbing on this white deer statue.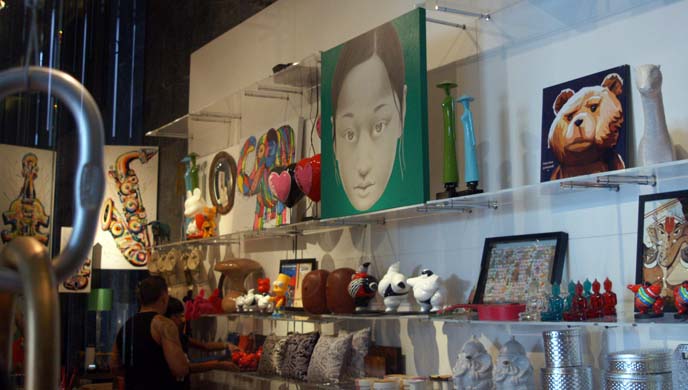 I spy Ted the Bear in the gift shop.
The lobby's design mixes traditional and modern.
Also check out the romantic photoshoot I did inside the Sofitel So Bangkok. (My hair is now blue; these are older photos).)
Please take a minute to watch my Bangkok travel video, and leave a comment to let me know what you think!
Did this series change your impressions of Thailand? What is the loveliest hotel you've ever slept in?