A bittersweet update about Rose. Gothic Lolita, Anime & Cosplay wigs at Tokyo craft store, Okadaya.
A surprisingly large number of people ask me about my friend Rose. Why hasn't she appeared on the blog recently? I've been reluctant to say because the news isn't good. Basically, Rose has been battling an extremely serious medical condition.
However, there's a light (over at the Frankenstein place)! A test has nailed down Rose's mysterious condition — and with some help, she can regain her health. Please read on for the personal story, followed by the latest in Tokyo makeup and wigs (since Rose loves J-fashion, and we want this post to end on an upbeat note!)
Long-time readers will remember Rose from our adventures in Seattle and Vancouver — absinthe burlesque clubs, Jrock concerts, dance videos and more. She's got such positive energy, and a flair for alt-Japanese style.
Some have commented on her thinness. Rose has been struggling with a serious medical issue for years, which left her unable to eat or gain weight. It's a long story (which her mom outlines in full here). Basically, about 11 years ago, Rose started having digestive troubles that lead to full gastroparesis or stomach paralysis. Despite going to the best doctors and trying all options, nobody has been able to determine a cause or cure. A series of painful operations, including inserting a pacemaker and removing her entire stomach, did nothing to help.
Sadly, in recent months, Rose has been getting worse. Her weight dropped to 73 pounds even though she takes in enough calories by tube-feeding, and she developed other complications.
However, there's been a breakthrough: Rose tested 100% positive for Lyme disease. She took a test years ago, but the results came back negative since there is a high error margin. With this new and reliable method, the diagnosis is undeniable, and the symptoms fit.
It's terrible that the undiagnosed Lyme disease caused her to worsen for a decade. On the plus side, Rose now knows the cause, and can undergo a complicated treatment to hopefully beat it. However, this will be a long, expensive road. I know her family, and they put everything into her medical costs, but it is a struggle. We're having an online fundraiser, and hope you can help Rose with a contribution, no matter how small. So grateful for your support, and will share updates all along the way. Let's get her healthy again!
♥ You can donate safely here by PayPal or credit card (choose to pay with PayPal and then at the bottom you will see "buy as guest." Click that and you can then use your credit card.)
♥ Or if you can just help us get the word out — maybe with a Facebook post, Tweet, blog post or email — it will make a difference. Thank you.
On a brighter note, since this post is dedicated to Rose, I wanted to put up something that makes her smile. Rose dreams of visiting Tokyo, and I know she'll go nuts inside Okadaya — one of the best places to pick up wigs, makeup, and craft supplies. I love coming here to scout out the latest beauty trends, like bunny-eared pastel wigs.
The main floor of Okadaya (address: Shinjuku 3-23-17, near the station's east exit) has a wall of false eyelashes, especially in the glam gyaru style. Above are some special collaboration lashes, which come in different colors. There are also over-the-top ones in rainbow colors, feathers and glitter.
Don Quixote and 100 yen "dollar" stores sell cheaper false lashes, but you can't beat the variety and uniqueness of the ones here.
There are always displays of new, chic beauty products. Disney just released a glittery nail polish line, in a variety of colors. Cinderella, Minnie Mouse and Snow White seem to love it.
Hello Kitty's cute face is omnipresent in Japan. This is the new Sanrio perfume, packaged in "small gift" pouches. Different colors represent different scents.
Circle or novelty contact lenses remain big sellers in Japan. These "Funky Whip" contacts are a relatively new offering, which you wear only once and dispose.
On the second floor, it's wigs galore! The sample hairdos are always done up in creative styles, like this braided and flower-topped mannequin.
Kyary Pamyu Pamyu's influence is obvious in these quirky, experimental pastel hairstyles.
Would you rather have a snake dangling by your face, or a snowman on your scalp?
This green and red Christmas wreath hairstyle gets props for creativity, if nothing else.
What a lovely romantic couple. The one on the left is a man… I think? (Okadaya has a fun selection of Jrock or host boy wigs too).
Every possible type of synthetic wig is sold here, in all colors and lengths. These shaggy bobs are more natural-looking.
If that's not your bag, then there's a shelf of Sweet Lolita, pastel goth and cosplay wigs! Most are by the brand Prisila. Perfect for anime convention costumes, Halloween, or a club night out.
For more photos of fabrics and craft supplies at Okadaya (including feather boas), see this blog post…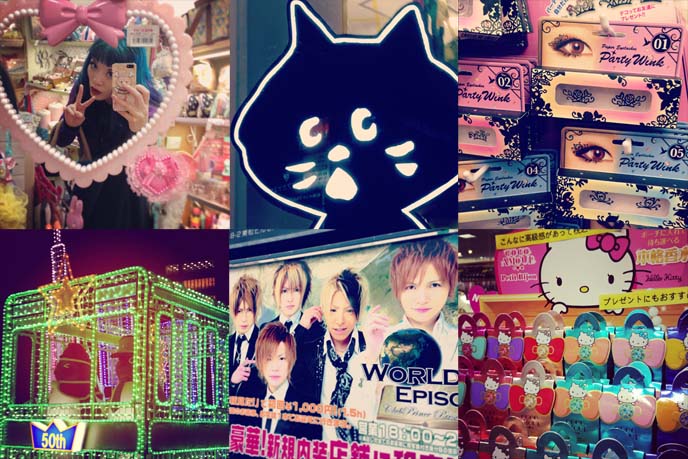 … and peruse my LaCarmina Instagram. I'm on YouTube and Facebook too.
I leave you with a few kitty snaps. Here's a fat-faced illustration in a Shinjuku store window. Looks like a British Shorthair to me.
Can you see the resemblance to my Scottish Fold kitten?
Basil sends a hug to everyone who helps out our friend Rose, if it's by giving to the fund, or simply sharing this post. You can see all of our adventures together right here — she's a very special person, and I hope to have better news for you soon!