My 10-Step Makeup Routine & favorite products! Japanese Goth doll eyes tutorial.
Let's talk about makeup! I recently got some emails, asking about my cosmetics routine. It's changed over the years, but I currently have about 10 steps to get photoshoot-ready, using a minimum of products and brushes (since I'm often traveling, and can't over-pack). I'll also share some bonus, behind-the-scenes modeling photos from Portland.
My overall makeup tips: invest in quality products, especially your "base" (foundation, powder). Start with a light SPF moisturizer, and let it dry before applying layers gradually. Obviously, for day-to-day wear, I don't do all these stages, but for special occasions these are my 10 steps of prep…
1) Apply Make Up For Ever HD foundation with a stipple brush. This foundation is a little pricy, but by far the best I've used. With a stipple brush, you'll get a natural-looking effect. It stays on all day without feeling heavy, and looks great on camera. I use shade "Marble" #117.
(If you need concealer, try Make Up For Ever's full coverage one. I skip this, and simply dab foundation onto uneven areas.)
2) Make Up For Ever's HD powder is also a winner. I brush it on lightly after I finish my full face, but it's worth mentioning here.
3) Next, I define my eyebrows with a brown pencil. I trace the line below and above the brow, and slightly extend the ends.
4) For a more natural fill, I use an angled brush to apply eyebrow powder, working from a dark to light shade. I also highlight right below the eyebrow.
5) Don't forget to define your face, or else you'll wind up looking a bit flat. I adore YSL Touche Eclat, a highlighter pen. It brightens up the area below your eyes, and whisks away shadows.
6) Then, apply contour and blush to bring out angles (around the cheeks, nose, jaw) and add a bit of rosiness. I like having both in a single compact, saving time and space in my luggage.
(I should mention that a travel brush set is a wise investment. They last forever, and fit snugly in a single case.)
7) I like to experiment with different lip colors, sometimes using a lip brush or pencil to create an ombre fade-out. However, my default is a caramel rose lipstick, such as NARS Pago Pago. They have a superb matte application, and there are many shades to fit your skin tone. Wearing a subdued color keeps the focus on your eyes.
8) I recommend carrying an eyeshadow palette like NARS Narcissist, so that you have a variety of light-to-dark tones to play with. If you want to minimize even further, pick something like this set of 4 blue eyeshadows, which you can use to define and highlight your eyes. I tend to extend the colors out, with dark shades at the outer edges, and white for the inner corners.
9) Then, use a black eyeliner pen for a cat-eye effect. I prefer pens to pots and brushes because they are quick and precise.
10) Finish with false eyelashes. These Japanese Dolly Wink lashes are popular among gyaru. I use an eyelash glue with a brush for better application.
I hope you find this 10-step guide with recommended products helpful! Let me know if you have questions or tips about makeup. It's fun to discuss in the comments.
The above images are by Melissa Rundle and Eric Bergemann. They photographed me for the cover and spread of Rebelicious Magazine. During the shoot, First Mate Naomi Rubin took behind-the-scenes photos of the action.
Here are some of Naomi's shots. My handmade silk flower clips are works of art by Angelica Brigade — check out her site for gorgeous accessories.
My blue-to-green ombre hair is by Stephanie Hoy at Avant Garde Hair in Vancouver.
And these are my Alphonse Mucha x Innocent World stockings! I bought these special edition tights at the Tokyo Mucha exhibit.
The cut-out knee boots are Yosuke, from Marui One Shinjuku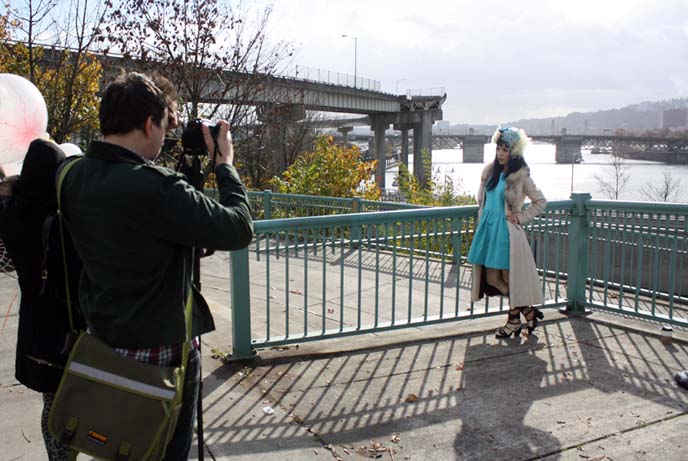 We were in Portland to shoot a travel episode (watch it here), and decided to do the magazine photos at Steel Bridge. I like to incorporate my destinations into my shoots.
It takes a village… Eric holds up a reflector, to get the lighting just right.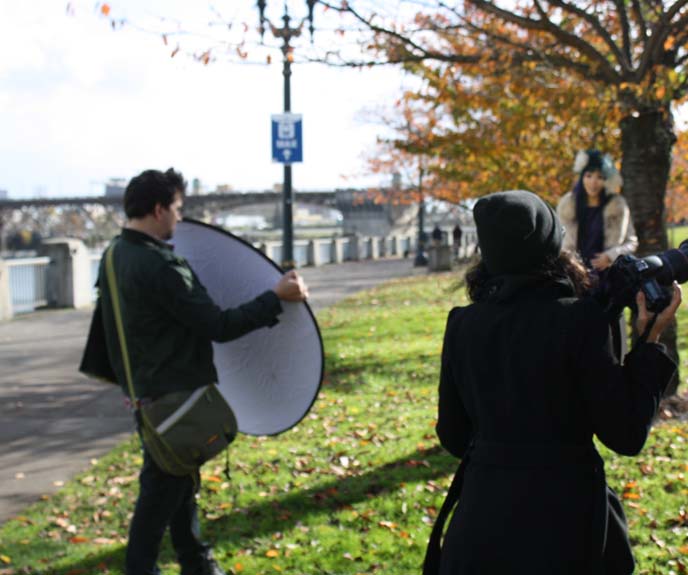 The autumn leaves created a beautiful backdrop. I like shooting outdoors, for the light and atmosphere. Fortunately, it didn't start raining until we were wrapping up the job!
Sometimes an idea doesn't work out. We had some Goth balloons, but they didn't look right in the images.
The blues, whites and greys of the bridge and water match my outfit's color scheme.
This white disco-era coat is from Hattie's Vintage (see more of Portland's secondhand shops in this post).
Both of my velvet dresses were lent by Vaute Couture — the collection is inspired by Sailor Moon. My faux fur scarf is from Holt Renfrew.
What are your favorite makeup products and techniques? I'd love to hear your tips in the comments, or on my Facebook!
I also did a blog post about how to pack stylishly — take a look, for tips on how to create cute outfits on the road.