San Francisco food is fabulous! The best SF seafood, ceviche, Michelin restaurants.
Oh, we ate like horses in San Francisco! The tourism board and various PR reached out to us, and set us up with the city's most innovative restaurants.
For me, trying the local cuisine is one of the best ways to get to know a place and its culture. When you travel, I urge you to open your mind and palate. Don't hide behind fears and restrictions. You never know what you might discover — like Yukiro's new appreciation for seafood!
From fresh seafood to Peruvian fruits, here's a chronicle of our San Fran eats. We loved every experience, but put the favorites at the top. Forks up, and let's dig in.
Our absolute top pick is La Mar Cebichería Peruana at the Embarcadero. Yukiro agrees: "La Mar with La Carmina was my best meal during the trip. We could have spent a day there, just eating and eating. Seriously, you must visit this seafood paradise if you ever come to San Francisco."
You couldn't eat Peruvian seafood and ceviche in a more beautiful setting, at the pier. Loved the outdoor dining space and lively color scheme, which matches my hair.
We started with these plantain chips and dip. It didn't take long for us to finish the bucket. Yukiro adds, "The service here was very good; our waitress chatted with us like a genuine friend. In the open-air kitchen you could see how all the fresh fruits they make into drinks or sauces."
"We had ceviche to die for, served beautifully with a lot of fresh and variable seasonings." Cebiches, or raw marinated fish, are the national dish of Peru for good reason. We had a 100% sustainable sampling platter. The yellowtail one was so good that we ordered another serving.
I'm the type of diner who likes to try a bite of everything, so I appreciated the menu's many sampler platters. We ordered pisco sour cocktails, empanadas, and causas (whipped potatoes topped with artichoke, beets, broccoli and avocado).
And the award for best dessert goes to… the chocolate lucuma crepe! The Andean valley fruit flavor is out-of-the-park, and unlike anything I've had before. If you only go to one restaurant in San Francisco, make it La Mar.
We also adored Le Colonial, a Michelin starred restaurant near Union Square. Inspired by the French era in Vietnam, the entrance is a lush jungle, and the service is top class.
Everything, from the low lighting to the southeast Asia Buddhas, adds to the romantic fantasy. On the top floor, we saw figures in top hats dancing to live jazz.
Yukiro reminisces, "The wine blew our minds far away. Very delicate flavored indeed. The appetizers were Vietnamese inspired and included tofu, spring rolls and skewers. It all tasted magnificent." For the mains, I fell for the steamed Chilean sea bass wrapped in banana leaves.
Finally, Vietnamese flourless chocolate cake with a warm interior, and lemongrass panna cotta topped with a (Michelin?) star. Yukiro puts it best: "After stuffing our faces with this luxury, we felt we had to roll down the hills of San Francisco to get home!"
I always say that when it comes to food, quality and location matter. Yukiro adds, "I have to admit that before coming here, I didn't think highly of shellfish. Pier Market Seafood proved me wrong. The crew treated us fellow pirates to a feast of freshly-caught seafood dishes. The pomegranate cocktail was super refreshing and probably the best we had during the whole trip."
We died over the mahi-mahi (melt in your mouth!) and grilled salmon, swordfish and shrimp. Some of the best I've had in recent memory, and this is coming from someone who is always in Tokyo and Vancouver.
Yuki-chan continues, "After this feast we got coffee cocktails and tremendously tasty desserts bestowed upon us. Chocolate cake and home-made apple pie with ice cream. What a treat! I got a nostalgic feeling from my childhood when my mother used to make a similar apple pie. But this one tasted even better than those sweet memories. Overall you must come to Pier Market Seafood for the Mahi Mahi dish, fresh cocktails and tasty desserts."
In the Marina district, we had a relaxing dinner with friends at Isa Restaurant. "The venue was romantic, gothic and darkly cozy. The very pleasing wines filled our tummies and spirits."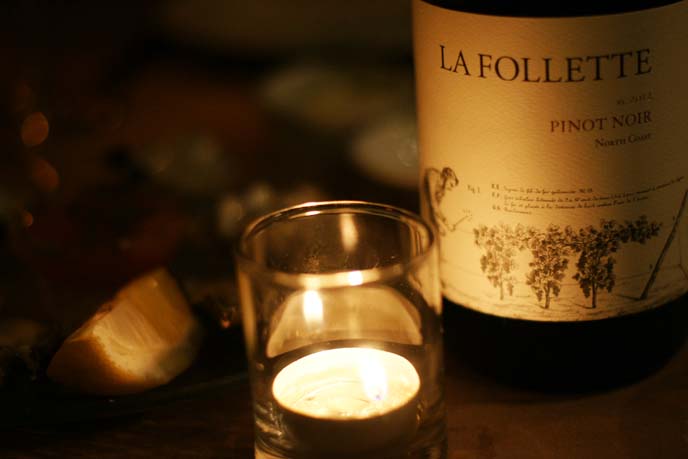 Our server at Isa was a fun fellow who used to work as a translator to the Cambodian court. "He brought us a lot of nice recommendations, which we took time to share and enjoy." The chef did a outstanding job of infusing French with Californian cuisine, keeping it simple to let the ingredients do the talking: lamb lollipops, Tomales bay oysters, and baked Chenel goat cheese.
Yukiro enjoyed a good cup of dark coffee after the dinner, and I was all over the refreshing (and pretty) grapefruit granite.
We had a divine time at Pisco / Destino, a Latin lounge and bistro. Modern Central / South American is currently one of my favorite choices for dining out.
(Both of my dresses in this post are c/o Alice's Pig. The white draped top is c/o Peace Love World.)
"This Latino place was to die for. Their sinfully good sangrias were non-sweetened and 'diluted' with more red wine. We had several re-fills due to the exquisite and rich fruit flavor. The best sangria I've ever had. Red wine is consumable in all conditions but this was probably its best form!"
"The fresh raw fish in different seasonings, called ceviche, was a killer dish. We loved every slice and dice of it."
For those with "meaty" appetites, we recommend Historic John's Grill. This is one of San Fran's oldest establishments, and was a setting in Dashiell Hammett's The Maltese Falcon.
The dark one says, "A traditional American steak house with a long reputation at stake. Could this satisfy a drag queen diva who eats children for breakfast? Certainly, m'am!"
There was an impressive wine list, and we drank their own label — a fine white, recommended by the vivacious server. "The only thing unclear was… why they are named Historic John's, when the founder's name was Arnold?"
Start with escargot, Dungeness crab cocktail, and lobster-stuffed ravioli. Move on to the filet mignon, or Sam Spade lamb chops.
And end with fresh berries with cream, and vanilla cream caramel flan. "There was no surprise, you got what you expected and loved it to the fullest. Historic John's lives up to its reputation for sure."
After all heavy eating, we were grateful for the seasonal gastropub grub at Urban Tavern. Trevor, Yukiro and I appreciated their mascot, the robot-mechanical horse.
The sunflowers aren't for eating… but we enjoyed healthy green salads and wraps, with quinoa and hummus. Yukiro especially loved the fresh avocado, and I devoured the yam fries.
But you've got to end a meal with dessert, heavy metal style. Here's to good old chocolate cake, peanut brittle and ice cream.
The sun sets over Fog Harbor Fish House, another Pier 39 seafood restaurant with a cool view of Alcatraz.
(Here are more photos of our SF waterfront explorations.)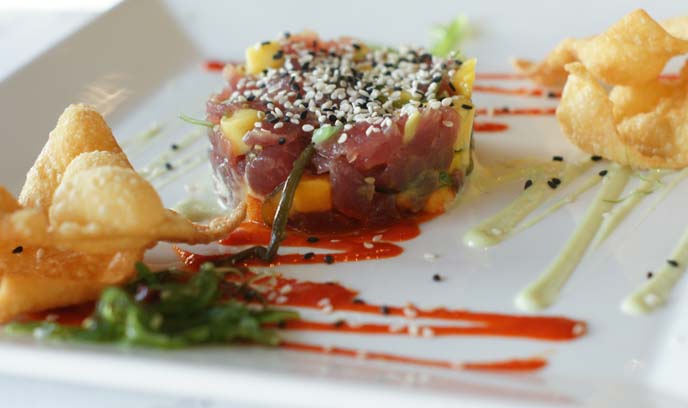 It was fun to wear bibs, and crack open this impressive seafood platter — crab, prawns, oysters, mussels and even corn on the cob.
I only wish we had more time to do tastings around San Francisco! Do you make efforts to try local foods, when you are in a new city? Which of these restaurants made your taste buds tingle?