Hong Kong sushi restaurants & skyline harbor views! Causeway Bay, Lan Kwai Fong fine dining.
Hong Kong is a fusion foodie paradise! It was Yukiro's first time in the city, so I wanted him to experience the sky-high harbor views, and local spins on sushi.
My Pirates and I were invited to try some of Hong Kong's newest restaurants, which are raising the bar on an already top-class food scene. We indulged in sexy naked rolls, got high on "magic mushrooms", and drank wine with Miffy the blow-up bunny… Intrigued? Ready to laugh? Read on, and don't miss the hilarious final photo.
(My skull dress is by Gladnews; more pics soon.)
We began at the top: or rather, on the 29th floor, at Sushi To (Soundwill Plaza II, 1-29 Tang Lung Street, Causeway Bay). Celebrated local chef Harlan Goldstein opened this Japanese restaurant earlier this year.
Causeway Bay is one of my favorite shopping districts, and this is the ideal place to stop for lunch — the iconic view says it all. From our window seat, we lorded over Victoria Harbor, silver skyscrapers, and traditional red junk boats.
Harlan has an immense local following, and is a rock star among Hong Kong chefs. He opened several European restaurants in HK throughout the past decades, and this is this first foray into Japanese cuisine. (More about our meeting with him, below.)
Sushi Tō specializes in omakase, and Harlan honored us with a "La Carmina Tasting Menu!" The selection encompasses more than sushi: there are his unique takes on robatayaki, teppanyaki and more, with creative ingredients such as "magic mushrooms maki".
(I know you're staring at my Totoro nail art. It's hand-painted, using bio sculpture gel, by Vancouver-based Glam Nail Studio.)
We were speechless over the starter: a salad with slow-cooked salmon, 68 degrees onsen egg, and sesame soy dressing. Yukiro marvels: "I didn't expect sushi to taste this good outside Japan. Its probably the finest fish I ever had the pleasure of consuming, and the way they served it was subtle and yet artistic."
And then: kampachi and salmon sashimi. Simple and ocean-fresh. We're all still salivating over this photo.
John felt this was the perfect first introduction. "The fresh sashimi melted in our mouths as their simplicity prepared us for the fireworks of flavor in the sushi rolls that came later, including the dragon fire maki."
We sipped on a number of cocktails; the old fashioned and pineapple-infused one were winners. John adds, "Be sure to try the "sake-tini," a refreshing summer cocktail to round out an amazing meal."
My friends show their enthusiasm for the burdock pickle and wasabi konbu beef roll. "The panko crusted Hiroshima oyster with black truffle miso sauce was devilishly good too," adds John.
The non-sushi selections were just as delectable. This is Hokkaido scallop, crab meat clams, shrimp, rice and soup in a stone hot pot. Dessert was so enticing — white sesame tiramisu — that we ate it before we could take a photo.
Let's leave the last word to Yukiro. "The way they personalized their menu just for us really showed how much they care about their customers. They should change their name to "Sushi To die for!"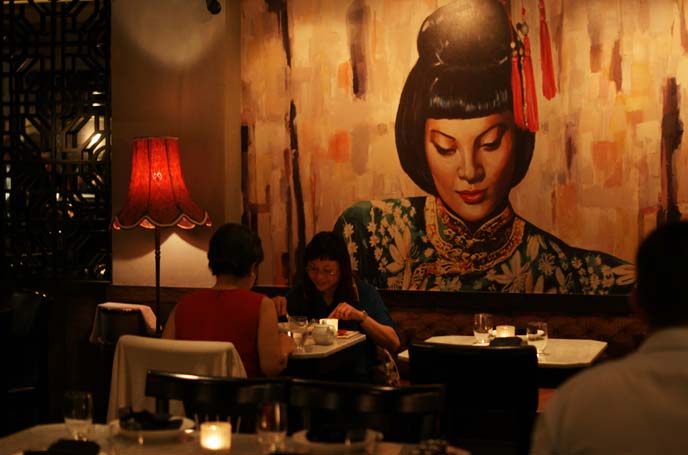 For dinner, we went to the newly opened Mama San in Central. Chef Will Meyrick's restaurant made waves in Bali, and now has a branch in Hong Kong's hottest food district, Lan Kwai Fong.
The interior sets the mood: Indonesian tradition meets young nightlife.
The PR team gave us this picture-perfect seat, overlooking the partygoers of Lan Kwai Fong. (Address: 1/F, 46 Wyndham Street, Central). As you can see, I had a special date with me… Miffy!
Mr Skeleton describes Mama San's menu as "an eclectic mix of items from countries ranging from China and India to Malaysia and Vietnam. Beef tartar and cassava chips helped us whet our palettes before shifting to heavier dishes like the "Dhania ghost" slow-cooked lamb shank."
Miffy seems to be a fan of the appetizers…
… and the cocktail menu, consisting of classics with a twist. My go-to is the "Dark & Stormy", and Mama San put a nice spin on it: rum, house ginger beer, orange bitters and lime in a paper bag.
After walking in the humid weather, we were relived to have salmon sashimi with pickled radish, edamame, organic flowers and yuzu dressing.
The southeast Asian spices stirred our senses: coconut, Thai basil, chilis, kaffir lime. Miffy dove head first into the salt-crusted barramundi fish, stuffed with lemongrass pandan and lemon basil, served with nahm jihm (Thai dipping sauce).
John says, "After all of the amazing foods we tried in Hong Kong, I would have to put Naked Gurume Gyarari (グルメ画廊) at the top. Chef Justin Chan took us on a gourmet tour of Japanese tapas-style fusion cuisine." (28 Elgin Street, 1/F Central District, Hong Kong)
Yukiro jokes, "It was so hot outside that we wanted to go in there completely Naked. At least our stomachs were naked on the inside, but when we went out, they were more than completely dressed in the finest materials from the world of Japanese-inspired food."
I agree with the praise! Justin and his team blew us away with dishes that look like art, and surprise the senses — yet, let the flavors do the talking. As John puts it, "The name of the establishment refers to stripping down ingredients to their bare essentials, but the creations that pleasantly assaulted our tastebuds were anything but minimalist."
The scallops with crystalline ice leaves are a great example. I've never tried these glistening Okinawan leaves before, and they paired wonderfully with the seafood and sauces.
Many dishes are inspired by Chef Justin Chan's childhood memories. He houses fried oysters in a traditional dim sum basket. Naked calls itself a "gourmet gallery" that mixes art and food; Yukiro describes the interior as "hip, with subtle inspirations from Japanese art."
This Sexy Naked Roll left us speechless. John says: "The perfectly grilled "nigirizushi", or seared tuna on butter-toasted rice, had us begging for more." You must order this, when you visit.
He kept serving home runs, like a rich and satisfying lobster risotto bisque, and this succulent hamachi collar.
Yukiro says, "Again I was astonished by the taste of the sushi and we had to order some dishes twice even though we were more than filled." John adds, "For jaded foodies who are looking for flavor combinations you've never tried before, Naked might just be an eye-opening (and mouthwatering) experience."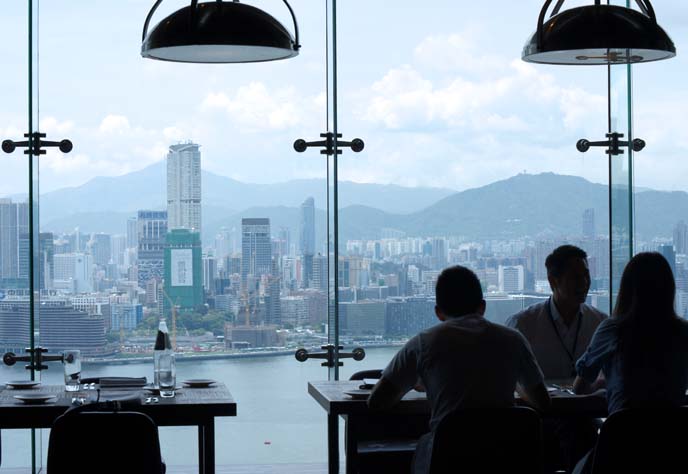 Now we're back in the hands of Harlan, this time at Penthouse. (Same location as Sushi To, but one floor higher.) "Entering the bright and spacious restaurant, you would be forgiven for imagining that you had stepped into a hip Manhattan studio, but the ceiling window view of Hong Kong would soon convince you otherwise," describes John.
Harlan Goldstein opened Penthouse not long ago, and despite being a celeb chef, he's as hands-on as it gets: we saw him working right in the kitchen, alongside his staff. Harlan took a break to sit with us, and we chatted over bourbon cocktails called "Wall St After 5pm."
Originally from New York, Harlan's a strong and passionate personality. He's been in Hong Kong since the 1970s, and locals can't get enough of his restaurants. John says, "Harlan described his vision for his restaurant as a cosmopolitan East meets West establishment." Looking around, Penthouse was packed with "loyal local customers, in love with the no-fuss contemporary cuisine."
We couldn't wait to try the rustic dishes that draw upon Italian slow-cooking and handcrafted pastas. The meal begins with salad selections from the buffet. Someone couldn't resist taking a bite…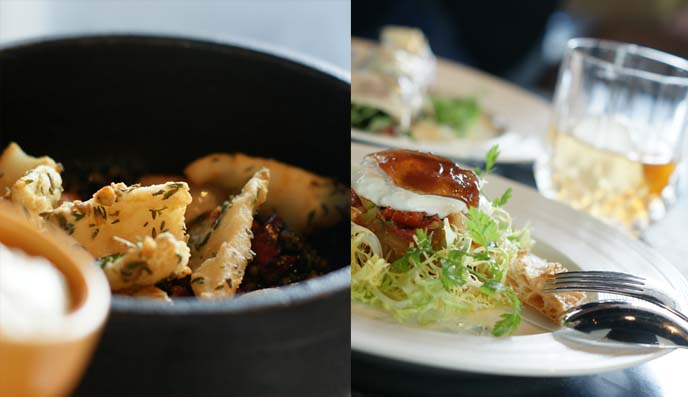 On the right: Yukiro died over this heirloom tomato tartare with burrata cheese, and balsamic jelly. On the left: I scraped the bowl clean of black ink bomba rice, with scallops and crisp baby squid.
Penthouse has a Josper oven/grill that heats up to 500 degrees, retaining juice while adding sumptuous flavor. The Spanish Duroc Pork Ribs were tender slow-cooked for hours, and fell right off the bone. John reminds diners "not to forget the hanger steak and the well-stocked, unlimited dessert buffet."
Yukiro says, "I am hooked on Goldstein's creative and subtle ways of mixing ingredients. I now want to eat my way through all his other restaurants."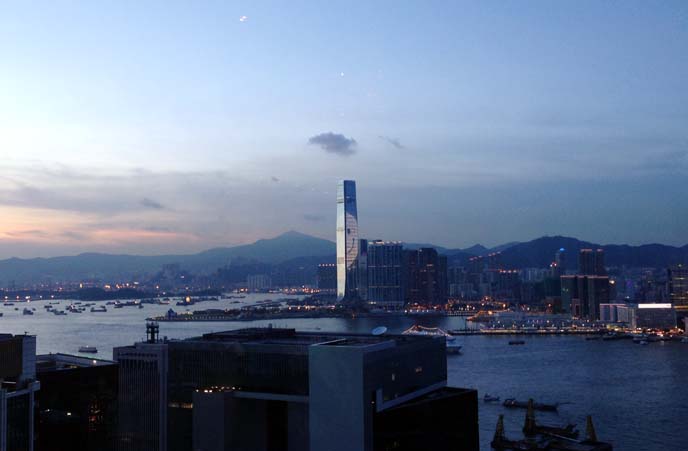 For the grand finale, we had dinner on the 49th floor of our hotel, the Upper House (we'll do a huge post about our stay soon). John sets the mood: "From the simple and elegant interior featuring natural tones and Asian touches, to the spectacular view of Victoria Harbor, the ambiance of Cafe Gray Deluxe is perfect for celebrating a special occasion."
You know the meal is off to a good start… when you photograph the table bread! Baked with sesame seeds and served warm, with a yogurt and olive oil dish… One of the best I've ever been served at dinner. Yukiro speaks the truth: "We stuffed our faces with it and had four refills."
Once again, the staff made us a special menu with a wine pairing for each dish. Cafe Gray's cuisine is homey yet gourmet, with carefully culled ingredients. We started with lobster carpaccio, prepared with Thai chili watermelon vinagrette, and pickled green papaya. John says, "One memorable pairing was the plancha seared kingfish chimichurri with fennel and peppers, served up with a glass of 2012 Dry Riesling from Lakewood Vineyards in Finger Lakes, New York."
The staff impressed us with their knowledge of wines, and the wines were so delicious that Yukiro says "they helped us forget all the misery in the world for a little while." Here's a bokeh-ful image of the French Chateau Bordeaux, a sturdy red fit for a royal. We finished with Greek yogurt mascarpone cheesecake…
… while taking in this epic sunset view of the harbor and Tsim Sha Tsui. Tip: time your dinner so that you can catch the 8pm "Symphony of Lights" show, when skyscrapers like the ICC glow with moving images. That's your first taste of our Upper House adventures, with more soon.
The best part of fine food reviewing? Sharing meals with your friends. We always have fun — isn't that the point? — and hope you'll try these restaurants for yourselves.
But don't bring Miffy along… she drinks all the wine! ("Oh Miff-ehhhh!")
For more local food recommendations, check out our previous reviews of Hong Kong bars and cool restaurants, along with a video. Soon, you'll find out where these bunny balloons came from…
Do you consider yourself an adventurous eater? Are you as fond of Japanese food as we are?