Loved to Death, Oddities San Francisco antiques shop! Traveling to New Orleans.
I'm thrilled to announce my next TV project: I'll be a guest on the award-winning late night news program, ABC Nightline! We'll be shooting a segment in San Francisco about concept cafes and J-pop culture. I can't reveal all the details yet, but I'll fill you in before the program airs so that you can watch.
And then, I'll be in the city of vampires and voodoo: New Orleans! Anne Rice's home has been on my wish list for a long time, and thanks to NOLA Tourism, I'll be diving deep into the dark culture.
Got New Orleans travel tips? Leave me a comment, and check out my Instagram to see where I end up. (More photos of the above Killstar outfit here.)
Speaking of dark fashion, Black Friday is one of the best times to pick up Goth, rock and edgy clothing at much lower prices. Above are some of my picks (click the black "+" sign in the top right corner to shop the look). These include a black Shakuhachi Tulip Dress and Blade Runner Shirt Dress.
You can also purchase clothing from my own wardrobe — including Japanese street style brands — at discount prices right here.
Since I'm off to San Francisco, it seems fitting to talk about one of my favorite stores in the city: Loved to Death. Like the name implies, this shop is a lovingly curated collection of morbid art and antiques. Expect to see taxidermy mice, baby coffins and other odds and ends.
Perhaps some of you recognize Loved to Death as the site of the TV show, Oddities San Francisco. It's a spin-off of the Science / Discovery Channel hit series, Oddities New York. Remember when I appeared on the show, and bought a giant deer? (Here's my Oddities video clip if you missed it.)
It's easy to recognize the entrance of Loved to Death, from the swirling Gothic swirling sign. (Address: 1681 Haight St, San Francisco, 94117)
The posterboard invites passersby to come in and browse "creepy little things, as seen on Oddities SF." (This show is sadly no longer running, but you can watch past episodes here.)
The store window features a two-headed skeleton, which you may have seen on the TV show .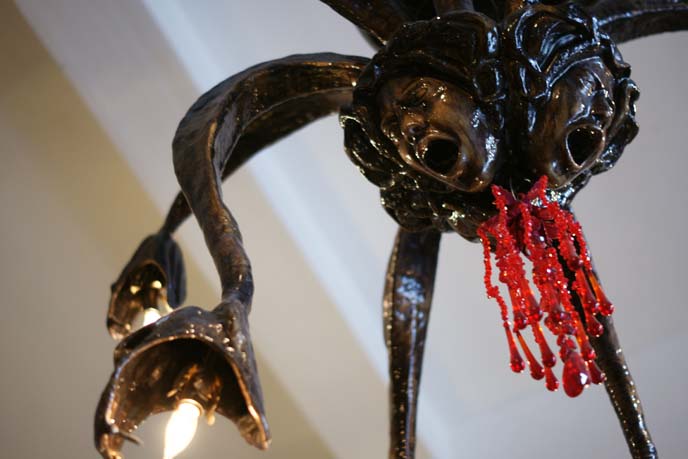 When you enter, look up. There's a Medusa chandelier hanging from the ceiling.
Our friend Trevor put us in touch with Loved to Death owner, Audra Kunkle. She opened this store to share her love of dark, eccentric antiques.
Photography is usually forbidden in Loved to Death, but Audra kindly let us take photos, so that I can share this story with you.
The small store was packed with shoppers. Many are fans of Oddities, and make pilgrimages to San Francisco to see the staff and take home souvenirs like stuffed bats.
No animals were harmed in the making of my tiger-paw scarf (you can get a tiger scarf here). Behind me, there's a devilish selection of horror art, preserved animals, skeletons and antique teapots.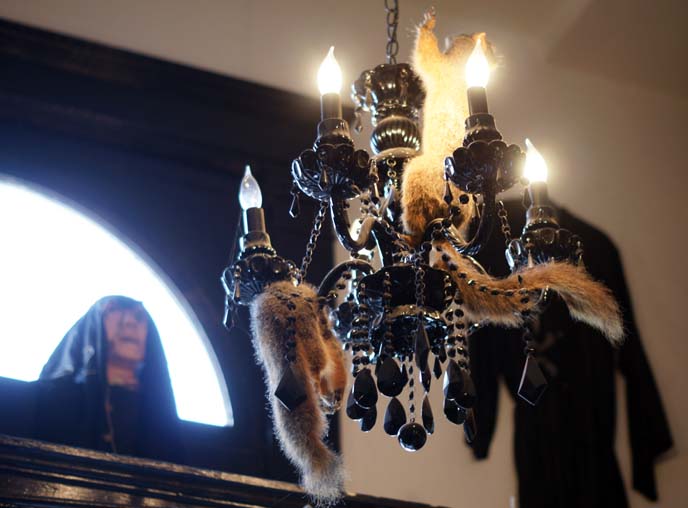 Not sure if these animals come with the Goth-Rococo black chandelier!
We loved meeting the staff, and chatting about their favorite creepy items.
I'm impressed by the number of rare items. These brown poison jugs are from the 1940s.
Here's a hat fit for a Civil War military drummer boy, or a pirate in training.
Glass absinthe drips, vintage ouija boards, and skulls intricately carved with floral designs. This is my type of Goth home decor.
This is also a fun place to people-watch, and meet fellow spooks. Outside, we ran into these two ladies in beautiful sugar skull fairy makeup.
It goes without saying, we loved Loved to Death! If you aren't familiar with this TV show (I appeared in the NY edition), you can watch Oddities NY here.
Loved to Death is on Haight Street, one of my favorite shopping areas in San Francisco. For more tips, check out my guide to SF shopping — including New People World Lolita dresses, future-tribe fashion, and hippie hangouts.
If you could take home one item from the Oddities San Fran shop, what would it be? Don't forget to let me know your New Orleans, Louisiana suggestions and check out the Black Friday sales!