Modern, hidden cat litterbox: Poopoopeedo by SinDesign! Japan cat cafes interior design, pet furniture.
We're going back to my usual travel videos & stories after this post — but first, I wanted to share with you Part II of the Maohaus Project!
My Scottish Fold cat wonders… "What is this green eggy-thing?" Could it be an avantgarde sculpture? An alien pod?
Surprise: it's a Poopoopeedo by SinDesign! Believe it or not, this beautiful design object doubles as a cat litterbox. 
Perhaps you recall my first post about the Maohaus, where I described our goal of decorating an apartment beautifully, while accommodating the needs of my cat. One of the biggest challenges: what do do about Basil's litter box? Regular ones are an eyesore, and hard to hide.
French company SinDesign solved this problem with the Poo Poo Pee Do. I'm impressed by how they combined beauty and functionality — such as a decorative paw-print hole, which doubles as a grip / handle. As you can see, the hole is big enough for "plus sized" kitties!
Basil Farrow feels right at home in this well-constructed pod. No sharp edges, and there are seven grip points that hold the top and bottom together securely.
If it weren't for the tiger-tail, a visitor would think that this is a mod sculpture! The enclosed pod lets Basil Farrow do his business in private, and also keeps the cat litter from coming out.
Surprise, a cat is hatched! The Poopoopeedoo comes in seven different colors, so you can match it to your interior design. (We have the green one; SinDesign also makes red, black, white, orange, pink, blue.)
Isn't this a perfect match for our lime-green color scheme? (See more photos of our Maohaus bedroom).
These two pieces come apart. The litterbox size is perfectly tailored to cats, and the round shape is a nice change from the usual square.
Functional, practical and durable — yet it integrates right into our apartment. The material is 3mm thick ABS, which is far more solid than a regular plastic litterbox.
The cover also helps to keep smells at bay. I have to say, this is the coolest litterbox I've ever seen.
Hop! We love that the luxury litter-box is eco-friendly too. The interior is smooth, easy to wash, and resistant to cat urine.
Each Poopoopeedo comes with a matching scoop, which attaches under the lid for easy storage. It also comes with two anti-smell tablets that you can clip in.
What more is there to say? This designer litterbox is "Maohaus" cat-interior design at its finest.
I know you want one too… SinDesign's PooPooPeeDo is available for order online.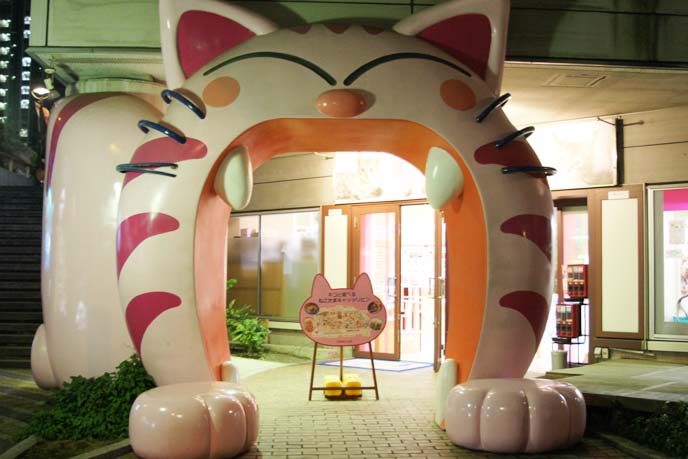 As I mentioned in the first post about my apartment, my Maohaus concept is inspired by the creative interior decorations of Japanese cat cafes. To show you what I mean, let me share some never-seen photos from my Tokyo archives.
This giant, yawning gate welcomed me to the big cat "petting zoo" in Odaiba. 
Located in Odaiba, "Cats Livin" later became "Nyanda Cat Cafe," and then closed. (But don't worry about missing out — there are still tons of cat cafes all over Japan, and now in USA).
Cat's Livin designed the space with both the cat and visitor's enjoyment in mind. At the entrance, an American Curl sits by the rule sheet. ("Please spray it on the hand several times before it feels after cat.")
Keep reading for more photos from this Tokyo cat cafe, including a life-size cat-person… 

Some cat cafes look like plain living rooms, but in this establishment, each room has a theme. I'm befuddled by their rules. Does anyone know what "Actinia" means?
The illustrations are self-explanatory. Don't feed the cats chocolate, hit them or speak loudly.
Cuddling, however, is a-ok. I was amused to see the cats transfixed by a DVD showing fish and mice.
Since I came around Halloween, there were pumpkin decorations everywhere, including on the wall step-ladder for cats.
The resident cats wear costumes, for their portraits on the wall. Note that Scottish Folds are among the most popular breeds. The Japanese love their cute, round faces.
A scary anthropomorphic cat sat in one room. Another was a clever "computer room", with boxes that double as hiding places.
Still, for cats, nothing beats a box.
The kittens get fed by the staff. In the "bathroom", this kitty doesn't seem to mind the suds.
Visitors can read the names, breeds and other info about the resident cats.
Nearby, I saw a pet shop… filled with bizarre costumes for cats! (Of course the model is an ever-patient Scottish Fold.)
Why not pick up some jewelry and chicken-hats for your cat?
In a different cat cafe, I ordered a latte and flipped through a book about the cats.
Many Japanese cannot own pets (due to lack of space and time), so they come to cat cafes to get their feline fix.
Customers pay for a certain amount of play-time (30 min, or 1 hour, or more) with the cats.
You can even put costumes on the cats… but I'm not sure how much this one liked being a pumpkin-hat.
I got inspired to design my apartment when I saw these lovely cat-friendly interiors. Wood shelves look great, and can serve as holders for cats or human belongings.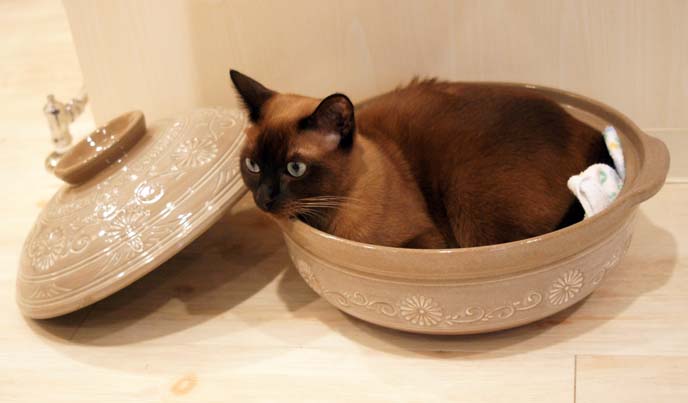 Here's another multi-functional decor piece: a big bowl / cat cradle.
Now I think you understand why we love SinDesign's litterbox! You can find out more info about it, and purchase it through their website.
And if you're eager to see more photos of cat cafes, I wrote about my filming at Calico Shinjuku with German TV.
Let us know what you think of our Maohaus so far, and add us on Instagram for more snaps!