New Orleans Tree of Life, Audubon Park. Voodoo vampire shops, Jackson Square cats, Katrina homes.
I've always been fascinated by how themes of life and death are expressed so vividly, in New Orleans. This is a city where locals party hard, and play jazz in the streets. At the same time, NOLA is famous for cemeteries, haunted houses, voodoo shops and vampires. 
To celebrate Mardi Gras, we'll climb the Tree of Life…
… and then wander through the French Quarter's dark side. At the end, we'll take a frank look at the Katrina aftermath, and the struggle to rebuild neighborhoods destroyed by the hurricane.
– I'm wearing a dramatic KillStar dress, similar to this black dress with long fringe sleeves. You could also wear a black leather jacket with fringe down the arms for a similar look.
❤ Shop my style below ❤

My friends and I rode the historic St Charles streetcar to the Garden District, about 20 minutes from the stop near the Hotel Modern. It's a scenic ride that costs only $1.25 each way.
We passed by grand Southern houses (some photos at the bottom of this post), the Eiffel Society, and the Loyola and Tulane university campuses. We got off at Audubon Park, and found ourselves surrounded by majestic trees and lakes.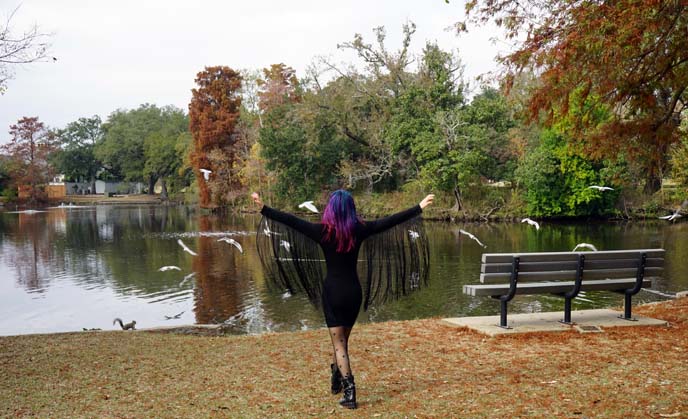 "I'm like a bird…" A variety of creatures make the park their home. We spotted a Great Egret soaring above the water, and a mother duck with a row of babies swimming behind her. Do you see the squirrel on my left?
This land was once a plantation. In 1871, the city purchased it, and made it into a park. It's named after John James Audubon, an artist / naturalist who lived in New Orleans at the time.
The more time I spent in New Orleans, the more sides I saw of the city. I wish I could have stayed longer, to explore more of the outer neighborhoods and nature sites.
Like Elaine from Seinfeld, I don't use the word "breathtaking" lightly… but it seems like the right word to describe this pathway, shaded by Southern oak trees. 
The twisting branches and soft, mossy canopies are a quintessential part of Louisiana's landscape.
After walking for about 15 minutes, we reached the Tree of Life. This immense oak is the size of a building, and the branches dip to the ground — the ultimate invitation for climbing.
Beneath these powerful, century-old branches, you can't help but admire nature's grandeur.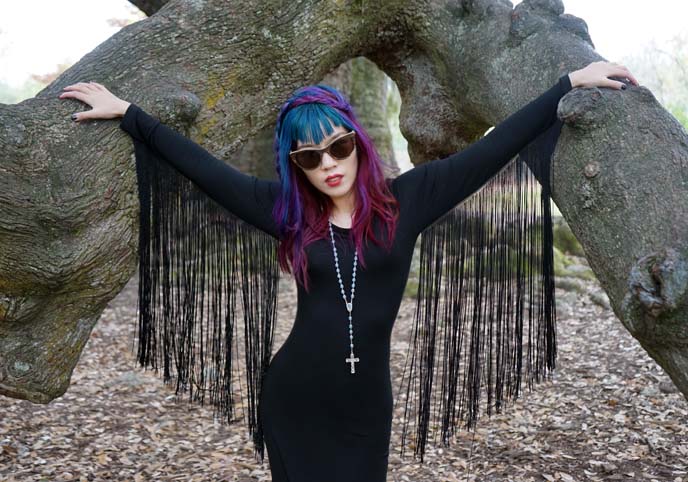 I braided part of my hair, to show the contrast between purple and blue, over red. My hairstylist is Stephanie Hoy at Vancouver's Stratosphere salon.
❤ Click below for details of my clothing ❤

– My boots are from Japan, and similar to these leather buckle ankle boots by Jeffrey Campbell.
– Find cross print tights like mine here, as well as sheer crucifix stockings.
The Tree of Life is a popular spot for couples to get married. According to legend, someone planted this tree to honor his new wife, during the days when Audubon Park was a plantation.
Molly (who took the photos of me in NOLA) says "I know nothing about Audubon Park from a history angle, but let's just discuss how much fun I had climbing that tree." 
– I turned of the knobs into a make-shift hanger for my handbag. (It's by Paule Ka and available here.)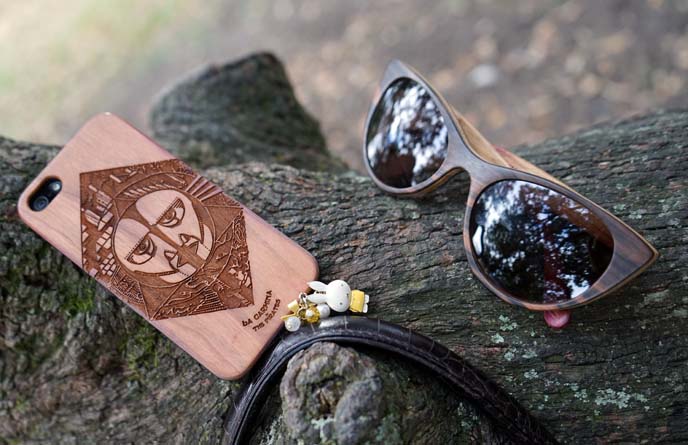 – My wood cat-eye sunglasses are from British designers, Moat House Eyewear.
– The Pink Floyd "Division Bell" iPhone case is from SVNTY. Here are more photos of me with my wood phone case.
Molly tried out some pole and yoga moves on the branches.
Nature makes the best seat in the house.
The trailing fringe from my dress mimics the strands of Spanish moss, hanging down from the trees.
Next to the tree of life is Audubon Zoo. The giraffes are so tall that you can see their heads poking out from above the fence!
It's disappointing when visitors to New Orleans never leave the French Quarter. Less than 30 minutes away, Audubon Park is a joyful place that shows a different slice of life.
The surrounding homes are stately antebellum mansions with columns and gardens. Since the Quarter and the Garden District are located on high ground, these upscale areas escaped the devastating flooding from Hurricane Katrina.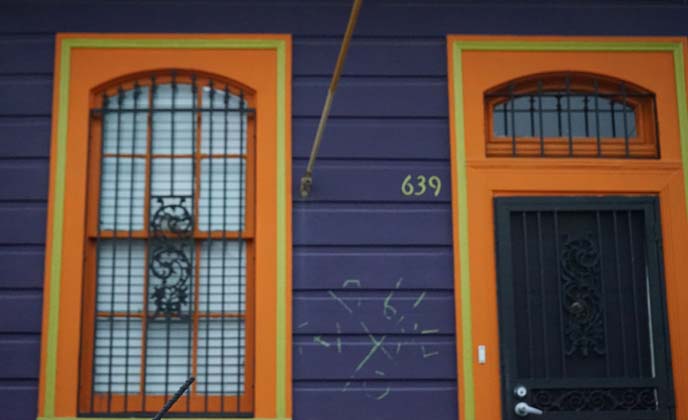 Molly and I felt it was important to see the areas of New Orleans that were most heavily hit by Katrina. Taxi driver David Hammer gave us a 3-hour personal tour, which took us to the Lower 9th Ward, the breached levees, and more. (To arrange for one of his city tours, phone David: 503 931 0323)
A local who is versed in the history of New Orleans, David didn't shy away from speaking about the ongoing problems with rebuilding. We saw homes marked with "X-Codes" or "Katrina crosses," which rescuers used to indicate if there were hazards or deaths within.
Ten years after Katrina, many of these neighborhoods remain destroyed. Some homeowners came back and tried to rebuild, but lack of funds forced them to abandon their properties. We drove on bumpy roads, warped by the water. We passed overgrown and empty lots, followed by temporary housing, followed by ghost-houses like the one above — hazards for vermin, squatters and other dangers.
Molly reflects, "It was really painful to see a house, then a space where a house used to be, then a house, then more space. I kept thinking about what it must be like to come home to a house next to a space. Was it lonely? Scary? Do you wonder if Katrina will happen again? I used to not understand why someone wouldn't come home if you could, but now, I think how do you come back to a place that completely fell apart? Aren't there times where you just have to start over?"
"So, I guess what I mean is that both the spaces and the rebuilding make sense to me." Yet there is still so much that needs to happen, before these neighborhoods are livable again. There's a lot more one can say about the impact of Hurricane Katrina, but I'll wrap up with the photo above: a reconstruction attempt that was abandoned probably due to lack of funding, and left as a decaying shell.
That feeling of life, death and all the areas in between come to the forefront at night, in New Orleans. Not far from Jackson Square, you can buy a hot buttered rum to go (alcohol is allowed in the streets here), and walk right up to the banks of the Mississippi River. Yes, that's a rainbow on the top right.
The streetlights give off an eerie glow. They illuminate the history of the city, from old rail tracks to new hotels.
The castle-like Saint Louis Cathedral is the oldest in North America, established in 1720. A horse and carriage raced across, taking us back several centuries.
The spirit of Mardi Gras haunts the city all throughout the year. A feathered mask peers out of a window.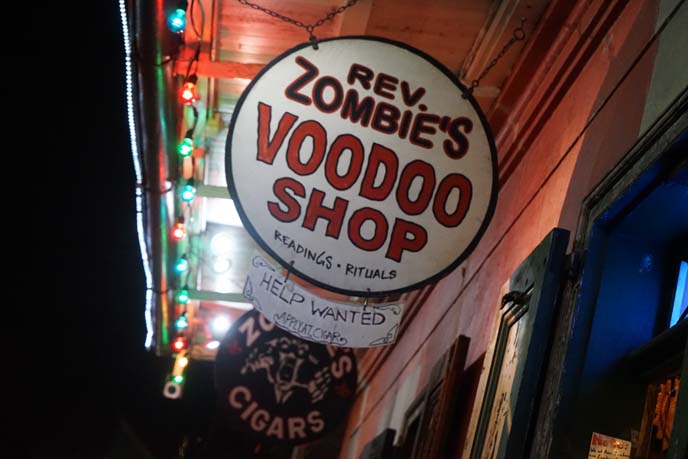 I was keen to learn more about voodoo, which has roots in African spiritual/folk traditions, and took on a life of its own in Louisiana. We popped into Reverend Zombie's Voodoo shop (723 St Peter St), which offers readings and rituals.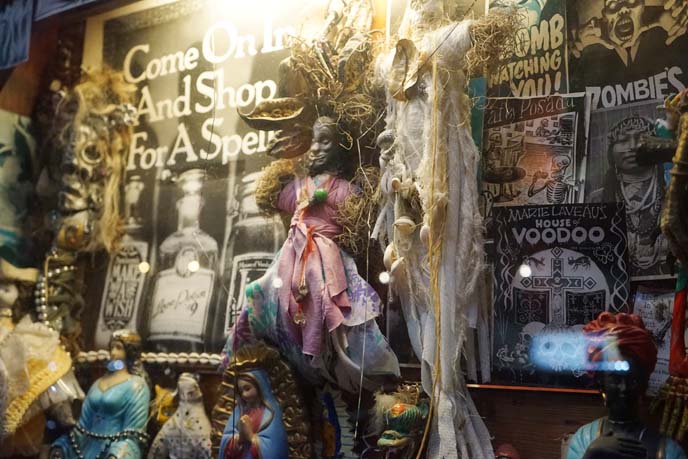 Gris gris (talismans or amulets), voodoo dolls, and powerful queens like Marie Laveau are part of this tradition. While some of New Orleans' voodoo shops have a touristy feeling, there is a tangible power in the masks and dolls we saw..
I was in my element, visiting these occult, spiritual, witchcraft and esoteric shops.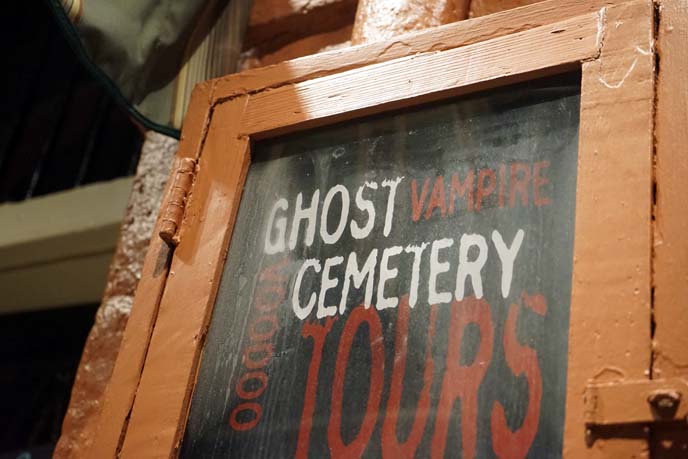 Another way to experience the darkest side of New Orleans is by joining a ghost, vampire, cemetery and voodoo tour. Some are on the cheesier side, so I recommend doing your research and looking for niche tours run by insiders.
How spooky is this image of New Orleans? It's a marble statue of Jesus with hands aloft, casting an ominous shadow onto St Louis Cathedral. 
Don't be surprised if you run into skeleton hands and witchy-women, in the streets of the Quarter.
Vampires are a major part of the culture of New Orleans. This city is not just a setting, but almost a character in the novels of Anne Rice (Interview with the Vampire, Queen of the Damned) and Poppy Z Brite (Lost Souls).
We visited Boutique du Vampyre (709 St Ann St), a collection of all things bloody (fangs, candles, handcrafted gifts).
There's also a strong vampire subculture here in New Orleans. Members belong to Houses, and some engage in ritual blood-drinking.
I leave you with the stray cats of Jackson Square. Quite fitting that cats are associated with witches and the spiritual world.
I hope you'll come to New Orleans, one of the most fascinating cities I've ever encountered. Joyeux Mardi Gras, everyone!