Iceland guided nature tour: elves, waterfalls, horses! Custom 4×4 jeep adventure with Salty Tours.
"Who ya calling horse-faced?" This fuzzy selfie pretty much sums up the incredible fun I had exploring Iceland, on a customized excursion with Salty Tours! 
Anyone who travels to Reykjavik should spend at least a day exploring the gorgeous, varied terrain outside the city — like geysirs, waterfalls, sulfuric hot pots, and black sand beaches. What's the best way to visit all these places, if you don't have a car?
Photographer Joey Wong and I highly recommend a private 4×4 Jeep journey, wih Salty Tours. We got to ride at our own pace, and get off-the-beaten-path with two experienced guides. A far better experience than getting on a big bus and seeing the typical Golden Circle attractions with 50 other tourists!
Aren't our guides adorable? Salty Tours is an indie company run by two locals: Thorsteinn Gunnar Kristjansson (love that his name is Thor!) and his partner Anna Margrét. They picked us up at our Reykjavik hotel, and took us to insider spots all day long. Joey and I wanted to focus on dramatic, visually-interesting places…
.. so Thor and Anna took us to Hellisgedi, the Elf park in Hafnarfjordur! They told us stories of the elusive "Huldufólk" in Icelandic folklore, which many locals still believe in.
The elves supposedly live in the rocks and hills of this park. I didn't see any little creatures that day, but can understand why the lore resonates among Icelanders.
There's a palpable energy in Iceland's natural surroundings. These moss-covered lava rocks, and desolate yet living landscapes, can be found nowhere else in the world.
Next, Salty Tours stopped by this… slightly pungent display. Can you tell what these are?
The fish-face is a hint. I'm standing under an enormous rack of dried cod and other local fish!
Also found in Hafnarfjordur, these rows of wooden racks are strung with fish heads and other parts. The perfect stop for someone who loves bizarre foods and spooky attractions.
Anna did a fabulous rendition of Hamlet. with Yorick the fish-head. (You'll see it in our upcoming video.)
All day, our Salty Tours guides were upbeat and fun. They shared stories of growing up in Iceland, and how Thor used to be a fisherman. The whole experience felt like going in a roadtrip with friends.
Since we were a small group in a 4×4 vehicle, we could go on side roads and visit special places… like this herd of Icelandic horses.
Fuzzy-wuzzies! These horses are a special breed that developed in isolation on this island, hence their unique look. Descended from Norse ponies, these animals are short, and the cold weather gives them a layer of fat for extra plushness.
Anna also leads horse-riding tours, an amazing way to get close to these horses and trek through the land.
I was stunned at how the landscape changed, only hours from Reykjavik. We drove past rocky hills, farms and snow-peaked mountains.
Iceland is known as photography heaven, due to the natural features and clear light. Joey says: "From a photographer's perspective, doing a customized tour is the only way to go. Most people stick to the Golden Circle route, but that's as generic as you can as you have limited amount of time at each spot, and the sites have been photographed ad nauseum."
"Iceland is so vast with varied terrain, it's all about quality over quantity. If you want the right shots, you have to know the right sites, hence why Thor was such a great guide. In our case, we had a vision for what we wanted our shots to look like (Game of Thrones, black sand beaches, etc), and Thor was able to bring us to exactly where we wanted."
For example, he showed us a secret ogre's cave! The opening can barely be seen by the side of road, and this cave is so little-known that I didn't even find any information about it online. Joey took this photo of the creepy creature that lives inside.
We wanted to do an epic, fashion photoshoot on the famous black sand beaches. Thor took us to the ideal spot, at Kleifarvatn.
(I'm dressed in a Game of Thrones inspired outfit, since the HBO show is partially filmed in Iceland. We'll show you the resulting editorial photos once they are ready.)
Our guides told us the story of this rock, which looks like an Indian man's head in profile, complete with a mohawk.
You can't find a more Gothic beach than this. The black sand is the result of hot lava hitting the water.
Our Salty Tours guides are the sweetest. They even brought "Black Death" (Brennivin) vodka and fermented shark (a stinky traditional dish) for us to try. The shark wasn't as bad as I expected, though I was grateful for the alcoholic shot to wash it down!
We drove only minutes away, and the scenery morphed yet again. These are the sulphuric geothermal springs at Seltun.
So many fascinating details to photograph, like the boiling-hot sulfur bubbling between the rocks.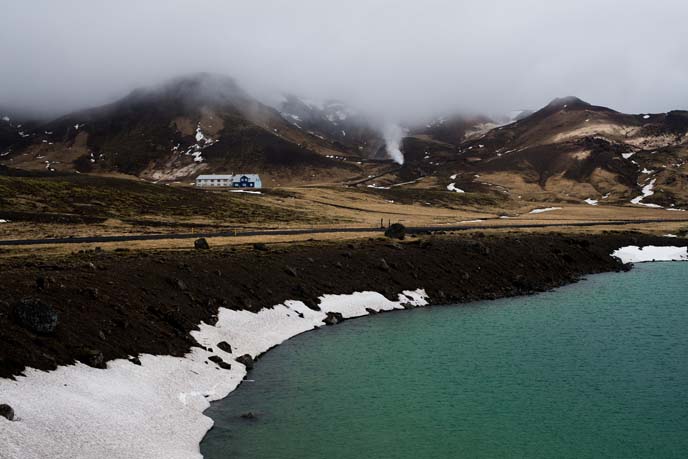 Iceland has experienced devastating volcanic eruptions and earthquakes. Here, nature is unpredictable, powerful and always in flux. For example, in the summers, you'll have 24 hours of daylight.
With the island's historic isolation and a strong sense of cultural preservation, Iceland can't be compared to any other place on Earth.
Iceland is not as cold as you might imagine. In the summers, locals often spend time in vacation houses by the water.
We learned that there are winding roads because the locals don't want to disturb the homes of the "hidden folk," or elves!
While we drove, Thor played music from local indie rock bands. I'm sure you've heard of Iceland's Bjork and Sigur Ros. The music scene is incredible here, partly because the artists have plenty of opportunity to stay indoors, practice, and experiment without outside influences.
A lot of tourists go on the "Golden Circle", or day-long loop through the most popular attractions. The downside is that many of these places are over-exposed and crowded with people, making quality photography difficult.
With this in mind, Thor took us to a less-known but equally dramatic waterfall, Öxarárfoss, instead of the big Gullfoss. We were able to get right up close, and take photos — will show you more from Oxararfoss soon.
Finally, we stopped by one of the Golden Circle attractions, Strokkur geyser in Haukadalur. Every 10 minutes or so, the hot water erupts high into the air.
To be honest, we weren't so impressed by the tall geyser… and the area was not very photographically intriguing. We were grateful that we went on a custom journey with Salty Tours, instead of going to the usual tour stops.
Thor took us to another obscure waterfall, which can only be accessed by a car — so there were no buses or tourists around. Now that's what we are talking about.
Huge thank you to Salty Tours for the personal, attentive day trip in Iceland. We loved becoming friends with this couple, and highly recommend their small-group 4×4 tours. They have a 5-star rating on Tripadvisor, and deserve it!
If you have a short layover in Iceland, Salty Tours can even take you on a guided jeep tour for a few hours. Find out more on their website, and tell Thor and Anna we sent you.
Did you enjoy the photography by Joey Wong in this post? Are you as fascinated by Iceland as I am?