There's a La Carmina room at Hotel sáv! Hong Kong boutique hotels, Floor of Love art theme rooms.
Remember when my team and I went to Hong Kong twice, to participate in the opening of Hotel sáv? At last, I can unveil the colorful fruits of our labor:
1) We decorated a La Carmina themed room at the hotel, featuring original paintings by First Mate Naomi Rubin!
2) And our video about Hong Kong's most colorful travel attractions — from the Big Buddha statue to Miffy stores — is out. Watch it above, and published on Business Insider.
I'm constantly amazed at the opportunities that come up from travel blogging. Decorating my own room at a boutique hotel is a new milestone, and I was honored when Hotel sáv asked me to take part in their "Floor of Love" project.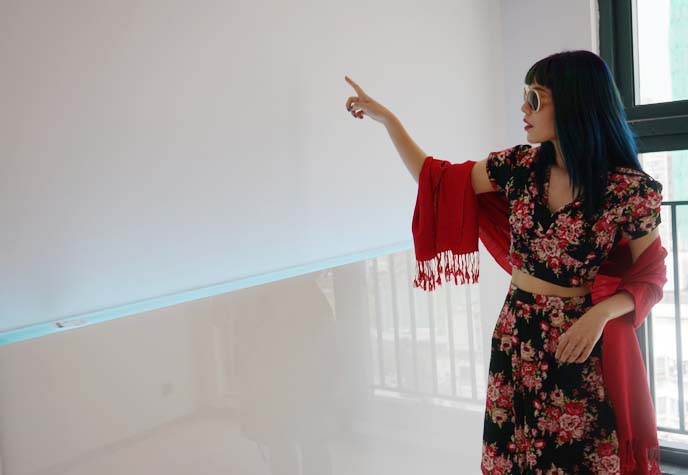 In a nutshell, artists from around the world are selected to create a themed room on the 22nd floor. We visited last year before the hotel opened, and our room (#2219) was a blank canvas
The team at sáv gave us free reign to decorate the room however we wanted — as long as it fit with their message of love, community and charity. 
Hong Kong is a compact city, and hotel rooms are inevitably on the small side. However, sáv's modern materials and large windows gave the space an airy feeling. Artist Naomi says, "It was from those initial views that the ideas for these paintings began."
Our room had a vibrant view of the Hung Hom, Kowloon surroundings. I balanced on the ledge in my black-and-white Steelground Shoes – aren't the metal heels and buckles marvelous?
The theme of "love" could take on many different meanings — where to start? I knew I wanted the room to represent the universe seen on this blog — the love for travel, Japan, alternative culture, and wild creativity.
I brought in my First Mate Naomi Rubin, who I run La Carmina & The Pirates with, to put this vision onto canvas.
In September 2014, the hotel was still under construction — only the bare skeleton was in place. My filmmakers captured the tremendous "before and after" transformation, in our new video.
Leave it to me to find something Gothic, even on a construction site.
(Photos and videos by Borderless Media.)
When we returned in February 2015, what a change! The building had blossomed into a stylish, contemporary boutique hotel.
The special 22nd floor looked like a gallery, with beautiful theme rooms and hallways lined with paintings.
Some of the pieces were by artists with disabilities. This one had tactile elements, for a blind person to enjoy.
So exciting… the placard on 2219 marks our "Love the Dream" room. (Yes, you can request to stay here when you visit!)
And here is what the La Carmina x Naomi Rubin decoration looks like! (Can't believe this started out as a bare room, as seen at the top of the post.)
The hotel's website says: "In this room, Naomi and La Carmina jointly created a different perspective that we have never seen through imagination, sub-consciousness and dreams. To spice up the décor, they created 5 paintings based on what they explored during their stay in Hong Kong."
I'll show you more photos from our room later in this post, but first, let's see some of the other artists' designs. 
Hotel sáv brought in creative talents working in a variety of genres, from all over the world. It was inspiring to see how they all did their own unique riffs on the "love" theme.
In this room, Sarah Tse displays her pencil drawings and papermaking, inspired by her childhood memories and dreams. She included shelves of nostalgic found objects throughout the room.
Room 2201 – Love the Memory
Remember when we visited the cute character studio, Chocolate Rain in PMQ? Creator Prudence Mak filled her room with her handcrafted, smiling pieces. Her works range from postcards to bedspreads to a giant statue, all evoking the wonderland feeling of childhood.
Room 2202 – Love the Planet
I spread my wings in this room designed by E Herder, a contemporary artist living in Beijing. His "circles" are reflections on life and connectedness, drawing influences from Zen Buddhism. Meditate on these circles, and you'll notice unexpected materials like artificial fur pressed into patterns.
Room 2203 – Love the Community
Hailing from South Africa, Janine Claase hung up works that reflect on our interactions in social media and "real" life. She explores human connections and how modern media can either help or hinder our ability to create communities. 
How did we go about, decorating our own room?
Naomi prepared two circular acrylic paintings, which she cleverly framed with the skeleton of a clock. She brought these works to Hong Kong — and with the help of Eric's arm, we figured out the best locations to hang them on the walls.
Now that's what I call "using man-power!"
Once we had finalized the location of the artworks, Hotel sáv called in a maintenance team to nail them in place.
How many people does it take to hang a painting? 
In this case, a minimum of six!
"La Carmina Room" #2219 – Love the Dream
And here you have it: our finished room! Of course, we chose purple pillows and lights as our color scheme. (Each room at Hotel sáv comes with a remote, which lets you change the color of the lights in your room.)
Artist Naomi Rubin writes: "Floor of Love can be interpreted in many ways, but because the Pirates live on travel, I wanted guests to feel like they could venture out, even while back in their own hotel room. Both pieces explore things we pirates love about travel from different views: one is up in the clouds and the other is grounded, with an aesthetically detailed view of a community."
She adds, "The framing of the two paintings was chosen to make the pieces feel like additional windows in the room: portholes that would add to the view of the Hong Kong skyline."
The circular paintings are acrylic on paper, and the Honk Kong drawings are ink wash with pen.
It was Naomi's first time in Hong Kong. She says, "Above the bed are 5 pieces that I did while in Hong Kong during the hotel Sáv opening. These show a more personal record of how I absorb some of those same elements of travel shown in the window paintings: people, family, fashion, and the balance of nature with human architecture."

"While both porthole paintings feature imagery based on the things that La Carmina & the Pirates focus on when traveling, the Window Community piece goes a bit deeper, drawing from Japanese and neo-victorian fashion and buildings. There is even a reference to one of the Pirate's favorite Tokyo late-night eateries in the background."
(See more of Naomi's art on her Naomiyaki website.)
If you're coming to Hong Kong, wouldn't you like to stay in the La Carmina room? Well, you can! Just book Room 2219 via the Hotel sáv website.
Best of all, you'll be making a contribution to charity. When you stay on the Floor of Love, 15% of your fee will be donated to "Make-A-Wish Foundation" and "Arts with the Disabled Association" in Hong Kong. After a year, all of these art pieces will be auctioned to raise funds for charitable organizations.
If you need more reason to stay at Hotel sáv, then watch our travel video about the many cool attractions nearby.
These include Arome Bakery, who make the infamous Miffy cake!
Walk down the street from the hotel, and you'll find Wonderland. This store that sells every character good imaginable, even pirate Miffy.
This nearby flower shop sums up the "color journey" of the hotel. Sav's philosophy is that colors can inspire and elevate a guest's stay, and encourage positive action in the community.
Their name sums it up: S is for style, A for attitude, and V for vision.
Thank you to the staff for inviting us to take part in this artistic love-in! Find out more — and book a stay in the La Carmina room! — through the Hotel sáv website.
And please take a moment to watch our travel video here. Wouldn't you like to visit Hong Kong for yourself? (Above is a joyous memory from the hotel's Lion Dance, one of the Chinese New Year celebrations that we experienced.)