Singapore Street Food & Temples! Old Airport Road authentic hawker center, Little India & Chinatown.
Singapore's multiculturalism has always fascinated me. Unlike in other Asian metropolises, the population is a true mix, with the major groups being Chinese, Malay and Indian. It's amazing that such diverse cultures and religions live together in tiny country, known as one of the safest in the world.
Perhaps part of the reason is that, as people joke, the "true religion" of Singaporeans is food. I knew this was a foodie mecca, but still, I was surprised by the huge number and range of dining options here.
Last summer, I was excited to taste-test Singapore's famous hawker centers, and visit the colorful temples of Little India and Chinatown. 
But first… I'm thrilled to announce my next destination: beautful New Zealand! 
Next month, I'm teaming up with Contiki — a well-known tour company for travelers aged 18-35 — and experiencing one of their NZ tours.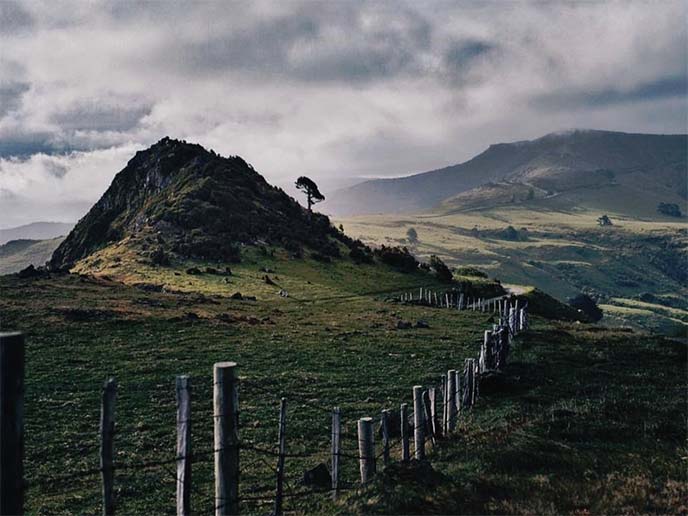 It'l be fun to meet other young travelers, and road-trip all over the North Island. My itinerary includes nightlife, Maori culture, and the famous glow-worm caves. There are also optional excursions like a visit to Hobbiton, where you can pose with Lord of the Rings movie sets.
Contiki takes care of all logistics such as the driving, guides, and hotel bookings — so I can just hang out with new friends, and enjoy the ride.
The above New Zealand images are by Kristin Thorogood, a photographer based on the South Island (check out her Instsagram @kristinthorogood). I'll only be in the North this time… but after seeing this cute furry seal, I'll have to make a return journey!
Be sure to follow my Instagram, Twitter, Snapchat (all @lacarmina) and Facebook to see my upcoming New Zealand adventure with Contiki! There are drag queen adventures on my Snapchat right now, so check them out before they disappear.
Now, back to my Singapore story. I always try to visit local temples wherever I'm in Asia. I think they give a unique glimpse into the culture of the destination.
Photographer Ken Yuen and I stopped by the Buddha Tooth Relic temple. (Address: 288 S Bridge Rd, Singapore)
(Shop my outfit of the day below:)

The architecture is based on the Chinese Tang dynasty style, although the building itself is new (the grand opening was in 2005). This temple houses the tooth relic of the Buddha, which was found in a Myanmar stupa in 1980.
A volunteer hands out sarongs and scarves for visitors to cover their limbs, before going in. This Buddhist temple is an inclusive one, with elements from the Mahayana, Theravada and Vajayana traditions.
We watched people kneel and give incense offerings at the entrance.
The six-storey temple includes a Buddhist Culture Museum, Sacred Light Hall, and theater for cultural performances and talks.
The Universal Wisdom Hall is covered in thousands of statues of Bodhisattvas and "Zodiac Protectors," which represent the twelve animals in the Chinese zodiac.
I felt an uplifting atmosphere in this temple, and bought a mantra bracelet to remember it.
In the Jalan Besar neighborhood, we came across a Tibetan Buddhist temple, called Thekchen Choling. (Address: 2 Beatty Lane) The entrance had dangling rainbow fabrics and bells, which chimed when the wind blew.
Talk about "Electric Nirvana!" I saw an altar glowing with neon lights, and a huge gold prayer wheel.
The Tibetan temple gives back to the community with free medicine distribution, acupuncture, meals and other support, with an emphasis on helping the poor and elderly.
Singapore's Hindu temples are equally colorful: I wonder how many statues of gods and creatures live on the roof. This is the Sri Veeramakaliamman Temple, constructed in the South Indian Tamil style.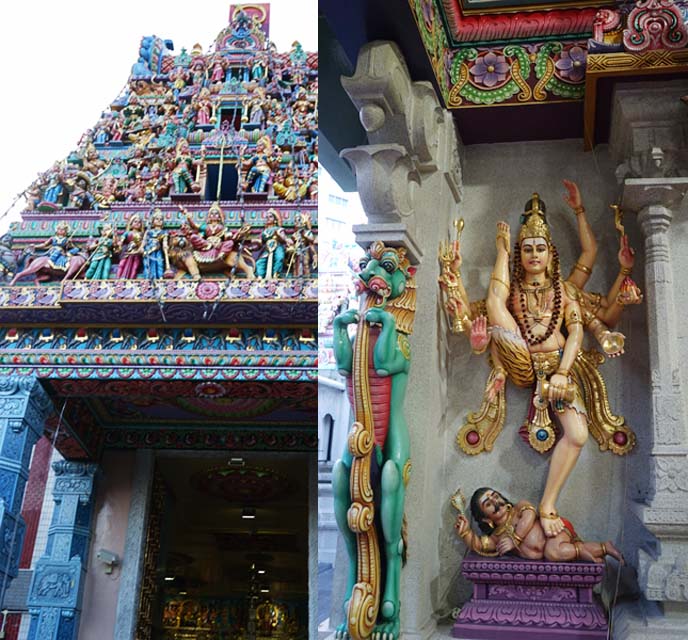 This place of worship is dedicated to the fierce Hindu goddess, Kali. On the right: you wouldn't want to be the moustached man.
The gate is decorated with an Om, the symbol of the absolute.
I also visited the oldest Hindu temple in Singapore, Sri Mariamman (Address: 244 South Bride Rd).
On a single road, you might see a heritage Chinese building, an Indian temple, and an avantgarde skyscraper like IM Pei's "The Gateway". That's Singapore for you!
The "Lion City" could be called the "Rainbow City." Outside the temples, I found these amulets of the elephant god Ganesha.
Walk around Little India, and you'll see plenty of colorful architecture. I came across multiple buildings where the shutters were painted the shades of the rainbow.
Little India is accurately named. I encountered scents, markets and vendors that made me feel like I was in a mini version of New Delhi (or so I imagine, as I haven't gotten to India yet.)
The British ruling days left charming colonial facades all over the city. Singapore's laws help to preserve heritage buildings like these.
We walked around the "hipster" area Jalan Besar, a former swampland that later housed a pig slaughterhouse… and now is home to quirky dessert shops.
The Tiramisu Hero is full of interactive fun, from a raccoon mask to a riddle. Solve it, and you'll get a free iced tea. (Address: 121 Tyrwhitt Road.)
How "cat-tastic" is the interior design? The mascot is Sir Antonio the Italian cat, who wears a black cape and is on a quest to find the perfect tiramisu.
Two young friends, a financial planner and blogger, opened this shop together. The Tiramisu Hero serves savory food in addition to their signature dessert, which is made with various flavors. Our original tiramisu came in a cute superhero cat jar, and went down smooth.
Since it was our first time in Singapore, we also stopped by Clarke Quay. This entertainment area is known for its river boat tours, restaurants and nightclubs. The Quay is touristy, but there was recently a Goth dance party held here — so I wouldn't write it off!
Yes, Singapore is as clean and organized as you hear. The street art in this underground walkway was officially authorized.
(I'm wearing this exact Chaser dress with cut out sides. They also have a new updated dress with open back.)
After a long walk, it was time to eat! Every traveller needs to experience the famous Singapore hawker stalls, where vendors serve up inexpensive, local dishes in small stations. Like everywhere else in the city, there are high standards of sanitation for the food preparation.
Our local friends told us to avoid the touristy Newtown Food Centret. Our friend Jacob had a car, so he drove us to the far more authentic Old Airport Road hawker center. (Address: 19 Old Airport Road)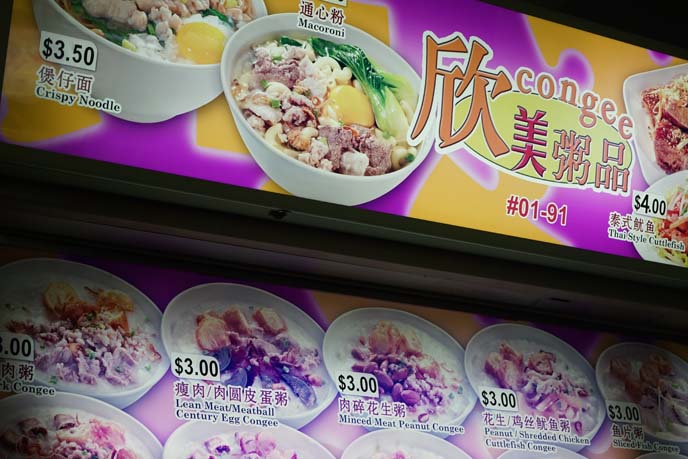 Yes, those prices are real, and portions are generous! I recommend coming with friends and ordering a lot of unfamiliar dishes to share. It's a great opportunity to try new local flavors, and even if you don't enjoy them all,  you'll only have spent a few dollars.
I enjoyed the satay, and the char way teow (flat fried noodles). However my favorite by far is laksa, or spicy curry soup with rice noodles. Laksa is one of the famous Peranakan dishes, which combine influences from Chinese and Malay cuisine.
Not many tourists experience prata shops, which are inexpensive eateries popular among students. Most prata menus have hundreds of listings, but roti is the staple dish, dressed up in a myriad of sauces. Our friend ordered a Milo dinosaur, a Singaporean drink with a scoop of Milo (chocolate malt powder) mixed with ice, and another undissolved scoop on top.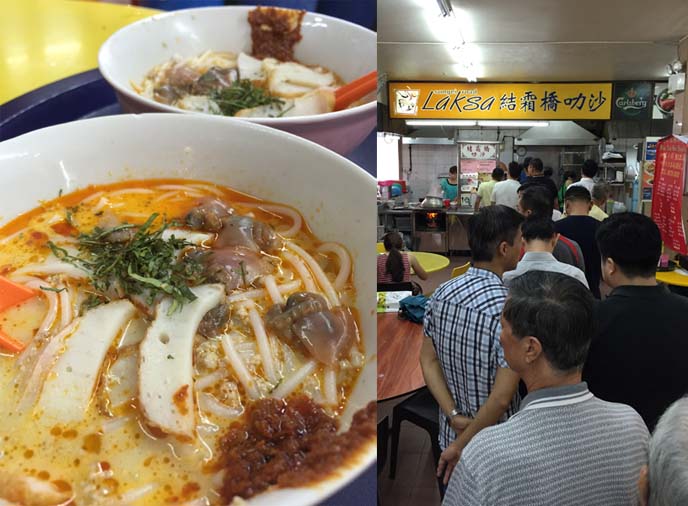 On another day, I satisfied my laksa addition at Sungei Road (Address: 27 Jalan Berseh). There's always a long lineup to what is considered the top laksa shop in Singapore. The seafood curry soup base is cooked over a charcoal fire burner, infusing it with a unique smokey flavor.  I can vouch that this is the best laksa I've ever had — and it was only $2 a bowl! 
I leave you with a few more snaps of the vivid architecture in Singapore.
And here's a last glimpse at Chinatown.
Did you know Singapore was such a "rainbow city," in terms of diversity and architecture? And now, time to pack my bags for yet another fascinating destination… New Zealand!
Shop my outfit of the day below (all items are from Chaser the Brand):