Waitomo's magical Glowworm Caves! New Zealand with Contiki, group tours for young travelers.
Ready to see more of New Zealand? After exploring Auckland, I hopped back on my Contiki bus for a ride to Waitomo, home of the famous glowworm caves.
These otherworldly caverns, shimmering with blue pinpricks of light, are known as one of the world's most dazzling natural wonders. 
Before we descend into the caves, let me tell you more about my trip with Contiki, a tour group company for 18-35 year olds. They lead journeys all over the world — Southeast Asia, Europe, South America and more — in different lengths and styles.
Above is a pic of my NZ "Sun and Steam" squad! Most people came on the trip alone, and quickly made friends. I found my Contiki group to be very inclusive, especially thanks to the friendly tone set by our tour manager Monique and driver Dyson.
We traveled about three hours from Auckland to Waitomo, with rest stops and lunch. Instead of agonizing over routes and directions, I could just sit back, chat with fellow young travellers, and enjoy this mystical view from the Contiki bus.
After seeing this misty mountain view, I'd say New Zealand lives up to its reputation as one of the world's most scenic countries. 
I didn't even have to waste time on checking in; tour manager Monique simply handed us a key. In Waitomo, we stayed in this cute treehouse-style hotel. (When you book the tour, you can opt to share rooms, or have a single to yourself.)
(Outfit Details: Gothic shirt by Disturbia. My purse is from Shibuya; it's similar to this blue furry bag, and this blue handbag with a face.)
Every Contiki tour has a mix of included and optional activities. Before arriving in each destination, Monique gave us an entertaining overview of the various activities we could add on. She'd then make the bookings for us  (once again, I had nothing to stress about).
Waitomo is considered one of the world's "1000 places to see before you die" because of its glowworm caves. I joined the Ruakuri cave tour since you're allowed to take photos inside. (In Maori, "Rua" means den and "kuri" means dog… making my blue puppy-faced bag an unintentional match!)
This cave was first discovered about 500 years ago by a young Maori, who was chased by a pack of dogs living inside (hence the name Ruakuri). Today, visitors can join a two hour walking tour that takes you deep inside.
We started by going down this spiral staircase: a scene straight out of the apocalyptic Silo novels. In the dim light, the people around me seemed like ghosts fleeting by.
Before entering, our guide encouraged us to take part in a Maori purification ritual: you run your hands under the falling water, and then touch your head with it, as a gesture of respect. Photographer Salima Remtulla shows how it's done.
The further we walked, the more we felt like we had entered a subterranean alternate universe. Our guide pointed at underground waterfalls and explained the spectacular natural formations. He taught us a heuristic to differentiate stalactites and stalagmites; the former hangs "tight" to the ceiling!
These cave curtains look like they were sculpted by Michelangelo. In fact, they are calcite formations made over millennia, from water running down the roof of the cave. It's remarkable how much these "speleothems" look like wavy sheets of fabric.
On the right: we got our first glimpse of the glow worms. The insect, Arachnocampa luminosa, is unique to New Zealand and dots the walls of the caves. In certain areas, you'll see thousands of these creatures radiating blue luminescent light.
These "worms" are actually fungal gnat flies in a larval stage. Our guide shone a flashlight on a ledge, and we saw that each had dozens of long, sticky threads hanging down. These fascinating creatures emanate a blue light that attracts flying insects, which then get stuck on the lures and eaten.
It's hard to capture the astonishing glow in photos, especially in the dim caves. To the human eye, they look like pinpricks of blue light, almost like constellations. 
The glowworms produce "cold" light (with no generated heat) as the result of bioluminescence, a biochemical reaction using the energy-rich protein, ATP.
While I was on my walking tour, other Contiki friends signed up for Black Water Rafting, which also takes place in Ruakuri cave. In this adventure activity, they donned wetsuits and explored the caverns on rubber tubes. (Above photo by John Contompasis)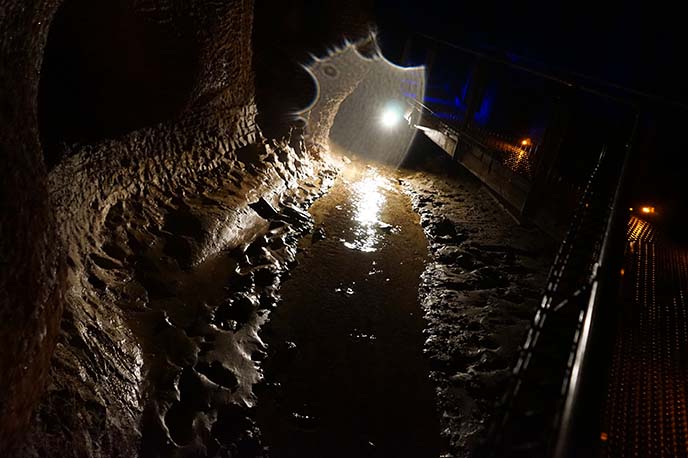 The Blackwater Rafters trekked and climbed through the passages. They took leaps over small waterfalls, and linked up to float through while looking at the glowing worms. (As mentioned before — Contiki has options for every type of traveller, including more adventurous folk).
Waitomo's glowworm caves are a dazzling experience, and truly must be experienced in person.
If you come to Auckland, I encourage you to make the trip to Waitomo — an easy journey, thank to Contiki.
From the photo above, I think you can tell that my Contiki group bonded quickly! We still keep in touch regularly through a Facebook group; Contiki's website also has meetup forums so members can connect before and after a tour.
Everyone was between 18 and 35 years old, and came from various parts of the world. Most of us were citizens of Canada, UK, Australia, and the US.
Most of the travellers came alone, and had different reasons for joining the trip to New Zealand. Some had just finished university, or were on a gap year. Others were going through life changes, and this was their opportunity to try something outside their comfort zone.
The Contiki motto, #NoRegrets, sums up this mindset — and is proudly plastered on the side of the bus.
As you can see, Contiki has top-of-the line buses. The interiors are new and clean, there's great air conditioning, and even WiFi and charging stations.
Our tour manager Monique and driver Dyson made the trip a blast. They're full of passion about New Zealand, and gave insight into every place we visited — along with a "dad joke" or two!
I've been on some tours where the guides keep to themselves, but Mon and Dys were the exact opposite. They joined our group dinners and nightlife excursions, and knew every single person by name. We shared a lot of laughs and bonding moments on our week-long road trip together.
Time flew by, as we rode from one destination to the next. Everyone chatted, played games, and listened to the music piped over the speakers.
Since we were all around the same age, it was easy to connect over shared interests. Quite a few had done Contiki trips before, and loved the experience so much that they were back for more.
Here's a closeup on my Gothic dress. Black Milk also makes this in a Game of Thrones style.
My spooky rings and bracelet are from Alex Streeter, my favorite jewelry maker. His designs are inspired by outer space, animals, dark culture; perhaps you've seen his pentagram ring, worn by Marilyn Manson and J-rocker Hyde. 
Alex Streeter is a legend in Japan, where he travels every year, and has a storefront in New York's Lower East Side. I asked Glam Nail Studio (based in Vancouver, Canada) to create starry nail art inspired by his works.
I leave you with a close up of my Black Milk dress and cape.
What do you think of my Contiki trip so far? Would you join a group tour with young travelers, like I did?