Princess Fairytale castles of Sintra, Portugal! Quinta da Regaleira, Palacio da Pena. Seacity Fitness workouts.
Life update is long overdue… I'm sure you have sensed that a lot has been happening!
Read on for a recap, plus my next destinations for the summer: I'll be in six exciting new countries.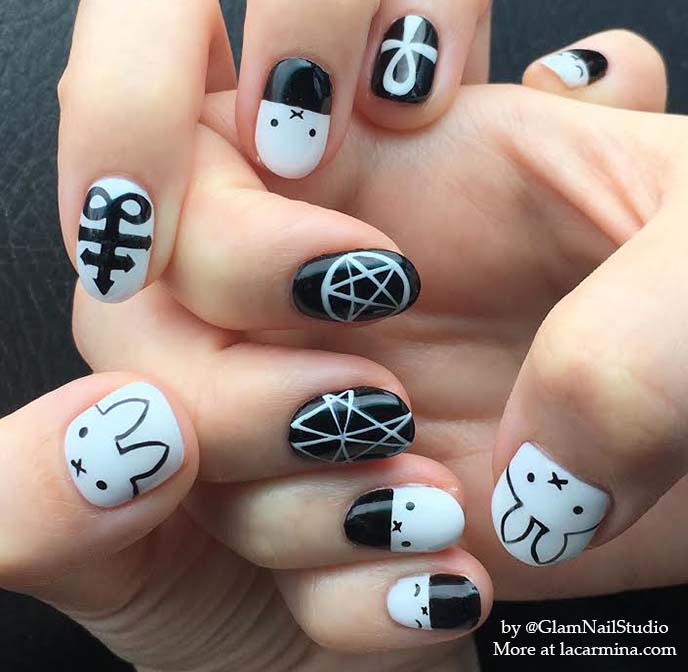 After back-to-back trips during the first half of the year, I spent some downtime in Vancouver, working on my new shop. This is a project I've wanted to tackle for a long time, but I never had the time until now. It's been wonderful to connect with so many of you, and I love seeing photos of you receiving packages from me! 
(If you're not sure what I'm referring to: I'm selling most of my wardrobe here, come check it out. Lots of  Japanese Lolita, Goth and Harajuku fashion, Miffy kawaii clothing and more, at discount prices. Simply take a look at the listings, then email me and let me know what you'd like!)
During this catch-up period, I rebooted my fitness routine by joining a new studio, Seacity Fitness. (Address: 102-1500 Howe Street near Burrard, in downtown Vancouver, Canada).
Seacity has a gorgeous studio with glass doors that face the waterfront. They have unique classes not found anywhere else in Vancouver, including yoga with live DJ music! 
The studio uses innovative equipment such as stretchy bands and suspension rigs, to really work your balance, core, strength and cardio. I've been going regularly to their Pilates classes, boxing, and my personal favorite: mini trampoline. 
Seacity Fitness offers a free one-week pass that you can sign up for on their website, and is also part of Class Pass. The instructors are wonderful, and the workouts are both fun and challenging. If you're in Vancouver and looking for effective exercise classes (as I was), I encourage you to shape up at Seacity.
(You may have noticed that I changed my hair recently... There's a skull on the back of my head now! This new style is by Stephanie Hoy at Sugar Skull Studio. All the details on my Instagram and Snapchat @lacarmina.)
Time to get packing again, as I'm off to travel to six countries. (All the details at the bottom of this post).
But first, let me complete my love-letter to Portugal — with a day-trip to the royal palaces of Sintra. I dressed up as a purple princess, and wandered through breathtaking fairytale castles.
Most tourists come from Lisbon to see Sintra's most famous sight, Palácio da Pena, which bears resemblance to the Walt Disney castle.
But by far, my team and I preferred a lesser known palace, Quinta da Regaleira (pictured in these photos). Come inside with me, and I'll show you why.
(By the way – my dress and princess sleeves are available for sale, on my Depop shop. Email me if you'd like to get them.)
First, the must-know travel information. How do you get to Sintra? From Lisbon (Lisboa), you can drive or take a bus, but the easiest method is taking a 30-minute train ride. Our Eurail train passes came in handy for this short trip, since we could simply hop in and ride.
Sintra is a popular destination, and can be packed with tourists. I recommend visiting during weekdays and off-peak seasons if possible, to avoid the crowds. Tickets are required to enter and lineups can be long, so look into getting advance passes (we had press access thanks to Visit Lisbon.)
If you visit only one attraction in Sintra, let it be the elegant 19th century palace: Quinta da Regaleira.
As you walk through the gardens, you'll feel as if you're a princess from a storybook fantasy. 
The grounds of Quinta da Regaleira are enormous, and not as frequented by tourists — giving you free rein to explore.
Like in a storybook, I wandered through mysterious forest paths. I crossed a lake laden with stones, and ducked into a maze of tunnels. At the top of this stone tower, I pretended to be Rapunzel letting down my hair!
Commissioned by "Monteiro the millionaire," the architecture is a tribute to Gothic-Renaissance romance. His estate and chapel are teeming with gargoyles, pinnacles and other ornamentation.
Adding to the enigma: we spotted Masonic symbols inside the church, such as an eye in a pyramid.
Monteiro was a Freemason, and built underground "Iniciatic wells" for secret rituals such as the Tarot initiation.
Standing inside the narrow and damp pit and looking up at the light, you can feel the solemnity of these rites.
Quinta da Regaleira's famous "wells" are more like inverted towers. A 27-meter spiral staircase winds around the structure like a snail.
The stories of the Knights Templar are alive, in this Portuguese palace hidden with symbols and secrets. (Photography by Borderless Media)
Romantic and dramatic… Quinta da Regaleira palace in Sintra is well worth the trip.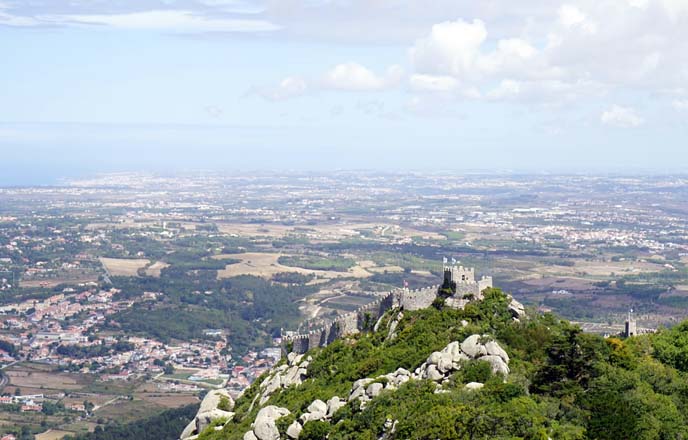 Sintra has many other historic sights, from museums to the hotel room where Lord Byron stayed.
We took in this soaring view of Castelo dos Mouros (Moorish Castle), which was built in the 10th century by the Moors. (Remember when I visited the most famous Moors palace, The Alhambra in Spain?)
Sintra's most popular attraction is Palácio da Pena. It was constructed in the 19th century by Dom Fernando II, as a summer palace for the royal family.
Many say Walt Disney based his Magic Kingdom castle on this one (although there are other European palaces that claim to be his inspiration). Palacio da Pena does have a Disney-esque feeling, which I admit wasn't to my taste… this Poseidon statue felt like the entrance to a theme ride, especially with the line of tourists waiting to go inside.
To me, the palace was like a painted movie set. It was difficult to enjoy the visit when there were so many tourists around. In fact, we could hardly take a photo without a dozen heads poking out from the balconies.
I think you can sense the different feeling of these palaces from the photos alone. For my team and me, Quinta da Regaleira was a far better experience.
On the way back to Lisbon, we stopped at the western-most point of Portugal, Cabo da Roca. This cliff edge is a popular viewpoint, high above the crashing waves.
We also stopped by the Monument to the Discoveries in Belém, which celebrates the explorers that led the Age of Discovery. Near this statue, a map shows former Portuguese colonies around the world, including Goa, Macau and Brazil. 
My travel filmmakers and I got back to Lisbon in time for a spectacular light show, which was projected onto the Rua Augusta Arch.
Lisbon has a tremendous energy. A crowd gathered in front of the landmark, and DJs played electronic beats while lasers swept through the sky.
With music and narration, the light show told a legend of how Lisbon was founded. We watched animation and film footage flow over the archway, depicting the love story of Ulysses and Ophiussa.
The 3D projection mapping was impressive, especially when each architectural detail seemed to move and crumble. At one point, the "Glory" statue at the top of the arch turned into a disco dancer, and gave her best Travolta impression!
Finally, we had a midnight snack at Mercado da Ribeira market. This modern, indoor space is brimming with food and drink vendors, serving all types of cuisine. I longed to try a bite from every stand…
There's a vibe here similar to that of food trucks: young indie chefs, experimenting with dishes and using the best local ingredients. I had several types of sardines, black rice, gooey sponge cake…
… and the best coconut gelato of my life, at Santini Gelati. This family has been making ice cream since 1949, and their creations are celebrated as the best in Portugal (if not the world).
Come see more of my Lisbon travel tips here. Portugal is now one of my favorite European countries, and I regret not visiting sooner.
And now, I'm off on the road again. My travel film / photo team and I are working with Visit Slovenia, on a project in Ljubljana! I'll also be stopping in the Netherlands (including Utrecht and the Miffy Museum, a dream come true). And we'll be all over Scandinavia, including Copenhagen, Helsinki, Stockholm and Tallinn. It'll be my first time in these Nordic countries, and I can't wait.
Starting today, I'll be sharing these European escapades on my social media — stay tuned to my Instagram and Snapchat @lacarmina for lots of fun.
I got minimal Gothic Miffy nail art, to match the theme of the trip… Arigato Glam Nail Studio in Richmond, BC for the cute nails! They always do the most intricate, kawaii gel designs for me. (The skull and black diamond ring is by Sapphire Studios.)
And don't forget to check out my big wardrobe sale! Just added lots of new items to my shop – including Gothic Lolita dresses, Miffy fashion and some of my best clothing from Tokyo.
Check out all the listings here and email me (gothiccarmina att gmail dotcom) with a list of items that you'd like to get. I can gladly calculate exact shipping for you, and do discounts on bundle packages. Please don't feel shy about writing to me! It would be a pleasure to send you designs from my personal collection. Talk soon!
Shop La Carmina's Pastel Goth Jrock Kawaii closet sale now!