Guide to Visiting Angkor Wat: travel video! Siem Reap tour, Lara Croft temple & Buddha statues.
I've long been fascinated by the mysterious temples of Angkor Wat. It was a dream come true to live out my "Tomb Raider" fantasies in Siem Reap.
If this UNESCO site is on your bucket list, then I hope you'll enjoy my latest Cambodia travel video (watch here), which includes tips on what to see and do.
I'll also share the dramatic photos we took amidst the ancient temple ruins — inspired by Lara Croft!
But first, a special announcement. I'm excited to finally reveal that I'm in a new NBC travel TV show, "Better Late than Never" — starring William Shatner (Captain Kirk) and Henry Winkler (The Fonz!) I shot this series last year in Asia, and had to keep it secret until now.
You can see me goofing off in Hong Kong on this major network program, which airs on Tuesday, August 30th at 10pm ET. (Check your listings to make sure of the exact air time, and stay tuned to my social media for previews.)
"Better Late than Never" is basically four elder celebrities on a bucket list adventure all throughout Asia. That's correct: I got to be on-screen with William Shatner (Star Trek), Henry Winkler (Happy Days), boxer George Foreman, and football legend Terry Bradshaw!
Can you imagine how much fun I had with these legends? There was dancing, singing and costumes involved… Be sure to tune in this Tues, Aug 30 for a good laugh at our Hong Kong shenanigans!
Outfit Details:
1990s dark floral skirt: from Pylo. Here is a similar shorter version of this skirt.
My glasses are by Oliver Goldsmith, whose styles are inspired by Audrey Hepburn, Grace Kelly and other silver screen icons.
Please take a moment to watch our short Cambodia travel video (above and on @lacarmina YouTube). It highlights some of the best travel attractions in Siem Reap, from the circus to the temples.
What's the best hotel in Siem Reap? My vote goes to the magnificent Le Méridien Angkor hotel. They have a lush backyard garden…
… and modern interiors, inspired by classic Khmer design. The location is also as good as it gets: Angkor Wat is less than a 10 minute drive away.
Le Meridien has one of the coolest swimming pool designs I've seen. The waters are framed by gardens dotted with Hindu statues.
In my happy place. Wearing a Michi cut out top, and blue Linda Farrow sunglasses.
Lotus flowers add to the feeling of peace.
Posing with my travel buddy John Skeleton. We also went to Vietnam together, one of my favorite trips.
See many more photos of my outfit and Le Meridien Angkor, in this previous post.
Thanks to Ken Yuen and Sniper Chau for the photography.
Now, let's tackle the temples!
I recommend going to Angkor Wat at 5pm the day before your visit, to purchase your ticket (for one, three or seven days entry).
This way, you can go inside to see the sunset and skip the line-up the next day.
Our Le Meridien guide took us to a prime photo-taking position by the second reflective pool.
I am not a morning person, but it was worth waking up at 5am to see the sunrise over the towers of Angkor Wat.
After dawn breaks, many tourists go on to explore the main buildings of Angkor Wat. However, to avoid the crowd, I suggest seeing other temples in the morning (there are over a thousand in this large complex).
Walking through the humid jungle can be a challenge, but you'll get to see powerful trees with roots like this.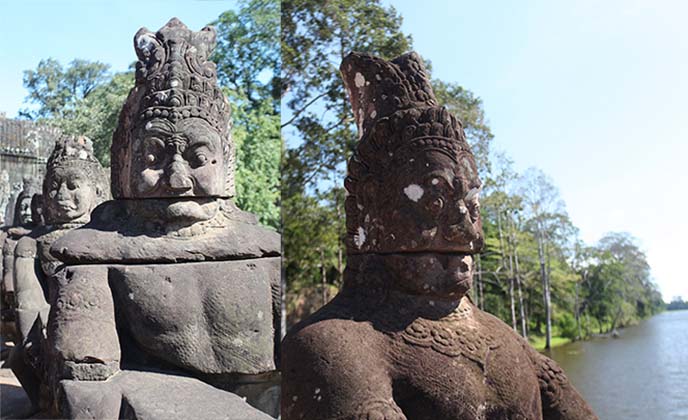 Some tourists ride tuk-tuks or bikes, but my team and I had a driver and guide, which made it easier to get around.
The left side of this pathway over the water had Buddha statues. We preferred to take photos of the right side, which was lined with scowling demons.
Our guide showed us the Terrace of the Elephants. It was the site of public ceremonies for the Khmer king and his troops.
One can't help but smile when you come across these beaming Buddha faces, peeping out from the trees.
I was mesmerized by this long wall of carvings, which depict Hindu devas.
Some of the faces have been worn down by the elements and time, adding to the feeling of mystery.
Words can't capture the feeling of standing right in the doorway of century-old ruins. The Cambodian architecture stands the test of time.
Anyone can get up close to the structures, and even climb them. Just watch out for the slippery moss.
Feeling like I've entered a lost world. There were no other tourists around us, since our guide helped us avoid the crowds.
Imagining that I am Lara Croft for a day. I even wore a braid in my hair.
The fallen bricks are as beautiful as the standing structures, in their own way.
If you only have one day, be sure to visit Bayon with its smiling Buddha faces. You also can't miss Ta Prohm, the "Tomb Raider" temple with tree roots converging into the ancient architecture.
In the afternoon, I suggest returning to the main Angkor Wat temple. The lighting conditions are best at this time, letting you capture dramatic light and shadows.
A big thank you to HK Express for making this epic journey possible. This short-haul airline goes directly from Hong Kong to Siem Reap, and the service is phenomenal. They fly to Tokyo, Osaka, Seoul and other destinations in Asia as well.
In addition to the temples, you can experience a wide range of nightlife, restaurants and entertainment in the city center. Be sure to check out my Siem Reap travel guide for food and bar tips.
If these photos caught your attention, then come see my Angkor Wat Cambodia video (click to play). I hope you find my recommendations helpful.
And don't forget to tune in on Tuesday, August 30th — NBC channel — to watch me on "Better Late Than Never" with Henry Winkler, William Shatner, Henry Foreman and Terry Bradshaw! Life can be full of amazement, wouldn't you agree?