Copenhagen's Superkilen urban design park! Hipster Norrebro cafes, AC Bella Sky Library restaurant.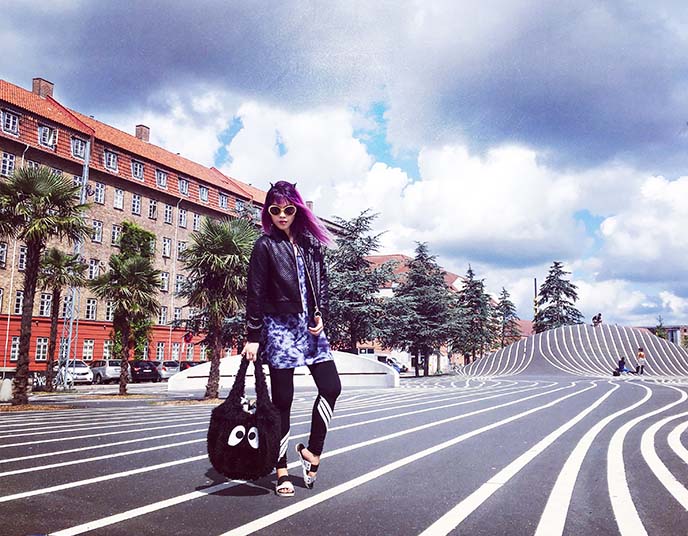 Strike a pose in Denmark!
I'm vogue-ing in Copenhagen's remarkable Superkillen, which means "big wedge." Have you ever seen an outdoor public space as super killer cool as this?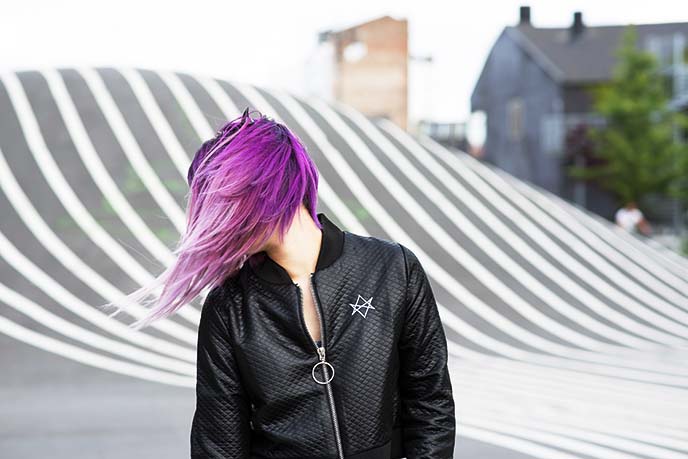 Built in 2012, this park / playground / multi-use space celebrates the cultural diversity of the Nørrebro neighborhood. (Superkilen's address: Nørrebrogade 210, 2200 København, Denmark)
(And it turns out to be an exceptional place to take portraits with photographer Joey Wong.)
My bug-eyed oversize sunglasses are House of Harlow 1960. Leggings are Yohji Yamamoto – Y-3 and Adidas.
I love my spider jacket to bits. It's this exact Black Widow bomber by Disturbia. This dark, nu-Goth label also makes a similar skull jacket and Lucifer jacket. 
(Click the images below to get your paws on these designs:)

This award-winning park is the brainchild of Topotek 1 + BIG Architects + Superflex. The Norrebro district is home to residents from dozens of nationalities, and was once a gloomy and gritty part of Copenhagen.
Working with the local city council and businesses, the designers transformed this derelict area into a joyful, avantgarde park — which celebrates the cultural diversity of its inhabitants.
Superkilen is super-sized: 30,000 square metres (320,000 sq ft) in total. From a bird's eye view, it's a splash of color and lines that feels integrated into the neighborhood.
The public park has three main areas. I'm standing in the Red Square, which is dedicated to sports, recreation and modern lifestyles. 
Closeup on the back of my Disturbia spider print jacket. My tie-dye blue dress is also by this brand. Hair is by Stephanie Hoy of Sugar Skull Studio in Vancouver.
(You can shop my Goth wardrobe directly from me. Email me if anything I've listed catches your eye.)
The red floor swoops up into a ramp for skateboarders. The multi-functional rubber surface can be used for all types of activities: ball games, parades, even skating rinks in winter.
I saw teenagers shooting hoops, and families playing games. Your imagination is the only limit for how you can use the free space.
Welcome to my office: a row of groovy circular swings!
The architects brought in equipment and art from all around the world, to represent Norrebro's ethnic mix. There are slides from Chernobyl, swings from Iraq, a playground from India…
… and a mural of Chilean president Salvador Allende, by the famous street artist Shepard Fairey. 
(My leggings are Yohji Yamamoto Y-3 x Adidas.)
Superkilen has well-designed spaces for all kinds of sports. After being in a TV show with heavyweight champ George Foreman, I couldn't resist getting in the boxing ring.
(My sandals are these exact Torpeda slides by Sorel Footwear.)
I might not be able to throw a strong punch… but can master the Hong Kong high kick! 
This section of the park is known as the Black Square, or Mimers Plads. Locals meet up around the elegant Moroccan fountain and Japanese cherry blossom trees. 
These tables are made for backgammon and chess players. The entire striped space is tailored to hanging out with friends and family.
One part of the surface curves up into a big mound. I watched a guy perform bike tricks on the hill.
I've literally got eyes on the back of my head… A shaved skull under-cut, thanks to stylist Stephanie Hoy!
I'm impressed with the way Superkilen incorporates unconventional objects from all around the world into the design. This dentist and moon neon sign came all the way from Doha, Qatar.
Darth Vader, is that you? This black sculpture is actually an octopus shaped slide and playground, very popular with children. It's from Japan, as you might expect.
Hola, Allende! Benches from Brazil, litter bins from the UK, random signs advertising Chinese beauty salons and Russian hotels… Superkilen succeeds in illustrating the wonderful diversity of this Copenhagen neighborhood. 
Enter the green park, a zone for nature and fitness. I stumbled upon this mesmerising performance on silks and rings.
Form, function, tentacles. What more can you ask for in an urban community space?
We always find Satan, wherever we travel.
Don't miss out on Superkilen, when you come to Copenhagen. If you like to cycle, you can rent one of the public bikes with tablets and WiFi attached to the handlebars, for easy directions.
Norrebro is known as the city's hipster area. I walked around and enjoyed observing the street life and modern architecture.
There's nothing like Scandinavia in the summertime. No wonder the Danes always are at the top of the "quality of life" rankings.
In Norrebro, the street Jægersborggade is lined with cool cafes. Stop by GRØD, the world's first cafe dedicated to porridge! This rustic hideaway also serves curry rice, risotto and other porridge-y options.
I found a shop that sold cacti, and another dedicated to fungi. Copenhagen is a cyclist's city, and you'll find bikes at every turn.
We continued our stroll to a giant food hall / farmers market called Torvehallerne. Vendors sell all types of food under the glass structures: chocolates, oils, cheeses, breads.
Smørrebrød, or open sandwiches, are a Danish speciality. Traditionally a lunch staple, you can find very creative and colorful versions of smorrebrod at Torvehallerne.
Tbis market also holds the world's first Paleo restaurant. Avocado, meat and berries are on the primal menu at PALÆO Copenhagen.
Thumbs up to The Coffee Collective, which also has a cafe in Norrebro. These roasts are prepared in the superior pour-over method, and the beans come from ethical sources that improve the living conditions of coffee farmers worldwide.
Spectacular food and architecture appear to the theme of our Copenhagen trip, wouldn't you say?
We bit into both at AC Bella Sky, a sensational structure that looks like something from the future. This Marriott property is the largest hotel in Scandinavia, with tilting towers designed to maximise the sky-high views.
Designed by 3XN Architects, this is "Nordic cool" design at its coolest. The sleek white/glass exteriors are simple yet functional, and have a literal twist. Inside, the designers used natural materials like oak and walnut, to help the guests feel at home.
AC Bella Sky has several fantastic dining options. We sat down at Library Restaurant, which was warmly decorated with dark woods, Le Klint lamps and shelves of books.
In this easygoing space, we dined on a beautifully presented appetiser of salmon lox with local vegetables, paired with delicious sauces.
Home-style, nostalgic favorites are on the menu, and there are lots of options for vegetarians and people with food allergies. Our main dishes came with generous amounts of salads and roasted vegetables, and our waiter helped pair every order with wines. Library was a wonderfully relaxing dining experience.
Isn't the AC Hotel by Marriott – Bella Sky a marvel? If you're coming to Copenhagen, you can book a room here on Expedia or on Hotels.com.
More Copenhagen to come, including a look at the famous Nyhavn waterfront lined with boats.
All photos by Joey Wong. (These images were taken from the viewpoint.)
Isn't Copenhagen cool? Thumbs up to this Scandinavian city — a must-visit!
My only regret is that I only had a few days in København. I'll have to come back ASAP to see more.
(PS – If you liked my clothes in these photos, you can shop them with a click below!)