Yayoi Kusama exhibit in Sweden! Stockholm Gothic alternative travel guide, Goth fashion & bars.
Hej from Sweden! I had a "dotty" time in Scandinavia this summer, as you probably saw on my social media.
It was my first time here, and I managed to catch the Yayoi Kusama exhibition in Stockholm. (The Moderna Museet retrospective closes September 11th, so I hope this post encourages you to visit.)
If you're looking for an alternative Stockholm travel guide, you've come to the right place. In this post, I'll take you to Swedish Goth bars, Viking restaurants, and a special place called "Cum Clubwear."
(Are you eye-ing my oversized shirt? I'm wearing this exact Long Clothing X Mishka Keep Watch t-shirt, and these black and white sandals. (Click for details and to purchase.)
I've long admired Yayoi Kusama, Japanese avantgarde artist and High Priestess of Dots. Finally, I got to see her works in person, at Stockholm's Moderna Museet / ArtDes. The interactive installations also created the perfect backgrounds for photos (all these are by Joey Wong).
(I'm wearing a Long Clothing x Grace Neutral top, which matched well with the polka dotted wall. This mandala design is also on their bomber jacket.)

Yayoi Kusama was born in Japan in 1929, and moved to NYC in 1957. She became part of the Swinging Sixties scene, staging experimental "happenings" and naked parties where she painted people's bodies with dots.
Kusama's works were far ahead of her time, and eventually returned to Japan to live in a mental hospital (where she continues to paint and sculpt, to this day). Her outsider status kept her her art from being fully recognised until recent years.
Dots, dots everywhere. This motif has appeared in Kusama's works since her earliest days. She suffered from hallucinations since childhood, which made the world appear to be covered in dots and repetitive shapes.
Art became her way of working through demons, and giving form to these visions.
Yayoi Kusama is known for her giant sculptures and installations that take up entire rooms. They're always infused with her surreal, playful spirit.
I'm sure you have seen these dotted pumpkins before. They cover the landscapes of Naoshima, an art-filled island in Japan. 
In one room, I stood among the silver balls of "Narcissus Garden," her disruptive work from the 1966 Venice Biennale. Yayoi wasn't an official artist at the event, but staged her own performance art piece and sold these globes to visitors for $2 a pop!
Such fun to enter Yayoi Kusama's universe for a day.
Yayoi likes to play with mirrors, and create "obliteration rooms." She's fascinated with the idea of dissolving the sense of self, and becoming united with one's surroundings — like in her dotted hallucinations.
By walking through the obliteration room, visitors can similarly lose themselves in the infinite patterns.
Joey and I walked into the "Infinity Mirror Room – Phalli's Field." When the docent shut the door, we found ourselves in this tiny room, surrounded by an endless field of red and white phalluses.
The "In Infinity" exhibit included a variety of Yayoi Kusama's works from over the years, in different mediums. Not everyone knows she created cut-out dresses (and modelled them with friends, in the 1960s), videos, and lesser-known paintings. I especially enjoyed seeing her photos from the hippie era, sprawled out in a busy street or cavorting in a kimono.
Some snaps of the textures, forms and patterns found in Kusama's oeuvre. The Japanese icon is 87 years old and continues to work daily in her studio, producing new pieces!
My Long Clothing x Grace Neutral top looked like it belonged to her Obliteration Room. You can find more pieces from Long Clothing by clicking below:

This "Infinity Mirrored Room – Hymn of Life" had the mood of a shrine. We entered the dim room, filled with water and hanging lanterns marked with — what else? — dots.
The colors shifted constantly, bouncing off the reflective pools and ceilings.
Yayoi Kusama encourages you to take snapshots and get immersed in her art. Joey took this selfie while peering into a hole, which revealed a kaleidoscope of kabochas. All hail the high priestess of polka dots!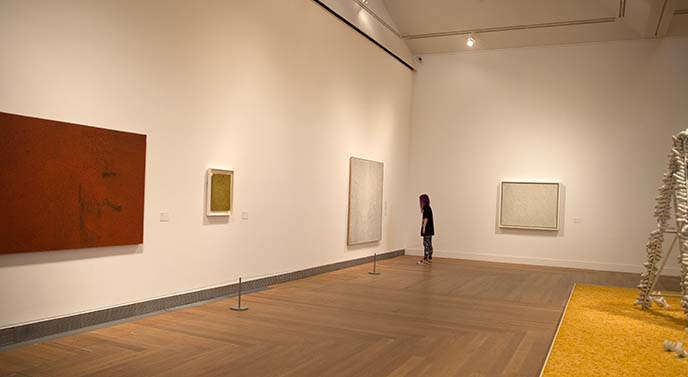 Modern Museet (Stockholm's modern art museum) is huge and well curated. You can spend a day in here, walking through the changing and permanent exhibits. (Yayoi runs until Sept 11, so hurry on over.)
I especially loved the bizarre video art collection. "The New Human" had footage of mandalas, disco and apocalyptic death cults — some of my favorite things! (In this funny video, you can see me grooving with the images.)
Time for some shopping. Of course, I wanted to find Gothic, alternative and fetish fashion in Stockholm.
My evil queen Yukiro ordered me to the wonderfully named C.U.M. Clubwear!
I met owner and designer Dominika Skansen, who designs her own collection and also sources clothing from all around the world.
CUM is a huge, two-level store and it carries every type of subculture style: EBM, rave, pin-up, drag, you name it.
I found tutus, corsets, fishnet tops and other underground accoutrements here.
If the zombie apocalypse arrives, I'd head straight here for some Mad Max cybergoth fashion. Love the metal spikes in the goggles and gas-masks.
What more can I say? "Cum" to this alt clothing store, and you won't be disappointed!
(In the next post, I'll show you more fashion from the hipster district of SoFo.)
Summer is the best time of year to visit Stockholm. The weather is ideal — warm, but not overly hot — and I enjoyed strolling over the bridges to the various districts (Old Town, Gamla Stan, Sodermalm). 
But as always, we like to go off the beaten path. (This is an alt / Goth guide to Stockholm, after all!)
We ventured into the hipster district of Hornstull, located at the western tip of Södermalm.
A lot of young, artsy types live here — which is reflected in the bright murals and posters. The Pride Circus sounds like my type of event.
I loved the look of Hornhuset, a popular bar / restaurant spread out over three stories of Hornstull mall. Each level has a different design and food speciality, and becomes packed with regulars at night.
I had a lovely walk through Hornstull Market, or Hornstulls Marknad, which takes place by the water every weekend from April to the end of October.
The laid-back flea market is open to all types of vendors and food trucks — I saw everything from antiques to minimal fashion. My friend chowed down on a burger, while I got a Velo Coffee from a bicycle.
We wandered through Hornstull's park, and stopped at this rather Gothic church (Högalids Kyrka) for photos in the doorways.
I'm wearing a rainbow top by Gladnews, my Sailor Moon jacket, and Ksubi sunglasses.
(You can shop my wardrobe directly from me — check out the listings on Depop and shoot me an email!)
Stockholm has a fun Goth nightlife, but there unfortunately weren't any club nights while we were there. (I wish I could have gone to the post-punk Klubb Dod.)
We did stop by Synth After Work, a casual happy hour gathering at Temple Bar. The DJ plays synthwave / 80s Goth music, the crowd wears black and the drinks are cheap — what more can you ask for?
When you're in the land of the Vikings, you must feast like a seafaring warrior. We pillaged through a magnificent meal at Oaxen Slip, a Nordic bistro located next to the docks. (They also have a fine dining arm, Oaxen Krog.)
We started with the "grogg", or alcohol mixed with housemade herbal cola and ginger lemonade. The old Norse gods would have approved of this nectar!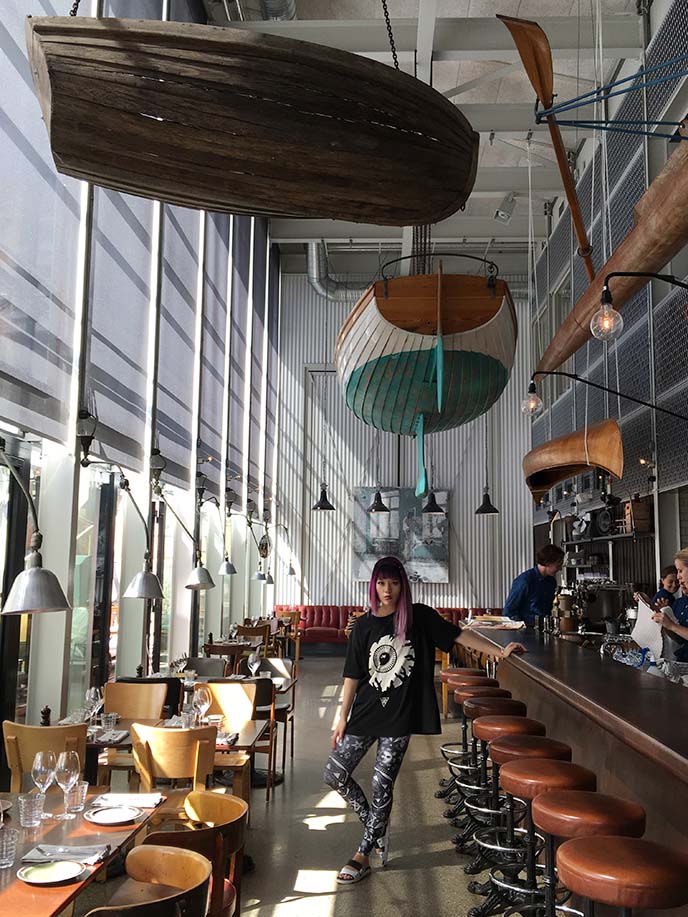 Oaxen Slip is housed in a refurbished boatyard shed, on the green island of Djurgården.  The cool interior design stays true to its roots, with boats hanging from the ceiling and sweeping views of the harbor. Even the art has an industrial vibe.
The server brought out starters: cod and a plate of raw radish, with a whipped sour cream dip. A surprising combination that I've never seen anywhere — and it works remarkably well.
Oaxen Slip delivers a modern interpretation of hearty Swedish food. I could imagine vikings gathered around a table, sharing the herring and stewed vegetables.
All the ingredients are locally sourced and seasonal, and simply prepared to let these flavors stand out.
The blackened, cured perch with baked leek and roe was another example of traditional fare with a creative touch.
Berries are tart and fresh in Sweden. I'd love another scoop of the raspberry sorbet with lemon verbena. 
Such a joy to dine at Oaxen Slip, amidst these Viking vessels. I'm sure Thor and Odin were there with us in spirit!
On the waterfront, wearing my Long Clothing x Mishka eyeball top. (Get this exact shirt here. and more from the label below):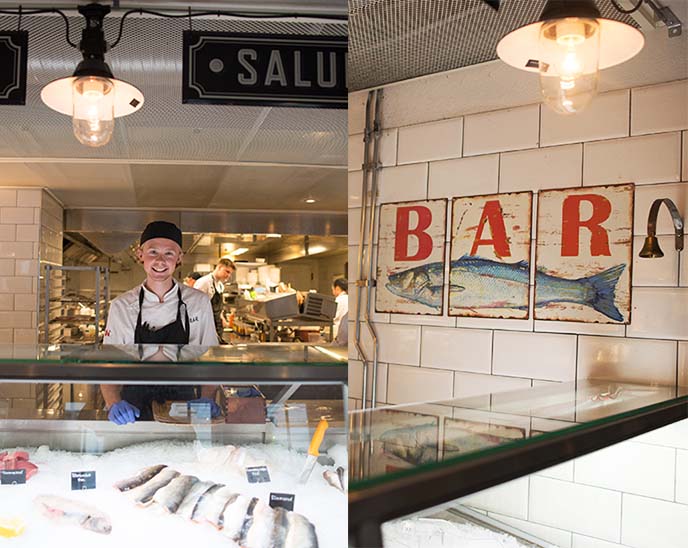 On another evening, I ate my fill of Swedish fish at B.A.R. Stockholm. This highly rated restaurant is located in the central Blasieholmen area.
I stepped up to the seafood display and learned about the catch of day. Every order is customizable: customers choose the fish and shellfish directly, and it can be prepared in all types of ways. The bartenders even made me special cocktails with local Aquavit, to suit my palate.
We started with the red caviar, which is simply fabulous in Sweden. Ours came with buckwheat crepes, red onion and sour cream. Don't leave without trying this appetizer.
You can also order dishes a la carte, such as grilled sea bass tortillas, and salmon tartar with anchovies and ramson capers (above left).
Then, a plate the size of my head arrived — piled high with different types of fish! I got to try wolf fish and others I had never heard of before, straight from Scandinavian waters. We added on sides of creamy risotto, garden carrots, grapefruit salad… What a meal at B.A.R. Restaurant Stockholm.
The blueberry pancake was truly the best I've ever had. Perfectly cooked, with creamy vanilla ice cream and maple syrup. It even looks like one of Yayoi Kusama's dot artworks! 
More from Stockholm coming soon, including a tour of hipster SoFo, and more Viking feasts.
(If you liked what I'm wearing in these photos, check out more from Long Clothing here.)