Where to find Halloween costumes & makeup in Tokyo, Japan! Kiddyland, Morph8ne clothing, unicorn hairstyle.
Happy Halloween! What is your costume this year? Will you be partying over the weekend?
Thanks for your sweet comments on my new light pink and baby blue hair! Here's part 2 of my photoshoot for Attitude Clothing, featuring this exact Teacher's Pet Crop Top sweater by Morph8ne, a Gothic Thai designer.
I'll also continue with Halloween coverage from my Japan Rail Pass trip. If you're looking to buy a costume or cosplay outfit in Tokyo, this shopping guide is for you.
(Above, I was tempted to get this vampire Miffy holding a pumpkin from Kiddyland Harajuku.)
Can you believe I went from grey-green hair to pastel pink dyed hair? My stylist Stephanie Hoy at Sugar Skull Studio is brilliant at hair color. She added layers of purple and blue, and did an ombre fade with darker pink roots. (Ask for her, if you're looking for a hairstylist in Vancouver, BC!)
My wood sunglasses are by Moat House. These Godiva frames are handmade in the UK, and have an appealing cat-eye shape. Moat House's eyewear sits well on the face without being heavy, and the frames are beautifully crafted. I have the violet mirrored lens, but you can customize it with different lenses as well.
Attitude Clothing sent me a few designs from their shop (I modeled a dress and hat in this post). They ship worldwide and carry many of my favorite Gothic brands, including Killstar and Long Clothing.
I'm wearing this Teacher's Pet sweater by Morph8ne. which has a crop top cut and a 1990s feeling. Love the choker detail made from the same material (which attaches via a snap button at the back of the neck).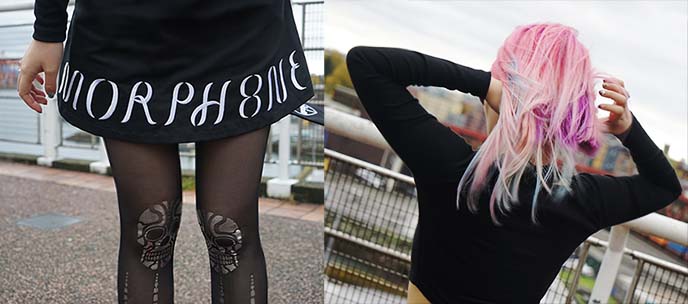 Close-up on my Day of the Dead tights from Gal Stern. The luxury legwear designer has a new Halloween collection, featuring metallic printed skulls over the knees.
My Morph8ne skirt from Attitude Clothing is reversible, and can be worn  either way around. I chose to put the logo on the front, and feature the side-tag detail on the back.
Thanks to Attitude Clothing for the fall fashion, which goes well with my new pastel pink hair.
(If you like these Morph8ne designs, you can shop more below, including my exact crop sweater):

Flashback to MySpace poses. If you've been reading this blog for years, do you remember when I was on this social network?
(Images by Joey Wong.)
September-October is my favorite time to visit Tokyo and shop — because all the stores have Halloween displays and special items for sale! I always make my rounds of the boutiques in Harajuku, Shinjuku and Shibuya to check out the latest fashions, as well as scary-kawaii toys and gifts.
This is the time to stock up on Halloween hair and nail accessories. I found goodies like these in various department stores (Marui Annex, Studio Alta, Laforet, and even random places around Tokyo.)
(If you aren't anywhere near Japan, don't worry — you can find Halloween nail art templates online as well.)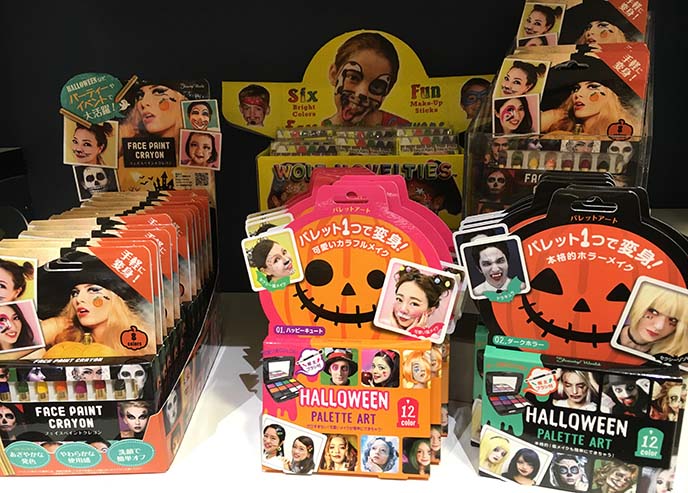 At Okadaya, Don Quixote and other stores, you'll find lots of limited edition Halloween makeup. Doesn't the kawaii packaging make you smile?
These horror temporary tattoos turn you into a blood-drooling vampire, undead zombie, fierce animal and more.
Halloween inspiration is everywhere. These "real make palettes" let you transform into a variety of creatures.
At Don Quixote, I saw a display of "shiny edge" colored contact lenses. The red circle lens would be perfect for a Dracula or Walking Dead look.
I recommend stopping by Kiddyland Harajuku, which is four floors of character goods (Miffy, Totoro, Rilakkuma, you name it). Around October, the mascots get in the spirit. These socks are great gifts, and feature Pompompurin, Darth Vader and more.
(Here are Nightmare Before Christmas over-the-knee socks available online too.)
Disney gets spooky as well. Purple, orange, red and black are the colors the season.
In the Sanrio section, I found very creative (yet still kawaii) Halloween items. I like the "Noooo!" in the poster, featuring the mischievous Kuromi. There's a Cinnamon Roll with bloodshot vampire eyes, and Hello Kitty as a ghoulish zombie. 
Hello Kitty turns into an evil vampire, ghost and pumpkin in these cute tattoo stickers. (Here's where you can get more Hello Kitty stickers.)
The Line friends couple, Brown and Cony, dress up as Dracula and a witch. I love how the bear's expression never changes, even when he's in costume.
Now, where can you shop for a Halloween costume in Tokyo, Japan? The first floor of Don Quixote (which has various locations) always has tons of cosplay and outfits featuring all types of characters. These ghastly masks hung outside the Kabukicho store.
At Studio Alta in East Shinjuku, the Sadistic Action store is a great place to play dress up.
(Here's a similar Alice in Wonderland costume to the one pictured above.)
The costumes are cute and sexy versions of witches, jokers and more. In the background, you can see Hello Kitty ghost socks too.
I'm sure you'll see a lot of Suicide Squad cosplay this year. Here's where you can find this Harley Quinn costume.
(I'm also selling costumes and Japanese fashion on my Depop shop – come browse!)
At Swimmer (locations in Laforet, Alta and more), I encountered bat and coffin purses.
Don't you just want to pinch that ghost's cute cheeks?
And how can you resist squeezing these pumpkin bears!
The crafty department store Tokyu Hands (locations in Shinjuku, Ginza, Shibuya and more) is a great place to get creative with a DIY Halloween costume. THis steampunk apocalyptic puzzle mask on display was a perfect example.
At Tokyu Hands, you'll find everything from cute baking supplies to Trick or Treat bags. You can build an outfit from scratch using fabric and trimmings, or buy a pre-made one from the costume section.
"Boo-yeah" to this Halloween cookie decoration kit.
For the more DIY supplies, head to Okadaya Shinjuku. The store sells special effects makeup, latex and other monster magic.
Isn't it wonderful how Tokyo celebrates the spooky season in such a big way?
I've also been having fun browsing Octer, a mobile app and online shopping platform. The site and search are fast-loading, and let me easily compare brands and products. For fall fashion, I'm loving Octer's selection of high boots by Stuart Weitzman, lace-up bodysuits, and romantic dresses by For Love & Lemons.
More coverage from my JRailPass train journey to come, stay tuned and please feel free to share this post if you enjoyed. Happy Halloween!