Grand Central by Scandic, Stockholm's hippest hotel! Cocktail bar & restaurant review, Long Clothing hexagram skirt.
I've got Stockholm on my mind. Let's flashback to Scandinavia, where I spent a few weeks in the late summer!
It was my first time in Sweden, and my team got a warm welcome at Grand Central by Scandic. This is the hippest hotel in the city, with a visual identity inspired by New York's theatre scene. Every aspect of our stay was infused with music — from band posters in the bar, to live DJ parties and stage shows in a late 19th century theater. 
(Find out more about Grand Central Stockholm and book a hotel room here.)
My junior suite even had a vinyl record player, with a selection of LPs including Madonna. One of the walls opened into a picture window, which let me watch these otherworldly pink sunsets every night.
Directions: It was convenient to roll our suitcases to Grand Central by Scandic (address: Kungsgatan 70) as it was only a few blocks from the central train station (we took the 30-minute direct Arlanda Express line from Stockholm airport). The hotel is located in Norrmalm, which made it easy for us to walk south to Gamla Stan and Sodermalm, home to the trendy SoFo area.
Grand Central turned out to be the perfect place to unwind between stretches of sightseeing. (I'm wearing a Long Clothing x Grace Neutral top. The same mandala design is also on this label's black jacket.)
The hotel's modern design matched with my outfit of the day. Clean and geometric, that's how I like it.
♥ My apocalyptic black top is by Michi. They also make this similar off-the-shoulder black shirt, perfect for stylish activewear or to fight zombies when the world ends.
♥ I'm wearing a Long Clothing hexagram skirt (they also make a dress). This brand uses the same print and fabric in their Infinity Clip pants version of my maxi skirt.
♥ My cut-out platform sandals are by Le Babe shoes. They're very similar to these Jeffrey Campbell Brianna shoes that come in black, or tan suede.
For more about the clothes I'm wearing, click the thumbnails below:
Grand Central by Scandic has various types of rooms, but I love the Junior Suite. Every evening, I perched on the windowsill and watched the skies change color. 
My room was decorated with paintings of musicians, to fit with the vibe of the hotel.
Close-up on my silver cuff bracelet and ouroboros ring, by Alex Streeter. A perfect match for the hotel: Alex is the legendary NYC downtown silversmith whose devilish designs are worn by rock stars around the world (like Marilyn Manson and Hyde).
I'm also wearing a silver cat ring from Hong Kong, and black diamond skull ring from Sapphire Studios.
The glass windows by the elevator made me feel like I was about to blast off into a space fantasy. (I love Michi, the indie designer that makes my cutaway top. More from them below:)
The rooftops of Stockholm made me want to sing: Chim-Chimney, Chim Chim Cher-ee.
Can you see Miffy peeking from my thumbnail?
I adore Long Clothing's hexagram fashion. Their streetwear is eye-catching and alternative Gothic, yet can be worn on all types of occasions. The black and white geometry is also easy to style.
My team and I got a backstage tour of Vasa Theatre, which dates back to 1886 and adjoins the hotel. While we were there, workers were still working hard to restore the space to its former glory.
The opulent theater is open now at Grand Central by Scandic, and hosts all types of contemporary stage shows as well as private events. The hotel is doing a great job of bringing in both Swedish and international artists to Vasa, for public performances.
We crept into a dressing room that was supposedly haunted by the ghost of an old actor. If a male enters the room, nothing happens. But if females walk in, the phantom gets enraged — and supposedly starts shaking the chandeliers!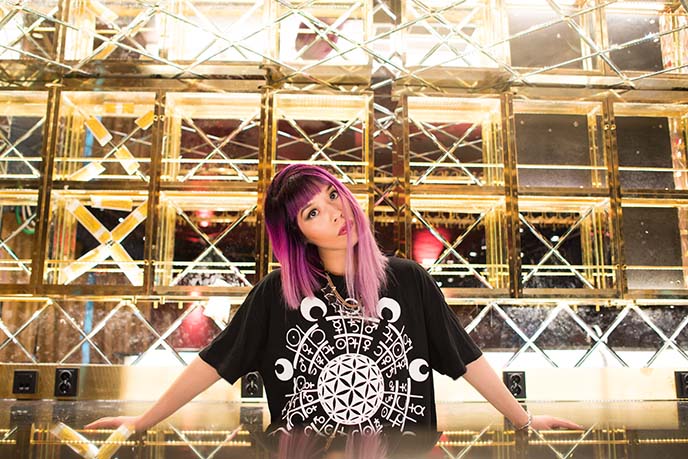 Maybe there are also ghosts haunting this gilded and mirrored theater bar. It reminds me of one in The Shining…
(My mandala top is from the Long Clothing and Grace Neutral collaboration, and also comes in a bomber jacket version.)
Time for a drink at Teaterbaren, Grand Central's hip cocktail bar. We chatted with the expert mixologists, who let us examine local spirits such as O.P. Anderson aquavit. 
The cocktails were magnificent, with colors that matched the Swedish sunset. (In the summer, daylight lasts until 11pm!)
The bar brings in live DJs for late night electro parties. Grand Central also has rotating photographic art / design exhibitions. During my stay, there was a showcase of alternative street fashion portraits.
We sat down for dinner at the hotel's restaurant Teaterbrasseriet. This relaxed space has plush leather couches, and offers a Scandinavian menu inspired by modern cuisine. Of course, we started with Swedish red caviar — the above photo says it all!
When you're in Sweden, order fish and seafood, as it's some of the best in the world. Look at the color of the smoked salmon starter, with lemon and dill to taste. My friends also enjoyed a Toast Skagen appetizer with shrimps and horseradish.
Swedish meatballs are legendary, and something you must try. At Teaterbrasseriet, they're made with Viking heartiness: paired with potato purée, lingonberries and pickled cucumber.
Eat all the berries when you're in Scandinavia. We ate up this antioxidant-rich ice cream sundae. I'll agree with the restaurant menu, "There is no sincerer love than the love of food."
"Tak" (thanks) to Grand Central by Scandic for the inspiring stay. I loved how the hotel pays homage to theater, starting from the moment we stepped into the lobby lit by stage lights.
If you want to stay in a hip Stockholm design hotel, this is where it's all happening. Find out more about Grand Central by Scandic, and book a room here.
(Photography by Joey Wong.)
There's still more from my Scandinavian journey to come. If you missed my first post about the Yayoi Kusama exhibit, you can see it here.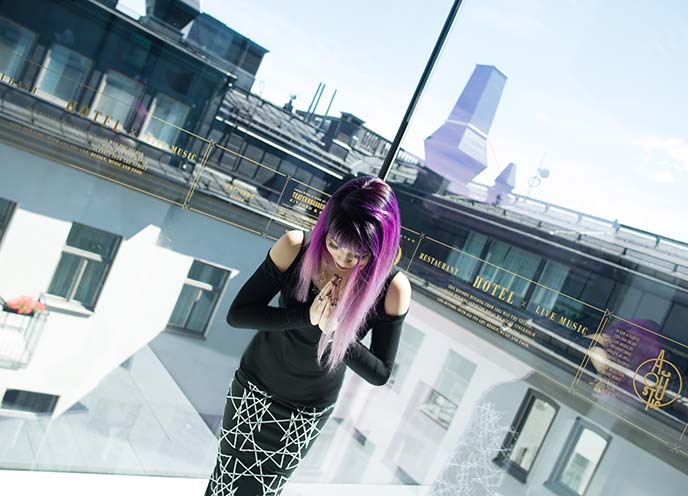 Curious to learn more about my clothes in these photos, including prices and sizes? Just click below for all the details. Arigato!