12 things I love about Iceland! Travel guide to best Reykjavik restaurants, nature tours, art galleries.
Iceland, you are magic. I've recently been reminiscing about my trip to the "land of fire and ice," which turned out to be one of my favorite destinations of all time!
It's now easier than ever for North Americans to fly to Iceland. WOW and Icelandair have increased the number of inexpensive, direct routes from major cities in the US/Canada to Reykjavik. If you're on the East Coast, you can find tickets for under $300, and the flight time is only about 6 hours.
Recently, I've gotten quite a few requests for Reykjavik travel tips — so I thought I'd lay it all out on one page. Enjoy my "12 things I love about Iceland," and check out all my detailed Iceland travel guides here.
(You can also check out my travel video about my Iceland adventures, above. It includes footage of the Blue Lagoon, food, nature, art and nightlife that we experienced.)
1 – Get outdoors and discover Iceland's unique nature
You can't miss out on the sci-fi landscapes and mystical Northern lights. From Reykjavik, it's easy to book a car or tour that lets you experience Iceland's surrounding landscapes. I suggest that you do a day trip with a guide, such as a Northern lights tour package in Iceland.
Iceland's intriguing black sand beaches were the perfect backdrop for a Gothic fashion photoshoot. My braided hair and bell-sleeves are inspired by Daenerys in Game of Thrones (the show films the "Wall" and "North" scenes on this island).
2 – Take a selfie with a horse
Icelandic horses are the definition of "kawaii" (cute). This breed developed in isolation, which gives them a short, plush appearance. The layers of fat and fur protect them from the cold, but also makes them extra warm and adorable! I stopped to say hi to a herd of Iceland horses: they gently nuzzled up and took a selfie with me.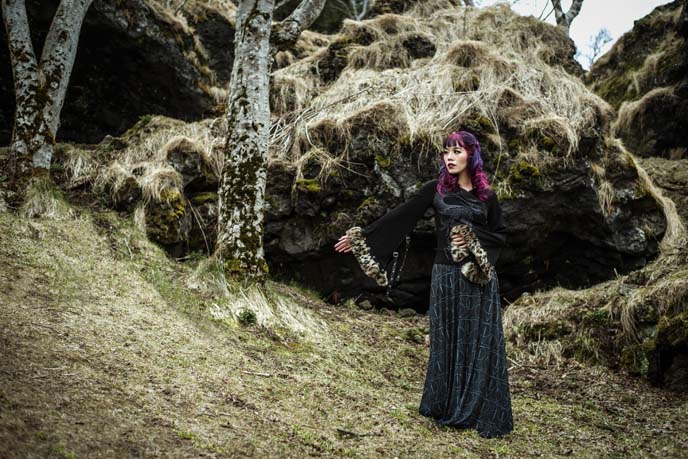 3 – Search for elves
Many locals believe that they share their country with elves, or "Huldufólk". According to the folklore, these little creatures hide in mossy rocks, caves and forests. I recommend stopping by Hafnarfjordur, the park where they supposedly reside. While I didn't catch any glimpses of Huldufolk, I did enjoy the serene energy of the elf park.
4 – Witness Iceland's waterfalls and geysers
Many travelers go on Iceland's "Golden Circle" tour, which takes them to the most popular nature sights: Þingvellir National Park, Gullfoss waterfall, and the erupting geyser Strokkur. However, I recommend going off the beaten path: you'll find mesmerising waterfalls and sulphuric pools, without the tourists and gift shops. Above is Öxarárfoss, my personal favorite. Such an incredible feeling to get close to these powerful falls.
5 – Dip into the Blue Lagoon 
The Blue Lagoon is a popular attraction, but it's well worth the visit. The lagoon is man-made, with warm waters rich in sulphur and silica that come from a nearby power-plant. You can choose from a variety of passes, and I recommend booking well in advance for the best possible access times.
Unlike in hot tubs, which make me light-headed, I felt great in these soothing, mineral-rich waters. You can wade into different parts of the pool for varying heat levels, and dab a white, natural face mask on your skin. Don't forget to tie up your hair and protect it from the steam, especially if it's colored (I put mine in a bun and wore a shower cap, after Joey Wong took these photos).
(If you like my swimsuit, you can shop for similar designs with a click below!):

6 – Smile at the street art
Street art is everywhere in Reykjavik, and it's beautifully executed (case in point — this London Police x Above mural above, on Laugavegur street). From 2010-14, Reykjavik's major was an offbeat comedian named Jon Gnarr. He encouraged people to create public art, which resulted in innovative large scale works all over the capital city.
7 – Shop for skulls at Dead Gallery 
I noticed a Reykjavik art studio with a Buddhist mandala and skulls on the outside: how could I resist going in? This turned out to be Dead Gallery, the lair of musician and artist Jon Saemunder. Jon's works — especially his paintings and watercolors of skeletons — are expressions of his mantra: "He who fears death cannot fully enjoy life."
8 – Feel uplifted at Hallgrims Church
I've long been fascinated by Hallgrímskirkja, a futuristic church on top of a hill in the center of Reykjavik. I was thrilled to see the Expressionist architecture in person: the alien-like curves are reminiscent of stark Icelandic landscapes under snow. Inside, there is a pipe organ that reminded me of Blade Runner, and windows that reflected coffin-shaped shadows over the white altar.
9 – Pose inside a prism at Harpa Music Hall
Reykjavik is a small city and easy to explore by foot. Make your way towards the waters, where you'll find Harpa Concert Hall. The building's ultra-modern facade flickers in the light, with 1000 prismatic panes that seem to change colors when viewed from different angles. At night, the glass and steel structure comes to life with light projections.
10 – Dine at Apotek
One of my favorite dinners in all of Europe came from Apotek. This comfortable yet upscale restaurant is located in a 19th century pharmacy, hence the name. I started with cocktails named after medicines, and then feasted on the freshest seafood inspired by both Icelandic and Argentinian cuisine. Beautifully presentation, lovely atmosphere: I'd say this is the best restaurant in Reykjavik.
11 – Feast on fish and chips
I ate like a Viking at Icelandic Fish and Chips, an inexpensive eatery that delivers tremendous flavors. You can choose from a variety of fish such as pollock, and it comes with creative dips, roasted potatoes and vegetable sides such as cauliflower tempura. Leave room for the handmade desserts made with ingredients like coconut.
12 – Party hard in Reykjavik
The country that birthed Bjork has an exciting music/nightlife scene. I bar-hopped in Reykjavik, and was impressed by the live bands found in most of the venues. For those who love rock and alternative sounds, check out Dillon. Reykjavik has something for everyone: hip hop, LGBT, retro, and even RuPaul's drag race performers.
I hope these "12 reasons to love Iceland" give you incentive to visit! You can see more of my Reykjavik travel tips here, as well as in my travel video.
(And you can pick up a Gothic swimsuit for the Blue Lagoon below!)