Hipster Stockholm travel tips! SoFo Swedish fashion & music stores, Sodermalm, Fotografiska museum.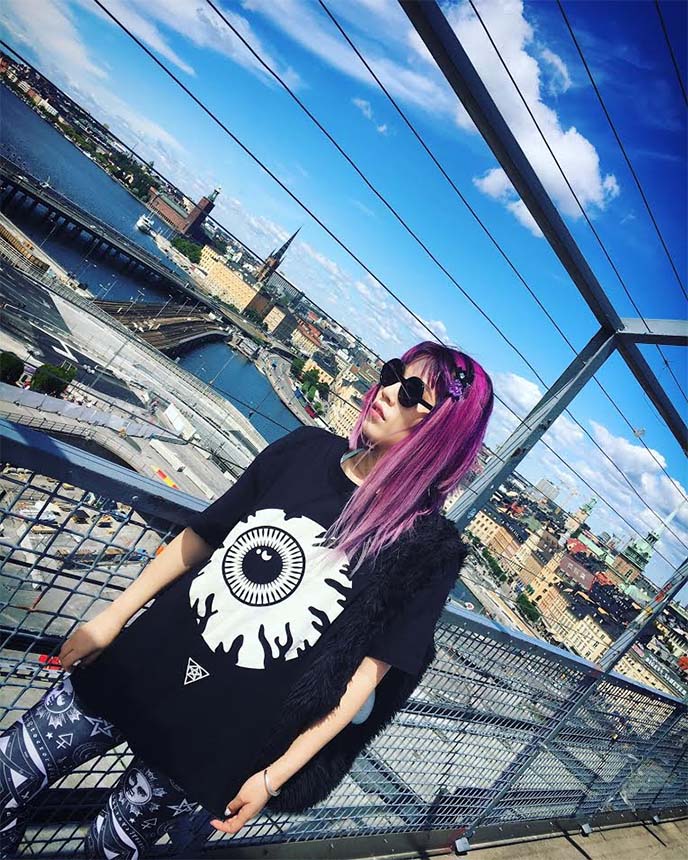 I spy, with my giant eye… Stockholm!  (My eye-catching top is by Long Clothing and these leggings are Killstar.)
I have quite a few friends from Sweden, but didn't make it to Scandinavia until last summer. I was curious about the young / artsy / subculture side of the city, so we spent the day exploring. I thought I'd share my findings in this hipster travel guide to Stockholm.
Along the way, I found the perfect outfit post location: Stockholm Cathedral's doorway, topped with a spooky black triangle. I'm wearing a Long Clothing x Mishka eyeball shirt, and these exact minimalist sandals.
Long Clothing's designs are great for travel, as they're stylish and easy to match, and also comfortable and lightweight. Below are some of my favorites from their collection.
Since it's still freezing in many parts of the world, I thought it would be nice to have a flashback to summer. Many tourists consider this the best time to visit Stockholm, as the weather is pleasingly warm.
My friends and I spent the entire day walking around the city — and it was perfection. From our Grand Central by Scandic hotel in Norrmalm (north of the city center), we walked south to Gamla Stan (the Old Town district, consisting of Stadsholmen island and a few islets).
Gamla Stan dates back to the 13th century. The cobbled streets and classic architecture give it an old time charm. I loved walking around these streets and admiring the historical buildings.
Some of these streets are very touristy, but there are also fun stores such as "Science Fiction Bokhandeln" (a fantasy / sci-fo bookstore) and "Zapata," a hippie counterculture shop where Yukiro buys some of his clothes.
Close-up on my Long Clothing oversize and pentagram leggings by Killstar. More from this Gothic occult designer below (click to see details):
Stockholm Royal Palace, Parliament and other government buildings are also located in Old Town. How neat are the Gothic pointed spires that pierce the skyline? And these manicured shrubs look like they were pruned by Edward Scissorhands.
I enjoyed the sweeping 18th century stairwells of Stockholm Palace — but this archway was a better fit for my style! The giant wooden doors lead into Stockholm Cathedral, which was built in 1279. The golden Medieval interior has hosted many a royal wedding.
This triangular symbol has a Freemason and occult vibe. However, it's apparently a symbol of the Holy Trinity radiating golden light.
(I'm wearing street style by Long Clothing, who also make:)
We kept on strolling… until I saw these happy Moomin figures, and ran straight in. This is a shop that sells cute character goods and souvenirs.
Moomin is the white, globular mascot created by illustrator Tove Jansson. (You may recall that I went to the Helsinki Moomin shop.)
Tove was born in Finland, but grew up speaking Swedish and studied art in Stockholm —  so both countries claim Moomin as their own. 
We crossed yet another bridge (Stockholm has many) — this time from Gamla Stan to Södermalm. "Soder" was once the working class district, but now it's gentrified and home to a bohemian and cultural scene. Many scenes in "The Girl with the Dragon Tattoo" were set here.
There's an incredble viewpoint here: "Katarinahissen" or Katarina Elevator. This steam-powered elevator was built in 1882 and powered by steam — very much ahead of its time, and steampunk to the max.
Today, Katarina Hissen is no longer in operation, but you can climb the stairs to reach the top (and it's open 24 hours). The cardio workout is worth it, for these incredible city views.
(All photography by Joey Wong.)
Stockholm is actually situated on 14 islands, which you can see from up here. No wonder it's often called he "Venice of the north."
(I got this cute bag from Hong Kong, but there's a similar Harajuku ghost backpack by Killstar.)
In my previous post, you'll recall that we visited the hipster district of Hornstull.
There's another hip haven in Södermalm: SoFo, short for "South of Folkungagatan." These blocks are a collective of indie fashion, vintage shops, cute cafes and artsy bars.
The ironically named Grandpa is all about young fashion and interiors. The shop has a Kinfolk-worthy atmosphere, and all the brands are carefully chosen. You'll find eco-friendly clothing, minimalist and subculture-inspired styles, and metallic Scandinavian home decor.
Behind me, I spy a rack of granny dresses, bicycles, and outdoor tables. (My leggings are Killstar; more pentagram witch fashion below:)
I spotted pink flamingos int front of this SoFo store. Coctail is a rainbow of cute retro maximalist kitsch.
I spotted a Miffy lamp, hovering on a cloud. This collection of colorful Mexican sugar skulls also drew my attention.
Don't miss out on SoFo's Pet Sounds record store. Run by music buffs, the shop has a delectable selection of vinyl records, CDs and DVDs.
I'm looking at disco rarities, of course. Pet Sounds has albums for the most obscure of tastes, including collector's items from around the world.
(See more items from Kill Star below:)
Last stop: the Fotografiska Museet, or Stockholm Photography Museum. I sometimes find photo exhibits to be hit-or-miss, but this museum had multiple floors filled with thought-provoking works.
The most compelling gallery was "Inherit the Dust" by Nick Brandt. In a "making of" video, I was amazed at the photographer's process. Nick blew up prints of his earlier wildlife photos, turned them into life-sized panels, and placed them in the slums and quarries of East Africa. He found locations that matched up the mountain ranges and backgrounds seamlessly, making it seem as if elephants and leopards were roaming these industrial wastelands.
There's no Photoshop in these black and white panoramas. The contrast between nature and uncontrolled development is startling.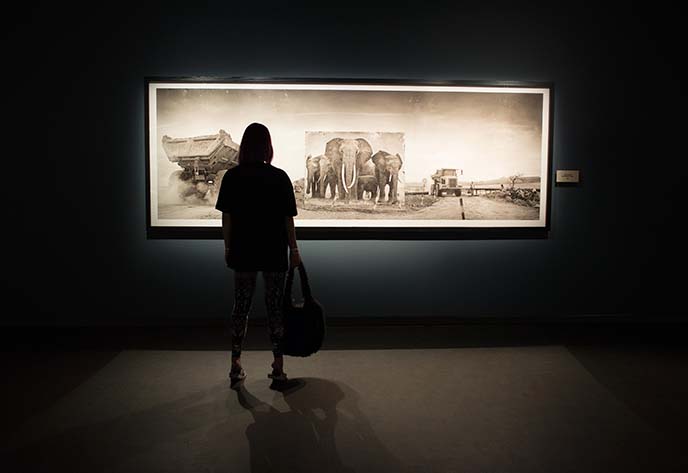 One of the most painful photos shows a drug squat, filled with addicts with glue bottles hanging from their noses, ignoring the giant elephant print looming next to them. If you're intrigued, I encourage you to look up Nick Brandt's photography about disappearing Africa.
All in all, I was very impressed by Stockholm's museums. (I also saw and reviewed the Yayoi Kusama art show, at Moderna Museet.)
Isn't Stockholm one sweet city? I hope this travel guide helps you plan a visit.
And if you're looking for a hip hotel in Stockholm, here's our review of Grand Central by Scandic.
How do you like my Nu Goth outfit of the day? There's more from these designers below!