A night at Kobe Gothic Fetish bar: Idea! Killstar Satanic occult fashion, pentagram harness dresses.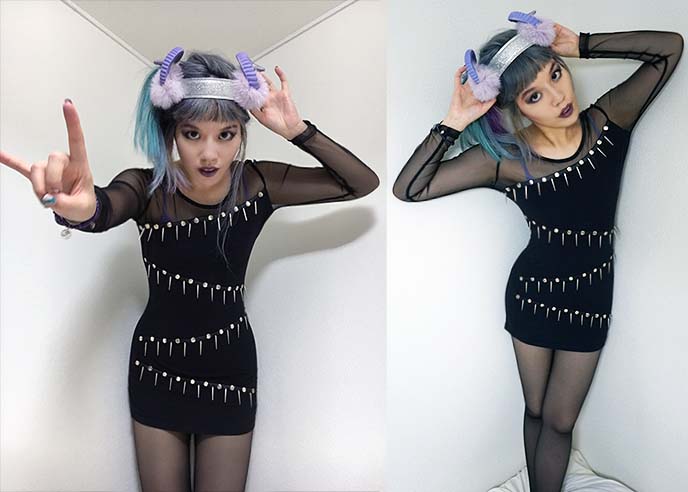 Devil horns, times two! Appropriate attire… as I was ready to party at a Gothic and Fetish bar in Kobe, Japan.
● I'm wearing a pastel goth ram horns headband from Devilish 666. Love the lavender poof detail on a silver band.
● My bodycon dress is a one-off from Hong Kong's Spider, similar to many of the fashions by Killstar. 
Idea (pronounced "E-day-ah") is one of the most authentic and unique underground bars in Japan. Those with a dark disposition will love the occult decor, particularly a light-up pentagram at the center of the bar. 
What better place to wear occult, Gothic, fetish-inspired fashion? These recent designs from Killstar would fit right in with the aesthetic. My favorites are:
1. Spooky Harajuku Backpack — reminds me of the Ghostbusters ghoul, and is a perfect mix of spooky and cute.
2. Repent Vegan Leather Choker — I have a similar one, which you can see in this outfit post.
3. Living Dead Skater Dress  — Skeleton prints never go out of style.
Killstar has lots of pentacles and other Satanic symbols in their fashion. Such as:
4. Band Of Misfits Crop Top — such a killer cut-out design, and can be styled in so many ways.
5. In Like Sin Skater Dress — the horned devil on top, and a hem of Satan's crosses.
6. Templar Initiate Knit Cardigan — a cozy oversize coat, with a pentagram devil on the back
7. Silver Spring Skater Dress — pentagrams all over. There's a pentagram leggings version of this as well.
✪ Shop more from Kill Star by clicking the images below ✪
Many visitors overlook Kobe as a travel destination, or only know its name because of "Kobe beef." But the city has tons to offer (food, nightlife, sights) — and the locals are known for their down-to-earth, friendly vibe.
I was traveling around the country on a Japan Rail Pass, and it made perfect sense to stop in Kobe. The station is only 45 minutes from Osaka, and 1.5 hours from Kyoto. With an unlimited J Rail Pass — which I highly suggest you book — you can hop on and off the trains, and easily see this city.
John introduced me to his local friends, who as you can see are fellow creatures of the night. Alternative fashion, Visual Kei and more devil horn salutes!
We went to a cozy restaurant and ordered lots of drinks and dishes to share. The Kansai district is known for its okonomiyaki (Japanese savory pancake, grilled at the table). This restaurant's version was probably the best I've ever had, especially the one made with natto (a fermented sticky bean that is not to everyone's taste, but delivers cheesy umami in this dish).
After this perfect meal, we walked to the Goth & Fetish bar where two of the ladies work: Idea.
Address: IDEA is located at 2-17-8 Nakayamate-dori, Chuo-ku, Kobe (it's found near Kobe Mosque, here on Google Maps).
The bar is open from 8pm to 3am. Look for the chained-up slave boy at the entrance, and you've arrived.
For those who love horror movies and witchery, Idea is a revelation. You'll walk past a collection of skulls and taxidermy, and arrive at a long bar with nails under the glass… and an evil baby doll on top of the pentagram! 
Mistress Midori opened Gothic & Fetish Bar "IDEA" in July 2010. It's comprised of two floors, with a spectacular Devilish VIP room on the upper level.
Under the glass counter, there lies a torture device: a nail bed with 8800 deadly spikes. The ladies can open it up, in case someone is in need of punishment!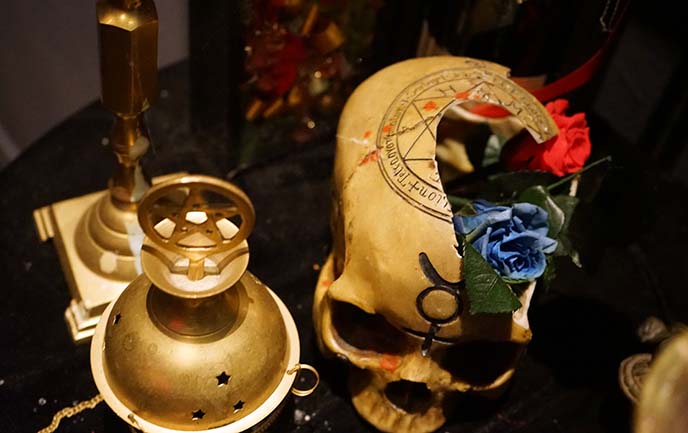 Mistress Midori has amassed an impressive collection of Satanic symbology. This black table is a miniature altar, strewn with skulls and roses. Nearby, there's a life-sized replica of Dracula in "bat" form from "Bram Stoker's Dracula" hanging on the wall.
Idea also keeps a ball python and scorpion as pets at the bar, and plenty of occult-related books on the coffee tables upstairs.
Everyone who sits down at the bar gets personal attention from the staff, dressed in enticing Gothic garments. Our hostess Naito spoke conversational English, and made sure I always had enough yuzu chips and whiskey on the rocks.
Behind her, you'll see metal rods behind the bar arranged in three rows of six (to signify 666, the number of the Beast). The red-and-black bathroom has the same black metal rods lining the room — but there are 72 of them, one for each demon of the Goetia or invocation of demons.
Idea's pentagram logo (and much of the interior design) is the work of Taiki. He runs the magnificent Gothic club night Black Veil, and occult store Territory in Osaka, which I will feature soon. Taiki is also the cousin of Mistress Midori.
The speakers broadcast DJ Taiki's Industrial-electronic-Goth mixes all night, which brought back fond memories of my earlier clubbing days in Japan.
Despite the frightening objects found in every corner (such as this three-eyed demon baby), the ladies make Idea a fun and positive space. Don't feel intimidated about coming here: everyone is so welcoming.
(Naito is wearing a lace-up skull corset similar to this one.)
After a few hours of hanging out, it was time for a shibari performance (Japanese fetish rope-tying). Choose your weapon… there are plenty on-hand.
It's incredible to watch Mistress Midori in action. She's an experienced artist at the ropes, and has a deep connection with her girls.
Mistress Midori tied up Naito with both care and speed, inverted her and spun her around, and applied flicks of the whip. 
On special occasions, she will often incorporate ritualistic elements such as lighting candles on a candelabra and raising up a skull, and then snuffing the flames after the show has ended.
For this performance, she lit red candles and dripped them onto Naito's mouth, an image reminiscent of vampire blood.
Idea also has special events on all of the traditional pagan "wheel of the year" days (and women get in free). On Halloween, Walpurgis, and the Summer and Winter Solstices, she tends to have bigger events with rope shows and hook suspension as well.
Time flies when you're having fun… and torturing victims.
That must be Rosemary's Baby, ready to come out and play!
If you're looking for an offbeat Japanese bar and nightlife experience to remember, come and experience IDEA in Kobe. The ladies may even let you lie down on the nail bed…
(For ideas for something to wear, there are pentagram and harness dresses below:)
I only had a brief time in Kobe, but there's a lot to see. John and I walked around the hilly Kitano district, home to trendy bars and cafes. Many foreigner merchants and diplomats lived here in the 19th century, and their European-style houses are still around.
Fans of Sir Arthur Conan Doyle's detective should check out the Sherlock Holmes Room, a replica of 221 B Baker Street in Kobe. (I didn't have time to visit, but I went to a similar Sherlock Holmes cafe in Shanghai).
We also visited the Shinto Ninomiya Shrine, which is dedicated to good health, fortune and luck.
This colorful shelf of daruma and lucky cats caught my eye and made me smile.
Ninomiya is a small shrine, beautifully maintained. The stone gardens lead to fortune papers and red torii gates.
(Read more about Shinto worship and traditions in my post about Kyoto).
On the less traditional side: why are there wood wishing boards (ema) with drawings of Arashi, the Japanese idol boy band? Because J-pop fans are hardcore. The singer of the group is named Kazunari Ninomiya, and this shrine shares his last name — so it's part of the "Arashi shrine tour" that fans visit on a pilgrimage.
I leave you with a white snake, coiled up inside the shrine. Fox and pig spirits help guard the exterior.
Did you know Kobe, Japan was home to such a fascinating Goth bar? If you're drawn to the the dark side, here are more designs by Killstar below (click to see details).