Universal Studios Osaka Japan: guide to buying tickets, Express passes & Halloween horror nights!
Universal Studios Japan rocks! You've got to visit this theme park at least once in your lifetime — ideally, during the Halloween season.
Getting express tickets is a bit complicated, so here's a detailed guide to the theme park, which features Harry Potter, Minions, Hello Kitty, Resident Evil, Jurassic Park and other favorite characters.
Every September/October, Universal Studios Osaka turns into a zombie fest (literally, they send out walkers to attack!) For a limited time, there are frightening special attractions dedicated to Japanese horror — including Sadako of the Ring.
Universal's Halloween Horror Nights are brilliantly produced, with the right balance of fear and fun. (But there are themed events all year round, which match the seasons.)
If you only have a day to explore, I highly recommend getting entry tickets in advance, as well as Express Passes to bypass long lines. The online process is more than a little complicated — so read on for a detailed guide to purchasing Universal Studios Osaka tickets from their Japanese booking website.
First, directions. To get to Universal Studios Japan, take the direct 15 minute train ride from Osaka Station to Universal City Station, on the JR Yumesaki Line (aka JR Sakurajima Line). You can use a JRailPass (unlimited Japan Rail Pass for 1-3 weeks) to ride all these trains, which saves costs and makes the trip even easier.
If you have a "timed entry" ticket and need to arrive by a certain hour, give yourself plenty of time to walk from the train station to the theme park. You might need an extra 30 minutes to purchase food outside the gates, or check your bags in the coin lockers (larger suitcases can be stored at Guest Services for a fee).
The amusement park goes all-out with seasonal decorations. Since I was there in late September, I got to see Hello Kitty, Elmo and Snoopy in spooky Halloween costumes!  (Shop for Sanrio goods below with a click:)
As for my outfit: I'm wearing a devilish T-shirt from Dead Gallery Iceland, and my tote bag is from Territory, DJ Taiki's occult store in Osaka. 
I recommend wearing good shoes for walking around all day, and shielding your eyes with sunglasses and a hat (my cap is from the Drop Dead Clothing x Sonic the Hedgehog collaboration.)
Now, a guide to buying tickets and making the most of your visit!
Osaka's Universal Studios is compact, and it doesn't long to walk between the various districts. However, this is a popular theme park. To avoid the crowds, try to come early, and on less busy days (avoid weekends and holidays).
While it costs more to buy Express and Special Passes, I highly suggest that you do. Otherwise, you'll wind up waiting 1-3 hours in line for rides, and you might not be able to see the special attractions at all (as they require advance passes that sell out fast).
If you're going with a group of friends, I encourage you to designate one person to purchase tickets and advance entries. Otherwise, you won't be able to coordinate the timed entrances, and "slowpokes" may not be able to get in at all.
Universal Osaka has an English-language sales website, but the available options in English are very limited (for example, when I checked, there was only 1 Express option and no Horror pre-sales).
Instead, you should purchase advance tickets from their website in Japanese. Let me warn you — this process is rather complicated and "Google translate" won't work well, so ask a friend who is fluent in Japanese to help you (and reward them for their efforts!).
I can't describe the entire process step-by-step because the Japanese website changes constantly, as the theme park updates attractions and passes.
However, I can give you a general overview. I recommend that you purchase three things well in advance, from the Japanese language site (or if you're in Japan, you can go to any Lawson to order them):
1) An Entry Ticket ($75), which everybody need just to get inside the theme park. If you don't get this ticket in advance, you may need to line up outside the gates for 1-2 hours. (If you decide to only get the basic entry ticket, you can purchase this on their English site. There's also a cheaper evening-only entry price.)
2) An Express Pass, which lets you skip the lines on certain rides. The Japanese language site gives you a variety of Express options, which range in price. I suggest that you figure out which rides/attraction you want to see, and then pick the pass that matches. I personally went for the $55 "15th anniversary Express pass," which let me access Harry Potter and 3 rides. A steep fee, but this lets you go straight to the front of the line instead of waiting 2-3 hours for the popular rides. Worth it, especially if you only have a day to explore.
3) Advance tickets to Special attractions that you're keen to see. Again, this will change with the seasons; in my case, I did the $75 package to skip the lines at three Japanese horror attractions. These special events require advance/extra passes regardless, and they sell out fast — so advance entry may be the only way you'll be able to get in. 
Ready for another layer of challenges? The Express and Special attraction passes have timed entries — meaning that you have to pick the exact "time window" for going to the front of the line.
Some of these "windows" sell out — so you'll have to compare time-charts in Japanese, and do some juggling to figure out a schedule that works. For example, I chose an 11-11:20am entry for Harry Potter, and a 1:10pm entry for the first Japanese Horror attraction, followed by a 2-3pm window for the Jurassic Park rollercoaster, and so forth. The attractions may be in different areas of the park, so give yourself enough time to walk over.
Final puzzle: How to pay for Universal Studios advance tickets? If you're in Japan, you can go to any Lawson within a day to pay. If you're outside the country, you must use a credit card to check out from the Japanese website.
Here's the trick: you need to input a Japanese address AND phone number, or else your credit card won't go through. You can try putting your Osaka hotel's address and phone; it took me a few tries, but I finally managed to get through to the confirmation page.
Complicated? Expensive? Yes, but it's worth it for guaranteed timed entries and to avoid waiting in queue. I'm glad I splurged on the Express and Japanese Horror passes, and booked weeks before so that I had many timed entry options to choose from.
You can also save money by bringing in outside food (just keep it hidden in your bag) rather than eating the theme park food, and resisting the merchandise. 
All right — now we're inside, and ready to explore Universal Studios Osaka!
The park is divided into different sections: Jaws, Jurassic Park, Terminator, Spiderman, Waterworld, Harry Potter, Snoopy and more. The attractions are constantly changing; there previously were Resident Evil and Evangelion features.
From September to October, Universal dresses up its characters in Halloween costumes. Since this is my favorite holiday, I was excited to visit during this time.
As you can see in the photos above, many visitors come in groups, and dress extravagantly (even when it's not Halloween).
It's a terrific opportunity to cosplay as your favorite Universal mascot. However, keep comfortable footwear and sun protection in mind, or else you may wind up at Universal's First Aid office (they have one near the front gate).
I saw a lot of Suicide Squad and Minion outfits. Since this is Japan, I was happy to see Nintendo represented — "It's me, Mario!" — and a bad Japanese schoolgirl in a sailor uniform.
I was excited to see The Wizarding World of Harry Potter for the first time. My heart raced when I saw "Please respect the spell limits," and the pointed, snow-capped rooftops of Hogsmeade village. Universal recreates Harry Potter's world magnificently, with swells of music and meticulous attention to detail.
All aboard the Hogwarts Express! In every area of the park, you'll find the Universal Japan staff smiling and welcome guests. In Wizarding World, they helped children perform magic tricks with wands (a few gestures made it rain candy). There was also a Harry Potter choir and stage show, performed in both English and Japanese.
You can easily spend an hour or more exploring Harry's home. A barrel dispenses Butterbeer, a sweet non-alcoholic beverage that is a bit like butterscotch. Personally, I didn't enjoy the taste…
Hogwarts Castle looms high over the village. Stroll past the winged boars, and into Hogwarts' School of Witchcraft and Wizardry. This is the site of the uber popular ride, "Harry Potter and the Forbidden Journey." (Average wait time is 3 hours… but with my timed entry Express pass, I got to go straight in.)
The anticipation builds as you pass Dumbledore's office, the Gryffindor common room and Defence Against the Dark Arts classroom. Then, you put on special goggles and get strapped into a moving chair — for a "4K 3D" ride that makes you feel as if you're soaring through the skies with Harry, on a broomstick.
There's also a small roller coaster called "Flight of the Hippogriff," which dives past Hagrid's hut. I was impressed by the moving recreation of the half-eagle half-horse creature, which you pass on your way up the tracks.
Shops, shops everywhere. You can purchase Harry Potter goods inside the various themed stores, such as Owl Post and Dogweed & Deathcap (which had a moving plant in the window.)
Inside Ollivanders, you can choose from an array of magic wands, including replicas of the film characters' personal wands. They're intricately carved out of wood and decorated, and are in the $50 range.
The staff does a fantastic job at immersing you in a fantasy world. I watched a little girl purchase a stuffed owl, and the shopkeeper gave her gentle instructions on how to care for the creature ("she needs lots of hugs, and to have her feathers brushed").
I snapped a photo of these Japanese girls in front of Honeydukes, which sells sweets from the Harry Potter stories, including Bertie Bott's Every-Flavour Beans and Chocolate Frogs.
I couldn't help but smile as I strolled through the different parts of the park. Universal broadcasts holiday music, so I got to groove along to The Monster Mash and Time Warp.
Many of the live attractions appear at random. I caught a few Minions performing on a fire truck. Then, it was time for the parade.
Dancing Hello Kitties, and pumpkin-folk giving out free candy… How can this day get better?
Many visitors wore impressive costumes. Some couples dressed up together, such as this pair of Minions, and Hello Kitty and Daniel. 
Naturally, "kawaii" cute is a frequent theme. In the "San Francisco" section of Universal Studios Osaka, I came across three Little Red Riding Hoods.
Behold — it's Hunk from Resident Evil! If anyone can survive the zombie apocalypse, it would be this guy.
As a horror movie fan, I was thrilled to see Jason Voorhees (Halloween) and Freddy Krueger (A Nightmare on Elm Street). They're strung up as prizes, in the games section.
The zombie attacks and Japanese horror-shows start when the sun sets… you simply must read on to see what happens.
This year, Universal had several Halloween Horror Nights attractions. There were several based on Western movies — Chucky, Freddy vs Jason. Universal also had "Trauma," a disturbing attraction with a "level 10" fear meter. (I'd give that rating to the Raggedy Ann / Annabelle twins above!)
Universal's Japanese site offered several Horror Express packages. I decided to get Express only for the three Japanese horror attractions, since I was most interested in these, and wanted guaranteed entry without a wait time.
Time for Tatari, a haunted house based on creepy Japanese dolls. You join a group of about six people, and hold onto a rope that looks like a noose. Then, you walk through the dark passages together, never letting go… Bloody living dolls jump out at you and the lights flicker, revealing a mecha-dolly!
My favorite J-horror attraction was Sadako (The Ring). Guests aren't allowed to take photos inside, so you'll only get a description:
The live show starred a hilarious actress, who ran into trouble when the long-haired ghost appeared… I confess that I screamed when they used a scare tactic during one of her attacks!
Universal has something for everyone, including a Sesame Street / Moppy area for families and young children.
At Snoopy Studios, you can sit inside the Peanuts dog and ride round-and-round, up-and-down.
Hello Kitty Fashion Avenue offered Sanrio-themed snacks, and haute couture designs featuring the Japanese cat.
If I came here as a child, I'd be mesmerised by the lights and colors of the carousel. And I'd ride on the elephant.
However, when dark falls… the main streets turn into "Zombie Zones!" 
If you purchase one of these neon eyeballs, you give the "walkers" permission to attack you and eat your brains. (Not quite, but it means you're up for play-acting and being touched.)
Beware, the walking dead are here. These two destroyed a police car…
… and then feasted on the bodies of the victims. Fake blood splattered everywhere as they ate.
I heard a frightening revving noise: it was an escaped convict, wielding a chainsaw! He ran towards unsuspecting crowds, and they screamed and scattered.
He was joined by Sadako (who crept towards guests), and murderers with knives and other weapons.
This was the last photo I ever took, before I was sliced to death by this serial killer's axe.
(Don't worry: the actors lunge at you, but never actually touch you unless you wear the colored eyeball lights.)
Fear the walking dead. As a horror and zombies fan, I was in my element. The acting and makeup were all on point.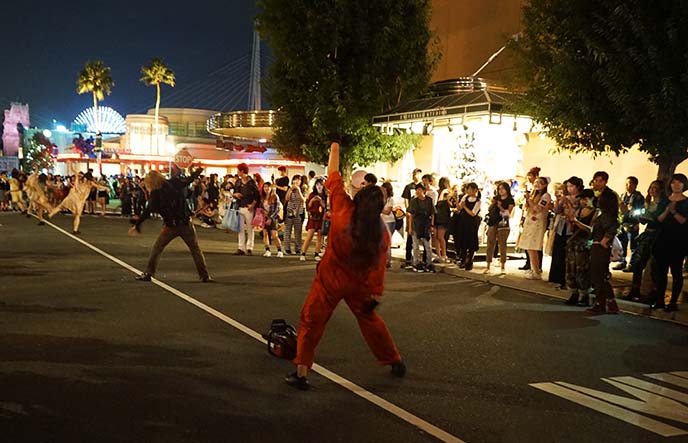 Suddenly, music blared — and the monsters segued into a choreographed dance to "Thriller" by Michael Jackson!
We'll end with a look inside the gift shops. During Halloween, you can buy limited edition Halloween products, such as stuffed toys that are dressed in witch hats and vampire capes. The food stalls even offer horrific snacks such as Sadako's Well Cake.
Minions and Snoopy turn into Dracula or vampires during All Hallow's Eve.
Products at Universal Studios are on the expensive side, but if you're a superfan, this is an opportunity to get special character goods. The gift cookie boxes can also be great for bringing home to share.
There's a much larger selection here than at most Sanrio shops in Japan. (Click below to get these items online):
How amazing is this Hello Kitty x Chucky collaboration? The overalls and cracked doll face are terrifying on the mouthless cat!
I didn't buy anything, but couldn't stop taking photos all day long. So much joy and inspiration, at Universal Studios Japan.
I hope you found my guide to purchasing advance tickets / passes helpful. Don't "wing it," or you'll end up stuck at the entrance and in line all day. Invest in the Express and special attraction passes, book as early as you can, and plan out your day for the best possible experience. Repeat after me: "It pays to be Type A."
If you're a Japanese horror fan like me, hopefully your visit can coincide with the Universal Halloween nights.
Who is your favorite Universal Studios character? Have you visited this Osaka amusement park, or plan to?
If you have any questions about the tickets or visitor info, feel free to leave me a comment.