Hipster Tallinn, Estonia! Contemporary art galleries, Telliskivi Creative City, Estonian design stores.
After the holidays and a much-needed catch up break, I'm thrilled to be on the road again!
I'm heading back to Europe this month, so I thought I'd do a final flash-back to my travels in Estonia.
Last summer,  I explored the hipster side of Tallinn — art factories, local fashion and design collectives. (Remember when I visited the Estonian Depeche Mode bar?)
Next week, I'll be back in the EU… this time, in the land of Miffy!
iAmsterdam is flying me to Amsterdam, where I'll be covering the cool culture of the city. You may recall that I previously went to the Miffy / Nijntje museum in Utrecht, a kawaii dream come true. If you're a fan of the Dutch bunny, check out these goodies below with a click:

I'm also heading to Athens, thanks to Marketing Greece! Get ready for the Acropolis, LGBT clubs and Greek island-hopping… Be sure to follow along on my Snapchat and Instagram (@lacarmina) for previews.
Now, let's talk about Tallinn. As you can see from these photos alone, this is one hip city. My team and I encountered a burgeoning creative culture in Estonia, which is located south of Finland, north of Latvia, and west of Russia.
Estonia was a "Soviet socialist republic" from 1940-1991 (gaining independence when the USSR collapsed). This era resulted in some intriguing cyberpunk relics such as this apocalyptic steam plant, which has been converted into a creative art hub. (More about this later in the post).
If you're interested in Tallinn's art scene, you've got to visit Telliskivi Creative City. This abandoned factory area has been reclaimed as an urban space, and is now home to the biggest artistic hub in the country.
Telliskivi spans 25,000 square meters, and contains over 200 independent businesses and non-profits. The crumbling structures have been converted into an artistic, alternative, public space. For example, the run-down walls by the railroad tracks are now covered in colorful murals.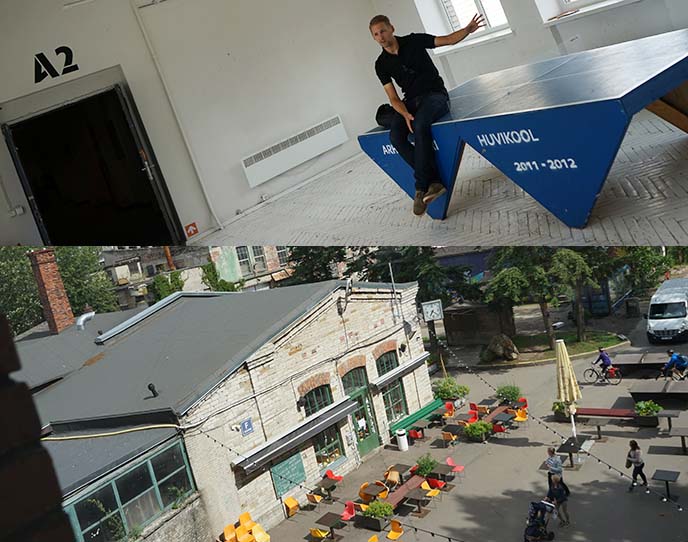 We met Jaanus Juss, the young founder and CEO of Telliskivi Loomelinnak. He talked about his vision of bringing together a wide variety of creatives, in an inspiring co-op space.
The "creative city" currently includes organic cafes, a printing shop, furniture makers, an antique book store, yoga studio, and childcare center. The residents also run regular dance evenings and flea markets.
The entire space is a canvas. As we walked around, we saw giant art installations and beautifully executed murals like the one above.
Telliskivi has revolving pop-up stores, which give local designers a chance to showcase their handmade arts, crafts and fashion.
Love these geometric concrete cacti planters.
In Telliskivi, the possibilities for artistic expression are endless. We passed by ateliers, workshops, a theater, galleries…
… and an architect's studio (above). We also tasted the world's best dark grain bread — no exaggeration — at Muhu Bakery (Muhu Pagarid). The brown rye loaves are baked fresh, with sunflower, hemp and flax seeds. Straight out of the oven, this hearty Estonian bread is a revelation!
Jaanus took us into one of the buildings that has yet to be restored. As we walked up the stairs, we glimpsed the scrawls of angels and demons. 
We made it to the rooftop, where he pointed out the first graffiti in Estonia. (Street art was previously frowned upon in Tallinn.)
We had a brilliant view of the entire collective, including the bordering train tracks and Old Town.
Back on the ground, we took a peek inside a bike shop. The skull art caught my eye.
Telliskivi was established in 2009, but the Baltic Railway buildings date back to 1869. I'm eager to see how this vibrant, creative city will keep on evolving over time.
The Baltics (Lithuania, Latvia, Estonia) currently have a thriving artistic scene — perhaps because these countries are now free from the USSR, and spreading their wings creatively. Cities like Tallinn are liberal, yet have a low cost of living: the perfect breeding ground for young artists.
This is certainly the case at Tallinn Creative Hub, a center for cultural events in the heart of the city. Behind these big red doors, there are workshops, festivals, exhibits, seminars and other creative enterprises.
This building was once the Tallinn City Central Power Station, which operated between 1913 and 1979. The current incarnation preserves the boiler room, gas reservoir and brick chimney — giving the venue a Steampunk meets Gothic vibe.
In 1977, director Andrei Tarkovsky used the power plant as the set for his cult film, "Stalker." My jaw dropped when I walked into "Cauldron Hall" — a high-ceilinged room that looks straight out of Mad Max or Blade Runner! 
These precarious, rusted ladders and balconies look like a post-apocalyptic set. It can be rented out for events — I'd have an epic "end of the world" party here.
Tallinn Creative Hub's cavernous spaces include a Maker Lab (workshop with various machines), recording studio, and food lab (for experimenting with recipes). There's also a community garden and cafe, free for locals to enjoy.
Outside, I walked up the "stairway to nowhere" — Linnahall. It's a large, grey, concrete staircase that doesn't really lead to anything (how surreal and Soviet)! Linna Hall was a sports venue built for the 1980 Olympics, situated on the harbour, but it's fallen into disuse today.
Back to Old Town, where we popped into the design store Tali. Everything here is made by local designers — jewelry, leather goods, clothing, and furniture.
I'm a fan of modern Estonian designs, which tend to have minimal, geometric forms (as characteristic of Northern Europe). The works are stylish, yet with a sense of humor.
The cute animal sleep masks and wooden bow ties were among my favorites, and are great souvenirs.
We also paid a visit to Estonian Design House, home to several studios and the headquarters of the Estonian Association of Designers.
There's an impressive selection of upcycled fashion, quirky lighting, hipster backpacks, sleek jewelry and posters.
Upstairs, I got a tour of Stella Soomlais studio. She makes custom leather accessories for men and women, such as the sleek black wallet I'm holding.
I love how Estonian art isn't afraid to "keep it weird." The octopus and rooster-headed photographs made me laugh.
Last stop: the Contemporary Art Museum of Estonia (EKKM). This non-profit initiative has a DIY feeling, with a cafe in the entrance hall, and an adorable flower garden in the back.
We saw the self-titled solo exhibition of Alice Kask, an Estonian painter. Her works use materials such as old wooden boards, which stand out against the stark, industrial walls.
Alice Kask's works have elements of surrealism, which I love. They touch upon themes such as the body, media images, and symbolism vs reality.
The Contemporary Art Museum of Tallinn brings in works both from Estonia and worldwide. Their rotating exhibitions always have a strong voice.
Her painting style is striking and a bit unnerving. Alice depicts human bodies with realistic strokes, but then gives them a bizarre twist and surrounds them in abstract space.
Isn't the art scene in Estonia intriguing? Thanks to Visit Tallinn for inviting us, and showing us around.
(All photos by Borderless Media.)
For more, check out my post about Estonian cuisine and the Depeche Mode bar here.
And now, I'm off to Europe again… dancing with joy. Can't wait to share travel stories from Amsterdam and Athens with you soon!