Volunteering with Punk Rock bands in Yangon, Myanmar! The Rebel Riot, Human Rights concert, Rangoon restaurants.
Believe it or not — there's a 1970s-style punk rock subculture in Myanmar!
Yukiro and I loved getting to know Kyaw Kyaw, the leader of Burmese punk band Rebel Riot, and his studded, tattooed, Mohawk-ed friends.
As you'll see in this post, Yangon's punks play hard. But they also give back to their community in a huge way: Kyaw Kyaw runs two charities that directly aid the homeless, and children in need.
Yukiro and I called the theme of our Burma trip "Monks and Punks." The two groups have more in common than you'd think: they're all about inclusivity, compassion, and taking action to support others.
(You might remember from our Shwedagon Pagoda photos that this is the world's most Buddhist nation.)
Before we arrived in Yangon, I reached out to The Rebel Riot band on Facebook (as they are one of the most prominent punk groups in the scene). We were keen to volunteer for their charities, and get to know Burma's alternative, underground side.
Singer and songwriter Kyaw Kyaw welcomed us warmly. He invited us to Human Rights Day, where The Rebel Riot was performing an acoustic set.
The free event took place outdoors, in People's Park (not far from the famous golden temple).
As I mentioned in my first post about Myanmar, the country was formerly under a military dictatorship, which put up strict barriers for freedom of expression. Now, Aung San Suu Kyi is the democratic leader. The state of human rights is still a work in progress here (as it is everywhere — I'm not going to get into the specific politics). Still, it's significant to have event like this one, run by young Burmese who believe in this mission.
We were thrilled to meet locals at the event. I was impressed by their passion: they were here to stand up and speak out, for human equality and freedoms. 
A lot of friendly faces came up to us, and asked to take photos together. Yukiro's makeup and fashion were quite the sensation!
In recent years, the LGBT community has become more open and accepted in Myanmar. Still, same sex activity remains technically illegal, and the gay night at J-One Music Bar is sometimes shut down.
The King n Queens Organisation is doing wonderful work to advocate for equality in Burma. As their motto says, "Human rights are LGBT rights."
In addition to fighting the discriminatory laws, these LGBT groups are working to increase awareness and education. One giant placard contained a "glossary" with definitions in both English and Burmese. The terms include queer, pansexual and transgender (which are not instinctively known in this population).
Next to People's Park, we noticed a creepy abandoned theme park! This is the old "Happy World," which looks like a derelict, haunted version Disney's Fantasia. (It should be re-named "Unhappy World," don't you think?"
Anyone can access the run-down rides — so naturally, we posed inside the creepy roller-coaster cars. (More images at the end of this article; all photos by Sniper Chau.)
To celebrate Human Rights Day, various Burmese bands took the stage and performed. The Rebel Riot band did an acoustic set with their friends. Between songs, Kyaw Kyaw spoke from the heart about the importance of this cause.
As he put it — he's an advocate for human rights because as a human being, how could he not be? The fundamental rights to equality, free expression, and protection against unjust persecution should be extended to everyone in society.
The Rebel Riot's songs conveyed these messages with power.
As Kyaw Kyaw's nonprofits gain more recognition, many are coming to Myanmar to volunteer directly alongside him. My friends and I brought a suitcase full of school supplies for Books Not Bombs, which provides children with educational support (especially in conflict and rural regions of the country).
Every Monday night, his group Food Not Bombs purchases food and distributes it to the homeless and needy in Yangon. At first, locals weren't sure what to make of these tattooed and pierced punk volunteers! However, their dedication spoke for itself, and the rockers are now welcomed each week with hugs.
The logo at left (two people giving a high five) summed up the positive spirit of Human Rights Day, Yangon.
In the audience, we saw others with large gauge earrings, alternative dyed and shaved hair, and DIY studded and painted clothing.
It's interesting (but perhaps not surprising) that punk ideologies have taken hold in Myanmar — as the country has recently broken free of military rule, yet continues to struggle with regional clashes and authoritarianism.
We have full confidence in the young Burmese volunteers we met. They're progressive and full of energy, and will shape their homeland in a positive, inclusive direction.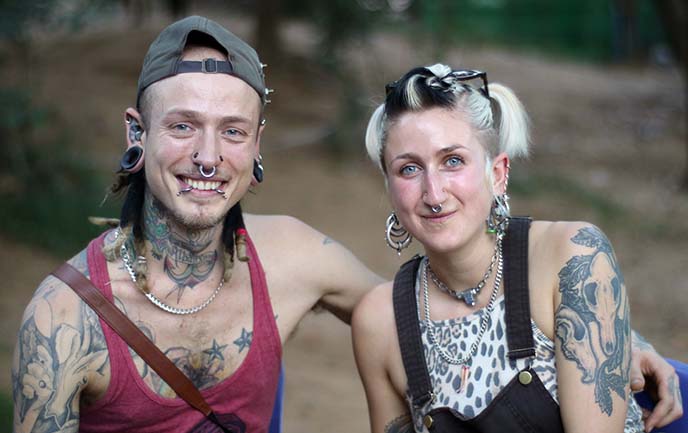 We wanted to get to know The Rebel Riot and friends better, so we made arrangements to hang out the following evening.
It turned out to be a grand gathering of Goths and Punks, at Rangoon Tea House! (Address: Ground Floor, 77-79 Pansodan Rd (Lower Middle Block), Yangon, Myanmar).
We sat down at a long table, and the boys laid out their tattooed arms. I see A for anarchy, hell on the knuckles, a skull, and two gasmasks on these sleeves.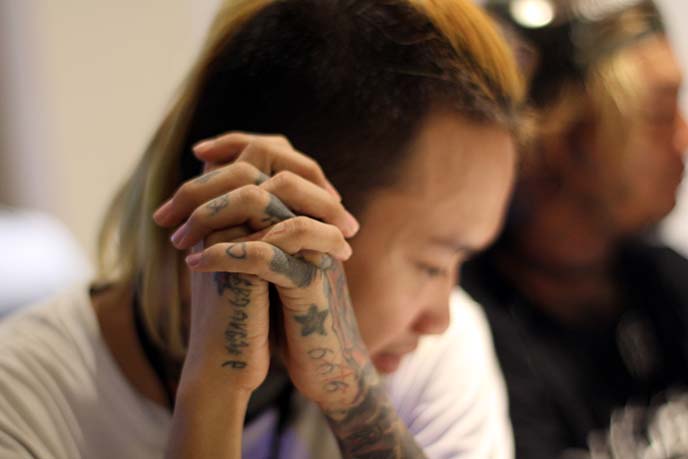 In true punk spirit, many of these tattoos are DIY. I spot 666…
A lot of young locals and travelers come to dine at Rangoon Tea House, which is one of the highest rated restaurants in the city. The restored two-level space is reminiscent of the British colonial era, with classic molded ceilings and lanterns.
Rangoon Tea House is well known for its drink menu. The world-class cocktails are inspired by Asian flavors, such as a jasmine gin and tonic, and "Smoking Cheroot" with smoky cinnamon, bourbon and Hennessy, served on a thanaka tray.
At the entrance, we saw the staff preparing tea from the finest grade pindica leaves, aerated with a long pour from above.
Goths in the back, and punks in the front! I'm standing next to Esther, a Gothic makeup artist, and Ze Ze, vocalist and composer of the band Maze of Mara. We quickly became fast friends — amazing how you can find like-minded spirits in the most unexpected of places.
"System Error" — so good. Tattooing isn't taboo here, as it is in Asian countries like Korea and Japan. There's also a history of tattoos among ethnic groups in Burma, up until the 20th century.
As you can see from our smiles, we loved the food at Rangoon Tea House. The mohinga (Burmese fish noodle soup) was so delicious that we ordered two bowls! This national favorite dish is made from fresh Rakhine daggertooth fish, and perfectly balances sweet, sour, salty and spicy.
The menu is a homage to Rangoon's past — when traders from different countries mingled with colonial settlers and locals. We ate up every bite of the Indian-inspired curries, biryanis, samosas, rotis. Other highlights included British Pimm's, and traditional Burmese "ohn note kauk" chicken and noodles in coconut broth.
As you can see, the boys were fans of the Burmese beers.
A meal to remember, followed by a night of more laughs, drinks and shenanigans!
On a different evening, we dined at the amazing Yangon Green Gallery — a Thai restaurant that is the favorite hangout of expats and young artistic types. We were sold on the chalkboard sign: "Let us tickle your tastebuds and fill your stomachs."
Green Gallery Address: Mahabandoola No 58, 52 Street Lower Block, Between Mahabandoola and Merchant, Yangon 1116, Burma.
The friendly owner, Bo, welcomed us with gusto, and insisted that we make ourselves at home. Once again, we found a kindred spirit — we bonded over the 1980s songs that she broadcast all night, from Europe to Eurythmics! 
Bo used to live in Thailand, and brought these traditional flavors to her cooking. At the same time, Green Gallery is as modern as it gets: she brought us gin and tonics with colorful straws, and we admired the industrial, bohemian design of the restaurant.
The Lady, Aung Sang Suu Kyi, looks over the space. It's wonderful to see women like Bo put their hearts into their independent businesses, and succeed.
My mouth is watering as I reminisce about our meal at Green Gallery! The menu is simple, with a focus on fresh and healthy — yet comforting — Thailand dishes. The items change with the seasons; we started with spicy salad Larb Mhoo, and adored the panang and green curries with rice. Leave room for the coconut sticky rice and mango dessert, which is full of love.
As you can see, the tables fill up quickly, especially with groups of expats. The restaurant also hosts a monthly Green Party that draws in lots of friendly, young faces.
We could have stayed all night, grooving to the 80s songs and joking with Bo about thumb sizes. There's no better place in Yangon to get a heart-warming meal than Green Gallery. Please say hi to her for us!
We chatted with someone at the next table, and he suggested that we visit Root Kitchen and Bar for a "Wa-Tang" cocktail. His recommendation was on point: the drinks are perfectly concocted with ingredients like tea, lemongrass, ginger, and a special Wa-region liquor made from rice and barley grains.
Root is a new restaurant and bar, which pays homage to the Wa people who live in Shan State. This region of Myanmar is often dismissed as a drug and conflict-ridden borderland, so these owners wanted to showcase Wa culture, art, and food in a comfortable space.
Later, we met Bo and other new friends at the nearby 50th Street Bar (there are lots of bars and hip restaurants in this district). This venue is known for its live concerts — that evening, we watched several alternative bands perform.
We came to watch No U Turn. Formed in Yangon in 2002, their music is influenced by 90s punk rock. (Love The Clash on the denim jacket.)
No U Turn performed with attitude and rebellion. Amazing to see the vibrant punk rock scene in Myanmar.
If you're in Yangon, it's well worth looking up these punk bands and attending their live shows. Don't be afraid to say hello, buy them a drink, and strike up a conversation.
I leave you with a few spooky shots of Yukiro, at the Natural World theme park in Yangon. Some of these attractions are abandoned, while others are still in operation but extremely creepy.
This bizarre seahorse merry-go-round looks more like a haunted house.
Would you dare to sit in this bear's lap?
Round and round we go. (Photos by Sniper Chau)
What's scarier — the upside down swing ride, or Yukiro in monster leg warmers? The answer is neither: it's the copious amount of mosquitoes in the air!
I hope this story about Myanmar opened your eyes to this intriguing country, full of young, strong-willed individuals that are breaking ground for the future.
Here's more info about Kyaw Kyaw's charities: Books Not Bombs (raising funds and supplies for schoolchildren in need), and Food Not Bombs (a weekly program where volunteers feed the homeless). I encourage you to volunteer with our punk friends, but you can also support from afar with a donation or by sharing their story.
Finally, a fun video: at the end, the punks sing The Sex Pistols, "No future!"
But with their passion for human rights, Burma's millennials have quite the future ahead — wouldn't you agree?