Alternative Austin travel guide! Archer Hotel, Elysium Goth club, Sixth Street hot sauce, Congress bridge bats.
"Keep Austin Weird" is the motto of the Texas capital… and I think we certainly lived up to it!
I've long been curious about the Goth / offbeat attractions in Austin, Texas. Lauren and I took a weekend trip to visit our friend Sarah, and take a walk on the weird side of the city.
Looking for a Goth travel guide to Austin, Texas? Then read on…
We'll court death at the Tears of Joy hot sauce store (above), watch the bats fly from Congress Bridge, encounter biker gangs on W.6th Street, and nightcrawl at Gothic music club Elysium.
Austin has become a young travel destination in recent decades, thanks to SXSW and startup culture. It's a liberal, independent city in an otherwise conservative red state. As the saying goes, "Austin's a blueberry in the tomato soup of Texas."
Lauren and I had a magnificent stay at Archer Hotel, which perfectly captures the laid-back, artistic vibe of Austin. We instant fell for the boutique hotel's mid-century modern meets Southwest decor.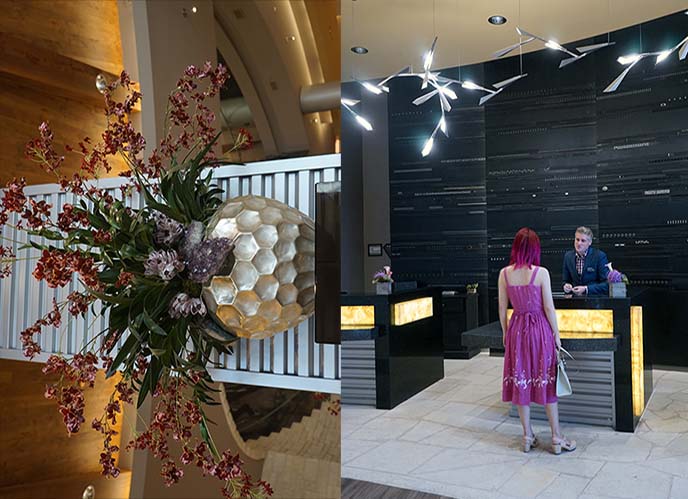 Hotel Archer opened its Texas location only 8 months ago (they also have a New York property). All the spaces are beautifully designed and the staff was lovely, especially the concierge Steven.
(Address: 3121 Palm Way, Austin, TX 78758)
We loved the eclectic, modern Texan interiors (note the cow skull pattern pillows), and fun touches — such as the random elevator music that ranged from disco to soft rock.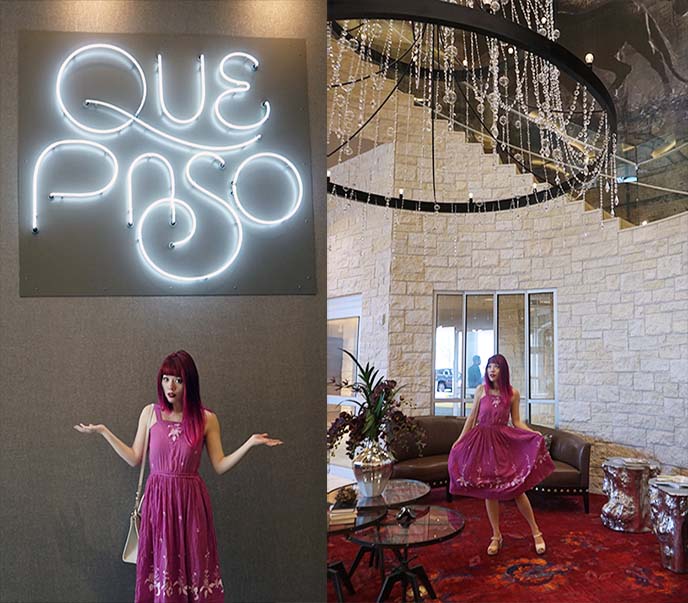 Que paso? What's happening in this neighborhood?
A lot, as the Archer Hotel is located in The Domain Northside. It's an up-and-coming area lined with hipster shops and restaurants, and not far from the historic downtown. (I'll give you a tour at the end of the post; make sure you scroll to the bottom).
The boutique hotel has 171 luxurious and fully-stocked rooms, which we loved coming back to after a long day of sight-seeing under the sun.
I'm wearing a vintage dress, which is for sale on my Depop shop. (Feel free to browse, and email me if you'd like anything you see listed.)
My midi tote purse is by Strathberry, and my clog sandals are by Lotta from Stockholm. See more about my bag below, with a click:
From our hotel, it was only a short Uber or Lyft ride to West Sixth Street — the famous Austin entertainment district. We were greeted by kitschy murals and men on motorcycles… our trip happened to coincide with the ROT Rally biker festival!
Bikers from all over gathered to hang out in downtown Austin. On W.6th Street, there are plenty of tattoo parlors, bars and pizza joints to keep them happy.
Also nicknamed "Dirty Sixth," this street is the go-to for raucous nightlife and live music.
For fans of quirky oddities, there's a lot to see on this strip. We stopped by the Alamo Drafthouse Ritz (historic theater dating back to 1929), and popped into the Museum of the Weird. 
As a fan of spicy flavors, I was excited to visit the Tears of Joy hot sauce shop! (Address: 618 E 6th St Austin, TX 78701)
This family-run business stocks hundreds of salsas and sauces, which are fantastic for souvenirs (I picked up all the spooky bottles on the left). As you might guess from the coffin-shaped bookcase above, some of these can be tongue-burning hot.
It's a joy to browse through all the labels: the names / images range from frightening (Satan's Rage) to goofy (Buhba's Butt Blaster). Tears of Joy carries hot sauces from around the world, with a focus on rare items made in small batches with natural ingredients.
I've never seen such creative bottle designs, all in once place. Some entice you with skeleton and spider toys attached to the labels.
I gravitated to the scary spices, and made my final selection with the friendly input of co-owner Brian Rush.
He had a spread of tortilla chips and hot sauces in the back table, which anyone is welcome to try. We even dared to try The Source, a pure extract and one of the hottest sauces on the planet… Try one dot on the tip of a toothpick, and you'll be reeling!
I encourage you to stop by Tears of Joy, for a date with the Reaper. They make their own products as well; the Red Fang is my favorite, and is sold on their online store along with many others.
On that note: nearby is the Treaty Oak, a sprawling tree that was the center of a poisoning mystery. (It's located at Baylor St between 5th and 6th Streets).
This majestic Southern oak tree was the last survivor of the Council Oaks, a grove of 14 sacred trees where two native tribes would meet. In 1989, locals suddenly discovered that the tree was slowly dying… as it was being poisoned by someone. 
The city banded together to save the Treaty Oak. After an investigation and trial, Paul Cullen was sentenced to 9 years in jail for poisoning the tree (he served three, and maintains his innocence). Today, the oak stands strong, although it no longer has a branch span of 127 feet.
As the sun sets, it's time to release the bats! Austin's Congress Avenue Bridge is home to the largest urban bat colony in North Americas (the bats live in the crevices under the bridge). Every evening, they fly out in search of prey — although the best time to see them is in spring and summer.
Some visitors gather at Austin-American Statesman Park to see the bats, or take a boat ride into the waters. Lauren and I chose to stand on the bridge, and found a great spot right on the railing, above one of the posts in the center. 
As the sky darkened, tiny Mexican free-tailed bats began to whizz out from under us. Don't worry: these little brown creatures won't hit you in the face.
Look out over Lady Bird Lake, and you'll see an ominous dark cloud floating over the skyline. The bat colony is out on the hunt for insects. Quite the "Gotham City" sight, wouldn't you say?
The bats got us in the mood for a Goth party. On the recommendation of many locals, we went to Elysium Goth club for a night of dark dance.
This is the top Austin venue for Gothic Industrial dance music, bringing in DJs and live bands. Founded in 2001, Elysium is a large club with multiple spaces and old-school purple-blue lights.  (Address: 705 Red River St, Austin, TX 78701, USA)
Elysium has various themed nights and special events. That evening, we watched Blakk Glass perform (energetic darkwave from Seattle).
The concert headliner was Hexheart, a new project from Jasyn Bangert, the grandmaster of God Module.
The audience loved Hexheart's mix of darkwave, synth and post-punk. Between the sets, the DJs played Gothic tracks for people to dance on the sunken floor.
Spooky selfie. (My top is by Disturbia Clothing.)
Finally, let's talk a walk around the Domain Northside, where our hotel Archer is located. This is a newly developed northern area: most of the shops only opened a couple of months ago, with more on the way.
The Domain is becoming a one-stop shopping and dining destination in Austin. The public spaces are lovely, and the surrounding streets carry both local and national brands (such as Warby Parker and Free People).
We encountered large-scale colorful murals featuring Leonard Cohen, rats with wings and other trippy designs.
Here's to giant public art installations. The Domain includes Rock Rose, a street with a mouthwatering selection of international restaurants (Thai, Indian, Mexican etc), clubs and bars.
Highlights from our stroll: the speciality candy store Sugarfina, and this open courtyard with scoop chairs.
A lot of the boutiques specialized in cute local-made goods.
Purse designer Kelly Wynne is from Texas, and opened her first retail location here not long ago.
Hiding among the butterflies, in my Live Long backpack by Long Clothing. These murals are part of the HOPE Outdoor Gallery project.
HOPE is a community paint park located at 11th & Baylor, launched by a team that includes street artist Shepard Fairey. It uniquely provides street artists the chance to create and display large-scale art pieces, and encourages educational initiatives.
I picked up a few things at Whole Foods. The natural grocery chain originated in Austin so its stores are gargantuan here, with a larger-than-usual selection of items. Outside the Domain Whole Foods, there was this pastel patio for Spun liquid nitrogen ice cream.
Back at Archer Hotel, we were ready for a meal at the acclaimed Second Bar + Kitchen, which also has a popular downtown location.
But first, cocktails. We went up to the pool terrace of Archer TX, for happy hour cocktails. It was only $6-8 for these outstanding drinks: a Painted Mule with meadow tea and ginger beer, and Green River with chartreuse, grapefruit oil and basil.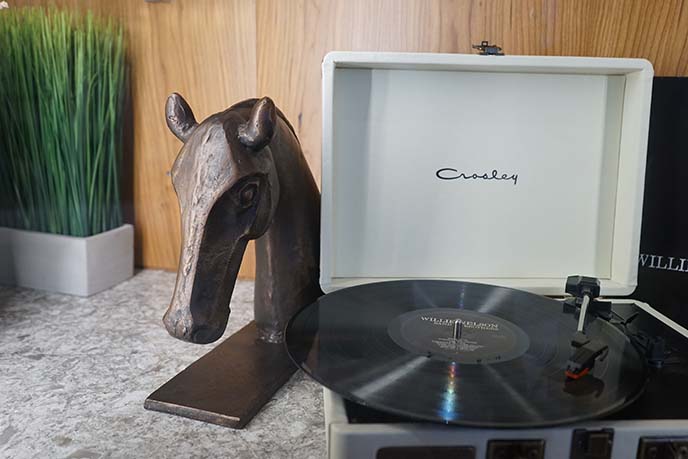 There's tons to do at the Archer, with an outdoor pool decorated with a Lonestar, and a fitness center. At the front, guests can pick up crafts by local artisans.
The lone star, found on the state flag and commemorating its independence from Mexico, also adorns the ceiling of Second Bar + Kitchen. The restaurant is run by Chef David Bull, and is all about seasonal, local, casual fare that is perfect for sharing.
We started with the outstanding meatballs, and unique cocktails: above is a gin with peach, honey and scoop of jalapeno jam.
Our server brought out off-menu selections, made fresh with the best ingredients of the day. The Texan heirloom tomatoes with smoked cheddar were our favorite starter. Second Bar + Kitchen takes comfort food flavors to new depths, with unique courses like pepperoni soup, and chicken tortellini in broth.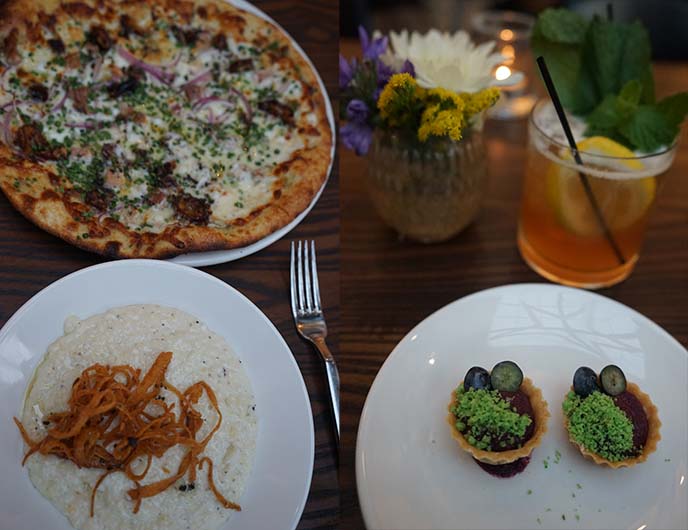 Since I was back in the South for the first time since New Orleans, I was keen to "get my grits on." The black truffle grits with caramelized onions were the best I've ever had. We also loved the pizza with blue cheese, pork, medjool dates and truffles — an unusual combination of rich flavors that absolutely works.
I often don't have room for dessert, so I was glad to see the menu had "bite sized" portions of sweets, such as the blueberry tart above. We always have room for another round, however: cheers to the Southern Bourbon Sour and Boilerplate Old Fashioned. 
Without doubt, we kept it weird in Austin! (Demented Snapchat from our room at Archer Hotel.)
Have you visited any of these spots in Texas? There's much more weirdness to come in the next post, and I'll announce my next destination soon too.