Weird Travels in Austin! The Highball themed karaoke rooms, Floppy Disk Repair bar, hippest local restaurants.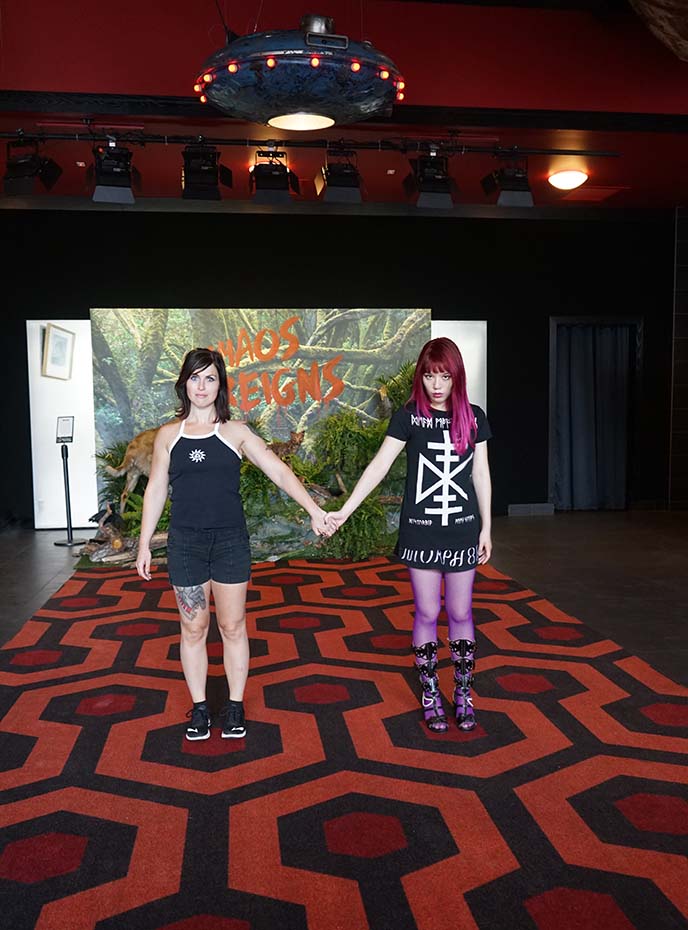 "Come and play with us… forever, and ever, and ever." When you encounter the creepy twins from The Shining…. you know you're in for a wild ride.
In my first post from Austin, I explored Goth and alternative attractions in the city with my friends. Now, we'll keep on "keeping Austin weird" — with themed karaoke rooms, hip restaurants, and a secret bar disguised as a Floppy Disk repair company!
Beam me up: Austin is an ideal travel destination for pop culture and film lovers. At Alamo Drafthouse. we loved the carpet straight out of the Stanley Kubrick horror film, and UFOs circling above.
The Drafthouse is a theater and event space with several locations in Austin; we're at the South Lamar venue.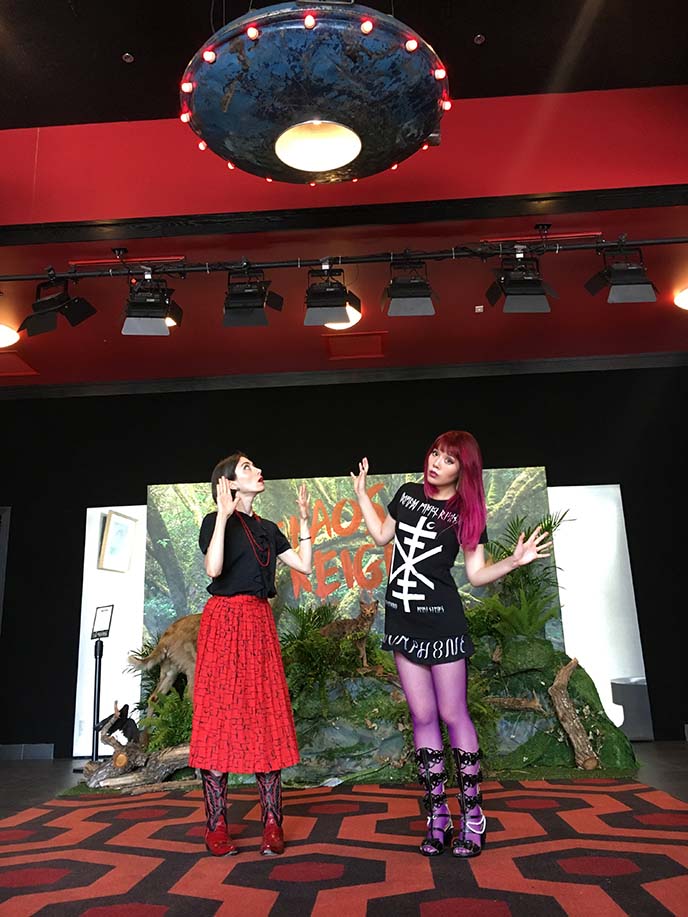 At the Alamo Drafthouse, visitors can enjoy movies along with dinner and drinks. The theater puts care into their programming, projecting classic and cult films in addition to quality new releases.
Outfit details: I'm wearing a Disturbia top, Morph8ne skirt from Attitude Clothing, and We Love Colors magenta fishnets. My Japanese Yosuke gladiator shoes are similar to these cut-out boots. See more from these Gothic brands below:
We also loved the creepy animal tribute to Lars Von Trier's Antichrist: Chaos Reigns (an experimental horror movie with S  & M themes). Sarah matched her tattoo with the taxidermy crow, then posed as Danny from The Shining.
Right next door is The Highball, an amazing karaoke parlor with 7 themed rooms! I got a fright in the haunted house one, when the eyes of the painting turned to look at me.
(Highball address: 1120 S Lamar Blvd Austin, TX 78704)
The karaoke rooms are brilliantly designed by Space Warp Design, in a variety of creative themes. We were fans of the 1980s glam parlor, featuring Jem and the Holograms pink stars, and a Rubik's Cube table. And how cool is this Twin Peaks red room? 
Enter the swirling vortex of The Fifth Dimension… Ooo….
In addition to karaoke, The Highball puts on regular events like Cards Against Humanity and Geeks Who Drink quiz nights. They also bring in live bands to play the stage, and have annual celebrations like "Highballoween" for Halloween.
I grew up playing Nintendo, so I felt at home in this 8-bit wonderland. Love how they made the light into a question block.
As you can see, The Highball's rooms are spacious and easily fit large groups (you can make reservations through their site). Unlike most karaoke joints, they offer excellent food and drinks — including creative seasonal cocktails, and unusual beers.
We joined the gallery of freaks in the Circus Room, which had a cute two-headed goat in a cage.
However, the room we eventually chose… was The Inferno! Devil horns and pentagrams are everywhere, in this black metal Satanic-themed karaoke room. 
The karaoke room looks like an altar to Satan, with upside-down cross stained glass windows.
We belted out songs that fit the theme of the room, such as Pet Shop Boys "It's a Sin," and Marilyn Manson's "Sweet Dreams."
"In league with Satan." So much fun to sing lyrics from a screen, in between two coiled serpents.
And… there is a pentagram scratched into the floor. A prime spot for black magic rituals.
(More about what I'm wearing below:)
I love the designers' attention to detail. Note the church-like wooden pews, and Leviathan Cross carved into the sides.
The Highball's modern karaoke system is digital: you choose songs on a touch-screen. It's easy to search, select and queue tracks (and they have thousands of options, in all genres). There are two microphones for duets, and even a magic voice synthesizer for the tone-deaf.
You know you're having fun.. when there's a demonic possession back bend over a pentacle!
With friendly staff and the coolest rooms ever, The Highball karaoke was one of our favorite activities in Austin. I hope you'll get to book a room, for a devilishly good time.
Austin's weird factor is right up my alley. I heard of a secret password-protected speakeasy bar, disguised as a Floppy Disk Repair Co. It became my mission to get access and see what low-tech wonders lurked inside.
The company's website offers no clues: it states that they are a "full service floppy disk repair company" that fixes "all brands and makes and formats." I read online that visitors need to know the keypad password, which changes weekly and is difficult to find (it's not listed online, for example, and the bartenders next door don't necessarily give it out).
I brought some of my dad's old floppies in a retro case, and showed them to the bouncer… and that got us immediately through the door! (But this may not work for everyone.)
The Floppy Disk Repair Co's interior is satisfyingly creepy. The speakeasy was formerly called the "Red-headed Stepchild," again for mysterious reasons (I couldn't figure out who this mascot in a bowtie is supposed to be). This creepster leers at the guests, next to red lights that read "Mmm…your hair smells pretty."
(Address: 119 E 5th St, Austin, TX 78701, USA)
The "cocktails for redheads" continue the psycho theme, with names like "Silence of the Lambs" and "My Trix are not for your kids." Despite the name, I adored "Gary's spicy fire crotch margarita" — tequila, serrano peppers and ginger beer, served in red-tipped glassware.
Hmm, a stitched-up teddy bear with missing eyes, and doll head lights. Nothing bizarre to see here.
The friendly bartenders even repaired my Kao discs with stickers! The Floppy Disk Repair Co. is one hip speakeasy, with creative drinks and plenty of creep factor. Let me know if you manage to crack the code to get through the doors.
Another must-visit spot for cocktails is Hotel San José. Bunkhouse founder and designer Liz Lambert revamped a motor lodge from the 1930s into a hip hotel, right in the happening SoCo (South Congress) district. How picture-perfect is the hotel's pool, framed by black bamboo and with mid-century hairpin-leg lounge chairs?
(Address:  1316 S Congress Ave, Austin, TX)
The 40-room boutique property maintains its 1930s charm, and the public spaces have been re-imagined in beautiful ways. The entrance looks like a secret garden, with granite pathways, and a lilypad pool that was being enjoyed by a great-tailed grackle bird. 
The Hotel San Jose lounge lets you sit outside and enjoy the courtyard, while having drinks and light fare. The drink list includes micheladas and refreshing cocktails: I had the sake with ginger brew, lime and crystallized ginger. Lauren had the champassion: champagne, passion fruit, and raspberries. And we destroyed the cheese plate, a perfect mix of local cheeses, fruit, olives and honey.
Right next door, Liz Lambert's Bunkhouse group has another property: Austin Motel, whose motto is to "Let Love In!" (Address: 1220 South Congress Avenue)
Once again, the designers paid tribute to the history of the motel, which was established in 1938. They kept original elements like the neon sign, while updating the 41 rooms and 1950s-style outdoor pool, with plenty of mid-century modern touches. 
We couldn't resist taking photos in the unique lobby, which is a hybrid of a check-in area and Americana general store. We sat in the colorful 50s seats, and browsed the playful local designs for sale. (How cool are the gold table and pelt rugs?)
Next door, we grabbed a drink at Fine Foods: which opened in April as part of Austin Motel. In this retro-styled bar, the friendly Rob mixes old-fashioned punches and cocktails, with names like The Dean and Playboy's Punch.
(I brought along my midi tote by Strathberry. See more about my bag below, with a click:)
I cooled off with a "Cold Fashioned" – a frozen Old Fashioned with rye, citrus and bitters. Health food fans would rejoice over the "Green Belt" — an original mix of gin, lime, Chartreuse, Luxardo maraschino liqueur, and chlorophyll "pond scum!" 
Now that we were thoroughly hydrated, it was time to explore South Congress. This Austin street is filled with eclectic stores, selling everything from succulents in dinosaur planters to water bottles "activated by crystals."
If you love flamboyant fashion, you've got to stop by Lucy in Disguise with Diamonds. The store has an enormous selection of costumes, vintage clothing,  masks, wigs and other fabulous glitz.
At 8000 square feet, this shop is overwhelming. The racks are divided into categories, to make browsing easier. There are sections for "around the world," steampunk, the 1970s, you get the drift.
Lucy in Disguise carries both old and new items, and they offer clothing or costume rentals at very reasonable rates. You can be Wonder Woman or Pikachu for the day. 
Onward to Uncommon Objects. The name pretty much sums it up: this is a store full of oddities.
Uncommon Objects started as an antique shop, and has expanded to carry every kind of old-fashioned, kitschy, creepy tchotchke that you can think of. Walking through, it feels like a museum – yet everything displayed is available to buy.
Dead insects, anatomical models, animal skulls, yes please.
After shopping on South Congress, we had worked up a big appetite. We swung over to Café No Sé, an all-day cafe also located on SoCo Avenue. (Address: 1603 S Congress, Austin, TX 78704)
By now, you might be noticing that Austin is an inspiring city for interior design. At Cafe No Se, the whitewashed wood walls are accented by reclaimed wood furniture and vintage bookshelves. This airy, cozy space is ideal for brunch with a group of friends.
Café No Sé offers a seasonal breakfast, brunch and all-day menu, as well as "All Day Rosé". There were plenty of healthy options on the New American menu: we highly recommend the hummus with kamut tabbouleh and grilled laffa bread. We also enjoyed the bigeye tuna poke with brown rice, seasoned with pickled jalapeño and grapefruit, and topped with shrimp chips.
Everything comes with plenty of greens, and a colorful presentation. Cafe No Se serves brunch favorites with a twist, such as beet and horseradish cured gravlax on a bagel, juicy burgers, and ricotta gnudi (dumplings pasta) with charred corn, tomato and herbs.
Now, how can we visit Texas without feasting on tacos? Near our hotel Archer in Domain Northside, there lies the first Austin location of Velvet Taco (they have a few restaurants in other parts of the state, as well as Chicago.
(Address: 11501 Rock Rose Ave, Austin TX)
When we saw the spacious patio (which just opened up) and funky, cheerful decor, we knew we were in for a treat.
Velvet Taco's mission is to deliver a new take on tacos. They experiment with exotic and unexpected flavors — on the menu, there are some with paneer, with shrimp and grits, and even red curry coconut queso. Each order consists of one taco, so diners can mix-and-match. Above, you can see we tried a bit of everything, including a breakfast version with Barbacoa brisket, and a fish taco wrapped in lettuce.
Eating tacos is a delicious but messy endeavor, especially when topped with hot sauce. Thankfully, the restaurant has plenty of napkins and a decadent restroom for washing up.
The Marie Antoinette mural encouraged us to eat cake… and we did, a red velvet slice with cream cheese frosting. We washed everything down with unlimited ice tea, in flavors like vanilla creamsicle and passionfruit green.
Our final meal was a memorable one, at Hillside Farmacy. I saw lots of positive reviews about this eatery, which offers a thoughtfully-sourced menu, and is located in a restored antique pharmacy.
(Address:  1209 E 11th St, Austin, TX 78702)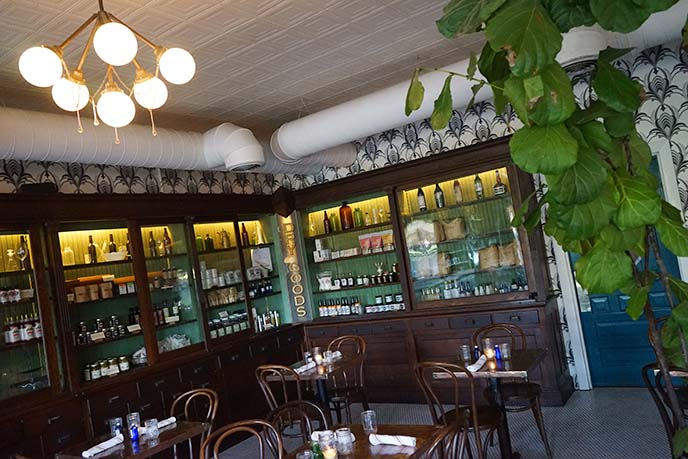 In the 1920s, this was Hillside Drugstore: operated by Doc Young, Austin's first African American pharmacist. Today, the restaurant pays homage to the building's history — with original furnishings, and a glass case lined with apothecary bottles. The current name, "Farmacy," is also a nod to the farm-to-table approach. 
Hillside Farmacy is well-loved by locals for its raw bar and throwback cocktails. I tried a "Country Doctor," a homemade fountain soda with ginger, fresh apple, cinnamon and applejack. I also had a "kombooza" or kombucha with rum, a refreshing twist on the standard Dark and Stormy.
Hillside Farmacy's menu is ingredient-driven, with close attention to locally sourced or foraged products. Austin's history shines through in Southern starters like the Pimento Cheese, an addictive spread served with celery and crunchy bread. (How sweet are the salt and pepper shakers, which look like medicinal tonic bottles?)
Our server recommended the pasta alla checca, as Texan heirloom tomatoes were especially in season. It was the perfect showcase of farm-fresh ingredients straight from Austin, and also comes in vegan and gluten-free variations. The crisp salads were outstanding, and the campfire chocolate mousse (vanilla marshmallow, dark chocolate, sea salt and graham crackers) was oozy, nostalgic perfection.
Hats off to Texas — until the next time I return. I hope you enjoyed my alt travel perspective on the city! Is there anything you'd add to my Austin travel guide?
PS: don't miss out on my current India and Malaysia stories in real-time, on @lacarmina Instagram.