New Delhi, India with Janu Private Tours! Review of guide, driver tour: Jantar Mantar, Jama Masjid, Humayan's Tomb.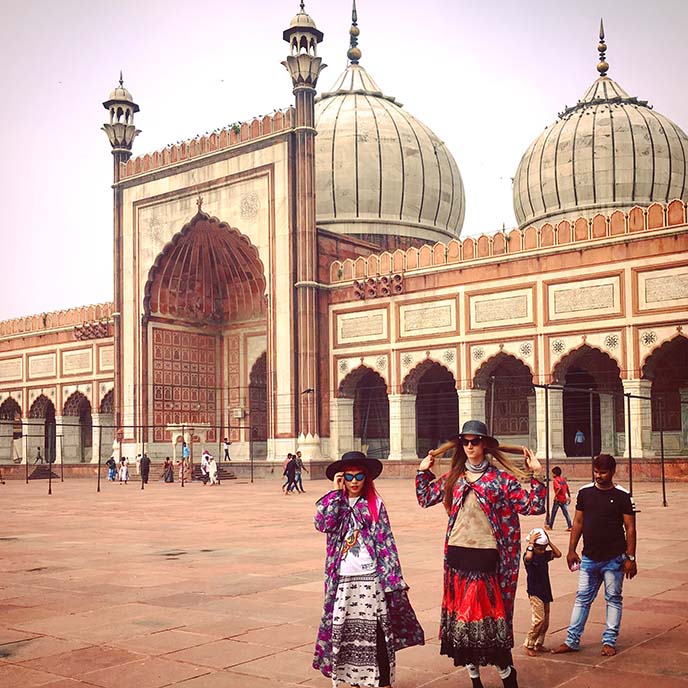 "India Waale!" After year of talking and planning, Yukiro and I finally made it to India!
Even though we're experienced travelers, I confess I had some trepidation about coming here. I've heard that India can be a challenging destination, with abundant culture-shock. But it turned out these fears were unfounded, as we were in the best possible hands with Janu Private Tours.
I'm so glad we went with this highly-rated tour company, as they gave us the royal treatment throughout Northern India. The kind owner, Mr Janu, paired us with expert guides and drivers, booked us lovely hotels, and took us to several cities in a spacious and fully-stocked car.
Janu Private Tours has over 500 positive TripAdvisor reviews for a reason: his clients trust him, and he goes above and beyond to make them feel at home. Mr Janu encourages guests to come with a "clear mind and open heart — welcome to India." And that's exactly what we did: dive in, go with the flow, and experience the fascinating wonders of this country without judgement.
It makes sense to tell this tale chronologically, so read on for our travel preparations (how to get a visa, what to wear), and first impressions of New Delhi!
Let's start with some prep talk about vaccinations and visas. 
– Vaccines: A trip to India requires a bit more preparation than usual. Yukiro and I went by the CDC recommendations for travellers: we made sure our basic vaccinations were up to date, and got shots for typhoid. I also took Dukoral, an oral vaccine that helps prevent stomach sickness (you have to take the first of two doses at least 2 weeks before you depart).
– Tourist visa for India: Allow yourself plenty of time to get the tourist e-Visa, which you can now submit online. Yukiro and I filled out the visa carefully, and got it approved without any questions or hold-ups within two days, but it takes longer for others. Make sure you use the official goverment visa site, as there are fake ones.
– The Indian e-visa does ask some weird questions (are you transgender, what's your religion, do you have visible marks, have you been to Pakistan, are you illiterate?) We made sure all our contact info was correct, and that the photo and passport scans were clear (with an addendum since I didn't have room to list all the countries I've visited in the past 10 years, in the section provided).
– Don't leave anything blank. For religion, I put "Other: N/A". (I would caution against putting Atheist, Satanist, Agnostic Pagan, Wicca or things like that… best not to raise any eyebrows!)
– Make sure you jot down the temporary ID number and payment number, so you can save and continue filling out the form if the page fails.
– Payment problems: many including myself had trouble loading the final page (SBI payment – the server fails). Instead, for the final stage, go onto your smartphone and use 3G / 4G data (not wifi). Enter the "payment reference number" to get back to that page, and then pay using Paypal (for me, credit card also resulted in error).
– You'll get your approved visa by email; be sure to print it out. Once you arrive at Indira Gandhi airport (which is lovely – see the mudra hand gestures sculptures above), head to the e-Visa line and you're all good!
I highly recommend that you do a private tour with a driver, especially if you have limited time. Mr Janu was waiting for us at the airport arrivals, and helped us cut through the crowds to reach the car and head straight to the hotel. We never had to deal with touts, haggle with taxis or stress over scams and directions — all of which are aplenty in India.
Janu Private Tours has tons of connections throughout the country, and knows the best hotels for your budget and needs. Mr Janu checked us into The Park hotel and it was exactly what we wanted: a 4-star hotel in the heart of the city, with decor that reminded me of a Japanese host club! 
– What to wear in India? In big cities like Delhi, anything goes, but it's best to wear modest cover-up clothing in smaller and rural areas. I suggest packing light, long skirts such as my elephant maxi skirt. Bring close-toed shoes and sandals with a bit of lift, as the streets can be dirty (I threw out my shoes after the trip).
– Outfit details: I'm wearing a 1991 New York Shiva shirt, arm covers, sunglasses by Clearly, and a black sun hat by Lack of Color. Most importantly, I'm covered in DEET-containing mosquito spray, the only thing that truly repels them. Bens 100 mosquito spray is the strongest one out there, and I didn't get a single bug bite thanks to it.
India is a safe country as long as you stay aware of your belongings, and use common sense. I wanted a secure bag to hold my possessions, and found the perfect one: this pink backpack by Print All Over Me, designed by Stella Rose (who released an adorable collection with them!)
A lot of Indian street vendors and beggars approached us, and locals often asked to take photos… so it was fun to point to the "No Thank You" and politely decline!
In our week together, we got to know Mr Janu (or Shabbir Khan) as a friend. The story behind Janu Private Tours is an inspirational one: as a teenager, Janu became a tuk tuk driver to support his family. He hardly knew English, had no advanced schooling, had never left his hometown of Jaipur…
However, he had drive and vision: Janu decorated his tuk-tuk to the nines, and built up trust with locals. He became known for showing tourists around Jaipur with passion. Gradually, he built up clients and expanded his business into car-guided tours in Rajasthan, then all of India.
It's amazing how Janu went from manning a tuk tuk driver (the yellow and green auto-rickshaws above) to becoming a successful business owner who is well-travelled, fluent in English, and constantly growing his endeavors. He now has 30 staff members, and has worked on productions for BBC, the Best Exotic Marigold Hotel movie, music videos for Romanian pop star Loredana, and more.
I'll show you his latest venture, a hotel, and more in the next posts — but as you can gleam, Janu is a remarkable person and we were happy to get to know him.
We weren't sure which landmarks to see in New Delhi, and put our trust in Janu. He took us to Jama Masjid mosque, and as you can tell, we loved everything about it.
At the entrance, women are provided with robes to wear over their clothes. You have to remove your shoes, but can wear socks or purchase slippers for 100 rupees. Entry is free but there's a 200 rupee photography charge (generally, attractions in India have entry fees of 200-500 rupees, or $3-7.)
Jama Masjid is one of largest mosques in India, and an architectural beauty. It was built by by Shah Jahan in the mid 17th century (this is the Mughal emperor who also also built the Taj Mahal, which we visited later on.)
Muslims from around the country come here to worship. How beautiful are the scalloped arches made from red sandstone and white marble, ornamented to look like a prayer mat.
Oh dear, everyone wants to take a photo! The scene above may look intense, but these are merely travelers from around India who are curious about foreigners. Everyone was respectful, and our guide helped us gently walk away after a few snaps. (We learned that it's best to politely decline, since if one person is allowed a photo, then everyone else wants in — and you'll be making cute poses for half an hour).
Loving the warm, subtle design and symmetry of Jama Masjid.
My friends and I try to travel to destinations in the off-season, to avoid crowds. We went in early July, and got lucky — the high heat had died down, but the monsoon rains had not yet fallen. If we went during peak season (October to March), the courtyard would have been teeming with tourists.
The mosque is right next to Chawri Bazar, the chaotic marketplace of Old Delhi. It's a colorful free-for-all of narrow streets, laborers, fruit stands, beggars, monkeys climbing electrical lines, you get the picture.
We wanted to take in Old Delhi, but it would have been too intense to walk around on our own. Janu Private Tours arranged the perfect solution: a rickshaw ride through the historic district!
Yukiro and I squeezed into the back of the three-wheeled bike, and held on for dear life as our driver peddled through the half-mile-long bazaar.
Our rickshaw raced down the alleyway. I turned to Yukiro and exclaimed, "This is better than the Indiana Jones amusement park ride!"
The driver was a pro, yet it felt like danger was at every turn. Sparks from low-hanging electric wires, puddles of water that I hoped wasn't sewage, people in the streets, piles of garbage, packs of street dogs…
I'm not going to sugarcoat the experience of India: you'll see dirt, poverty, difficult sights. But if you come in with a open mind and go with the flow, then this might be the most transformative place you'll ever visit. 
Every moment was a learning experience. So much to take in; overpowering sights and sounds. So many questions about the unique and sometimes conflicting culture, which Janu and his guides helped us to understand.
Since we had a car/driver, we were able to see many sights, and cool off in between under the air conditioning (Janu's cars come with a chest full of cold water, sodas and snacks for guests).
Onward to Humayan's Tomb, resting place of the 16th century Mughal emperor. The mausoleum was commissioned by his first wife and chief consort, Empress Bega Begum.
Our guide walked us through the arches, and explained how India's Mughals are descended from the Mongol empire. These rulers were all Muslim, and India came to a golden age of architecture, culture and science during this era (especially the reign of Shah Jahan in the 17th century).
Enter the portal. I'm wearing a 1991NewYork t-shirt with an image of Lord Shiva.
Persian architect Mirak Mirza Ghiyas ornamented the the tomb with symbolic carvings, marble lattice screens, and geometric motifs like eight-pointed stars.
"No Thank You!" Living for my cheeky Print All Over Me x Stella Rose backpack. I'm a huge fan of PAOM, which carries thousands of exclusive designs by artists. On their site, anyone can custom-print artwork onto a variety of garments for both men and women. Every item is produced sustainably, and the quality is top notch (I'll be showing you more of their designs soon).
I'm standing in the Char Bagh, or "four gardens" that lead to the tomb of Humayan. The Persian-style quadrilateral layout is immense, with symmetrical water channels and hedges.
The precisely layered shapes draw the eye, and the cut-out windows bring in glowing light.
Perhaps my favorite attraction in New Delhi was Jantar Mantar, a collection of thirteen giant, bizarre astronomy instruments!  In the 18th century, Maharaja Jai Singh II constructed the observatory to chart the movements of celestial bodies and make astrological measurements. 
If I came across these structures without knowing what they were, I'd assume they were built by aliens. In fact, they're instruments based on mathematical principles, and determine various measures of the sun, moon, planets and time. 
Misra Yantra (the strange curving staircase above) is a tool to calculate the shortest and longest days of the year. It can also find the exact moment of noon in various cities and locations, and the results are amazingly accurate.
Is that the Colosseum of Delhi? Nope, it's Rama Yantra, which measures the altitude of objects and the azimuth (position of a celestial object such as a star, relative to a point).
If you look inside the windows, you'll see the weird sight on the right. The shadow falling on the scale makes the calculus (something to do with the angle and projection onto the horizon — I don't quite get it).
On the left, this towering structure looks like something out of Burning Man. It's the Central Triangle of Large Samrat Yantra. This "supreme instrument" serves as an equal hour sundial, but also can precisely measure declination and other coordinates of heavenly bodies. 
"And she's buying a stairway to heaven…"
The epic triangle is 70 feet high, with a hypotenuse parallel to the Earth's axis and pointing to the North Pole. It's flanked by two quadrants with graduations that indicate hours, minutes, and seconds.
New Delhi's Jantar Mantar is a trippy place that got my imagination flowing. I didn't know the Indian astronomers had such advanced instruments, and enjoyed learning about Jyotish (the traditional Hindu system of astrology). 
Thanks to Mr Janu's expert arrangements, we were able to see all of the above in single day. Delhi is a spread-out capital, and this would have been impossible to accomplish on our own.
India is one of the world's oldest civilizations, and driving through Old and New Delhi, you come across the many layers of history. We passed by India Gate, memorial to the 82,000 soldiers of the Indian Army who died in World War I.
We also drove by Sansad Bhawan or Parliament House, which dates back to 1927. This was during the time of the Raj, or British rule of India beween 1858 and 1947 (when Gandhi's nonviolent movement led to Indian independence).
India has over 700 dialects, but English and Hindi are the official languages, and there remain vestiges of British influence everywhere.
The aliens have landed elsewhere in Delhi.
It's not a spaceship, it's the Lotus Temple — a Bahá'í House of Worship completed in 1986. Design magazines praised the minimalist organic design and spaceship feel.
Baha'i is a fascinating and inclusive faith that originated in the Middle East. The flower-like temple is open to everybody, regardless of religion, race, gender or any background.
India, you're amazing. Even though I've been to over 60 countries, there was so much I learned and experienced for the first time.
It's a country of contrasts, with elements that Westerners will likely find odd (like holy cows and animals in the streets).
We've wanted to see India for a long time, and are glad we "did it right" by traveling with Janu Private Tours. They took care of the logistics of getting around, gave us valuable guidance and helped us dive into the heart of the culture.
Namaste Janu Private Tours for the warm welcome to India! Can you believe we did all of the above in only one day?
I have lots of India stories to share with you: an elephant sanctuary and palaces in Jaipur, Agra's Taj Mahal, Varanasi on the river Ganga… keep your eyes peeled.
PS: if you have any questions about traveling to India, packing, prep or anything at all, leave me a comment and I'll help you out as best as I can!