New York Goth travel guide! Ryan & Regina Cohn's Oddities Flea Market, House of Wax bar, Archer Hotel NYC.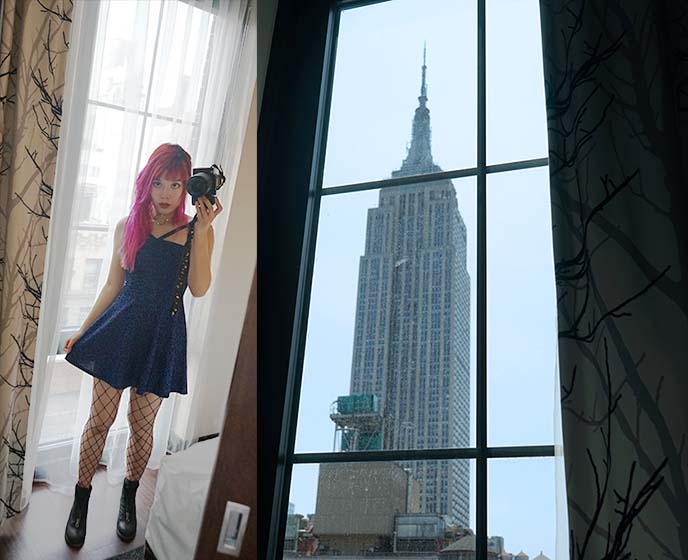 New York, New York. It's always good to be back.
A lot has changed since I lived here (it seems I'm in reminiscence mode these days). NYC has become a different world than the one I knew: there's now WiFi in the subways; everyone relies on smartphones for getting around, and takes Ubers to parties in Brooklyn. Meanwhile, I can recall the days of flip-phones and the Korova Milk Bar!
Still, this remains "Gotham City." I was delighted to meet up with friends old and new, and check out NY's latest Goth / bizarre bars, club nights and more. 
Read on for an exclusive look at House of Wax bar, the upcoming Oddities Flea Market run by Ryan and Regina Cohn…
… as well as Stella Rose's pop up fashion boutique, Gothic nightlife, and tips for alternative travelers!
This time, I stayed at Archer Hotel NYC right in midtown Manhattan. If you're only in the city for a few days and love boutique design hotels, then this is the place for you.
(Keep scrolling down for a full look inside, including the epic view of the Empire State from their rooftop bar.)
While I was in New York, Ryan Matthew Cohn and Regina Marie Cohn invited me to visit them in Brooklyn. As you can see in these images, their home is a treasure trove of morbid curiosities!
It was a joy to see Ryan's infamous skull collections in person, as well as pet their British Shorthair cat, Percy Blue. (The white Scottish Fold, Princess Andromeda, was hiding!)
I'm sure you recognize Ryan Matthew Cohn from his regular appearances on the Discovery / Science TV show, "Oddities."
You might recall that I was a guest on Oddities; we've kept in touch since then, as we obviously share a love of all things dark and deathly.
Ryan and his lovely wife Regina currently work together in this fascinating field. They source, restore and sell unique osteological artifacts and other curiosities, as well as curate, lecture and educate on these subjects.
Exciting news: Ryan and Regina recently launched an Oddities Flea Market, which brings together vendors of all things peculiar! Mike Zohn and Evan Michelson of Obscura Antiques will be two of the many participants.
Their first event was such a success that they're now hosting a two-day market on September 30th and October 1st –– NY friends, you must come check this out.
Ryan and Regina have brought together only the best purveyors to take part in the Oddities Market. In a single location (Brooklyn Bazaar), guests can browse and buy anatomical wonders, taxidermy, Gothic jewelry, bizarre art… you get the picture.
These photos of Ryan and Regina's home give you a sense of what to expect. I spy an Anatomical Venus, medical preparations in jars, shrunken heads, and skulls galore… I could spend hours browsing their personal collections, which are enough to fill a museum!
Ryan and Regina are constantly traveling in search of "morbid anatomy" objects, which will be available for sale at the market. Plus, you can browse dozens of tables from Blood Milk, Amber Maykut, Goldengrove Jewelry, Adam Wallacavage, Meagan Meli and others.
Come join Ryan Matthew Cohn, Regina Marie Cohn and friends!
What: 2nd Oddities Flea Market
When: September 30th and October 1st, from 12PM to 6PM.
Where: Brooklyn Bazaar, NY
Ticketing: VIP pre-sale tickets are available for purchase through Atlas Obscura (act fast, Saturday is already sold out). These tickets will gain you entry at 11 am with full access to all 43 sales tables.
Or, just show up for general admission at the door, which is only $3. There's more info on the Oddities Market RSVP page.
Be sure to let your New York friends know, and say hello to Regina and Ryan for me! I wish I could be there, but we'll get together again very soon.
Find out more news on Ryan's Facebook page, and keep reading to peer inside the House of Wax Bar in Brooklyn that he curated…
… but first, an outfit change back at Archer Hotel New York! The midtown location was near tons of subway stations, which made it easy for me to get to appointments in different boroughs. (Address: 45 W 38th St, between 5th and 6th Ave).
I love clean design, and felt right at home amidst the modern, industrial brick-and-glass decor. 
My windows had a magnificent view of the Empire State Building (see first photo in this post). Every room came with cozy robes, bedtime books and cute his-and-hers slippers. I could have lounged all day in this plush bed, surrounded by classic brick walls…
… but when you're in the Big Apple, you've got to explore! With Archer Hotel NY's central location, you can walk to lots of local spots. I confess I made several trips to Joe's Pizza, which has a new Times Square location for its classic New York slices.
Right in the hotel lobby, you can enjoy a memorable dinner at Charlie Palmer Steak. The NY steakhouse reflects chef Palmer's bold, progressive American cuisine, which draws upon seasonal / local flavors from surrounding waterways and farms.
Charlie Palmer's menu has an impressive raw bar and seafood selection. We began with the special appetizer of the day: scallop ceviche. Our server also recommended the outstanding tuna tartare with citrus ponzu, pickled ginger and sesame crisps. It went perfectly with my Midtown Manhattan with rye, aperol, bitters and grapefruit peel. (You know I love my "old man drinks," and the cocktails here were on point.)
Next came a perfectly seared, melt in your mouth filet mignon. It was hard to choose from the many spectacular sides available (truffle potatoes, asparagus) and sauces (the house CP sauce is recommended).
Finally, dessert: creme brulee with black currant and Tahitian vanilla creme, with passionfruit and vanilla ice cream. For a special celebratory meal with excellent service, Charlie Palmer Steak delivers big-time.
A stay at Archer Hotel NY isn't complete without a cocktail at their Spyglass Rooftop Bar. On the 22nd floor, you can take in a panoramic view of the Empire State and Chrysler Building, while sipping a crafted cocktail.
The Spyglass bar also has a classic Manhattan happy hour; the "Archer Palmer" with black tea-infused gin and lemon fit with the retro vibe. Cheers to Archer Hotel New York for a fantastic stay!
I enjoyed more outstanding cocktails at The House of Wax Bar in Brooklyn, with my friend Lily Streeter of Alex Streeter Jewelry. As soon as we arrived at the entrance, which is lined with 19th century death masks, we knew we were in for an adventure.
House of Wax is a little hard to find, so listen up: it's inside the Alamo Drafthouse movie complex on the fourth floor, in the same building as Dekalb Market Hall and Trader Joe's. (Address: 445 Albee Square).
Lily was wearing the Angel Heart pentagram ring, one of Alex Streeter's most iconic designs. 
We examined the cocktail list by candlelight: they drew upon 19th century ingredients, and had names such as Butcher of Hanover, and Napoleon Death Mask (made with Pierre Ferrand 1840 cognac, Cardamaro, Cynar, rhubarb bitters.) Talk about mixology meeting the macabre!
I've been to a lot of theme bars worldwide, but this was one of the most outstanding. House of Wax features a permanent collection of 19th century wax moulages, curated by Ryan Matthew Cohn. He sourced over a hundred medical wax models from Germany, which were once used to demonstrate surgical procedures and diseases.
Lily and I loved trying the Anatomical and Pathological cocktails, which were perfectly balanced and creatively concocted with old-time ingredients. We snacked on small bites (the menu includes pretzels with cheese, edamame hummus, flatbreads and cheese boards).
Between rounds, we walked around and admired the glass display cases of wax figures, eerily lit by chandeliers.
This is not a Halloween kitsch bar. House of Wax is better described as a museum, with a mesmerizing collection that transports you back in time. Lily and I marveled at the wax renditions of diseases such as syphilis, floating hands that demonstrated operations, and painful-looking birth canals. (This collection was also once at the Morbid Anatomy Museum, which is now sadly closed.)
Behind the bar, there were dozens of New York beers on tap. I'm an absinthe aficionado though, and couldn't resist this cocktail with an egg white foam.
Without doubt, I'll be coming back to The House of Wax Bar with friends. I couldn't think of a better place in NY to have a Gothic gathering.
Now, time for some nightcrawling. I've written about Goth nights in NYC over the years; the party scene is constantly changing. Right now, a lot of the best Gothic / underground / alternative parties are in Brooklyn. 
We started the night with a rooftop DJ set…
… then headed to Saint Vitus bar in Greenpoint, for a 1980s Goth night. Quite a few Gothic dance parties take place in this venue, which has stained glass artifacts, upside-down crosses, and this resident weirdo (at first, I didn't realize he was a mannequin!)
I reunited with my old pal Zachary, and we reminisced about fun times at the Trash! party. RIP DJ Jess Marquis…
New York's nightlife is always evolving, and it's not a bad thing. Zachary told me that St Vitus now has a brilliant synthwave party, called Night.Wav. As a retrowave addict, I'd love to check it out (as well as the other outrun events that are starting to bloom worldwide, like San Francisco's Turbo Drive).
4am on the waterfront. Late, decadent, alternative nights in New York with friends… that is something that will never grow old.
Last but certainly not least, I stopped by the pop-up shop of my friend Stella Rose. She and I were bloggers way back in the day, and I've watched her grow her spirited clothing line to the success it is today.
The boutique was filled with her charming and cheeky designs, from her It's Stella Rose fashion collection. I have the "No Thank You" pink backpack and sheer tank top above, which she made in collaboration with Print All Over Me.
Isn't the Stella Rose boutique fabulously decorated? I tried on her handmade rose beret, and held on to her fuzzy pom-pom hair ties that come in different colors.
Angry animals, tropical skirts, ghosts… the cuteness meets attitude is distinctively Stella. 
You can find these designs and more on her Stella Rose website and Facebook.
I ended my trip with a "Goth latte." I heard that Round K Cafe served a matte black latte, blackened with organic coconut ash, almond paste and coconut cream. A drink for dark, lost souls.
Time to pack up my Minions x Away luggage, until my next trip to NYC… I'll be back soon, as always.
Did you enjoy this peek into Ryan Matthew Cohn's world, and Oddities Market? If you're looking for more New York City Goth travel tips, click here – this blog has a decade's worth of stories from the city!