De Pijp, hip neighborhood of Amsterdam. Halloween travels & speaking at Experience Bucharest tourism conference!
Get your fangs out… Halloween 2017 is going to be bloody fabulous!
This year, I'll be in three European countries famous for Vampires, Alien, and Jack the Ripper. (Any guesses? The reveal is below.)
First, I'm excited to officially announce: I'm off to the land of vampires, Transylvania! I was invited to attend and speak at Experience Bucharest, the largest project ever to promote tourism in Romania's capital and beyond. For several days, worldwide travel influencers will be gathering to see the capital through the eyes of its passionate residents.
It's been my long-time dream to visit the ultimate Goth destination, and experience the dark underground culture. I'm honored to be speaking on at Travel Massive's "Future of Tourism in Romania" conference, on a panel about travel and social media.
Follow along my social media @LaCarmina and hashtag #experiencebucharest to join the fun, including a visit to the castle of Count Dracula. (Above, photographer Joey Wong captured me in front of UK's Whitby Abbey, an inspiration for Bram Stoker's novel.)
While in Europe, I'm also teaming up with Switzerland Tourism and La Gruyère Tourisme… to visit the H.R. Giger bar in Gruyeres! 
Fans of the Alien movies will immediately recognize these eerie bio-mechanical works, which form the backbone of the art design in the series. I'm fascinated with Giger's imagination, and can't wait to see his sci-fi bar and museum. (Images above by Kristin Thorogood Photography).
Finally… I'll be in London, England for the first time in ages! Time to reunite with spooky friends, and check out the many dark Halloween events in the city. If you have suggestions for what to see and do (around the end of October), please let me know in the comments.
(To get you in the mood, here is my friend John's London Goth travel guide. His photo above shows a store in Camden Market.)
Since I'm off to Europe again, I thought it was nigh time to release my final article about the Netherlands.
A while back, I shared my tour of Noord, the artistic district north of Centraal Station. Now, I'll take you around De Pijp, another Amsterdam hipster neighborhood.
De Pijp translates to "the pipe," for reasons that are unclear (perhaps it refers to the winding streets, or a former gas company with that name). In line with this spirit, the borough has a funky, good-humored vibe. Both travellers and locals come here for the bustling Albert Cuyp market, and to dine in ethnic restaurants.
My friends and I went for lunch at Bazar Restaurant, which was recommended by several people. The word "bazaar" aptly describes the tw0-level space filled with Middle Eastern decor and music to delight the senses.  When I walked in, I was transported back to the time I visited the markets of Morocco. 
(Address: Albert Cuypstraat 182, 1073 Amsterdam, Netherlands)
The bathroom situation is straight out of 1001  Arabian Nights! Photographer Arina Dresviannikova had fun taking photos of Leyla (Dutch fashion / mommy blogger) and me, reflected in the many mirrors.
– I love my alien sweater, which looks similar to the keyboard emoji. There's a similar alien shirt here, and more sci-fi fashion below: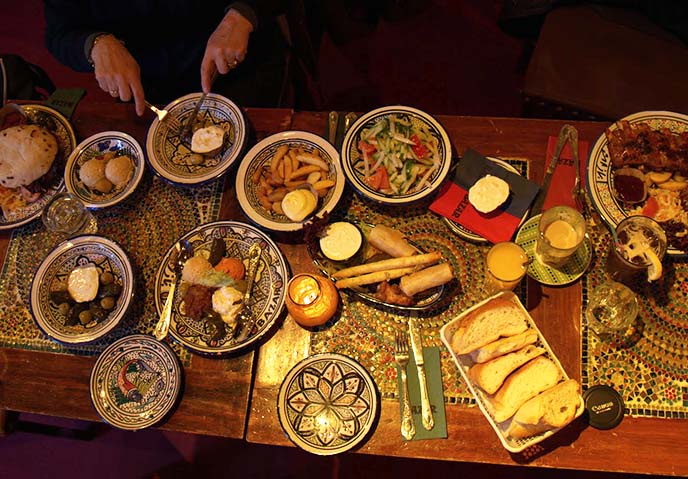 I began with a cup of fresh Moroccan mint tea, while Leyla perused the gluten free menu. Bazar has options for everyone, including vegan and vegetarian plates.
As you can see, we ordered a bit of everything! Bazar's dishes take inspiration from the cuisine of North Africa and the Middle East — everything is moderately priced, and perfect for sharing with a group. I particularly loved the grape leaves, garlic sauce and falafel that came in one of the mixed platters.
A visit to Bazar feels like stepping into a Far Eastern fairy tale. I lounged under the high ceilings, next to these spectacular hand-painted tiled walls.
The vibrant spirit continues right outside Bazaar, at Albert Cuypmarkt. Six days a week, this street is packed with vendors selling everything from hippie skirts to stroopwafels.
I think we fit in rather well with the creative spirit of De Pijp! (My alien top is similar to this one; browse more styles below:)

De Pijp was once a working class quarter, and home to residents of many nationalities. Today, the neighborhood remains filled with color. Leyla spreads her wings on Gerard Doustraat, a street lined with indie shops. 
These rainbow flags beckoned us into De Kinderfeestwinkel, a store for kid's party goods.
Doesn't this feel like a Wes Anderson dreamscape? Masks and gadgets and hats everywhere!
Arina couldn't resist taking home this magical stuffed unicorn. My attention went to the rack of Miffy books, of course.
The smiling ghost light stole my heart. We wandered past a 3D printing shop, and saw these "octo-pussycat" designs.
The other "hipster district," Noord, is more for experimental art and murals. If you're looking for indie fashion and cafes, De Pijp is the place to be.
Case in point: Anna + Nina, a shop with eclectic jewellery and old-world home accessories that reflect their love of travel.
The boutique is filled with textures: a floral silk dressing gown, golden leaves, fresh blossoms.
If I had more space in my apartment, I'd set up a curving mid-century modern floor lamp like this one. Many of the stores in De Pijp sell both clothing and interior decor, mostly by local designers.
Pick up a cactus, or Michael Jackson's glittery mask… that's the humorous spirit of De Pijp!
In the evening, my friends and I had dinner at Supperclub. The restaurant is designed like a nightclub, with flamboyant light projections and quirky performances throughout the evening.
All of the diners get to lounge on beds while eating dinner! Between the courses of the set menu, we watched dance and art performances right in front of us. My favorite was a woman with a giant eyeball for a head — she came up to each bed and interacted with guests, in funny ways.
(Watch Leyla's travel vlog about Supperclub for footage of this unique dining experience. All our Amsterdam videos are in this playlist that she created on her LeylaFashion YouTube.)
Later in the evening, the venue turned into a dance club. Cheers to the fantastic staff, for keeping our wine-glasses filled and making this night a delight.
I leave you with some snaps from our walks around Amsterdam. I was drawn to the city's modern architecture, and never-ending rows of bikes. 
Amsterdam is great for wandering around and popping into stores. Arina is peering into Nunc, which carries handmade, fair-trade and recycled products.
We saw cute skeleton cats and robots in one window…
… and posse of Miffies in another. (Psst: I wrote this guide to Miffy stores in Amsterdam, which includes De Winkel Van Nijntje, Mr. Maria studio and a chocolaterie).
We couldn't leave without a stroll through the Red Light district, home to brothels and marijuana cafes. Note: it's forbidden to take photos of the girls in the glass windows. If you attempt to take an image, you'll get shooed off by their security.
Tourists can see live erotic entertainment at venues like Casa Rosso, which has a cheeky red elephant mascot.
Dank je to Hotel The Exchange and Lloyd for hosting us, and to iAmsterdam for the City Card (which provides unlimited public transportation, and access to the top museums).
If you're planning a visit to Amsterdam, here are all my Netherlands offbeat travel tips on a single page. I hope you find them helpful.
I had such a great time with my friends in Amsterdam, and I'm sure we will be back soon.
And now, time to prepare for London, Bucharest and Gruyeres! If you have travel advice for me, or know of events happening in these cities at the end of October, please let me know in the comments. Here's to the bloodiest Halloween yet.