Havana, Cuba local travel guide! Luxury casa particular Prado Colonial & Hostal del Angel review, Cuban cooking lessons.
Let's do the time warp again… from Havana, Cuba!
As far back as I can remember, I've been curious about this Caribbean country where time seems to stand still. While on a job in the Dominican Republic, I took the opportunity to hop over to "La Habana" for a few days.
How to enter Cuba: As a Canadian, I merely had to fill out a "visa on arrival" and pay $20 US cash. If you have a US passport, the process is more complicated and changes constantly… be sure to check the current Cuban visa requirements here. Or you can "secretly" fly in from another country (Canada, Mexico, Panama, etc), as Americans have in the past.
Where should you stay in Havana? If you're looking for a local, authentic experience, there's only one answer: in a casa particular like Prado Colonial!
As you likely know, Cuba has been a communist country since Fidel Castro overthrew military dictator Batista in 1959. As a result, all the hotels and resorts are at least partly owned / run by the government.
However, since 1997, the state has allowed locals to rent out rooms in their homes to tourists. These "casas particulares" are independent, family-run bed and breakfasts. There's no better way for travelers to support Cubans, and learn first-hand about their culture — while staying in a friendly, homey environment.
I love boutique, design accommodations, which is why Prado Colonial caught my eye. This is a group of three B&Bs, run by a family and located within walking distance of each other, in Old Havana.
My friend Asta and I stayed in their Hostal del Angel, which is a vintage-lover's dream. The stained glass windows and chandeliers scatter rainbows over neoclassical floor tiles… And the French doors open to a balcony view of Old Havana!
Outfit of the Day: I went for a futuristic 1950s look. My hooded mesh top is Cyberdog, my dark floral skirt is from Hong Kong, and I'm wearing these exact John Lennon brand sunglasses.
I looked out at this view of Plazuela de Santo Ángel, a cheerful plaza by the yellow church of Santo Angel Custodio. This spot inspired Cuban author Cirilo Villaverde to write his famous novel "Cecilia Valdés," so there's a statue of both of them here.
Address of Hostal del Angel: Cuarteles 118, La Habana Vieja, Cuba
"Casa particular" means "private house," and "hostal" is the Spanish word for a family-run b & b. Don't mistake it for "hostel" (dorm-style living) — we had private rooms with their own bathrooms, and common areas fit for a queen. 
When we first entered Hostal del Ángel, we were greeted by Ali, the lady who lives here and takes care of guests. The next morning, we met Marina, the manager for all three properties (you can glimpse her in the mirror!). She's warm and radiant, and puts her heart into helping guests feel at home.
Marina is fluent in English, and takes care of everything including restaurant recommendations, reservations, and taxi hires. She's always happy to answer questions and help guests make their most of their visit.
All of the Prado Colonial casas feel like family homes, with walls of portraits. We enjoyed feeling as if were in the care of Christian, Kenia and their two daughters, who own these places. The family spends most of the year in Germany, so they rent out these accommodations to travelers while they are away.
Asta and I looked forward to waking up each morning for the tasty breakfast. We sat down to a huge spread of fresh tropical fruit and juice, Cuban coffee (which is delicious!), cheese and cold cuts, homemade marmalades, and eggs made to order.
Some casa particulars can be on the sparse side. This is not the case at Hostal del Ángel: just look at our luxurious suite, dressed in Imperial and Louis XV style furniture and mirrors! The two adjoining rooms are separated by French doors, and we had our own large bathroom.
All of their rooms have air conditioning, a safe, plenty of towels and other amenities. In Cuba, you must purchase a WiFi card in order to access the Internet (as this is not a regular service) — but I actually enjoyed being "off the grid" for my stay.
We couldn't have picked a better home base. All of the Prado Colonial bed and breakfasts are in Old Havana, near major sights like the Museum of the Revolution. The interiors are classic Cuban, the ladies provide outstanding service… and yet, their room prices start at only 85 CUC (US $85) a night.
Asta and I loved the cultural immersion of a casa particular. We encourage you to support Cuban families and their independent businesses, by staying in one.
(You can also help out by bringing donation items to Cuba, such as USB sticks, stockings, school supplies, beauty products and other small gifts that are difficult for locals to get. I brought bags of items, and let the staff distribute them.)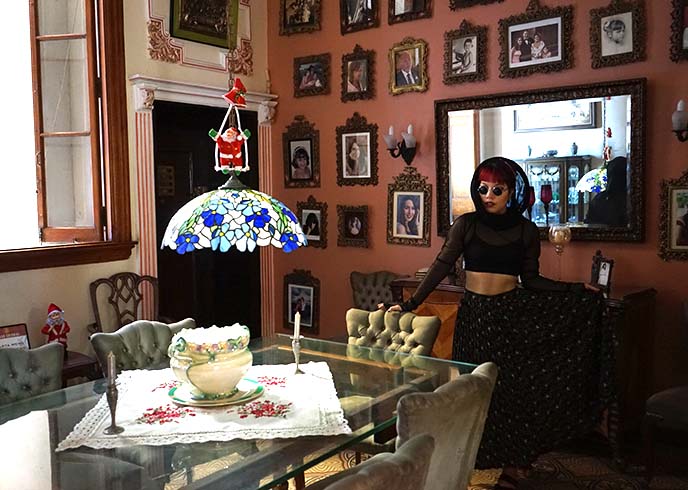 You can make a reservation at any of the three Prado Colonial hotels here, or send an email to booking@pradocolonial.com — I can assure you that you'll be in great hands with this family.
Marina gave us tour of the neighborhood, and pointed out her favorite cafes. Old Havana is in the heart of the action; just step out the door, and there are a million sights to see.
Around the corner from our casa particular, we ran into this Cuban boy band doing a photoshoot. They invited me to join in — why not!
Marina manages all the family's hotels, which are within a few minutes walk of each other — so we also stopped by Casa Prado Colonial. No wonder these are the best casa particulars in Old Havana; check out this rooftop view!
Prado Colonial also has a classic Cuban vibe. The interiors make you feel as if you've entered a past era (but everything is spotlessly maintained).
Address: Prado 110, Ground Floor, between Genio and Refugio. Havana Vieja. Ciudad de La Habana. ZIP: 10100. Cuba.
Unlike cookie-cutter hotels, each of Prado Colonial's rooms has a unique decor and personality. It's hard to "feel blue" when you're surrounded by Art Deco furniture and floral paintings! (My backpack is Spiral UK, similar to this one.)
We'll later meet Marina for dinner and a cooking lesson, at the third property. But for now, it's time to explore Havana.
First stop: the Malecón, which is only a short walk away from PradoColonial. This is Havana's iconic seawall and roadway, which stretches for 8 km (5 miles) along the waterfront.
With a cool breeze and view like this, it's easy to understand why the Malecon is a favorite spot to for locals to hang out. You'll see groups of friends playing music, having snacks, fishing, or simply enjoying the view of the water.
Havana's rich history (from colonial days to Communism and the embargo) is especially visible the old quarters of the city. Even in the 21st century, the laid-back Caribbean culture has a 1950s / 1960s vibe.
You'll find classic cars zooming around the city. The US has banned car exports to Cuba since 1955, which is why all these "coches Americanos" are from the James Dean era.
(Photos by Asta Mail and La Carmina)
Havana's colonial architecture is a mix of Moorish and Spanish styles, along with influences from the French, Italians and Greeks. The bright hot rods match the pastel buildings, with swirling iron rails and ornamented arches.
Cuba is also known for its cigars. I'm not a fan, but this fellow seemed to enjoy puffing on his pipe.
We came across local street art by Yulier Rodriguez. He paints ghostly, alien-like faces on dilapidated buildings throughout Havana.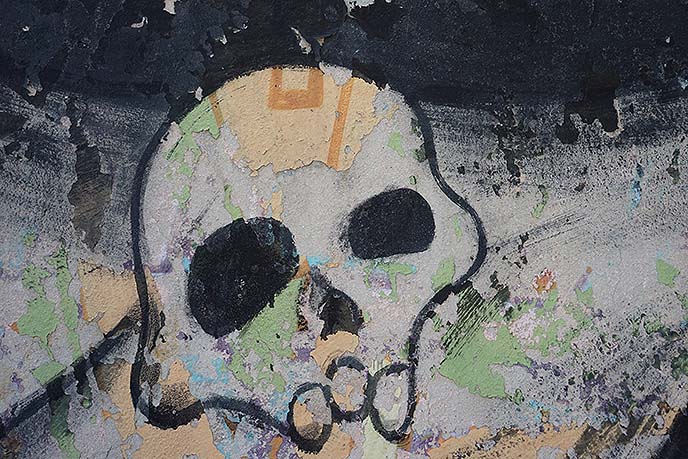 Leave it to me to find a skull wherever I go.
Yulier's murals tend to be social commentaries on life in Cuba. (In the next post, we'll show you more art at Callejon de Hamel, the Afro-Cuban santeria community.)
Havana is a city made for walking. It's nice to see "slices of life," such as children in uniform heading to school. (Cuba's health care and education are excellent for all residents, regardless of their income.)
Now that we worked up an appetite, it was time for our Cuban cooking lesson at Habana 101 (the third hotel), which any guest can request. Marina greeted us dressed all in white, with fabulous heels!
We learned how to make ropas viejas, one of Cuba's most beloved nation dishes. The term means "old rags," which describes the look of the shredded beef and seasoned vegetables.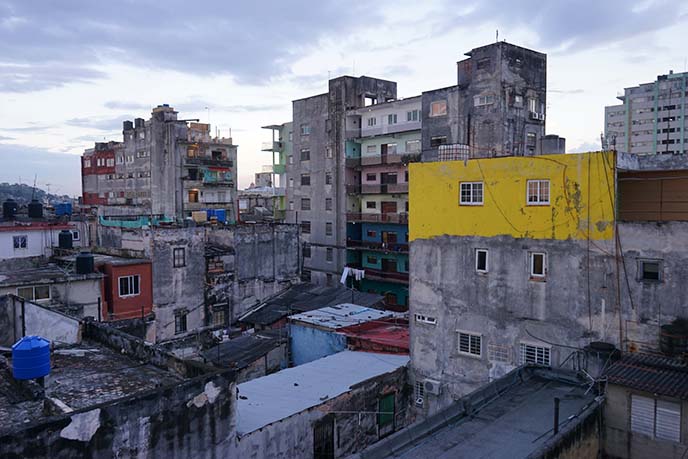 We started on the roof terrace, and took in the sunset over Old Havana. Marina prepared us one of her famous mojitos, with fresh mint and a touch of honey. She also let us try the anise flavored Mulata De Cuba liqueur in a cocktail.
I try to take cooking lessons wherever I go, as it's one of the best ways to learn about local food. Marina and the ladies were the perfect teachers. (I'm wearing the "Grillmeister" apron that belongs to home-owner Christian.)
The ladies had prepped all the ingredients — slow-cooked flank, tomatoes, onions, bell peppers, and spices. Time to head into the kitchen and learn how to make several flavorful Cuban dishes.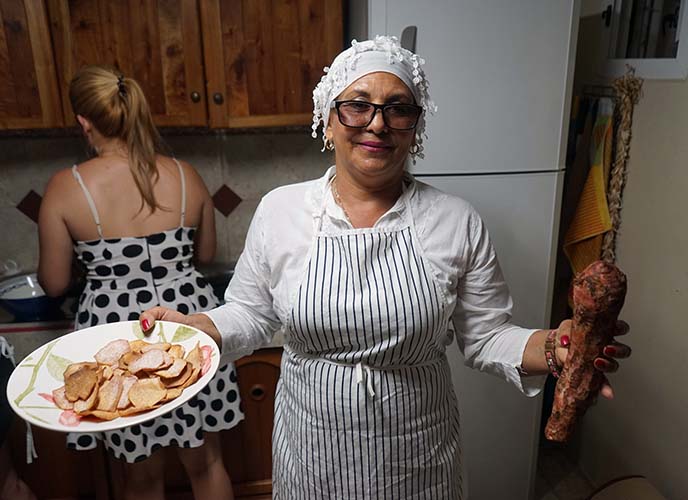 We satiated our hunger by snacking on freshly fried taro root chips. I was tempted to eat the whole plate!
Marina showed us how to use a rice cooker to prepare rice and beans, with lots of diced vegetables and spices. We wound up with a healthy, gluten-free and inexpensive meal that I could eat every day.
Talk about cute food: the staff put together a salad that spelled out Hab 101!
We learned how to make various Cuban staples, including fried green and yellow bananas. 
I'm so glad we decided to stay in a casa particular. We got to learn about daily life in Cuba from locals, while preparing one of the best meals I've had this year.
(Find more about Prado Colonial here.)
For dessert: guava simmered with a bit of sugar, and topped with German cheese. Who knew this combination could be so good.
We all sat down together for this incredible meal — I ate until I was stuffed!
Many people told me that when they visited Cuba, they found the food was bland and unseasoned. This was not at all the case for me — every meal was delicious, even from random cafes. I'm not sure if we got lucky or the cuisine has improved. Regardless, you can't go wrong with a home-cooked meal at your casa particular.
On another night, we dined at La Guarida, one of the most famous and highly rated restaurants in Havana.
In 1993, Cuba released a groundbreaking LGBT film called "Strawberry and Chocolate." Much of the story takes place in this elegant location. In homage, La Guarida showcases some of the original props, and named its signature dessert after the movie.
La Guarida restaurant address: 418 Concordia, La Habana, Cuba.
La Guarida is a "paladar," or privately owned Cuban restaurant. Similar to casas particulares, these restaurants are run by locals rather than the state. Paladars tend to have beautiful, intimate settings (just check out this balcony!) and amazing food.
At La Guarida, the "new Cuban" cuisine lives up to the open-air atmosphere. Our server presented us with Cuban rum cocktails, and a special corn soup and "sushi" roll appetizer.  Then, we feasted on braised beef cheek, and medallions of filet mignon served three ways (peppercorn, Béarnaise, and a chocolate and blue cheese — surprisingly, the best one).
Don't miss out on the rooftop bar. Walk up a winding staircase in what looks like a pneumatic tube, and you'll end up on this ornate floor.
From the top of La Guarida, you can look out at the lights of central Havana, and the blue Malecon in the distance.
Once again, we felt transported back in time, to the days of grand colonial mansions.
La Guarida lives up to its hype as one of Havana's top restaurants. Be sure to order the smoked marlin tacos, and delicate snapper ceviche that melts in your mouth.
I recommend that you make an advance online reservation from the La Guarida website, as tables fill out quickly. Both locals and visitors choose this spot for a dinner to remember.
Did this intro to Havana make you smile? If you have any questions about traveling here, you're welcome to leave a comment.
I hope you'll support locals and stay at one of Prado Colonial's casa particulars; you can learn more and make a booking through the family's website.
My trip to Cuba felt a little like visiting another planet — which is what I love best about travel. I think this ET mural sums up the inspiration I found on every street in Old Havana.
Stay tuned for another post to come… about our joyride in a cherry red vintage convertible!