Snowman New York designer puffer coats, Underground England boots. Off to South America with LATAM!
If the Ice Age arrives, I'm ready to face the cold in style.
Introducing my sweet Snowman New York coat in a photoshoot by the beach (Spanish Banks in Vancouver, BC).
And I'm thrilled to announce my next destination, which I've been dreaming about for years…
Hail, stone heads! Soon, I'll be on this alien-like island that looks like a level from Mario World.
Read on to see where I'm heading this spring, on a dream journey with LATAM Airlines!
First, some photos from home. I'm always on the search for stylish coats that keep me warm. Down-filled puffer jackets are the most functional option, but they tend to be bulky and unflattering.
What a relief to discover Snowman New York. (I'm wearing this exact coat.) The NY-based indie brand creates luxury outerwear with slim, flattering lines and fashion-forward detailing. At the same time, these coats are filled with 90/10 premium down that will keep you feeling toasty.
I'm wearing the "Alex City Snow" by Snowman NY. The 3/4 length coat is animal-friendly, and comes in both black and white. I adore the knit sleeve hems and large collar, which I can wrap around my face and secure with a snap button.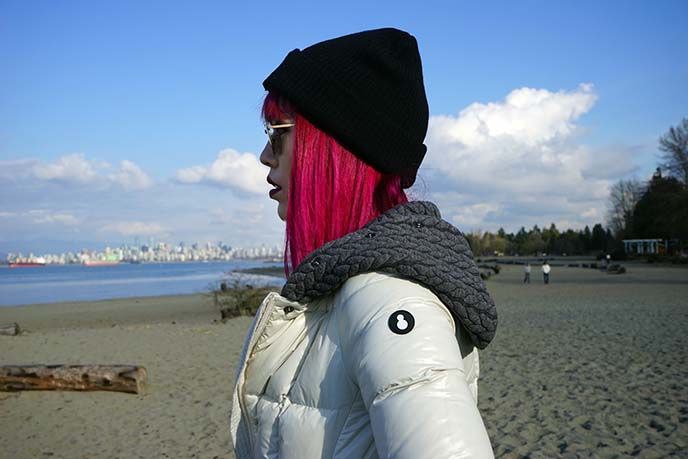 Close-up on their cute logo, which looks like an abstract snowman! The coat shell is made from water-resistant nylon, with a low feather shed and both zipper and snap button closures.
I'm glad to finally find a puffer with an hourglass waist and modern detailing, and no added bulk. Snowman's edgy designs also go well with street-style and Gothic outfits. It's amazing that I can wear a t-shirt underneath, and not feel cold.
See more designs from Snowman New York here. 
I styled my jacket with round, minimalist sunglasses by Edwardson Eyewear. They're a French-Swiss independent brand that creates high-end glasses.
My hat and skirt are by Long Clothing. If you can read katakana, you'll know my top says "Post Punk" in Japanese. It's by Underground England — I'm also wearing their shoes…
Underground's petrol patent Dogstar Jungle boots are my current favorites! I can't get enough of the iridescent, oil slick look. At the same time, these stomper ankle boots are easy to walk around in, and match all types of outfits.
The Jungle collection comes in a variety of skins, including silver, white, and vegan. I have the Petrol Patents; as you can see in my Instagram video, the light reflects different rainbow colors! 
Underground Shoes was established in Manchester, UK in 1981. Their designs are influenced by the thriving local subcultures and music — particularly punk, post punk, Gothic and New Romantic.
To this day, they produce eye-catching alternative footwear like creepers, platform sneakers, steel caps, winklepickers. Underground England also makes apparel, and can customize shoes with special finishes.
These boots are part of Underground's "soundwave" collection, inspired by the oscillation of musical patterns. This visualization comes across in the shape of the sole, with a signature oversize cleat and tread.
Fancy a pair of shoes from this company? Find out more below:
Since we're on the subject of alt fashion, I thought I'd share some of my favorite new designs for spring. As the sun comes out, it's a great time to refresh your wardrobe with rainbow colors. Wouldn't these be perfect for a fairy kei, pastel Goth or kawaii decora look?
1 – Rainbow cardigan (these links lead to where you can get them!)
2 – Sugar Thrillz metallic moto jacket
3 – Pastel furry coat – vegan friendly!
4 – Colorful platforms – sneakers with a colorful heel.
Plus more below; just click the thumbnails to see:
Also, a public service announcement: these Demonia Trinity platform boots just got released! With a 5.5 inch platform heel and buckle straps all along the front, these are the OG of Goth footwear. Which would you wear — candy rave or classic Gothic?
1 – I want the pink platform boots
2 – Yellow Demonias for me
3- Can't go wrong with black knee high boots
Finally… it's-ah me, Mario! I'm a life-long Nintendo fan, so this new collection is giving me life.
1 – Boo ghost top (this is my favorite character)
2 – Power-up mushrooms shirt
3 – Princess Peach purse (love the pixel design)
4 – Yoshi egg cap
And now, I'm off on possibly the most epic trip of my lifetime. Believe it or not, I've never been to South America, and I've said a million times that my dream destination is Easter Island.
This April, it's happening! I'm partnering with LATAM Airlines to bring you travel stories from Argentina, Brazil, and Chile — including the isle of the mysterious moai statues. (Cue the Easter Island emoji 🗿 )
South America has been on my radar for a long time. I'm curious about the futuristic architecture of Rio and Sao Paulo (above, the Niteroi contemporary art museum designed by Oscar Niemeyer… or extraterrestrials). I can't wait to discover the street art and youth culture of Santiago, Valparaiso, and Buenos Aires.
And how crazy will it be to stand in front of the stone faces of Easter Island? (Above photos via Wikicommons.)
I'm looking forward to traveling in Brazil with my long-time friend, Elizabeth Wurtzel. Can't wait to catch up and explore.
(If you haven't read her works, check out her latest book Creatocracy, as well as the bestsellers Prozac Nation, Bitch, and More, Now, Again.)
If you have travel tips for us, please let us know in the comments. I'll be sharing daily updates from my LATAM South American journey on Instagram stories; add me here @lacarmina for the first look. Til then, adiós!
(Photos above from my Auxiliary Magazine cover shoot. Thank you to photographer Patrick Parenteau, makeup artist Jennifer Little, hair stylist Stephanie Hoy; dress by Iron Fist.)
Finally, I updated my travel TV show hosting reel — see it above or here. My TV host / presenter / production demo clips include NHK Japan (Kawaii TV, NY Wave), Discovery (Oddities), National Geographic (Taboo, Roam), Food Network (World's Weirdest Restaurants), Travel Channel (Bizarre Foods, No Reservations promo, Could I Live There), "CBS The Doctors," "NBC Today Show," "CNN", "ABC Nightline" and international networks (Canal Plus, Pro Sieben, Norway TV).