Hanging out at Hangaroa Eco Village & Spa! Easter Island luxury hotels & resorts review, Rapa Nui.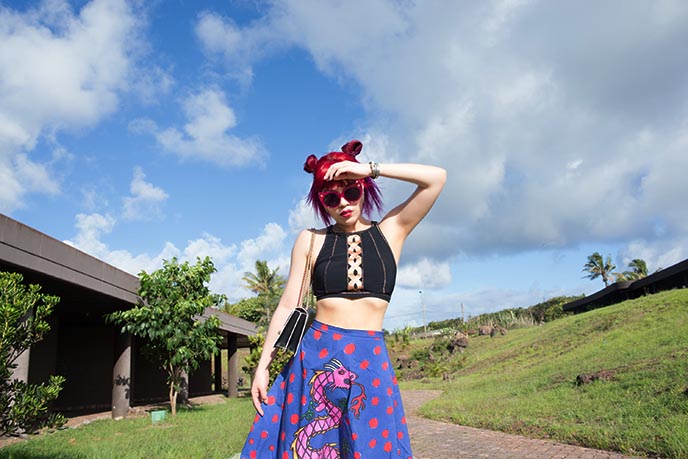 I haven't yet made it to outer space… but Easter Island is as close as it gets to visiting an alien land!
I wanted to stay in a hotel that captured this interplanetary feeling, so I checked into Hangaroa Eco Village & Spa. If you're looking for luxurious, culture-inspired lodging in the isle of the moai 🗿, then this is the place for you.
To my delight, even the rooms looked like spaceship pods!
OOTD: Dragon skirt by Print All Over Me, designed by gentlethrills. My Gottex halter bikini is from UK Swimwear. 
My crossbody purse is this East/West by Strathberry. See more of their styles below:

While you don't quite need a spaceship to arrive at Easter Island, this isn't an easy destination to access. "Isla de Pascua" is located 2300 miles from Chile, in the middle of the ocean and surrounded by nothing.
There are only two flights here, from Bora Bora or Santiago, on LATAM Airlines. I flew from Chile's capital city, and the trip took six hours each way. (But it was well worth it, to see the stone-faced moai… and what a view from the window!)
After a smooth flight, we landed at Mataveri International Airport. It's one of the smallest airports I've ever been to — the runway spans the entire vertical distance of the island.
(All photography Joey Wong).
As soon as we stepped outside, we felt the hot weather of the South Pacific. I'm glad I brought sunscreen in my carry-on backpack (this is one of the best sunscreens, with UVA protection). My dyed and patterned undercut also helped me keep me from overheating.
My hair color, style and buzzcut are by Chad Mitchell Evans at Kore Salon Vancouver. Claw ring and earrings by Alex Streeter Jewelry.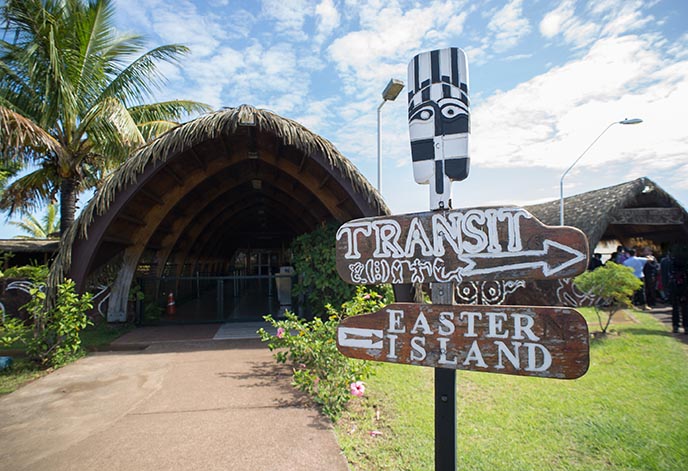 Disembarking is easy at Isla de Pascua airport… there's only one counter and line. Be sure to purchase the $80 US National Park Ticket, or else you won't be able to see the most impressive moai sites including Tongariki and Rano Raraku. You can purchase the park pass in USD or Chilean pesos (tip: check the current exchange rate to see which is cheaper).
Outside the airport, you'll find staff members from various hotels and tour groups. We found the sign for Hangaroa Eco Village, and received a lei of flowers to wear around our necks, as well as a hearty "maeva!" (welcome!).
Easter Island is about the size of Manhattan, and our hotel is in the main city of Hanga Roa. It took only a 10-15 minute drive to reach these space-pods.
I was happy to kick back in one of best resorts in South America, according to Conde Nast Traveller.
The swimming pool beckoned, so I put on my Gottex Profile Sport DNA Bikini by UK Swimwear. I love the halter design, and rose gold on black accents. If you're looking for the latest swimsuits and beachwear, there's a fabulous selection on their website.
(See more of Gottex's Gothic swimwear below, including laser cut Rococo styles):

The welcome wreath of flowers matched my pink hair and sunglasses. These glitter cat-eye sunglasses are by Irregular Choice. They create fabulous accessories and footwear, as you can see below…

Accessorizing with Easter Island nail art by Glam Nail Studio (close-ups further down), and silver critter rings by Alex Streeter.
Time to take a stroll around the hotel grounds. Established in 2012, Hangaroa Eco Village & Spa has the most luxurious accommodations on Easter Island. This five star resort features all-inclusive dining and one-per-day excursion packages, which take the stress out of planning.
The property is bursting with strange fruits and tall palms. From this convenient location, you can easily explore all the major sights on the island. (See my first post about my Easter Island moai tour).
Hangaroa Eco Resort's architecture pays tribute to the village of Orongo (which I visited, as you can see here). The competitors of the birdman competition, Tangata Manu, lived in similar stone huts cut into the hillside.
The modern rooms let guests immerse themselves in the ancient Rapa Nui lifestyle. The design is inspired by traditional caves, with curving lines and organic materials including cypress wood and volcanic rock. I enjoyed soaking in the hand-made clay tub each day, and relaxing by the patio with an ocean view.
Love how this 75-room resort is integrated to its environment. Staying here, you feel as if you're part of the culture and landscape of Easter Island.
Since I was in the land of the stone-faces, I got Easter Island gel nail art to match! Keiko Matsui, the brilliant nail artist and owner at Glam Nail Studio in Vancouver, drew these moai by hand with a tiny brush. She added sunset and galaxy backgrounds (since Easter Island may as well be in another dimension), gold and iridescent flakes, and metal oval rings.
Although most people come to Easter Island to see the moai, this is also a wonderful tropical destination for relaxing in warm weather. Guests can unwind at Hanga Roa Eco Village's swimming pool and Manavai Spa, after a day of exploration.
Wearing a psychedelic gentlethrills skirt from Print All Over Me, and Goth bikini by Gottex from UK Swimwear.
In love with the clean lines and minimalist forms of Strathberry bags (this is mine). Find more of their purse designs below with a click:

Since Easter Island is basically in the middle of nowhere, it can be difficult to import foods, and restaurants tend to be expensive. Fortunately, Hangoroa Eco Village & Spa has several excellent dining options that can be included in the booking.
How fantastic is this ocean and mountain view? The open-air Poerava Restaurant offers a gourmet buffet at breakfast and dinner, with a wide selection of intercontinental and local specialties.
We filled up on grilled fish, creamy grits, roast vegetables, ceviche… and tried one of each dessert!
How cute is this moai, wearing a chef's hat? On another evening, we ate at the resort's Kaloa Bistro, where you can order South American dishes a-la-carte. Can't go wrong with fresh empanadas, Chilean red wine and steak.
Every evening, Hangaroa Eco Village brings together guests for a free sunset cocktail at Vaikoa Bar. The special drink that evening was a pisco sour (lemon, Chilean clear brandy, egg white, bitters). I was delighted by the design of the liqueur bottle: it's shaped like a moai with a "pukao" hat as the screw-on cap! 
This is my happy place… sipping a moai pisco sour, and taking in the radiant sunset over the volcanic rocks and ocean.
Easter Island is such a remote and bizarre place that you can't help but connect with the people you meet here. We made a furry new friend by the cliffs…
… and chatted with other travellers. Everyone expressed their amazement at being on this far-away island filled with mysteries.
The sunset silhouettes called for an "utthita hasta padangusthasana" yoga pose (extended hand-to-big-toe asana).
Easter Island is truly unlike anywhere else on the planet. Now, I think the only thing that can top this experience is a trip to space.
A tree-pose and namaste to Hangaroa Eco Village & Spa, for a stay filled with warm memories.
And a big thank you to LATAM Airlines for making this long-awaited trip possible. You can book a roundtrip to Rapa Nui with them, flying from either Bora Bora or Santiago.
Aren't the stone-faced statues fabulous? For more about them, see my Easter Island moai photos here.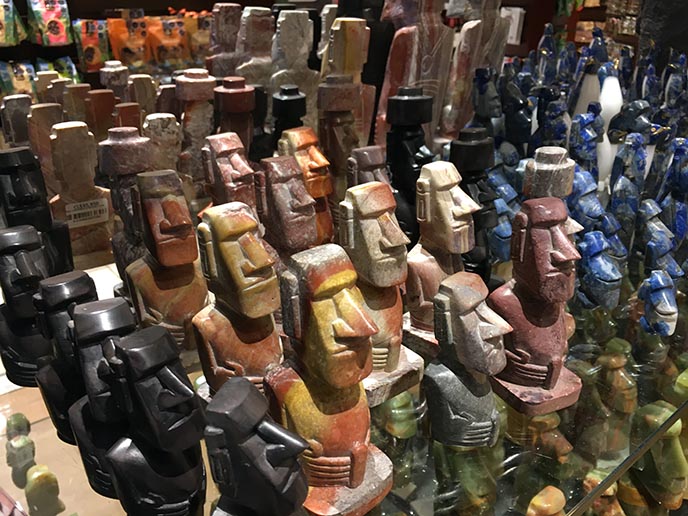 I never buy travel souvenirs, as I'm a minimalist… but I couldn't resist getting some t-shirts and mini moais. This is a once-in-a-lifetime trip, after all.
I was tempted to take home the giant head… but I settled for a bottle of pisco alcohol, in the shape of a googly-eyed moai.
🗿 Isn't Easter Island a fascinating destination? There's still one more story to come, from two of the most famous UNESCO sites here… stay tuned.
(PS: see more Goth bikinis and one-piece swimsuits like mine below!)