Luang Prabang, Laos day tour with private guide! Kuang Si waterfall, Buddhist temples with Tours By Locals.
Laos, you were lovely! After a grueling TV shoot in Japan and the madness of Bangkok, I was in dire need of R&R.
Luang Prabang, Laos was just the ticket to a peaceful getaway. It was a joy to get to know this Buddhist country with my friends and Tours By Locals. Read on for our journey involving temples and waterfalls and bears — oh my.
Outfit Details: I'm wearing a cut-out shirt by Michi, and hat by Bella Starr Hats. My heart-shaped Hope bag is by Lola Ramona; they also make a version that looks like a Sailor Moon bag. More tops like mine below…

My friends and I wanted an authentic experience in and around Luang Prabang, so we linked up with Tours By Locals. They connect travellers with trusted local guides around the world, who take them on private excursions off the beaten track.
Our Luang Prabang and waterfall tour was entirely customizable, and easy to arrange online. Unlike typical group tours, I loved how we got to see the culture of Laos through the eyes of a passionate local.
Our guide Jay Asia and his driver picked us up from our hotel in an air-conditioned car. Jay has a bright, easy-going energy that was perfect for us, as we like to be flexible in our travels. He was glad to make last-minute adjustments for us (such as when we wanted to stop for ice cream and coffee), and always answered our questions thoughtfully.
Luang Prabang is a tiny capital, so it's possible to visit many attractions in a single day. We began our morning at Wat Mai Suwannaphumaham temple. Jay explained that this Gothic black mound is a stupa, or Buddhist monument housing sacred relics or remains.
(I'm holding my Boy 1904 umbrella, and wearing skeleton bone leggings similar to these ones.)
Wat Mai Suwannaphumaham is the largest and most ornate temple in Luang Prabang. The structure was built in 1780 by King Anurat, and the interior is shimmering with gold leaf and red lacquer. (All photos by Julie Hunter, Yukiro Dravarious and me.)
We sat down in front of the giant Buddha with Jay. He told us his personal story of studying with Buddhist monks as a child, and then becoming one for several years.
Jay knowledgeably answered our questions about the differences between Buddhism in Laos, and other countries in Southeast Asia. He walked us through his daily life as a monk (involving very early rising, receiving alms from locals, eating twice a day, meditating for hours, and abiding by precepts). It was fascinating to learn about Laotian spirituality from his perspective. 
I asked Jay about the portrait next to the giant golden Buddha. He told us that it honors Phra Sangkharat, the highest dignitary who resided in Wat Mai temple at the end of the 19th century.
We chatted under the calm gaze of the towering gilded Buddha, seated in the meditation position. He is surrounded by many smaller Buddhas and Bodhisattvas, positioned in various mudras. The shrine also houses an emerald Buddha.
Outside, the gilded façade has bas reliefs depicting scenes from the Buddha's life, as well as daily life in Luang Prabang.
Jay suggested that we walk around to see a hidden second Buddha, awkwardly seated right behind the large one! Originally, this was the main image of Wat Mai — but the founder's younger brother decided to one-up him, and place a bigger Buddha right in front.
Inspired by the poses we saw in the artwork, we went on to Haw Pha Bang. The eaves and decor look classic, but this temple was actually finished in 2006.
The green, red and gold temple sits near the Royal Palace of Luang Prabang. It was built in 1904 (during the French colonial era) to house King Sisavang Vong and his family. Today, the Royal Palace is a museum that preserves the history and lineage of the kingdom.
We ended our temple-hopping at Wat Xieng Thong, one of the most important in the country. The temple and monastery were built in 1560 by King Setthathirath. This remained the site where kings were crowned until the Communist takeover of Laos in 1975.
Jay bowed three times to the golden Buddha inside, draped in the orange robes of a monk.
Finally, we entered the royal funerary chariot house, where we were greeted by a fierce funeral carriage standing 12 metres high! These growling creatures are nagas, the mythical serpents of the Buddhist cosmology.
The exterior of the Royal Funerary Chariot Hall is a sight to behold. Completed in 1962, these gilded wood carvings show flowery scenes from the Phra Lak Phra Lam, the Laotian version of the Hindu epic Ramayana.
This building was built to house royal urns, and the dramatic funeral carriage of King Sisavang Vong. When he died in 1959, the barge was carried through the streets of Luang Prabang.
Next door is Luang Prabang Library, an educational non-profit that I urge you to visit. They provide books and school supplies to children in rural areas, where such items are a rarity. To reach these remote villages, the library operates two boats and make stops along the Mekong River.
In the community space, volunteers teach local children music, languages, and other skills. (These two shy girls are playing the lanat, or Laotian xylophone).
You can support the Luang Prabang Library by dropping off books or school supplies for the children. Alternately, you can purchase a souvenir or make a donation.
I had a million extras pens and stationery lying around, as well as old calculators and other items. It was simple to gather and donate them to the library. What we consider "clutter" can be invaluable in other parts of the world. 
The Luang Prabang library is doing wonderful work, and we were happy to support them during our travels.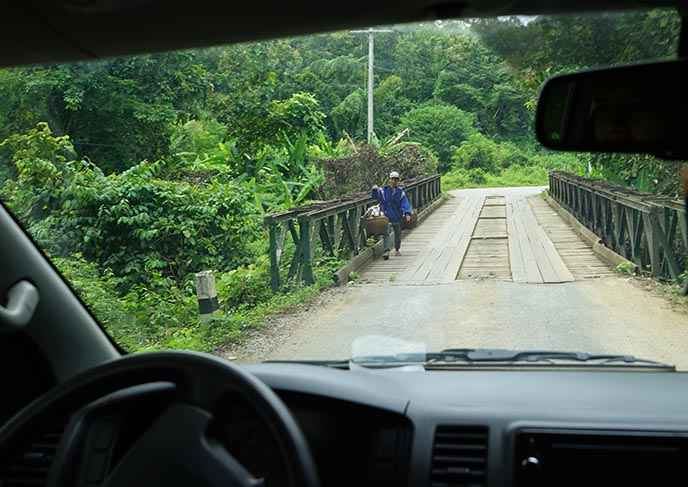 Time to sing "Welcome to the Jungle" as we made our way to Kuang Si Waterfall, located about 18 miles south of the capital. Our driver took us on a 45 minute ride that wound through lush forests and rice fields.
Laos was a welcome relief from the pollution and traffic of Bangkok (our previous destination). Here, there are no fast-food restaurants or tall buildings, and we didn't see a single bus of tourists.
Tours by Locals offers a one-hour trek to the famous waterfall, but in this humid weather, we opted to drive most of the way. From the entrance, we walked along the path for about 10 minutes. As you can see, "it's a jungle out there"… Pirate-planks over water, and trees with twisting roots! 
Pro tip: don't lean on the wood railings of the small bridges. Yukiro posed against one… and the rail fell right off! I shrieked in terror, but fortunately, he wasn't injured.
As we got closer, the flow picked up its pace. Kuangsi Falls is a multi-leveled cascade, so the water crashes down from different heights. There are areas where people can swim… but the current was quite fast, which dissuaded us from going in.
Yukiro is wearing a black and white striped sunhat by Bella Starr.
The path leads to the main falls, with a 60 metre drop. The mist over the limestone pools made Kuang Si look like something out of a fantasy.
Jay took this photo of me while holding up a leaf to the lens. We were happy to have him as our guide, as he always found ways to make our tour special. For instance, Jay got us grilled bananas and potatoes for us to try, and ran after Yukiro's sandal when he lost it in the stream!
(I'm wearing a black cutaway top by Michi, and heart shaped Hope purse by Lola Ramona. They also make the heart bag in red and blue. See more of their retro pin-up styles below…)

If you're in Luang Prabang, you've got to make an excursion to the dazzling Kuang Xi waterfalls. Since it's located outside the city, booking a private trip with Tours By Locals is the easiest way to see the falls.
As you trek through the jungle, don't be afraid if you come across some grizzlies. This is the site of Free the Bears, or the Tat Kuang Si Bear Rescue Centre!
This organization works to protect Asian black bears. Tragically, many of these creatures are trapped and killed for their gallbladders, which are believed to have medicinal powers. These bears are also killed for food, or taken as pets in the black market.
At Tat Kuang Si Rescue Center, we were glad to see that they are now living the Winnie-the-Pooh lifestyle! The non-profit provides stimulating, open enclosures for the bears.
Visitors come to say hi to the cute mammals, and learn about them. Outside, there was a "bears of the world" display… Can you spot the odd one out?
Free the Bears Laos also helps other animals, and employs locals in meaningful work. With their efforts, the endangered Asiatic black bears will hopefully rebuild their populations.  
On the way back, we made a pit-stop at Laos Buffalo Dairy. This sustainable farm produces fresh buffalo cheese and milk, which they serve with coffee. And they make delicious buffalo milk ice cream, which helped us cool down from the humid temperature. (Try the pumpkin pie, tamarind, and coconut flavors!)
Susie Martin, one of founders, took us on a tour of the farm. So many happy bunnies to feed and hold.

Susie explained how Laos Buffalo Dairy works with local farmers and helps the community. They rent the females to milk them for dairy products (a non-traditional use of the buffalo in Laos), providing the villagers with a source of income. The farm also provides better healthcare for the animals, and cross-breeds them for greater milk yields.
Buffalo milk is nutritious, and easier to digest than cow milk (as lactose intolerance is common in Asia). This farm takesexcellent care of the animals, and the products help feed Laotian children, 44 percent of whom are undernourished. Cheers to Laos Buffalo Dairy for their innovative work.
After our tour with Jay, we spent time exploring Luang Prabang on our own. This is the type of place where you enjoy a leisurely breakfast, go out to see a sights or take a swim, and then relax for hours in a local cafe.
Not many places in Laos have air conditioning, so we were relieved to visit Saffron Coffee (they have an AC area upstairs). Laotian coffee is fantastic — I thoroughly enjoyed my cold brew — and Saffron makes a mean gluten and dairy-free brownie, along with other sweets.
We also enjoyed hanging out at Novelty Cafe in Luang Prabang. They have a great selection of fresh juices and healthy foods, and the chic environment is perfect for working on your laptop.
Luang Prabang avoids the typical tourist-trinket stores. We browsed local boutiques that sold Laotian handicrafts, scarves, textiles, and art.
Leave it to me to find a devilish mask and red star!
Luang Prabang is so tiny that it's easy to walk around everywhere. If the heat gets too intense, you can flag down a local tuk tuk.
We ended up at the Luang Prabang night market, where you can find snake liquor, glowing lanterns and other inexpensive items. Be sure to bargain — Yukiro got long pants for $1.50 US!
Jay then took us on a night out, starting at Tamarind restaurant. We feasted on Laotian eggplant, the national dish of larb (minced buffalo), pumpkin ginger soup, and surprisingly tasty sticky rice. Next, we had drinks at the Lao Lao Garden, a verdant bar with a lively crowd and pool table. Cocktails are only about $2, and you can pay for items in Thai baht or Lao kip. (Try the dragonfruit coconut cocktail, a new creation.)
Finally, Julie took a walk up Mount Phousi, which rises over the center of the old town. (Yukiro and I elected to go back to our villa and get massages!)
As you climb the 355 steps, you'll encounter gold Buddha statues and shrines along the way. The golden Wat Chomsi stupa sits at the top of the mountain, built in 1804.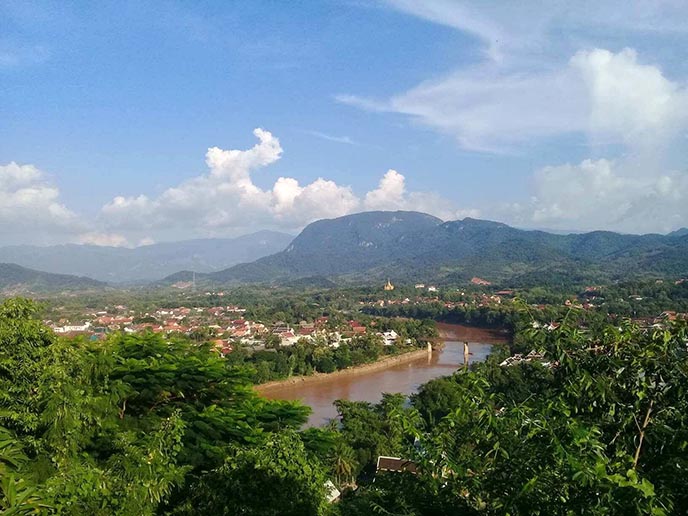 When you reach the summit of Mt. Phousi, you're rewarded with a panoramic view of Luang Prabang: temples, deep green mountains, and the snaking Mekong River. Many travellers come here for a spectacular view of the sunset.
A big hug to our guide and new friend Jay Asia — he made our trip to Luang Prabang one to remember! We thoroughly enjoyed our Tours By Locals experience, as it let us learn about this destination with authenticity. Without a private tour and driver, we would never have been able to cover so much ground in a single day.
Unlike other Southeast Asian countries, Laos lacks a single landmark or attraction that drives visitors (contrast this to Angkor Wat for example). However to us, this is an enormous plus: we loved being in an unhurried, non-commercial city. Luang Prabang let us kick back, and simply take in the local nature and spirituality.
Keep Laos in mind for your next trip. There are residents doing excellent non-profit work here — bear rescue, children's literacy, local development, nutrition. I hope you'll have an opportunity to visit and support them.
One more post from Laos to come, so check back… and I'll be posting about Bangkok, Tokyo, Naoshima and Hiroshima too!