Keipsule Victorian Gothic skull crow silk dress! Japan's Hello Kitty Shinkansen: kawaii Sanrio bullet train.
Happy New Year! 2019 is feeling auspicious for me so far, with new opportunities and paths.
Looks like I'm already set for Chinese New Year as well, in this my all-red outfit. This Victorian Gothic silk dress is by Keipsule, a new designer with dark and luxurious aesthetics.
Since we're in a colorful mood, I'll also take you inside the extremely pink Hello Kitty Shinkansen, which I rode last fall! You read that right: Japan has a high-speed bullet train devoted to the kawaii cat.
I am living in Keipsule's dress, as it aligns perfectly with my current style direction. I'm forever fond of Gothic fashion — but these days, I've been prioritizing timeless, quality pieces by independent designers.
Keipsule's long-sleeved silk dress can be styled in a variety of ways, for different occasions. I wore it with two types of hats and winter accessories, as you can see in these photos.
Doesn't my red floppy hat remind you of Carmen Sandiego? It's from Tenth Street Hats, a family-run company that dates back to 1921. They sell modern millinery with a vintage feel, which fits with the Victorian accents of the dress.
The length of the dress let me show off my UK Tights legwear. These Giulia stockings have both sheer and opaque detailing for an over-the-knee look.
If you like what you see, here's where you can get this Keipsule "Crow Skulls" dress here. It's made in Europe, and comes in a variety of sizes. This is a special piece in a limited number run, made with luxurious pure silk that flows as you move.
I grew up watching the Carmen Sandiego show, and I suppose I became a bit like her: shadowy world traveler with a band of deviants, or something like that!
Love the fine ruffle detail at the hem and down the neck. It's romantic and feminine, without being over-the-top.
The blood red pattern features black and white roses with ivy, cherry blossoms, crows, and skulls. It's a nod to classic Goth and the occult, without the typical all-black palette.
Wearing silver earrings by Alex Streeter, of course.
My red wide brimmed hat is the Scala Sydney in Cinnamon, by Tenth Street Hats. The style is packable, and has a curving 4 inch brim – perfect for winter. My coat is faux fur.
My Keipsule dress feels lovely on, as it's made with high end silk that moves with you. It can be dressed up in a variety of ways for special occasions, and has an elegance that won't go out of style.
Close-up on the jeweled buttons at the sleeve ends, and down the neck. Love how the shirt collar has a subtle ruffled insert.
My silver Ouroboros critter and claw rings are by Alex Streeter Jewellery.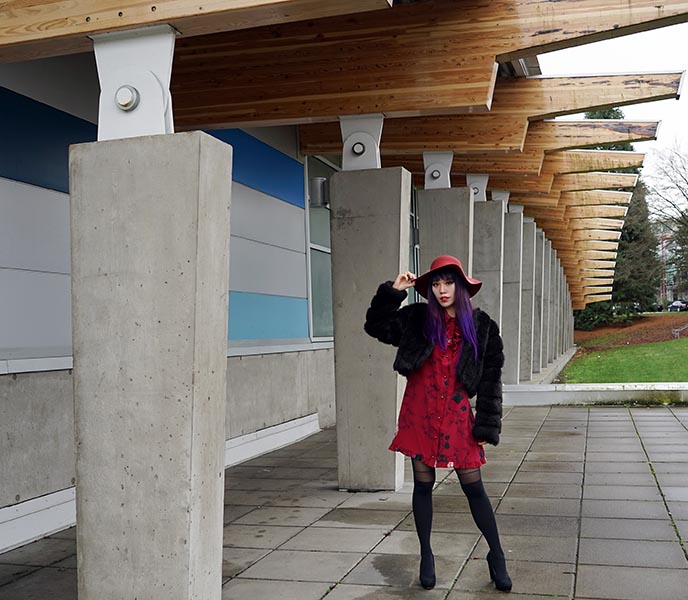 I'm all for investing in unique high-end pieces, and having them be a core part of your wardrobe. I'm excited to see what Keipsule produces next in their collection.
A few more shots of my Scala Sydney round crown felt hat. Tenth Street Hats carries a number of beautiful designs including fedoras, fisherman caps, big brimmed straw hats, and more for all seasons.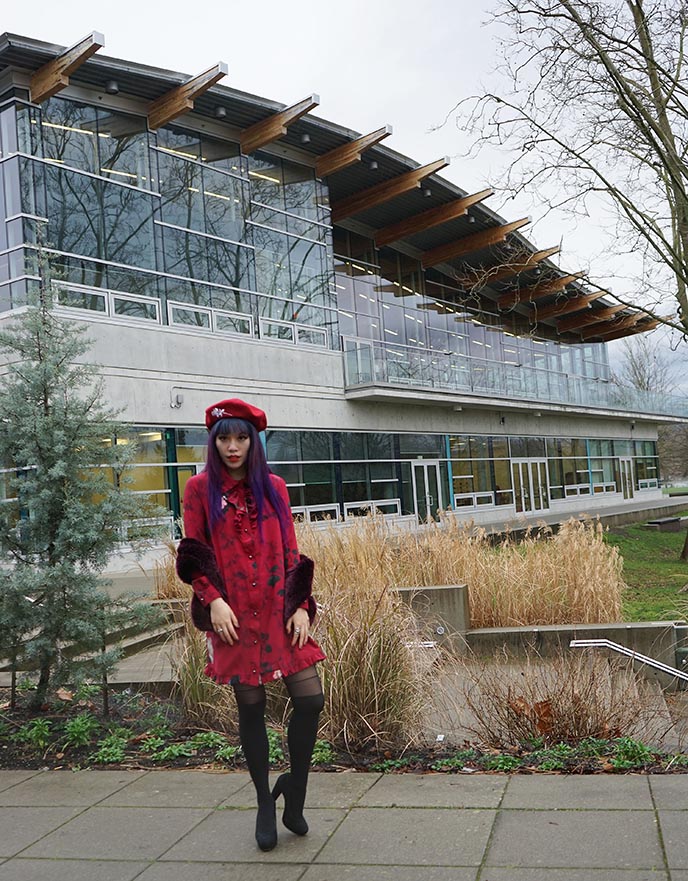 Here's a wardrobe remix with my 1990s-style red beret by Mary Wyatt London. The dark purple faux fur scarf is another old favorite, from Holt Renfrew.
Find out more about Keipsule here, and get this very same dress before the limited run sells out.
And now… all aboard the Hello Kitty bullet train! While I was in Hiroshima, I rode the high speed rails to Okayama (on the way to Naoshima). It happened that the Hello Kitty-themed shinkansen was barreling down these very tracks… which gave me the opportunity to take photos for you!
It's no secret that Hello Kitty is massive in Japan and worldwide. She has themed stores and cafes all over, and even an airplane and lounge.
Right now, there is a regularly scheduled shinkansen dedicated to Hello Kitty. The cat and her friends appear all over the train, and the bullet nose and doors of the train are bright pink.
Most of the train cars look like they normally do. However, the two last cars of the Hello Kitty train are a pink explosion of Sanrio characters. You can't reserve a seat inside this compartment, but there's a small sitting areas with themed decor all over.
The last car contains a Hello Kitty shop. Since the train passes through various cities and prefectures, the store carries specialties from these regions (like the famed baked bread of Hyogo, or my beloved yuzu liquor).
You can also get Hello Kitty limited edition goods, themed after the bullet train. Many show Kitty as a train conductor, ordering you to line up and watch your step!
How can you ride this fabulous train? Here's the Hello Kitty shinkansen timetable – as you can see, it runs often and stops in major areas including Shin-Osaka, Shimane, Tottori, Okayama, and Hiroshima
Psst: the Japan Rail Pass covers unlimited rides on this train. Once you have a J Rail Pass, go to a station and reserve seats in advance, lest they sell out.
If you get bored during the trip, there's a Special Theater that screens Sanrio cartoons and Japanese travel videos to keep you entertained.
"Ufufu" pretty much sums up my reaction to riding this kitschy, kawaii Japanese train!
The train is a new 500 series shinkansen. The nose is inspired by the beak of a bird, and cuts through the air to achieve top speeds.
Even the baggage area has a cute makeover… Be sure to take a photo with the giant Hello Kitty statue in the last train cars!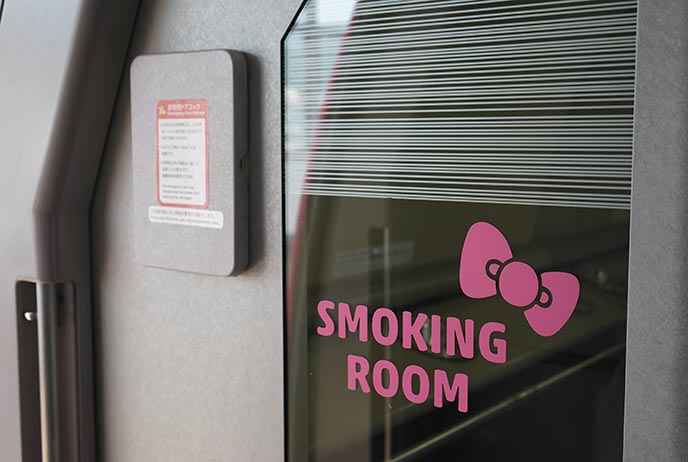 I'm quite sure this is the cutest and most ridiculous smoking room sign you'll ever see. Not sure how Hello Kitty and her friends can puff on cigarettes when they have no mouth…
I always recommend exploring Japan by train, as the shinkansen is a futuristic and comfortable ride that everyone should experience. A week-long unlimited Japan Rail Pass is great value, as you can hop on and off and see a number of cities.
Would you ride the JR West Hello Kitty bullet train? Or fly on the Sanrio plane?
A last look at my Keipsule silk dress – what do you think of this style?
New travel destinations to be announced soon, as well as site updates — thanks for your patience in the past while. Here's to a wonderful year!