My Grotto Spa getaway! Tigh-Na-Mara beach resort & mineral pools, Parksville BC. Léo et Violette leather backpack.
Sending out a siren call to you… from the enticing Grotto Spa on Vancouver Island!
This year has been a crazy one so far, with an enormous trip to Beirut, Paris and Egypt, and a freelance contract with Google's Touring Bird. At this point, I'm ready to kick back and stick to shorter trips.
A weekend wellness getaway at Tigh-Na-Mara seaside resort was exactly what I needed to get recharged.
Let me take you for a dip in Grotto Spa's mineral waters (located in Parksville, a 1.5 hour ferry ride from Vancouver). Read on for an exclusive photoshoot and story from what was voted the best spa in Canada!
First, I wanted to share my latest find… Le Petit Backpack, by indie Parisian designers Leo et Violette. The creamy, bleu-marine leather even matches the color of my hair. (I decorated the backpack with an ankh from the Egyptian Museum in Cairo.)
A Paris-based couple started Léo et Violette to create handbags and leather goods with an innovative approach. The designs are handmade in small batches, using the finest full grain calf leather. However, they are able to offer remarkably fair prices, considering the luxurious materials and craftsmanship. That's because Léo et Violette sells only through their site (there's no middleman or traditional advertising costs). 
It appears I've never left the 1990s… I styled my new backpack with this Tidal Moon Phases dress from Jawbreaker Clothing. It features an original moon print, pointed Peter Pan collar and chiffon overlay.
My red platform heels are from Lola Ramona, and my round sunglasses are Edwardson Eyewear. My hair is by Chad Evans at Kore Salon in Vancouver.
Leo et Violette's baby backpack comes in three colors, and is handcrafted in their Naples workshop. The body is a smooth Italian calfskin, while the top flap is a full-grain leather suede.
On their website, you can see that they sell a wide variety of sleek, timeless, minimalist leather goods for both men and women. In addition to backpacks, Leo et Violette offer bucket bags, messenger bags, crossbody pouches, and small leather goods like wallets, card holders, and laptop pouches.
These photos speak for themselves: you can see the fine hand-stitching and  depth of the full grain leather. Leo et Violette's leather goods are made in small lots in Naples or Ubrique, Spain (where Hermes, Chanel and others base their productions, but with far higher price-tags).
As you know, I'm all about supporting independent designers with fair practices — so I'm thrilled with this mini backpack from Leo et Violette. You'll be seeing many more photos soon, as it is my new go-to bag!
Continuing with my 90s Goth outfit vibes… I think I'm channeling Winona Ryder as Lydia Deetz from Beetlejuice.
This summer, you won't see me without this sunhat by Tenth Street Hats. The Scala New Port has a large brim and comes in many colors, but I chose black for a witchy "lewk."
I'm holding a half moon bamboo bag from Lola Ramona. The vintage-inspired ark shaped purse is perfect for a beach day. My Ivy Sun glasses are from Edwardson Eyewear.
This Ethereal Nature Maxi Dress is by Jawbreaker Clothing. The intricate Gothic print stems from the third eye motif, and the collar has a marvelous choker style detail.
Living the vampire lifestyle in my Tenth Street Hat. The Newport is packable, and has a 5 inch brim and UPF 50 rating to protect me from the sun.
Adding a pop of color with my red sandals by Lola Ramona. Their ark / half-moon bag comes in several colors and materials, if you want to nab one like mine.
Now, let's unwind at Grotto Spa at Tigh-Na-Mara! The resort is easy to reach from Vancouver, making it an ideal weekend escape.
I recommend reserving the ferry in advance; the ride takes 1 hour 35 minutes, from Vancouver (Horseshoe Bay) to Nanaimo (Departure Bay). Then, it's an easy 35 minute drive to the hotel and spa.
Dress by Jawbreaker Clothing, star platform shoes Rocketdog Footwear, leggings Charli Cohen, Dolce sun hat Lack of Color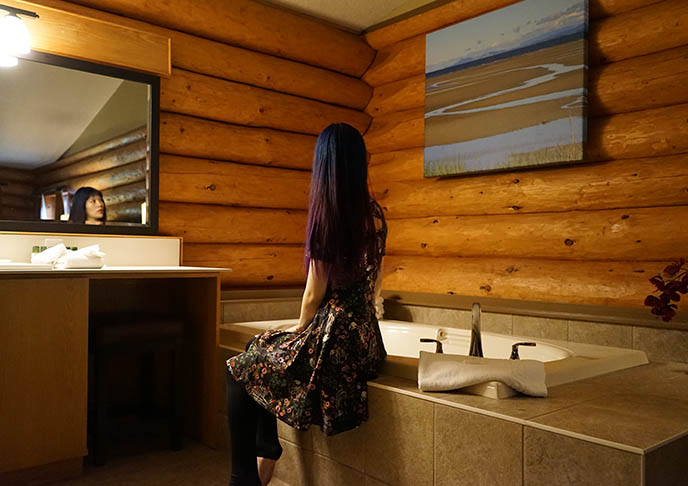 This is as close as I'll get to camping… The suites have a log cabin feeling and are surrounded by nature. However, they're equipped with 5-star amenities like a giant jet bathtub.
The name Tigh-Na-Mara is Gaelic for "House By The Sea." Starting as a single tent in 1946, the property has evolved into a 22-acre destination resort, featuring luxury cabins under towering trees.
Tigh-Na-Mara Seaside Spa Resort includes three kilometres of Pacific Northwest beaches, which are brimming with sea life. Keep reading to see the creatures we encountered on the sand…
But first, I'm ready for a soak in Grotto Spa's award winning mineral pool!
(Spinal skirt by Lip Service, red halter top by Charli Cohen,)
The indoor space is designed to emulate a natural stone grotto. The large pool is filled with warm water, which is rich with minerals.
View this post on Instagram
As you can see from this Insta video, it's a joy to wade through the mineral pools. You can perch on the sides and enjoy the jets, or go under the two story waterfall.
Grotto Spa suggests that you take three 15-minute soaks in the mineral pools. In between, you can wake up your senses under the icy cold cascade, or heat up in the non-mineralized whirlpool.
The staff asks guests to "unplug" during the visit, meaning that you can't use cell phones or cameras inside. In this plugged-in age, it's a relief to simply focus on the moment. (We had special permission to shoot images before the spa opened for the day, so that we could share the experience with you).
Grotto Spa has a limited number of pool passes per time slot, which ensures that the waters are never crowded. From these images, you can see why this was named the top spa in Canada by Spas of America.
It's fun to move around and float in this therapeutic pool. The minerals in the warm water help boost your circulation, reduce stress, and nourish the skin.
I took three soaks as they suggested, with hydration breaks in between. At the end, my muscles felt soothed, and my mind was calm.
Guests can also hang out in the Relaxation Lounge located on the 3rd floor. You can sit in front of one of the four fireplaces, and fuel up on unlimited fruit, specialty teas and coffee.
While at the Grotto Spa, it's worth splurging on a spa treatment or package. The menu includes facials, body wraps, massages, manicures and pedicures, with a focus on soothing West Coast ingredients.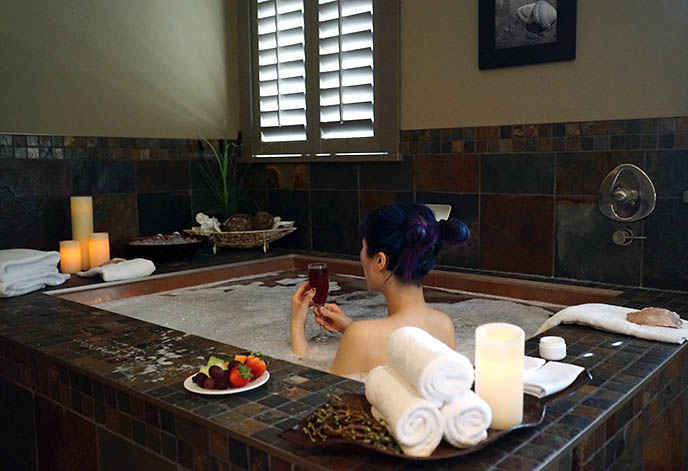 You can take part in a couple's massage, which begins with a private soak in the copper tub along with fruit and bubbly. Or try a massage with soothing stones, or something geared to your needs (such as expectant mothers).
I had an outstanding one-hour massage by a trained massage therapist: Shari knew exactly which buttons to press! I felt the difference in having her work on me, as she has a scientific understanding of the muscles and nerve points. My masseuse incorporated a stimulating eucalyptus mist throughout the session, and worked out kinks that I didn't even know I had.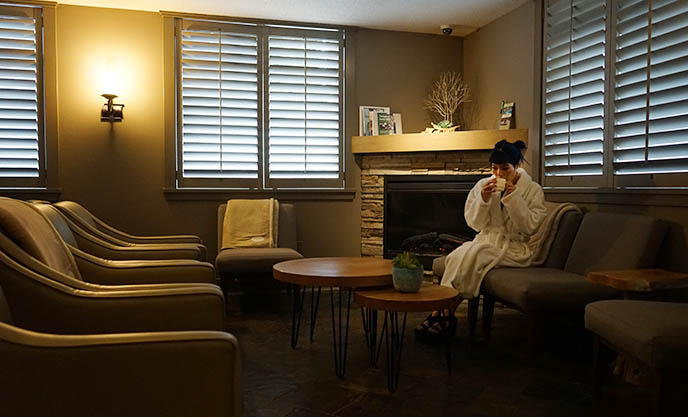 I ended the day with a warm cup of jasmine tea in the lounge. As the Grotto Spa puts it: "With 20,000 square feet of spa bliss, we give relaxation a whole new meaning!"
Anyone who stays at Tigh-Na-Mara has access to an expansive, private beach. The water is relatively warm, and at low tide, the shallow sand expands by about 1 km! I've never seen a beach spread out as far to the ocean as this one.
As you take the long walk to the water, you'll encounter fascinating creatures in the shallow pools and wet sand. These black sand dollars have a rather Gothic look. The dark ones are still alive, while white ones are dead and bleached by the sun. (We put this guy back after the photo).
Pacific Northwest beaches tend to have a feeling of drama. (My sun hat by Lack of Color had a long strap that I could tie around my chin, to prevent the wind from carrying it off. This Line Friends Brown bear jacket is from Hong Kong's Chocoolate shop.)
Look down, and be amazed by the diversity of critters. Tiny crabs scuttle between the shells and seaweed. You might even be surprised by a large red crab.
Low tide creates shallow pools, which might soak your shoes as you walk through them. My Rocketdog disco platforms turned out to be appropriate footwear, as they kept me elevated above the water!
Time to relax inside my Spa Bungalow. Tigh-Na-Mara's luxury log rooms are named after various BC Gulf Islands. The resort also has rustic cottages and oceanview suites, to suit all travel styles.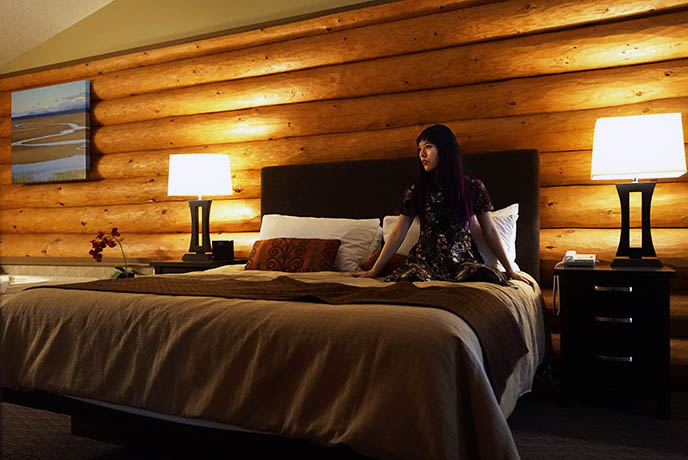 The bungalow has a back-to-nature rustic charm, while being outfitted with modern amenities (two sinks, two TVs, a kitchenette, private patio). At night, we rented a DVD player from front desk and watched a sci-fi movie.
We dug into stone-fired pizzas from Cedars Restaurant and Lounge, which paired perfectly with a red Catalunya wine. The restaurant features a seasonal, local menu. You can customize the pizzas with goat cheese from nearby farms, and take them out to enjoy in your room.
In the morning, we enjoyed a West Coast breakfast a-la-carte at Cedars restaurant. Eggs Benedict with avocado and wild smoked salmon, and waffles with Canadian maple syrup.
Such a pleasure to take a calming trip to Tighnamara and Grotto Spa. If you're yearning for a relaxing vacation near Vancouver, then this Parksville spa & resort is exactly what the doctor ordered.
My 70s shoes reminded me of James Brown: "Whoa! I feel good, I knew that I would. Now I feel good, I knew that I would, now. So good!"
Have you ever done a spa getaway? What was your experience like?
PS: Thanks for your fab feedback on Google's Touring Bird so far! I wrote 15 local tips about Vancouver for the site (along with articles for dozens of other cities). If you're looking for alternative, local things to do in Vancouver BC, I hope you'll find my TouringBird suggestions helpful.