Naoshima Art Island travel guide! Yayoi Kusama pumpkins, tickets to Chichu museum, Hiroshima Goth shops.
Did you know… Japan has an island populated by giant polka-dot pumpkins?
If you're a contemporary art-lover, then you might have guessed that I'm hinting at the magical isle of Naoshima.
(Wearing an Emilie Shanghai Nights dress by Realisation Par. Full grain leather dark blue backpack by Leo et Violette.)
Read on for my guide to visiting Naoshima, Japan — including how to get tickets to the Chichu Museum, and find limited-edition Yayoi Kusama merch.
You'll also see illustrations from our trip, by artists Naomi Rubin and Becky Hawkins… who made a new home inside this dotty pumpkin!
To get in the mood, I'm wearing a dress with a traditional Asian print. This is the Emilie Shanghai Nights mini dress by Realisation Par — love the pink floral pattern on dark blue silk.
Details of my 18 karat gold star stud earring, by Alex Streeter. I wear it with the point down, making it a lucky pentagram! The Gothfather of occult jewelry also sent me the silver Marquise ring, carved with two scorpions holding a black stone.
The pink sparkle Sailor Moon ring is by Sapphire Studios. (Always combine Satan with kawaii, right?)
I was drawn to the sakura blossom design of this Realisation Par Emilie Shanghai dress. It's an A-line fitted mini dress with adjustable straps, and looks great under a leather jacket.
On my other ear, I hung a thread-thorough earring with a gold ankh by Wendy Nichol.
I also layered gold pendant necklaces on chains of different lengths. The bumble bee is Stephen Einhorn, and the Queen Nefertiti bust is from Luxor's gold shop in Vegas.
(Click the thumbnails to see similar Egyptian queen pendants below…)
And now, the story of how we visited Naoshima, Japan! For a long time, I've been eager to travel to this "art island," which sits in the Seto Inland Sea.
Naoshima has become a hub for avantgarde museums and creative exhibits, shrouded in architecture that reflects the beauty of the isle. The famed Yayoi Kusama (painter of dots and pumpkins) has several permanent works here.
(If you're unfamiliar with this madcap artist, check out my report on Yayoi's exhibit in Sweden.)
It's important to plan ahead, if you want to make the most of your visit. You can't simply arrive on Naoshima Island and waltz into the main sights.
Tickets to the main Chichu art museum sell out weeks to months in advance, so be sure to book your exact date and time slot well before you come. Check the Benesse website for closure dates, and for info on how to get passes to the numerous other art sites on the island.
Then, there's the matter of getting here. Most people begin by taking the train to Okayama, which you should reserve in advance. Next, transfer to the local train and ride to Uno Station. Cross the street to the boat terminal, and buy a ticket for the ferry to Naoshima, which leaves frequently.
Since we were coming from Hiroshima, we managed to book the Hello Kitty bullet train to Okayama!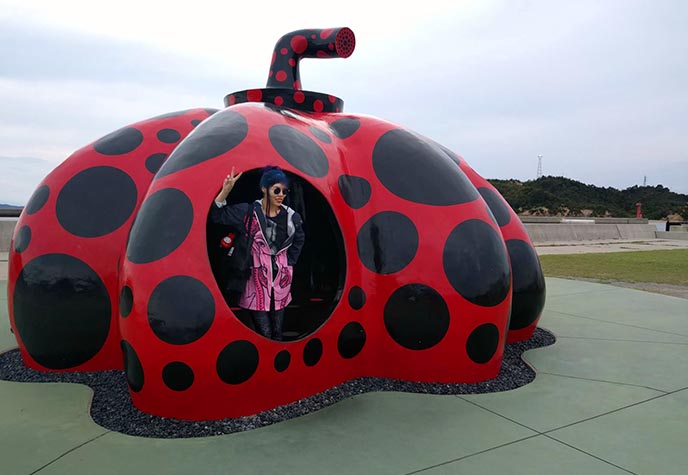 Since we had limited time, we only did a day trip to Naoshima (arriving in the morning, and leaving in the late afternoon when the museums closed).
If you're keen to see more of the artistic attractions, I recommend staying for at least one night. Be sure to book a hotel room in advance, or you might have to camp out in Yayoi's giant red pumpkin near the port!
After the ferry docks, you can board a free shuttle bus that takes you to all the major art sites. As you can gleam, it's a bit of a trek to get to Naoshima — but worth it to see the quirky pumpkins and art.
We first stopped at the Naoshima Visitor's Center, as our Chichu museum tickets were for later in the day.
Here, we bought tickets for the Honmura Art House Projects (you can't get these in advance online). The Art Houses are abandoned village homes that were transformed into thought-provoking works. There are six in total; you can purchase passes to see as many as you'd like.
The Naoshima tourist center also has an enticing gift shop, featuring limited edition items with Yayoi Kusama's pumpkins.
I couldn't resist picking up a red and white Yayoi pumpkin scarf. Later, I got a paper hand fan from the Chichu Museum gift store. (It took a lot of effort to get to Naoshima, and these designs are only available here, so I was keen to pick up some mementos.)
We decided to see three art houses that were within walking distance from the visitor center. On the way, we encountered adorable village houses with peaked roofs.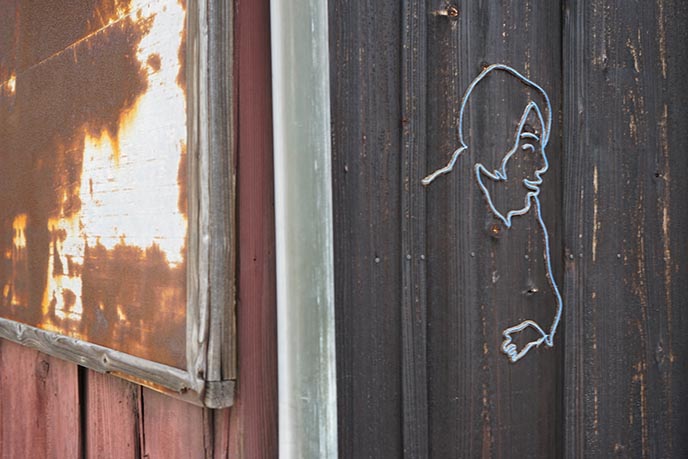 Naoshima grew from a tiny fishing village into a one-of-a-kind island that celebrates contemporary art. The works are constantly changing, and you'll find little expressions everywhere.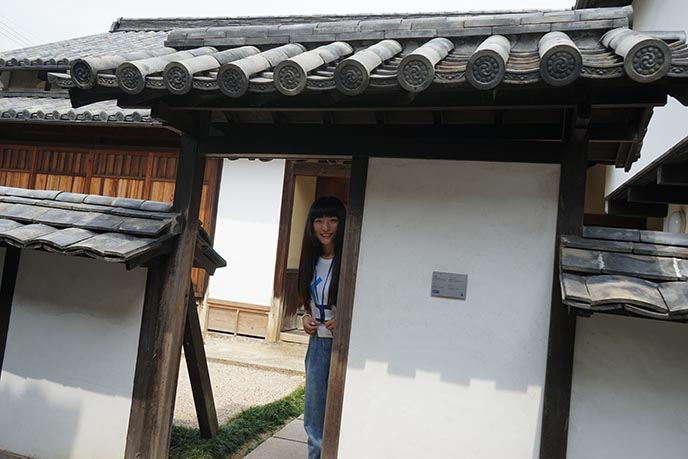 A docent welcomed us into this Art House Project. Photos aren't allowed inside, so you'll have to imagine a dark pool filled with LED lights, with glowing numbers counting up and down.
Allow plenty of time to get around to each place. You can check the bus schedules to see when the next one departs.
We arrived at Chichu Museum in time for our slot. There was yet another trek up the path to the museum, which passed by lily-topped ponds inspired by Monet's paintings.
Finally, we arrived at the stark, geometric museum designed by Japanese architect Tadao Ando. The galleries are entirely underground, and photos aren't permitted, so this is just a glimpse at the Chichu entrance.
We were allowed to take photos in and outside the Chichu Museum Cafe, however. After the long journey, it was lovely to sip on cold coffees and munch on salmon sandwiches, while looking out at the sea and mountains.
Benesse's Chichu isn't like most museums. There's only a handful of permanent exhibits, which blend harmoniously with Tadao Ando's modern architecture.
These include five waterlily paintings by Claude Monet, an alien-like room with a giant sphere by Walter de Maria, and James Turrell works including an interactive one that alters your perceptions through light.
While photography isn't allowed inside, artists are at leisure to capture the experience through sketches! Naomi Rubin shows the room with the big metal ball (it feels as if you've been abducted into a spaceship, and approaching an alien overlord). She also has a behind-the-scenes of me napping as we waited for the ride back!
The concrete, minimalist architecture creates lights and shadows that change throughout the day. Chichu Museum is one of those places that you wouldn't really "get" unless you see it with your own eyes — so if this story intrigues you, I hope you'll make an effort to visit.
I was tempted to spend more time here, and see the Lee Ufan Museum, Ando museum, and other exhibits.
Alas, we have to say sayonara, Naoshima… Here's a last look at the Yayoi Kusama Red Pumpkin, a cabin-sized gourd that anyone can enter.
We caught the train back to Hiroshima, where we spent another day exploring. In my first dispatch from Hiroshima, you'll recall we went to the Peace Memorial Museum and castle.
There's just too much to see in this city of culture… Becky Hawkins made this funny travel postcard about how we hustled to see the exhibits and get to the top of Hiroshima castle, before it closed!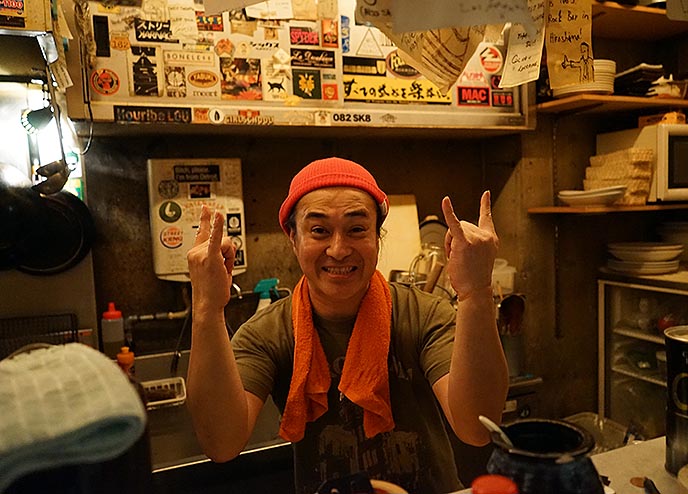 Fortunately, there are many nightlife spots in Hiroshima that stay open late. We loved hanging out at Koba, a rock music bar run by the personable Bomu! (Koba bar address: 1-4 Nakamachi, Naka Ward, Hiroshima, 730-0037, Japan)
Bomu is a die-hard fan of hard rock and heavy metal, especially from the 1970s and 80s. We headbanged along to hair metal music videos broadcast on the big screen, and admired his collection of KISS memorabilia.
Koba is a fab place to hang out with friends, listen to rock n roll, and share bottles of hot sake. Many people leave notes and drawings for Bomu, which he hangs above the bar. You can also order terrific izakaya food here (small, homey Japanese plates) — including Wagyu steak.
While in Hiroshima, we also stumbled upon an old school Goth mall! Located in Hondori, the ironically named "Sunmall" has an entire floor dedicated to dark and alternative Japanese fashion.
As you know from my Tokyo posts, these types of shopping centers have become increasingly rare. Marui and Laforet have very little Gothic Lolita Punk fashion these days, and many of the alt brands have closed down.
However, Hiroshima Sunmall still has an impressive selection of Gothic and Lolita styles, including Moi-meme-Moitie. We wondered if this was because Hiroshima is the hometown of Mana-sama…
Hiroshima Sun Mall has lots of boutiques on a single floor, including Chouchou Ange, Metamorphose, and Emily Temple Cute.
Cat print Lolita dresses and white feather hats… this reminds me of the "old days" in Tokyo.
If the frilled Lolita dresses are too girly for you, you can find pierced berets and pentagrams in the punk area.
Hiroshima Sunmall gave us major throwbacks, as this type of Harajuku fashion is no longer prominent in Tokyo.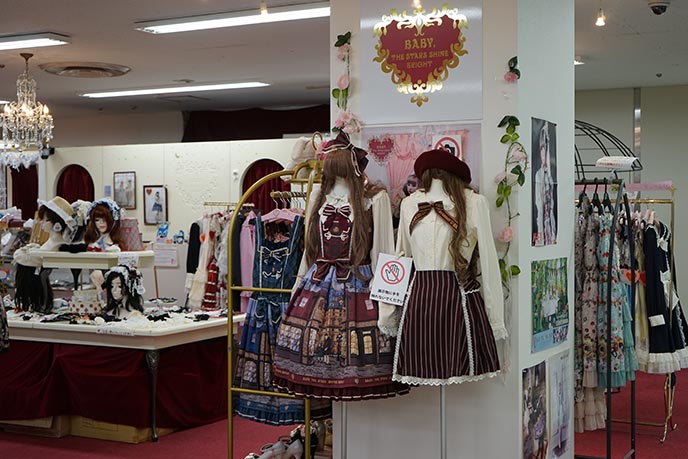 Baby, the Stars Shine Bright lives on here.
Qutie Frash, with their cyber / Japan / Wa inspired clothing, sits next to the Tyche Maria shop.
Pastel Gothic bomber jackets and spooky bear print shirts caught my attention.
There hasn't been much change in these Goth and Lolita styles over the years.
Pink dolly shoes and red-eyed bunnies sit in birdcage displays.
Would you wear a lace bonnet like this?
As you know, I've sold most of my Lolita dresses (you can still find my clothes for sale here). However, it's still fun to see browse these designs and reminisce about the old days.
Shine on, Sunmall. (This is the place to go in Hiroshima, if you're looking for Lolita, Goth, Punk and street style.)
My friends and I also ducked into a Hondori game center, which had floors of video games and purikura machines.
The UFO catcher machines were filled with giant stuffies, including Hello Kitty, Winnie the Pooh, and Sanrio's Pompompurin.
Look, it's Kirby… next to Gackt! (So many questions, and no answers as to why Gackt is inside a UFO catcher game.)
The Hiroshima Pokemon Center also had an impressive selection of stuffed toys. Which pocket monster is your favorite?
Since it was around Halloween in Hiroshima, we were pleased to see Pikachu in a purple witch's hat.
This yawning Snorlax pillow made us chuckle.
Mimiyku, is that you? The ghost Pikachu character is a Gothic favorite.
As you can see, Hiroshima is one fun city with rock bars, old-school Goth and Lolita shopping, and kawaii pop culture. And Naoshima was an inspirational island of art.
Have you been to these Japanese destinations? For more travel tips, check out my previous Hiroshima article.