My food tour of Quebec City: young, hip Quebecois restaurants! La Planque Limoilou, Chez Muffy, Le Voisin.
Ouais, ouais… I had a delicious time in Quebec City! Ready for a guide to the best restaurants and art in the French-Canadian capital?
I haven't been to Canada's Francophone province since a brief stop here as a teenager. Growing up, I went to a school with a bilingual program — so this trip gave me a chance to practice speaking "en français" again.
(Where to get what I am wearing: Black bucket hat by Lack of Color, platform shoes Rocket Dog, top Valfre from Forest Ink, skirt Charli Cohen.)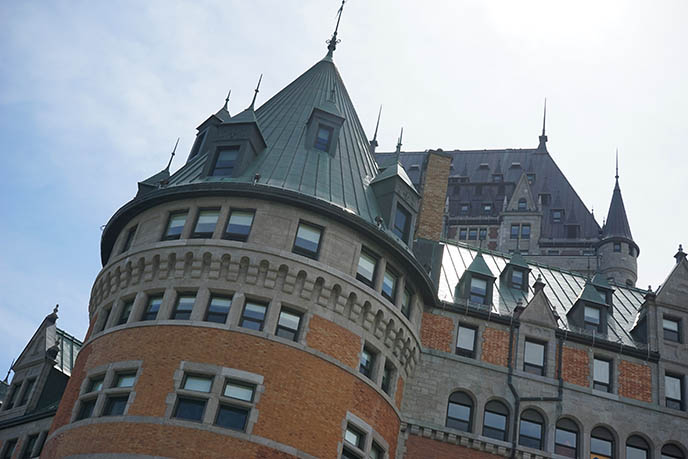 Most travelers know about Quebec City's historic sites, such as the Hotel Fairmont Château Frontenac. (Built by architect Bruce Price in 1892, these pointed castle spires are unmistakable.)
However, Anthony Bourdain's food / travel TV shows showed Quebec City in a trendier light. He partied with young (and rather wild) Quebecois chefs, and feasted on dishes piled with hearty, experimental ingredients.
As I discovered, Bourdain was right. Quebec City is the ultimate destination for foodies. Read on for my restaurant recommendations, with lots of decadent photos.
First, let's take a stroll around Quebec City's old town. The city is small and highly walkable, with plenty of old buildings and statues to admire.
I was surprised to see a statue of Confucius, the Chinese philosopher. The monument was a gift from Quebec City's sister city, Shandong; they participate together in a university exchange.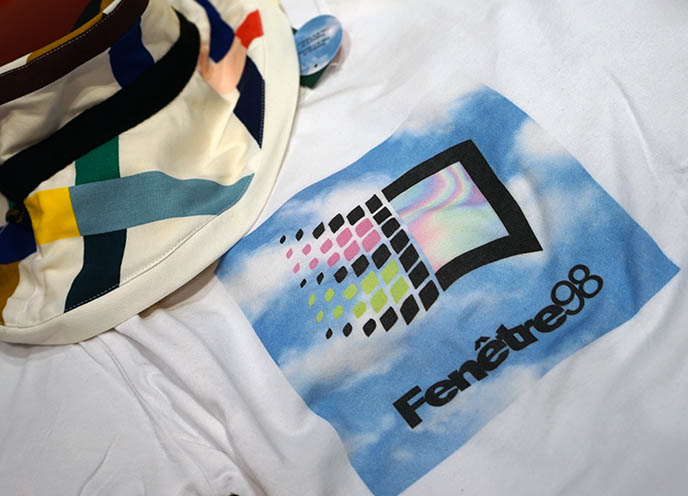 Quebec City is far more "French" than Montreal, in terms of the culture and feeling. You can get by speaking English, but locals predominantly communicate in French. I'm sure you will notice a different accent and use of slang too!
(I popped into Simons, the Quebec-based department store. This French Windows 98 "Fenêtre98" t-shirt made me laugh.)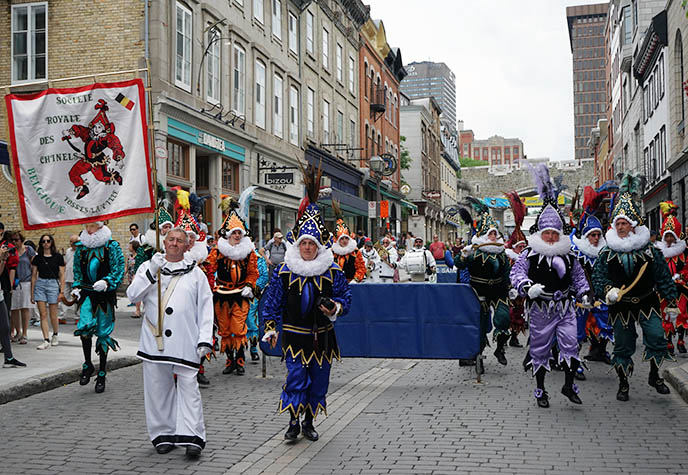 While walking around, I ran into a colorful parade that reminded me of my adventures in Binche, Belgium. Quebec City has quite a few carnivals, including the famed winter "carnaval" with its rather frightening Bonhomme snowman mascot.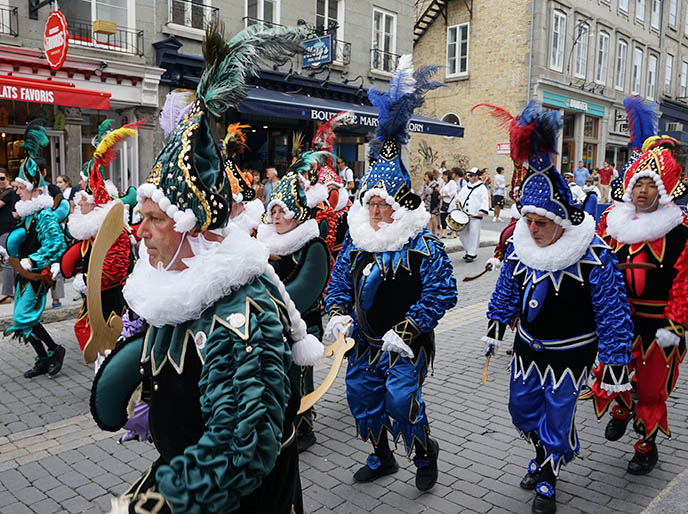 Dressed in tufted collars and pointed feather hats, these men danced through the streets. They were accompanied by a live marching band.
I also came across Belgian stilt walkers that were demonstrating Namur stilt-fighting. Dressed in folky red costumes and caps, they try to knock each other off their pedestals to the beat of a drum. I didn't stick around to see the winner, but he apparently receives "golden stilts."
I lucked out with the weather — just as the rain began to pour, I arrived at Musée national des beaux-arts du Québec! Located near the Plains of Abraham, the MNBAQ currently has an enormous exhibition dedicated to artist Joan Miró.
I was especially keen to visit… because the new Pierre Lassonde pavilion was designed by Rem Koolhaas and his team at OMA.
The architect's signature is unmistakable in the stark glass exterior and curving white staircase. Doesn't this look like a ramp from a spaceship?
The Musee des Beaux Arts houses an impressive collection of Quebecois art, including 25,000 works by locals. The museum is large and has various pavilions; I highly recommend that you take time to visit the outstanding Quebec section.
I enjoyed seeing the eccentric visions of contemporary artists like Jean-Paul Riopelle and Jean Paul Lemieux. The latter JP is responsible for "Les Masques" (above), a 1973 expressionist painting that caught my attention.
The MNBAQ had an entire exhibition dedicated to Spanish painter and sculptor Joan Miró. Dubbed "Miro in Mallorca: A Free Spirit," this special gallery includes almost 200 works from his 1956 to 1981 era in Mallorca.
What a joy to see so many of Miro's works including sculptures, sketches, and even a rug. The exhibit is well-designed, with each room focusing on one of his styles, and including information in French and English. Above shows his Gaudi-influenced period that expresses Catalan pride.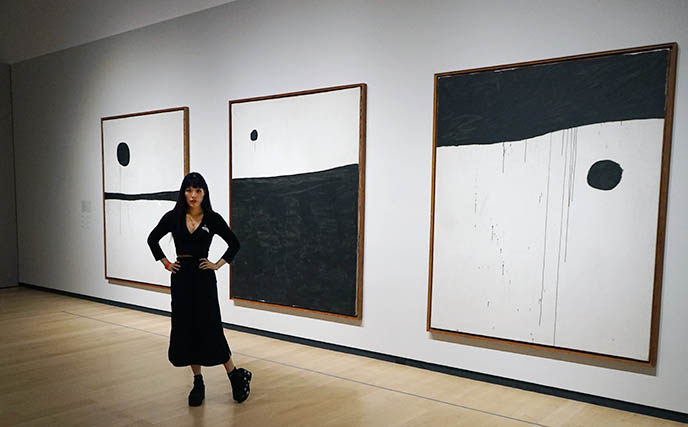 My outfit matched Miro's giant abstract paintings from his minimalist series. These black and white works attempt to capture "the void," or all-encompassing emptiness, as expressed by Tibetan mystics.
Much like me, Miro found inspiration in his travels worldwide. He loved visiting destinations with strange cultures and art, like Easter Island and the Yucatan.
On the left, this series drew upon his travels in Japan, where he was fascinated by Japanese ink calligraphy. The beast on the right is merges his artistic style with tribal primitavism.
Stars, birds, women… Miro's energetic paintings are a wonder to behold in person. I hope you get a chance to see his touring works while they're in Quebec City.
And now, let's eat! I consulted long-time locals for recommendations, and they delivered: I could easily imagine these Quebec City restaurants on an Anthony Bourdain TV show (RIP).
I'm a big brunch fan, so I was especially keen to spend a morning at Chez Muffy. The cozy restaurant takes a farm to fork approach, building seasonal menus around ingredients grown on their farm at Île d'Orléans.
(As a fan of Miffy the bunny, I also liked the name… Looks like she's slurping most of my orange bourbon cocktail!)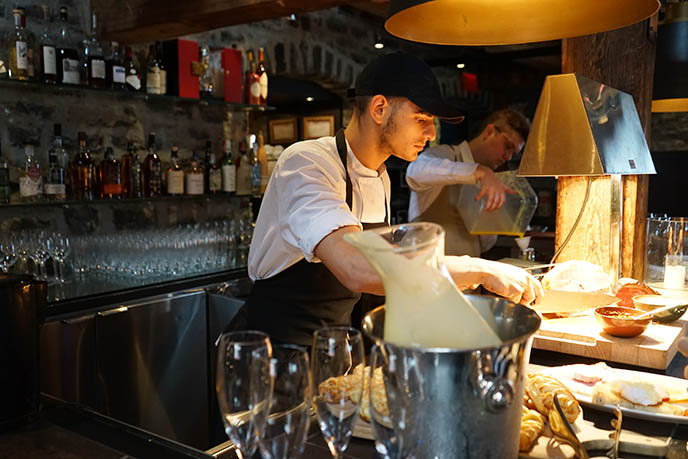 I've been to decadent buffets around the world, but the quality level has been hit and miss especially at hotels. In contrast, at Chez Muffy, everything was executed beautifully — my mouth waters as I remember the fresh spread of French specialties.
At the ordering station, you could get eggs Benedict with duck confit, pork belly, or smoked salmon. Everything is made fresh to order, and the Hollondaise sauce was on point, which is difficult to achieve.
I channeled George Costanza, and bit into these hunks of Quebecois cheese. The fine "fromages" come from local farms, and include blue and goat (chevre).
When you have brunch at Chez Muffy, you can indulge in as much as you'd like from the buffet. It's the perfect chance to try a bite of something different, like truffle devilled eggs or black sausage with gooey cheese inside.
True to Quebec, everything is written in French and English, and includes healthy bistro-style selections. As you can see from the colors of this beet salad, the dishes are house-made with produce straight from the farm.
Chez Muffy is located in Auberge St Antoine, a luxury hotel by the St Lawrence river. The restaurant sits in what was once a 19th century maritime warehouse; the classic wood beams and iron stairs hint at its former incarnation. In the lobby, you see artifacts dating back to the 1600s, which were discovered during an archaeological dig at this location.
Pile up your plate with quiches, roast beef, salads, and charchuterie. From the a-la-carte menu, you can order coffee drinks or cocktails.
Be sure to sample items from the baked goods section. I don't usually have much of a sweet tooth, but I couldn't get enough of Chez Muffy's unique pastries. (Kudos to the pastry chef here.)
Among my favorites were the scones (the texture and balance were perfect — Muffy made probably the best scones I ever had). Quebec is known for its strawberries, and the unusual strawberry tart with hemp was outstanding.
One evening, I had dinner at La Planque, and it rocked hard! I could see Anthony Bourdain living it up in this restaurant with a punk spirit.
La Planque is located in Limoilou, a hip neighborhood of Quebec City known for its bars and eateries. Try to get a seat at the kitchen counter, so you can watch head chef Olivier Godbout (on the right) and his young, tattooed colleagues do their thing.
In 2018, La Planque underwent a renovation. The new interior is dark and stylish, with a giant spider-like wood lamp over the bar. If you aren't able to get a dinner reservation, you can still hang out at the circular counter, and sip on creative or classic cocktails.
(My wrap top is Valfre from Forest Ink, and skirt Charli Cohen.)
Chef Olivier started us off with an amuse bouche with a mustard-based sauce. From this first bite, we know La Planque would live up to its reputation.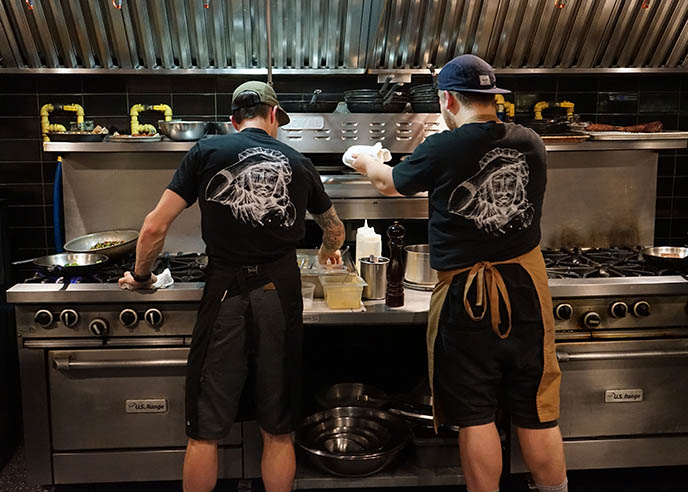 It was a delight to perch over the kitchen, and see the cooks work in tandem at different stations. Olivier chatted with us between plates, and explained that everyone takes part in all the tasks (from shucking oysters to clean-up), including himself.
We whet our appetites with this eye-catching dish — just look at the variety of colors and textures. Olivier combined scallops from Nova Scotia with radish slices, squid ink mayo, and grapefruit pieces.
If you've seen Bourdain's episodes about Quebec City, you'll know that the local chefs shine when it comes to meat and rich flavors. One of La Planque's specialities is their foie gras terrine, masterfully paired with fruit chutney, honey apricot puree, and toasted brioche.
The name "La Planque" means a stash, or a place where you can keep warm and find shelter. In the basement, up to 10 people can rent out the private dining room, which doubles as a soundproof hideout.
It was fun to chat with Olivier and see him in action. He's focused and thoughtful about every dish he makes.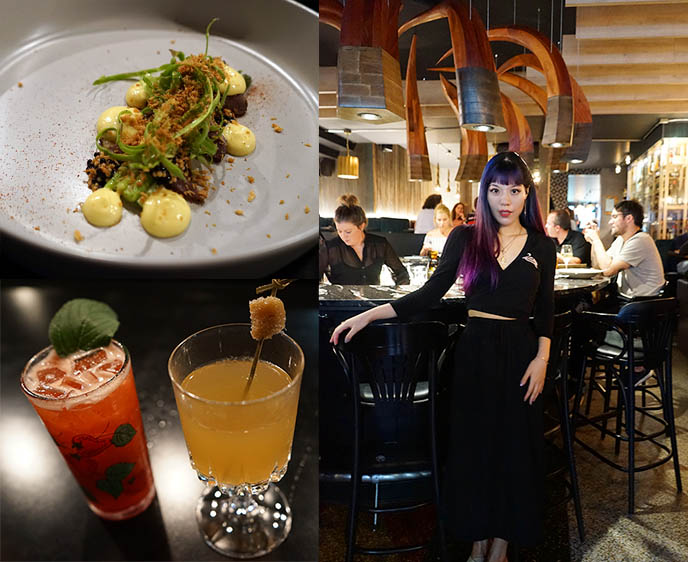 Olivier insisted that we try the thinly-sliced asparagus. The green vegetable is currently in season, and he hand-picked each piece from a local supplier.
The special cocktails were also very Quebecois. One was made with the famous small strawberries, and served in a vintage glass. The other had duck fat whiskey, orange, scotch, ginger.
It's a good thing we were hungry after a long day of sightseeing. Onward to the catch of the day, a white fish with pasta and delicate vegetable foam. On the right: cornmeal encrusted sweetbreads with king mushrooms, turnip puree, and thyme sauce.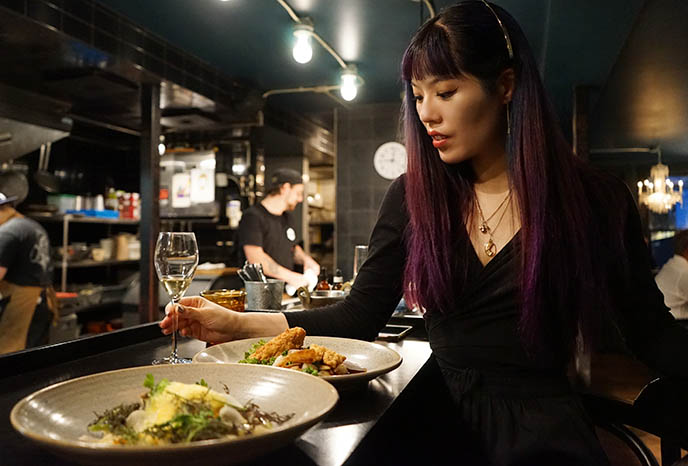 Put your trust in the staff for a wine pairing, and they'll suggest a global variety to match each dish.
Breakfast for dessert — why not? The granola came with house-made yogurt, white chocolate crumble, ice cream and berries.
Rock on, Olivier and his team. I'd take shelter at La Planque restaurant any time.
Somehow, I had room for one fabulous last meal. I ate lunch at Le Voisin a casual "resto-buvette" that spotlights seasonal, Quebecois cooking. Loved the exposed brick walls, industrial elements and panes that let in natural light.
(Here's where to find my exact wrap top, maxi skirt, and platform shoes.)
Le Voisin, which means neighbor, is a perfect spot for dining with friends (they serve brunch/lunch and dinner). This artful arrangement features poached eggs with salmon gravlax, blinis, tzaziki sauce, and capers.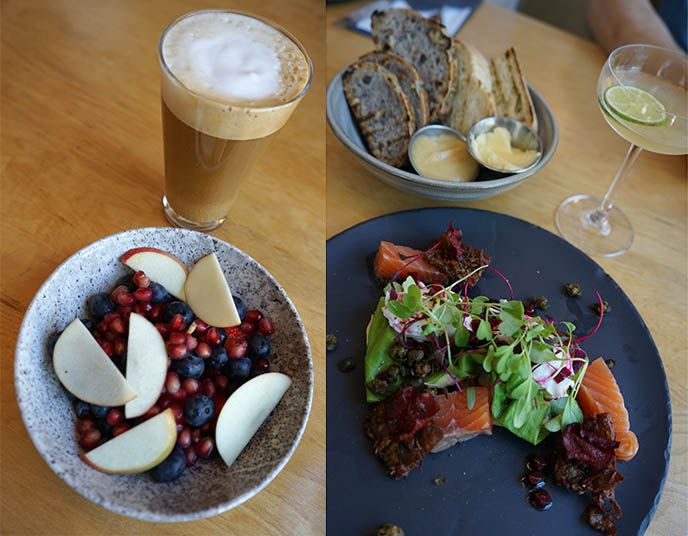 The drinks were outstanding, especially the creamy lattes and ginger mimosa. The freshly-baked bread comes with apple butter, and I was delighted to see pomegranate seeds in my berry and apple fruit bowl.
I dove into this pan of gnocchi with tomato sauce, grilled vegetables, and two poached eggs — topped with shaved Parmesan. Le Voisin is a wonderful bistro with a neighborhood feeling, where you can find familiar dishes with a twist.
A final look at the Chateau Frontenac and my outfit of the day. (Wearing this bucket hat by Lack of Color, platform sandals Rocket Dog, ballerina wrap shirt Valfre from Forest Ink, skirt Charli Cohen.)
À bientôt, Quebec City… Anthony Bourdain was right about your formidable food scene. I'm sure I will be back soon to discover more of your restaurants.