I'm in The Purge TV season 2: NOLA set visit! Mexico Day of the Dead trip: Borderline Projects & Morbid Anatomy. Raven Goods dark decor.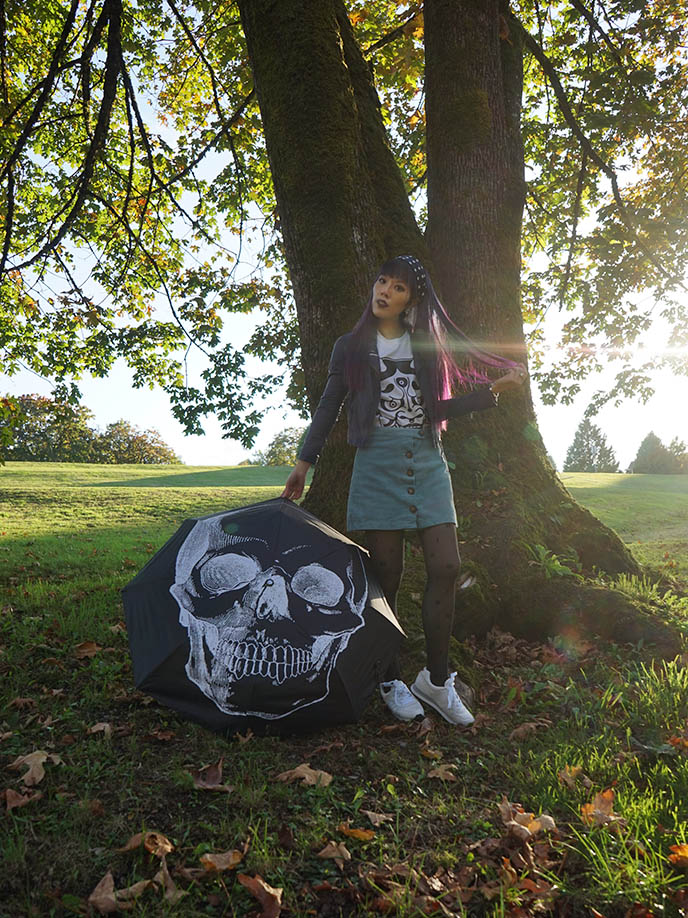 When leaves hit the ground, the veil between the living and the dead is at its thinnest… and I am in my element.
Happy October, everyone. I've missed the fall so much!
I have several Halloween tricks and treats for you, including a major trip…
My skull umbrella from Raven Goods is a hint at where I'm heading at the end of October.
I'm thrilled to announce that I'll be celebrating Day of the Dead in Mexico, on a cultural tour with Borderline Projects and Morbid Anatomy! I can't wait to share our Yucatan journey, which includes intimate encounters with the brushing of the bones, and Dia de Los Muertos.
Scroll to the end of this post for the full info about my deathly travels in Mexico, and how you can join next year's adventure.
I'll also give you a teaser of my Purge TV show adventure: I'm making a little cameo in the finale episode. (Above: I had the hardest time figuring out which one was my trailer…)
Blumhouse Productions and USA Network flew me to New Orleans, so I could get a behind-the-scenes look at the TV production. In our downtime, we did a little purging on Bourbon Street!
Keep reading to see my exclusive set visit, and… new tattoos??
(Season two of The Purge TV show begins airing October 15, on USA Network. I'm in the tenth / last episode.)
First, let's welcome the spookiest time of the year with some devilish outfit photos. 
OOTD: Goth umbrella Raven Goods, demon tee 1991NewYork, corduroy skirt Forest Ink, stockings UK Tights, hair scarf and sneakers Lola Ramona.
Isn't this grinning cranium umbrella fabulous? It's my new favorite accessory, from indie Goth boutique Raven Goods. 
Raven Goods has a magnificent curated selection of items in black or dark tones: perfect for creatures of the night like ourselves. Their web shop includes dark and Gothic home decor, jewelry, and crystals.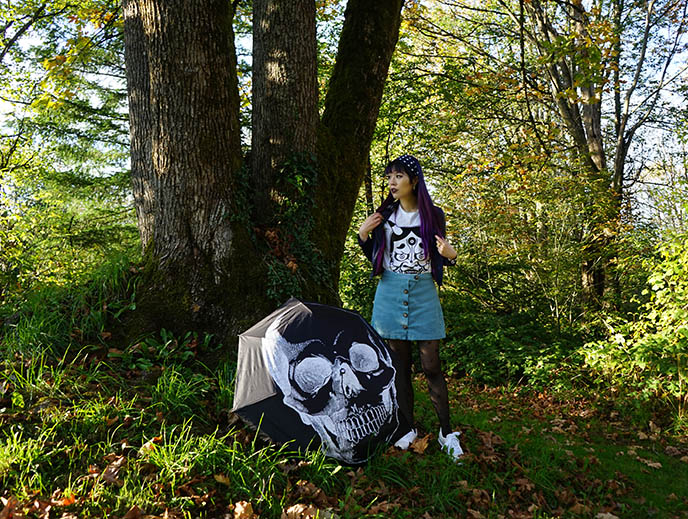 I'm all about supporting small businesses like Raven Goods, which is owned and operated by a husband and wife team. Their dark fashion and home design products are offered at reasonable prices, and they give friendly and fast personal support to their customers.
I love the reflecting crystal in the center of the skull (it looks a bit like a nose ring). The retractable umbrella is perfect for traveling, and doubles as a parasol: the black SPF fabric protects you from the sun.
Take a peek at RavenGoods if you fancy items like Victorian anatomy plates, Rococo Gothic bedding, ram's head rings, and dark angel wing earrings.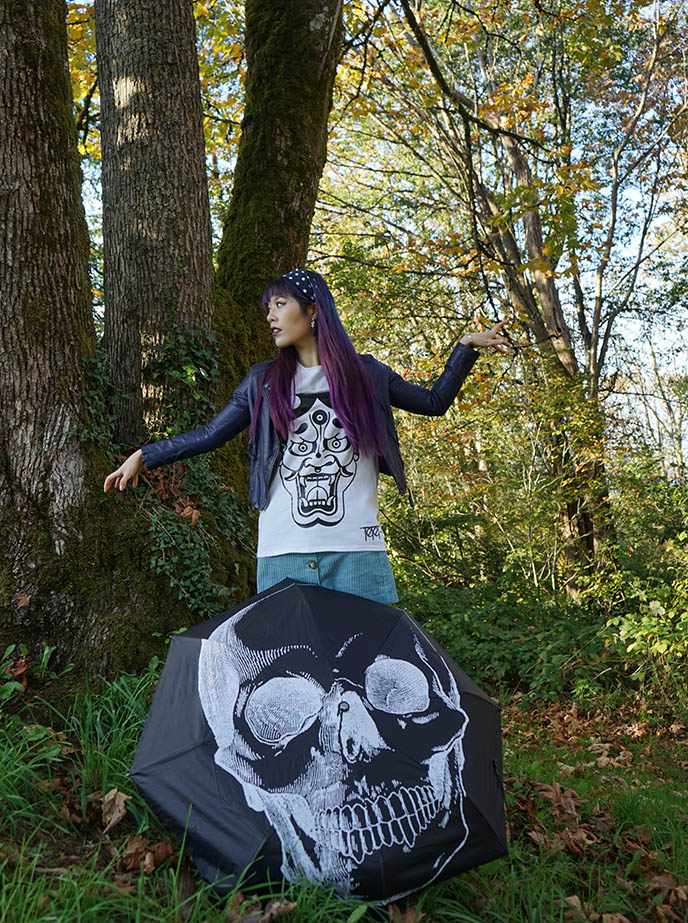 My scowling Japanese devil mask top is by 1991NewYork. It's actually a Hannya, representing a jealous Shinto female demon!
1991 New York is a streetwear brand by NY tattoo artist Hiten Damodar. His screen printed tees are 100% cotton and made in the USA, and feature his tattoo designs based on mythology. (You can see more of his striking designs on his site.)
How do you like my "white demon" look of the day? As you can see, it's possible to do a Gothic look without wearing black.
This is also an example of how to style white sneakers with an outfit.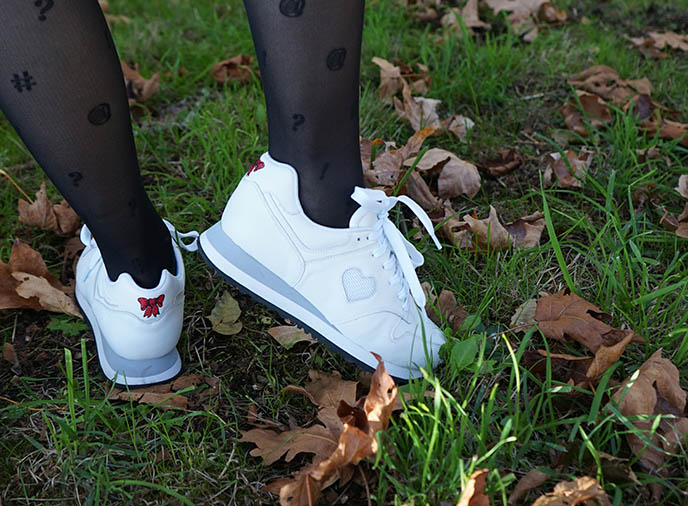 Lola Ramona sent me these Serena Bullseye white leather sneakers, and they're the cutest kicks I've ever seen. In love with the mesh heart on the sides, and red ribbon design in the back. The bouncy sole and comfortable lace-up style makes these sneakers perfect for fall walks.
I matched them with Lola Ramona's retro polka dot scarf, which I wore as a headband. My stockings with keyboard symbols is by UK Tights.
Click the thumbnails below for more shoe styles from Lola Ramona:
Now, let's talk about NOLA! I was invited along with several other journalists to visit the set of The Purge TV, which was shooting its second season after a successful debut.
Before flying to New Orleans, I felt inspired to put together a Purge cosplay. Using caulking and paint, I DIY-ed a Kiss Me mask like the one worn by  Kimmy the Candy Girl, in "The Purge: Election Year" movie.
My mask and I sat down to delicious New Orleans lunch: blackened cod po'boy and salad. On this press trip, I got my fill of grits, mahi mahi, gumbo, catfish, and Sazerac cocktails… but boy, are portion sizes immense in the South. Ironically, I was so full from these meals that I was close to Purging!
Quite fittingly for a horror television show, The Purge (season 2) is shot in New Orleans. Many of the new episodes make the most of the city's spooky vibe.
I hadn't been in New Orleans since my first visit in 2014, and it felt great to be back right before Halloween. We only had a few days here, but it was enough to explore a few spots — like Marie Laveau's House of Voodoo. 
With its vampire and voodoos connections, New Orleans is one of the Goth-est cities on the planet.
For more travel tips, see my NOLA Gothic guides from my previous trip. I covered the graveyards, haunted places, alternative nightlife and art galleries, you name it.
I've got the urge to purge…
Horror fans will be familiar with The Purge movies by Blumhouse Productions. In this universe, once a year for 12 hours, pretty much all crime is legal.
Some citizens love the annual bloodbath, and get creative in the ways they commit murder. Others hide in fear, or fight against the "New Founding Fathers" that implemented the Purge.
The Purge is now also a highly-rated TV show. The second season follows several characters in a year between the Purges, leading to intertwined storylines. I've watched several episodes of the new season so far, and it's bloody fantastic — better than the first, IMO.
As an invited journalist, I got to go on set while The Purge was filming, and meet the actors and crew.  I can't reveal any spoilers, but soon, I'll give you an inside look at the masks, daring stunts and more. 
I also got to be an extra in the final episode, in a scene with actors Derek Luke and Rochelle Aytes! (They play a husband and wife whose perfect life is shattered when an assassin breaks into their house on Purge night.)
My lips are sealed when it comes to exactly what I do in my appearance on The Purge TV show. You'll just have to wait until the last episode for my big scene…
However, I can show you this "Kimmy the Candy girl" costume I put together, in tribute to the evil schoolgirl from The Purge: Election Year film!
Here's a wink. I got to wear fake tattoos for my scene in the Purge TV finale!
The makeup artist put this temporary skull tattoo on my hand. I told the crew they could go wild with my hair and makeup, and so they did, as you'll see…
I made sure this crucifix tattoo was upside down. So much fun to embody a different character, and have giant Gothic tattoos for a day.
Here's another look at my Kiss Me mask, and Purge Election Year candy girl outfit.
Compare my cosplay to the character in the Purge movie, above. I think it turned out quite bloody well!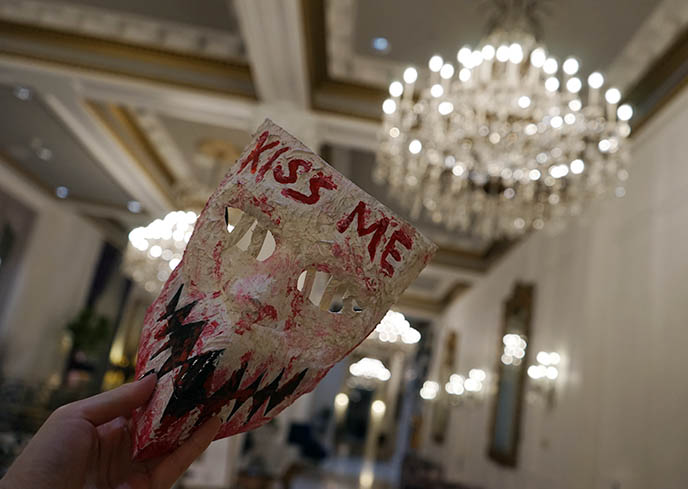 "This is your emergency broadcast system announcing the commencement of the Annual Purge."
The Purge TV show (season 2) starts airing Oct 15 on USA Network. Give it a watch; I assure you that you won't be disappointed. (And you can see me on-screen in the final episode, which will be broadcast Dec 17 at 9pm ET.)
I think you can tell I'm loving Halloween season… Next, I can't wait to celebrate Day of the Dead in Yucatan Peninsula!
Every year, Borderline Projects and Morbid Anatomy offer a curated tour that lets you experience Dia de los Muertos traditions with local communities in Mexico.
I'm joining this year's Mayan Rebirth trip, which will take me to Merida, Campeche, and surrounding areas. Take a peek at our 4-day Mexico itinerary: it includes a "Food for the souls" ritual, a "Festival of the Souls" celebration in a cemetery, and a "Cleaning of the Bones" ceremony in a small town.
Gracias to Borderline Projects for inviting me to take part in this Death In Mexico travel series; I can't wait to learn first-hand about Mayan rituals and folk traditions.
This year's tour is sold out, but there is already a RSVP list open for the 2020 edition. You can email info@borderlineprojects.com for more info and to reserve a spot for next year.
A last look at my nylons from UK Tights, and cute white leather sneakers by Lola Ramona. (See more shoe styles below from this designer.)
Can't wait to get my hands on more Mexican sugar skulls!
(Gothic umbrella Raven Goods, skirt Forest Ink, hair scarf Lola Ramona, Japanese tattoo t-shirt 1991NewYork).
Stay tuned to my Instagram/Twitter @lacarmina to see my adventures in Yucatan for Halloween and Day of the Dead. I also invite you to add Salvador Olguin & Borderline Projects on Facebook, Instagram and Twitter for updates on their cultural journeys.
I'll be stopping in Mexico City as well, so please let me know if you have any travel tips for me. See you at  Dia de los Muertos… and watch out for The Purge!